---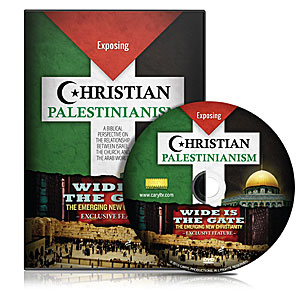 " Christian Palestinianism - Israel Is Going To Be Betrayed"
"Wide Is The Gate" DVD
A Biblical Perspective On The Relationship Between Israel, The Church and The Arab World,. addressing the rising tide of beguiling apostasy gripping today's church in regards to modern Israel. At the core of the anti-Israeli movement is Replacement Theology, a reinterpretation of scripture, teaching the church has replaced the nation of Israel now. Based on this erroneous misinterpretation, "Christian" anti- semitism attempts to justify its position, claiming the nation of Israel to be illegitimate and an "illegal occupier" of Palestine. This political-religious campaign is gaining wide acceptance among church leaders, denominations, charities, missions and humanitarian groups.
The Apostate Church, involved in usurping God's intended inheritance for His Chosen people and Israel, are joined by Palestinian Arabs with their own Muslim version of Replacement Theology. Islam's strategy is to rid Israel of its Jewish presence, seize the land for Allah, and establish Sharia rule worldwide. Additionally, cloaked in counterfeit Zionism, is the esoteric understanding of Judaizers (Kabbalists) who claim to be God's Chosen. They promote a nationalistic, political Zionism through aggressive self-effort. Sadly, Zionist imitations united with secularists and political left-wing and right-wing activists, are seducing the support of Christians who unwittingly become pawns in the alliance of "peace" for the antichrist and his unholy government.
Did you know specific end time prophecy is unfolding before our very eyes? . ....The promised ingathering of unbelieving Jews into Israel has begun? ....The 7 year "tribulation" judgment of God will bring numerous of His Chosen to call on Jehovah Who will redeem their land to the fullness of His promised borders? .....Multitudes of Jews worldwide are in present-day rebellion against their Messiah and hardened to His Promises for God's only covenant nation, Israel? ....Growing worldwide anti-semitism is also infecting contemporary Christianity in an aggressive and heartbreaking "Christian" anti- Israel, anti-semitic movement?
Speakers include: 1) Dr. Paul Wilkinson, 2) Dave Hunt, founder of The Berean Call, author, and knowledgeable authority on Israel and Islam; 3) Caryl Matrisciana, author and documentary film producer.
Almost 2 hours long - http://www.cuttingedge.org/detail.cfm?ID=2517
---
Hot News
I. Syria accuses Israel of "declaring war" on her. Will Assad soon officially declare war on Israel?
More Israeli raids on missiles said to be shipped to Hezbollah has skyrocketed tensions.
NEWS BRIEF: "Syrian regime accuses Israel of declaring war after further air strikes", The Guardian (London), 5 May 2013
"Israel's night raid on 'missiles destined for Hezbollah' deepens fears of conflict spreading beyond Syrian border across region. The Syrian government said that Israeli air strikes against military targets around Damascus amounted to a 'declaration of war' and threatened retaliation, in the latest sign that the fighting is spilling across the Syrian border and risks sparking a wider regional conflict."
When Syria "threatens retaliation", Israeli and Western officials sit up and take notice, because Syrian President Assad has warned that retaliation would take the form of missile attacks against Jewish cities. Israel tried to draw a defensive line around their latest attack.
"Israeli military analysts said the missiles had been fired from outside Syrian airspace to avoid engaging Syria's reportedly formidable air defenses. The Lebanese army said that Israeli planes had flown above Lebanon, an act that drew condemnation from the country's president, Michel Suleiman."
Lebanon has been complaining vigorously for days now that Israeli airplanes are repeatedly flying through her airspace in order to gain close access to Syria. Last week, we learned that militant Hezbollah soldiers have replaced Lebanese soldiers along the border with Israel. This, too, is a somber development, for Hezbollah soldiers are far more likely to fight well against Israeli troops than are Lebanese.
There is a chance that Syrian President Assad will come under fire from both Israel and the terrorist rebels trying to overthrow him.
"Amos Yadlin, a former chief of military intelligence who heads the Institute for National Security Studies in Tel Aviv, told Army Radio that Syria risked serious damage to its already battered military capabilities if it responded to the latest air strikes. 'Assad knows that the rebels have made him the primary target, and if he tries to deflect the fire towards Israel, chances are that he will be attacked by both the rebels and Israel', Yadlin said."
These Israeli air strikes were also meant to be a warning to Iran to keep her hands out of the region. Israeli bellicose statements against Iran's nuclear program also fall into the category of sending a stern message to Iran.
Another news report states that Israeli jets also struck the Damascus airport.
NEWS BRIEF: "Israel launches second Syria airstrike in two days", R.T. News, May 5, 2013
"Strong blasts hit the outskirts of Syria's capital early on Sunday, with reports saying that they were results of Israeli airstrikes on a military research center. Other sources suggest Damascus Airport was hit ... A senior Israeli official confirmed to AFP that the Israeli airstrike on Syria was carried out near Damascus Airport overnight, targeting Iranian missiles destined for Lebanon's Shiite Hezbollah movement. 'The attack was very close to the airport, the target was Iranian missiles which were destined for Hezbollah', he said."
We believe this region is heading quickly toward fulfillment of the following End Times prophecies.
1) "The mournful, inspired prediction (a burden to be lifted up) concerning Damascus [capital of Syria]. Behold, Damascus will cease to be a city and will become a heap of ruins." (Isaiah 17:1; Parallel Bible, KJV/Amplified Bible Commentary)

2) "I will gather all nations and will bring them down into the Valley of Jehoshaphat, and there will I deal with and execute judgment upon them for [their treatment of] My people and of My heritage Israel, whom they have scattered among the nations and because they have divided My land. (Joel 3:3; Parallel Bible, KJV/Amplified Bible Commentary)

3) "Behold, I am about to make Jerusalem a cup or bowl of reeling to all the peoples round about ... in that day I will make Jerusalem a burdensome stone for all peoples; all who lift it or burden themselves with it shall be sorely wounded. And all the nations of the earth shall come and gather together against it ... I will smite every horse [of the armies that contend against Jerusalem] with terror and panic and his rider with madness; and I will open My eyes and regard with favor the house of Judah and will smite every horse of the opposing nations with blindness."

"In that day will the Lord guard and defend the inhabitants of Jerusalem ... I will make it My aim to destroy all the nations that come against Jerusalem." (Zechariah 12:2-9; Parallel Bible, KJV/Amplified Bible Commentary)
Watch Israel and the formation of the nations of the world into 10 supernations. Together, they will provide us with a dependable method of determining the start of the World War III designed to stage Antichrist on the world scene.
II. The deathly spectra of the coming Absolute Dictatorship continues to march steadily toward us.
President "322" Skull & Bones George W. Bush assured Americans that he was NOT using "War On Terror" as the excuse to seize our rights and liberties, by announcing that he was going to use a secret court which would consider government requests for special surveillance.
We knew this new court system was a joke when Bush announced it; reality has sadly proven our fears to be well based upon reality.
NEWS BRIEF: "The bad joke called 'the FISA court' shows how a 'drone court' would work", The Guardian 3 May 2013
"In the mid-1970s, an investigation by the US Senate, conducted by the Church Committee, uncovered decades of serious, systemic abuse by the US government of its eavesdropping powers ... he supposed lesson learned from this was that political leaders will inevitably abuse their surveillance powers if they are permitted to exercise them in the dark and without meaningful oversight. The "solution" was the enactment of a law - the 1978 Foreign Intelligence Surveillance Act (Fisa) - that made it a criminal offense for government officials to eavesdrop on the electronic communications of Americans without first obtaining a warrant from the newly created Fisa court."
"From the start, the Fisa court was a radical perversion of the judicial process. It convened in total secrecy and its rulings were classified. The standard the government had to meet was not the traditional 'probable cause' burden imposed by the Fourth Amendment but a significantly diluted standard ... the court barely ever rejected a government request for eavesdropping. From its inception, it was the ultimate rubber-stamp court, having rejected a total of zero government applications - zero - in its first 24 years of existence, while approving many thousands. In its total 34 year history - from 1978 through 2012 - the Fisa court has rejected a grand total of 11 government applications, while approving more than 20,000."
"Despite how obedient and compliant this court always was, the Bush administration decided in late 2001 that it would have its National Security Agency (NSA) intercept the calls and emails of Americans without bothering to obtain the Fisa court approval required by the criminal law, claiming - with a straight face - that complying with the law was 'too cumbersome' in the age of Terrorism. Once this lawbreaking was revealed by the New York Times in late 2005, the response from the DC political class was not to punish the responsible government officials for their lawbreaking, but rather to enact a new law (called the Fisa Amendments Act of 2008) that, in essence, simply legalized the warrantless eavesdropping scheme of the Bush administration."
"That new Fisa law vested vast new surveillance powers in the US government to spy on the communications of Americans without the annoyance of obtaining permission from the Fisa court. It requires warrants from the Fisa court only in the narrowest of circumstances ... "
Despite calling for the FISA Court to be tightly controlled, President Obama demanded last year that Congress renew this court with no changes whatsoever.
"... 'of 1,789 applications, the FISA court did not deny any applications in whole or in part'. What fantastic oversight (1789 is, ironically, the year the Constitution was ratified). The court did "modify" 40 of those applications - less than 3% - but it approved every single one. The same was true of 2011, when the DOJ submitted 1,676 applications and the Fisa court, while modifying 30, 'did not deny any applications in whole, or in par'."
This reality means that the American .Government is daily operating on almost the same basis as the dictatorships of Nazi Germany and Communist Russia! When the Illuminati decides to enact all their planned crises at the same time, Americans will sadly learn that Cutting Edge has been right all along: dictatorial laws will either be hidden or will not be enacted until the time has arrived to enact every single one of them in unison.
The Plan calls for America to be enslaved in less than 72 hours! Are you spiritually ready? Is your family? Are you adequately protecting your loved ones? This is the reason for this ministry, to enable you to first understand the peril facing you, and then help you develop strategies to warn and protect your loved ones. Once you have been thoroughly trained, you can also use your knowledge as a means to open the door of discussion with an unsaved person. I have been able to use it many times, and have seen people come to Jesus Christ as a result. These perilous times are also a time when we can reach many souls for Jesus Christ, making an eternal difference.
If you have accepted Jesus Christ as your personal Savior, but have been very lukewarm in your spiritual walk with Him, you need to immediately ask Him for forgiveness and for renewal. He will instantly forgive you, and fill your heart with the joy of the Holy Spirit. Then, you need to begin a daily walk of prayer and personal Bible Study.
If you have never accepted Jesus Christ as Savior, but have come to realize His reality and the approaching End of the Age, and want to accept His FREE Gift of Eternal Life, you can also do so now, in the privacy of your home. Once you accept Him as Savior, you are spiritually Born Again, and are as assured of Heaven as if you were already there. Then, you can rest assured that the Kingdom of Antichrist will not touch you spiritually.
If you would like to become Born Again, turn to our Salvation Plan now.
---
3 NEW DVDs
Will "The Time of Jacob's Trouble" Begin In 2045?
Can Mankind Achieve Immortality?
Two New DVD's Will Shock You - by Ron Skiba
Babylon Rising '322' - Tetrads and the Time of Jacob's Trouble
by Ron Skiba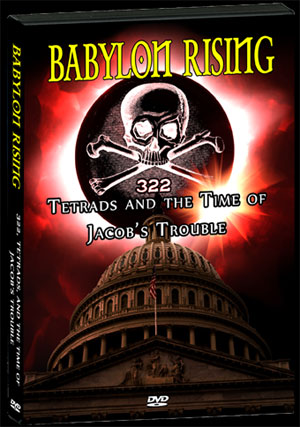 Babylon is rising and secret societies are actively at work, advancing an agenda to enslave us in their Luciferian plans for the New World Order. We can no longer afford to ignore the signs that are all around us.
In Genesis 1:14, we learn that the sun, moon and stars are to be for 'signs and for seasons'. The prophets of the Old Testament wrote about the sun being darkened and the moon becoming as blood before the great and terrible Day of the Lord.
Moses wrote about the seven Feasts of God, which were known as 'moedim' (appointed times) that were meant to be a 'miqra' (something to be rehearsed). There are some very significant signs in the heavens lining up over God's Feast Days between now and 2034, which could be pointing to the start of the time of Jacob's Trouble and the Second Coming of Jesus Christ.
This presentation examines all of this and more, while simultaneously revealing a curious link to the cryptic numbers 322 of Skull and Bones fame.
Archon Invasion: 2045 and the Quest for Immortality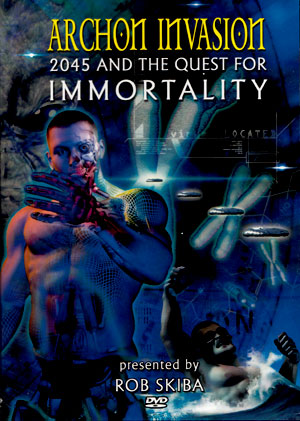 Part 3 DVD by Rob Skiba

Who, or what, is an Archon? Who were the nephilim? How did they return both before and after the Flood? Why did Jesus say that the Last Days would be like the days of Noah?
How do the advancements of the 20th Century relate to ancient prophecy from the book of Enoch? What did Aleister Crowley and Jack Parsons do that may have opened up portals to other dimensions? What does an ancient Canaanite blood altar have to do with the Federal Reserve? Why should we be concerned about the act of mixing animal and human DNA?
What is the 2045 Strategic Social Initiative and how does it relate to the promises of the serpent in Genesis 3:4,4? How has the devil been preparing the masses for the acceptance of transhumanism and the potential return of the old gods?
Rob Skiba combines elements from his Archon Invasion parts 1 and 2 DVDs into one powerful information packed seminar that answers these questions and more!
133 minutes - Order yours now!
Babylon Rising DVD: And The First Shall Be Last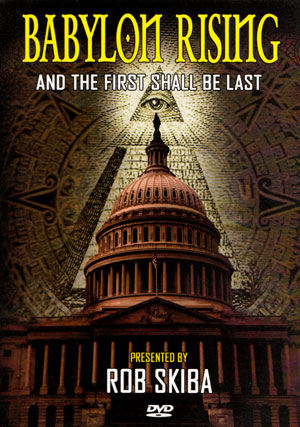 New Video by Rob Skiba
Simply Amazing! After researching the historical connections between the occult, secret societies and Biblical prophecy for the past five years, Rob Skiba has produced a masterpiece!
If you have ever been curious about the spiritual foundations of America, including our current place in history, economics, politics, science and Biblical prophecy, this video is for you!
What do the Mayan prophecies, the Aztec Calendar Stone, the symbols on Americas Great Seal and the U.S. Capital Building, all have in common?
America is the catalyst for many critically important End of the Age prophecies to occur. This incredible story is told by the American symbolism created over the past 250 years and by the actions of a number of our Presidents.
Includes
Over 2 hours
We do not agree with every conclusion of this video, but offer it to you because it does contain exciting information about Americas past, present and future, which you need to know. Order yours now!
---
Best Sellers from the Bookstore
---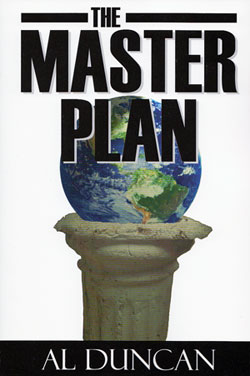 New Books
The Master Plan is a timely eye-opener to those searching for the truths behind the intellectual, moral and economic decline taking place in the world today.
This exciting End Times novel revolves around unprecedented events occurring within our nation and throughout a troubled world.
The Master Plan exposes the hidden truths behind the state of our economy, the political arena, the many wars, the failing educational system, the expunging of our Constitutional liberties, the violent behavior of youth, the radical environmental movement, and much more.
Finally, the Master Plan depicts the ultimate prophetic ending of all this horrific decline, and it offers the only solution that makes a difference, receiving Jesus Christ as Savior during the darkest time in all world history.
Paperback, 273 pages Order Now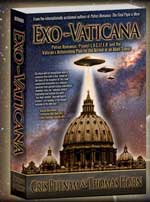 "Exo-Vaticana: Shocking Proofs That The Vatican Is Preparing To Receive An Alien Savior!"
Only days after the election of the first Jesuit pope -- Pope Jorge Mario Bergoglio (Pope Francis) -- Vatican astronomers are developing theological arguments concerning extraterrestrial intelligence that could have a dramatic impact on the faith of the world's 2.3 billion Catholics and Protestants.
The Jesuits and members of Opus Dei have written in the form of official church theology brand new doctrinal papers, which we're publishing, that I think are absolutely going to shock the world," Horn says.
Sometime soon, the Vatican, is going to tell everybody, "It's okay and these are our space brothers - and not only are they are our space brothers - they're closer to God than we are and they have come to show us the way."
Cutting Edge subscribers should not be surprised because in 1997 we revealed that the Illuminati had chosen the Pope to be their False Prophet and that Aliens are a key part of the staging of the New Age Christ (Antichrist). Read full details in NEWS1052.
Where the Hopi see a blue star and Vatican astronomers see their 'space brothers' en route to guide us into the light, evangelical Christians understand the Antichrist will initially assume the role of a fabricated end-times messiah who mimics the return of Christ with a false second coming that also happens to be attended by heavenly 'signs and lying wonders' (2 Thessalonians 2:8-9).
NOTE: This book might be one of the most important in recent years! Watch Trailer
---
Headline News Analysis Articles
"Iraq -- Ancient Babylon -- is nearing her End Times' annihilating judgment just as God foretold 2,700 years ago in Isaiah 13"
"Mighty Babylon" is falling and her days shall not be prolonged!
The clock of death continues to tick, and soon, Iraq will be history's first "Dead Nation", a place where no person or animal can possibly live. Mighty Babylon is clearly succumbing to God's inexorable judgment -- and Skull & Bones George W. Bush drove the prophetic stake through the heart of the ancient nation of Nimrod! http://www.cuttingedge.org/news/n2499.cfmfound a precise match.
See more in the full online version
---
NEW MASONIC DVD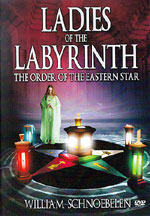 "Ladies of the Labyrinth: Order of the Eastern Star"
New DVD by William Schnoebelen - Only $14.99
The Order of the Eastern Star is the major women's auxiliary body of the Freemasonic Order, open to both Masons and their unsuspecting female relatives.
William Schnoebelen, former 32 degree Mason, draws from extensive Biblical knowledge and history of the Lodge to expose the secret dangers of this perilous, but seemingly innocent, group. Shedding light on the sinister historical roots of the organization, Bill also reveals why the insignia of the Order is the most evil inverted Pentagram, a well-known symbol of the church of Satan and of the dark goat-god, Baphomet!
Although presented as a fine Christian association for women, where cherished old hymns are sung and stories told about famous female Bible heroes, Bill demonstrates dark hidden occult perils to the Order of the Eastern Star.
This video uncoils Satan's tactics to draw unsuspecting women into an evil labyrinth and terrifying spiritual bondage. But now you can TAKE BACK your spiritual freedom, and lead others out of the horrific Labyrinth of the Eastern Star. 1 1/2 hours of teaching http://www.cuttingedge.org/detail.cfm?ID=2512
Related DVD - Understanding The Men of the Lodge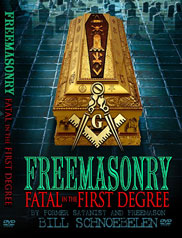 "Freemasonry: FATAL In The First Degree"
New DVD by Bill Schnoebelen, Former Mason, Satanist - Only $19.99
Once viewing this video, you will never again believe that your loved one can safely pass through the first degree of Freemasonry!
Bill demonstrates that Freemasonry is Satanic from the First Blue Lodge Degree right up through the 33rd Degree. The first degree of Masonry is taken directly from the first degree of Satanism, where the initiate bows his knee to Baal and Lucifer and MARRIES Baal! The first initiation degree is a spiritual marriage to the god Baal.
When your loved one completes the first degree there is a very high chance he will be demonically possessed or at least demonically afflicted. But, to make matters much worse, your loved one will bring these newly found demonic 'friends' right in the front door of your home, where he will begin to afflict all relationships within the home -- Spousal, siblings, father-children, spiritual. Every meaningful, cherished relationship will abruptly come under severe and continuous attack. Suddenly, there will be no peace in relationships and in your home.
But, there is more spiritual horror! When the new Mason begins a memorization program called 'Posting', his mind begins to change, as his mental programming is quietly and subtly reprogrammed through a mental virus very similar to a computer virus. Suddenly, he is not the same person. His relationships begin to change and he will grow spiritually colder.
Bill then Biblically guides you through the spiritual steps necessary for a person who is already caught by Masonry's trap to be free of the spirit of Masonry and full of the Holy Spirit. Finally, Bill shows how you can be set free from any spiritual bondage if Freemasonry is in your family background, father, grandfather, mother or grandmother. Spiritual deliverance is thoroughly discussed.
We consider this video to be one of the most important we have ever created. 2 1/2 hours long. http://www.cuttingedge.org/detail.cfm?ID=2459
---
May Jesus Richly Bless You,
David Bay, Director
Cutting Edge Ministries
800-451-8211