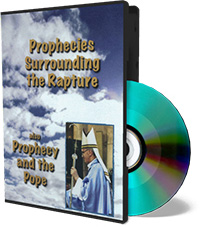 "Prophecies Surrounding the Rapture" plus "Prophecy and the Pope"
'Prophecies Surrounding the Rapture'
Christians who are alive today are the ones likely to be caught up in the air! This message will encourage you as we prepare for the glorious appearance of our Lord and Savior!
"Then we which are alive and remain shall be caught up together with them in the clouds, to meet the Lord in the air: and so shall we ever be with the Lord." (1 Thessalonians 4:17)
'Prophecy and the Pope '
With the recent election of a new pope, many are wondering how this will affect the Vatican's strategy to unite all of Christianity under the papacy. Remarkably, their strategy for ecumenical unity is a fulfillment of Bible prophecy. Roman Catholic 'saints' and mystics have predicted that the pope will convert the world. Together this Pope will bring in a period of peace and prosperity. Does this sound similar to the prophecies revealed in Revelation 13? It should because it will fulfill that prophecy once it is completed.
http://www.cuttingedge.org/detail.cfm?ID=2561
This solid Biblical teaching is delivered by Mike Gendron, 'Proclaiming The Gospel' Ministries
Retail is only $19.99