News Alert
Thursday, October 24, 2013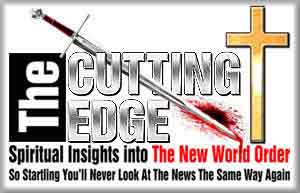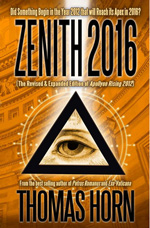 Arrival of Antichrist in 2016?
"Zenith 2016: Masonic Countdown Started in 2012 To Produce Global Leader!" New Book
The Illuminati began a series of events in 2012 which they believe will culminate in the appearance of a world messianic leader in just a few short years. A New World Order birthed out of Chaos is coming, and coming quickly.
Learn about Blood Moons, Feast Days and the Comet of the Century, the return of the Nephilim, the planned role of Pope Francis I, and what the Protestant Reformers believed about 2012-2016.
NEW Countdown To Eternity DVD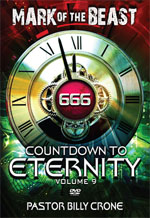 "The Mark of the Beast"
Volume 9 by Pastor Billy Crone
Regularly $39.99, Only $19.99
Over 4 Hours Long
Pastor Crone sounds the alarm: we are being powerfully conditioned to accept a 'Mark' either implanted or placed on the surface of our forehead or hand that will totally control our lives. This 'Mark' will go far beyond 'buying and selling'.
Subjects are: 1) 'The Proof of the Mark'; 2) The Biometrics of the Mark; 3) 'The Convenience'; 4) Individual 'Willingness To Take The Mark'; 5) 'The Mandate' To Force Everyone To Take The Mark; 6) 'The Options For The Mark'.
Pastor Crone reveals the reality that numerous foreign nations are far beyond the United States in implementing a total 'Mark' control system. http://www.cuttingedge.org/detail.cfm?ID=2567
SAVE Money by Buying A Combination Offer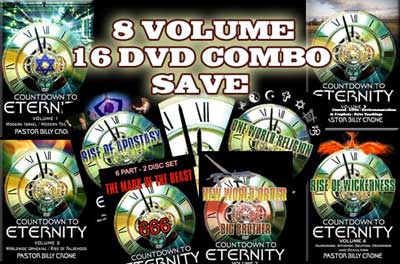 "COMBO OFFER: Countdown To Eternity End Times DVD's by Pastor Crone - All 8 Titles"
Regularly $319.92, Now Only $146.92
---
Popularly Priced $4.99 and $9.99 DVD's
See All Our $4.99 Books / DVD's

30 Titles From Which To Choose

72 Titles From Which To Choose!
---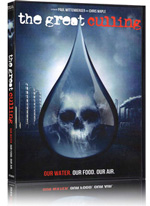 "The Great Culling" - DVD
Our Water, Our Food, Our Air
The Great Culling of the human population has quietly begun. Covertly, insidiously, mercilessly, a global depopulation agenda has been launched.
What did Jesus foretell? 'Unless the days be cut short, no human flesh would survive'! The world is entering into this era of history. Are you spiritually prepared?
---
May Jesus Richly Bless You,
David Bay, Director
Cutting Edge Ministries
800-451-8211