---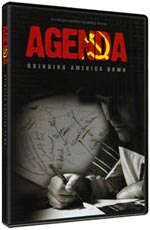 "Grinding America Down: Agenda Is At Work"
It's not just another conspiracy theory. For the past 17 years, Cutting Edge has been teaching that, if the world was really going to become a One World Government and Economy, America -- the King Kong of the world -- must be taken down in size and importance; after all, King Kong takes orders from no one.
Now, the slow, gradual grinding down of America is so obvious others are seeing the deliberate agenda being followed. Join Bowers for a fascinating look at the people and groups that have successfully targeted America's morality and freedom in their effort to grind America down.
It's a well documented agenda, and now you can prove it to any skeptic
---
Powerful Books By Dr. Dennis Cuddy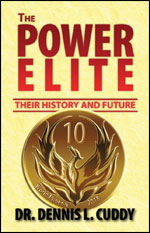 "The Power Elite: Their History and Their Future"
Dr. Dennis Cuddy uses the Phoenix Bird arising from its ashes very appropriately, because the planned New Order will literally rise from the burning ashes of this Old Order. The history of the Power Elite goes back almost a thousand years.
Dr. Dennis Cuddy takes an extensive look at how a "bold new world" is being shaped using coercive means to undermine national sovereignty and bring about a world socialist government. Dr. Cuddy also analyzes the role of the Muslim Brotherhood in the Power Elite's plan. Since the driving mechanism to bring about the plan's fulfillment is economics, he next reveals the looming economic disaster created to further the Power Elite's goals. This is followed by a look at the election of 2012, and the importance of President Obama's reelection as he moves the United States closer toward socialism/fascism.
Finally, in "Looking Backward," Dr. Cuddy projects into the future to see how the Power Elite's ultimate plan for a world socialist / fascist government will be fulfilled.
176 pages - http://www.cuttingedge.org/detail.cfm?ID=2537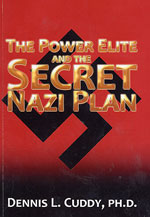 "The Power Elite and the Secret Nazi Plan"
Dr. Cuddy conclusively proves that the future New World Order will be just as firmly rooted in Adolf Hitler's Nazism as it was during the reign of Hitler!
Dr. Cuddy demonstrates that, even during the time in World War II when German Armies were victorious, certain top Nazi
160 pages - http://www.cuttingedge.org/detail.cfm?ID=2364
---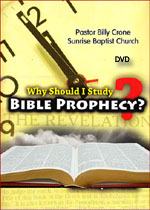 "Why Should I Study Bible Prophecy?"
"Blessed is he that readeth, and they that hear the words of this prophecy, and keep those things which are written therein: for the time is at hand" (Rev 1:3)
Believe it or not, God has actually promised a three-fold blessing for those who would read it, hear it and take it to heart, over and over again, day after day.
Are you sick and tired of focusing on nothing but your problems, your pain and this wicked world system? Then get back to studying Bible Prophecy and be blessed beyond measure! http://www.cuttingedge.org/detail.cfm?ID=2545
Popularly Priced $4.99 and $9.99 DVD's
See All Our $4.99 Books / DVD's

30 Titles From Which To Choose

72 Titles From Which To Choose!
---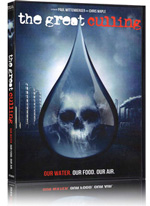 "The Great Culling" - DVD
Our Water, Our Food, Our Air
The Great Culling of the human population has quietly begun. Covertly, insidiously, mercilessly, a global depopulation agenda has been launched.
What did Jesus foretell? 'Unless the days be cut short, no human flesh would survive'! The world is entering into this era of history. Are you spiritually prepared?
---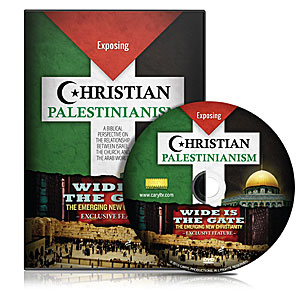 "Christian Palestinianism - Israel Is Going To Be Betrayed"
"Wide Is The Gate" DVD
A Biblical Perspective On The Relationship Between Israel, The Church and The Arab World,. addressing the rising tide of beguiling apostasy gripping today's church in regards to modern Israel. At the core of the anti-Israeli movement is Replacement Theology, a reinterpretation of scripture, teaching the church has replaced the nation of Israel now. Based on this erroneous misinterpretation, "Christian" anti- semitism attempts to justify its position, claiming the nation of Israel to be illegitimate and an "illegal occupier" of Palestine. This political-religious campaign is gaining wide acceptance among church leaders, denominations, charities, missions and humanitarian groups.
The Apostate Church, involved in usurping God's intended inheritance for His Chosen people and Israel, are joined by Palestinian Arabs with their own Muslim version of Replacement Theology. Islam's strategy is to rid Israel of its Jewish presence, seize the land for Allah, and establish Sharia rule worldwide. Additionally, cloaked in counterfeit Zionism, is the esoteric understanding of Judaizers (Kabbalists) who claim to be God's Chosen. They promote a nationalistic, political Zionism through aggressive self-effort. Sadly, Zionist imitations united with secularists and political left-wing and right-wing activists, are seducing the support of Christians who unwittingly become pawns in the alliance of "peace" for the antichrist and his unholy government.
Did you know specific end time prophecy is unfolding before our very eyes? . ....The promised ingathering of unbelieving Jews into Israel has begun? ....The 7 year "tribulation" judgment of God will bring numerous of His Chosen to call on Jehovah Who will redeem their land to the fullness of His promised borders? .....Multitudes of Jews worldwide are in present-day rebellion against their Messiah and hardened to His Promises for God's only covenant nation, Israel? ....Growing worldwide anti-semitism is also infecting contemporary Christianity in an aggressive and heartbreaking "Christian" anti- Israel, anti-semitic movement?
Speakers include: 1) Dr. Paul Wilkinson, 2) Dave Hunt, founder of The Berean Call, author, and knowledgeable authority on Israel and Islam; 3) Caryl Matrisciana, author and documentary film producer.
Almost 2 hours long - http://www.cuttingedge.org/detail.cfm?ID=251
---
May Jesus Richly Bless You,
David Bay, Director
Cutting Edge Ministries
800-451-8211