NEW DVD FROM CUTTING EDGE FILMS
REVELATION, Volume 2 - ARE WE IN EARTH'S FINAL HOUR?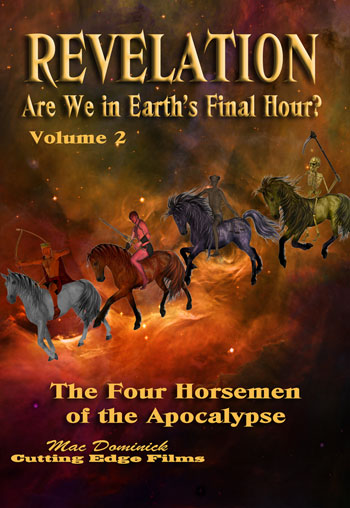 The Four Horsemen of the Apocalypse
New DVD by Mac Dominick
Shipping NOW!!
The control of the earth that Adam transferred to Satan is documented in Heaven in the form of a Title Deed of the Earth. As we take up our study in Revelation chapter 5, we are given by God in this inspired account the details of the exercising of this title deed. As with any deed that is held by a lienholder, payment for the property will eventually come due. In Disc 2 and following, we become witnesses to this payment and the judgment for the abuse of said property by those who were entrusted with its care. The Book with Seven Seals, a seven-sealed scroll, is this very title deed, and as the Lord Jesus Christ breaks each of these seals, the demand for payment is executed.
Disc 2 details the breaking of the first four of the seven seals, and with the breaking of each of these seals, the lien-holder (God) allows the empowerment of Satan and his minions their opportunity to exercise their will over the earth and mankind. The manifestation of the will of Satan is illustrated as 4 horsemen who are loosed and empowered to work their evil will over the planet earth and its inhabitants. The results are both tragic and devastating:
• Satan will install his man to rule the earth over a one-world government
• This ruler will deceive the Jews into believing he is their long-awaited Messiah and the savior of the world by instituting world peace.
• However, because this is a false peace, war will break out that reveals the evil that controls the planet.
• Subsequently, there will be famine, pestilence, and death to more than one-third of the earth's inhabitants
• Finally, the world ruler will declare war on the Jews and set up his image in a rebuilt Jewish Temple.
Disc 2 will detail this account, establish its credibility with prerequisites that show exactly how these events can and will take place, and prepare the viewer for the breaking of the remaining seals that initiate the wrath of Almighty God upon the earth dwellers.
Disc 2 includes answers to the following questions:
• Who is Antichrist, and where will he originate?
• Will the Antichrist be a Muslim as many Evangelicals now teach?
• Will Israel declare war on her Arab neighbors, and finally live in peace and safety?
• Is Russia a threat to Israel, and what does Scripture teach concerning this?
• How will the Jews realize that Antichrist is not their Messiah but rather, evil incarnate?
Buckle your seat belts and join us---this is a wild ride. Order - watch trailer here .
"REVELATION: ARE WE IN EARTH'S FINAL HOUR?" VOL. 1
'Jesus' Warning To His 7 Churches', New DVD by Mac Dominick of Cutting Edge Films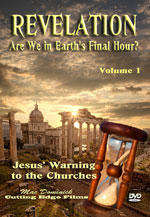 We are going to examine in this series areas which no other teacher has even addressed, but you should expect this kind of in-depth valuable information from Cutting Edge Ministries! Jesus wrote this prophetic book through John the Apostle, addressing:
7 Christian Churches in Asia Minor
7 Prophetic Seals
7 Trumpet Judgments
7 Histories (Persons)
7 Bowls (Vials)
7 Judgments (Dooms)
7 New Things
Since God considers the number Seven as His Perfect Number, we can see that God is offering a final prophetic book which consists of 7 subjects, each of which contains 7 events. A Divinely Perfect Book in all ways!

We are living in an age in which the question, Is there any hope for mankind? seems to become more relevant with each passing hour. Every waking hour is filled with reports of a new crisis, new disasters, new terror threats, and the realization that the fate of all of mankind is spinning out of control.

Additionally, this generation is facing more onslaughts of pure evil than has ever been witnessed in the entire history of man. As we search for answers, we must realize that God has given us a guidebook to prepare us for the future, and that guidebook is none other than the last book of the BibleThe Book of Revelation.

While there have been any who have taught and studied this book, most who teach it either teach it out of the context of the balance of the Word of God or fail to ask the hard questions surrounding the prophecies in this book. We at Cutting Edge Ministries are presenting this series to provide answers to not only the mysteries of this book, but also to deal with difficult subjects and answer the hard questions.

A few of the points we will cover in Volume 1 include:

The Rapture of the Church true or false?

Will the Antichrist be Islamic?

How do we understand Islamic eschatology?

Who is ISIS, and will ISIS conquer the Middle East?

What is the true bloodline of the Antichrist?

What is the fate of Russia?

How can the stars fall to earth from heaven?

Was there any prophetic significance to Nazi Germany?

Can we find the USA in the Book of Revelation?

We will teach the book in a survey format that will mingle a traditional, contextual approach to the book with a digression to apply these teachings and prophecies to cover the influence (or lack of influence) of the events we see taking place right before our eyes.

Run Time is nearly 2 hours Watch the Trailer
Hot News
1. Super Rock Star Prince has abruptly died at 57 years of age!
NEWS BRIEF: "Legendary Artist Prince Found Dead at 57", Hollywood Reporter, Friday, April 22, 2016
"The prolific artist and multi-instrumentalist had a trademark sound of deep synth funk grooves with provocatively sexual lyrics and heart-piercing ballads sung in pure falsetto ... Prince, a prolific multi-instrumentalist and virtuosic performer, was found dead at his home and recording studio in Minnesota early on Thursday (April 21, 2016)..."
Prince was so very popular that you have to go to Michael Jackson to find someone more popular. Millions of people loved his voice, his music and his personality. Prince was more than capable of connecting personally to a wide variety of popular music lovers.
However, Prince also sung a lamenting beautiful song entitled, "Purple Rain", whose lyrics seem to detail the deadly fatal effects of uranium poisoning upon the entire world. These lyrics also point an unsaved world to the effects of the "Huge Sword of Seal #2", of Revelation 6!
NEWS BRIEF: "Jennifer Hudson, Cynthia Erivo and The Color Purple Cast Bring the House Down by Singing Prince's 'Purple Rain' ," Eonline, April 22, 2016
"What better way to honor Prince than through song? Just hours after the 57-year-old singer was found dead in his Minnesota home, Paisley Park, Jennifer Hudson paid her respects to him in New York City on Broadway. Joined by Cynthia Erivo and the rest of The Color Purple cast, she brought the house down by performing 'Purple Rain'."
What does this 1984 rock song have to do with uranium poisoning upon the entire world? Before we answer this question, let us quote pertinent excerpts from an Archived Article, entitled "Purple Sunsets, Purple Clouds, And Purple Rain Are Coming To Your Town! ", NEWS2191.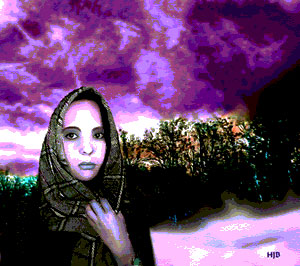 "After the nuclear weapons were exploded on Nagasaki and Hiroshima at the end of World War II, the sunrises, sunsets and the rain were purple for months. What made the skies purple over Japan after the nuclear attacks?"
""Uranium Oxide was the source and cause of the purple sunrises, sunsets and rain. The Uranium Oxide was a byproduct of the nuclear weapons that caused wide-spread cancers, health problems and birth defects in Hiroshima, Nagasaki for years and now and in the distant future in Iraq and North Africa..." (Ibid.)
Now, please note this picture, entitled, "Nuclear Winter". The fallout in the sky is colored purple.
Are we being told something about our collective future? Remember Cutting Edge teaching that the Illuminati loves to telegraph its punches? Please take a moment to read these articles:
NEWS2104 - "STARTLING REVELATION: NOW WE KNOW WHY THE ILLUMINATI "TELEGRAPHS THEIR PUNCHES": FEMA's THREE PREDICTIONS, IN MOVIES AND TV SHOWS, DEPICTING THE VERY DISASTER WHICH THEY PLAN"
NEWS2076 - "SOMBER SIGNS: NATURAL OCCURRENCES NOW PARALLEL RECENT DISASTER MOVIES"
With this information as background, did the Illuminati "telegraph its punches" through the Prince song, "Purple Rain"? Purple Rain, Purple Sunsets, and Purple Clouds all appear to be part of the immediate future of all mankind.
We believe the stage is being set for the fulfillment of the judgments found in the Book of Revelation:
Seal 2 -- "And when He broke the second seal, I heard the second living creature call out, Come! And another horse came out, flaming red. And its rider was empowered to take the peace from the earth, so that men slaughtered one another; and he was given a huge sword" (Rev 6:3-4; Parallel Bible, KJV/Amplified Bible Commentary)
We believe uranium poisoning is most definitely a "huge sword", and it is encircling the planet right now!
Seal 4 -- "When the Lamb broke open the fourth seal, I heard the fourth living creature call out, Come! So I looked, and behold, an ashy pale horse [[a]black and blue as if made so by bruising], and its rider's name was Death, and Hades (the realm of the dead) followed him closely. And they were given authority and power over a fourth part of the earth to kill with the sword and with famine and with plague (pestilence, disease) and with wild beasts of the earth." (Rev 6:7-8; Parallel Bible, KJV/Amplified Bible Commentary)
If the world stands as close to the precipice of the final world war -- the World War III planned to produce the Masonic Christ -- as we all think it does, we should be able to see some of these judgments forming on the horizon! We believe this Purple Sky phenomenon to be exactly that kind of development!
We believe "Purple Rain" is a song of radioactive warning to the entire world.
And a precursor to the "huge sword" of Seal #2.
2. No one can believe it! Trump won the Hispanic vote in the New York State Republican Primary!
Trump might fare better in the general election than "experts" have been predicting.
See All Our $9.99 Books / DVD's
72 Titles From Which To Choose!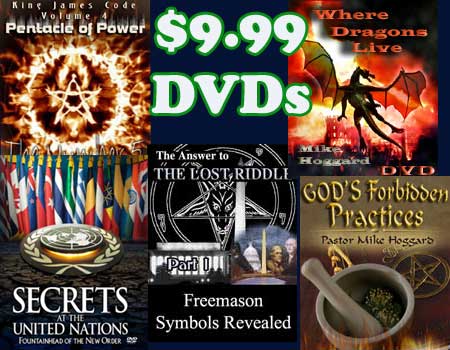 See All Our $4.99 Books DVD's
30 Titles From Which To Choose!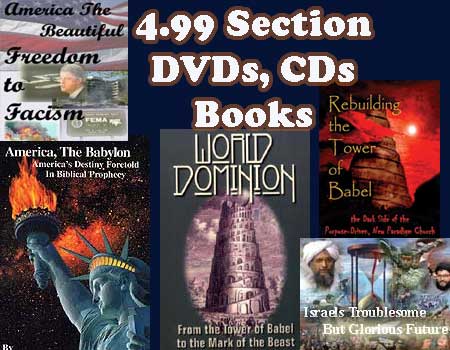 NEWS BRIEF: "Donald Trump Won Hispanic Vote in New York City: Won over 50% of the vote", Breitbart News, April 22, 2016
"GOP frontrunner Donald Trump won more than 50 percent of the Hispanic vote in New York City ... Analysis of the New York Times' vote tracker shows Trump won 61 percent in areas with at least a 50 percent Hispanic population."
How can this shocking development be true? Every political pundit has been blasting his/her belief that Trump's radical views upon illegal immigration, building a better fence and forcing millions of illegals back to their homes, would doom him among immigrants who do vote!
"New York is Mr. Trump's home state, and Mr. Cruz's 'New York values' comment could've hurt him worse than anyone predicted. But it's still interesting Mr. Trump pulled out a win with this demographic, and it might mean — despite what the polls are saying and most in the political and punditry class — that he's not doomed in the general," Riddell adds."
Democrat Party leaders must now contend with the possibility that Donald Trump is going to pull hard and strong across the board in the general election. If this trend becomes reality, Democrats are going to have to get used to the title, "President Donald Trump"!
3. President Obama used a most unusual defense as to why Great Britain must stay in the European Union:
National Sovereignty is now over and has now given way to Collective Rule!
NEWS BRIEF: "Obama: Britain Should Stay in the EU Because ... Sovereignty Is Outdated", Breitbart News, 21 April 2016
"U.S. President Barack Obama has penned an opinion column in Britain's Daily Telegraph newspaper outlining why he believes Britain should remain in the European Union (EU). The core of his arguments are: that Britain's voice would be lost without Brussels bureaucrats; his failing deal with the largest state sponsor of terrorism; the pro-mass-privatisation TTIP deal; and the fact that dead American servicemen are buried in Europe."
Brits today are laughing at President Obama for his cultural ignorance.
But, Conservatives are outraged that the time has come in the surrender of national sovereignty that the President of the United States articulated dead national sovereignty as one of the reasons to stay within the European Union!
"And then comes the attack on the idea of sovereign nations themselves. President Obama insists that "collective action" is more pressing than the idea of independent countries: a notion that those same American servicemen died fighting against:
NEW DVD PROPHETIC SET!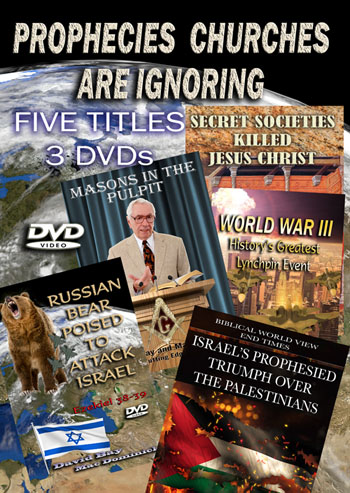 "Prophecies Churches Are Ignoring"
DVD Combo by David Bay
Regularly $84.94,Now only $29.99
You save nearly $55
Why are so many pastors so reluctant to teach prophecy? Why are so many pastors even more reluctant to teach how current events are uniquely fulfilling End of the Age prophecy?
Cutting Edge Director, David Bay, teaches six hard- hitting lessons on six unique End Times instances where events are fulfilling prophecy, but no one is talking about it. Five hot topics on three discs.
1) Israel's Prophesied Triumph over the Palestinians
2) Russian Bear Poised To Strike Israel
3) 'Masons In The Pulpit'
4) World War III: History's Greatest Lynchpin Event
5) Secret Societies Killed Jesus Christ
Each message is followed by a complete Salvation Plan, so each DVD becomes a Soul-Winning tool.
Almost 6 Hours of Teaching -- http://www.cuttingedge.org/detail.cfm?ID=2718
---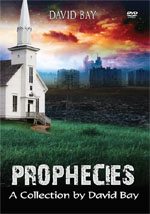 Prophecies a Collection by David Bay- DVD Combo - Volume 1 which contains 3 DVDs with our first six programs.
Here are the six hot topics:
• The Prophetic Beast Arises: Ten Toes of Daniel Are Forming
• Rapture Precedes Israels Final 'WEEK' of History
• Eternal Security: God's Anchor In A Brutal Storm
• End Times' Judgment On Iraq - Worse Than Believed Possible - Isaiah 13
• Israel's Prophesied Annihilation of the Palestinians
• America Identified In Prophecy: Economic Babylon of Revelation 18
Regular Price: $89.94 Sale Price: $29.99
---
View All TV Interviews on Prophecy In The News

"Israel's Prophesied Triumph Over the Palestinians"
"Bringing Saudi Arabia Down: Without Destroying World Economy"
Egypt's Prophetic Tsunami - Isaiah 19
More Interviews On Prophetic Subjects + Southwest Radio Interviews
---