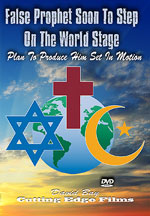 1. The Prayer Service designed by the Illuminati to so focus on world peace by adherents of the Monotheistic Religions that an omnipotent "Spiritual Synergy" can be created to cause all religions of the world to join into ONE is updated in a news article in Breaking Israel News!
A our new DVD reports -- "False Prophet To Step On The World Stage" -- that the Roman Catholic Pope will arrive at this meeting to bless its initiative and to declare all world's religions to be ONE.
The Pope will also declare himself to be the top religious leader in the world, thus identifying himself as the False Prophet of Revelation 13:11-18!
NEWS BRIEF: ""A House for All Believers" to Open in Jerusalem", Breaking Israel News, August 14, 2016
"A new interfaith and spiritual gathering of Christians, Jews and Muslims will take place in Jerusalem this September ... 'Amen-A House of Prayer For All Believers', part of the 2016 Mekudeshet Festival from September 4-23, is an initiative created by the Jerusalem Season of Culture, an annual festival in Jerusalem, to bring together the world's three major faiths 'who share a belief in one God and a boundless love for Jerusalem to dialogue, study, sing and pray together in one temporary house of worship', said a press release."
This news reporting this unique spiritual prayer service is the outworking of a plan of the global Illuminati to force such a powerful -- indeed omnipotent -- spiritual potency that will transcend all existing spiritual conflicts and produce a One World Religion!
Stop to think for a moment how impossible it seems to get Muslims praying with Jews and Christians under one roof. Why, the Israeli Defense Force will probably be deployed in full battle gear to prevent radical jihadists from attacking this "Amen-A House of Prayer For All Believers" and attempting to kill all participants.
But, the occult leaders of this world who are pushing us closer and closer to the global Government, Economy and Religion of the Antichrist have a unique idea in mind, one that will be so spiritually omnipotent that it will overwhelm today's present religious warfare.
I find it very interesting that the occult plan of the Elite to bring the False Prophet to the world's stage, is centered around the city of Jerusalem. Did you know that Jewish Rabbis have long believed that the city of Jerusalem is the center of the entire universe?
Literally, the occult plan calls for the False Prophet – who is planned to be the Roman Catholic Pope – to come to Jerusalem during a time of great religious crisis in all three of the Monotheistic Religions.
The Middle East today is being convulsed by daily violence which is drawing almost supernatural strength from the Monotheistic Religions in the region. When describing this plan 25 years ago (1991), the New England Director of the House of Theosophy boldly stated that this Prayer Meeting script would not work unless continuous warfare and the threat of wider warfare, was deliberately maintained.
That condition has certainly been maintained, has it not? The invasions of Iraq and Afghanistan, followed by the Arab Spring wars beginning in April, 2011, interspersed with daily bombings all throughout the region, and finally, Saudi Arabia's insane attack on tiny Yemen, have adequately wearied the minds and hearts of the vast majority of the people within the entire world.
Let us return to this news article.
"Artists, actors, musicians and media figures from around the world are expected to participate in the event. 'We will study, argue – yes, this is also allowed – and pray – together and alone. We will see if it is possible, despite all the corporeal difficulties and earthly obstacles, to create a new reality', said Mekudeshet Artistic Director Itay Mautner."
New Age belief states that man can create a new reality through focused prayer and meditation and this is exactly what this Monotheistic Prayer Meeting is designed to do -- focus on world peace and safety through united prayer.
So far, we have not heard that Pope Francis will attend this meeting to bless its efforts and to declare all world's religions to be one. When we read or hear that the Pope will attend at least some of the meeting, Christians will know that the prophesied One World Religion is very close to being established.
And, we will further know that the Roman Catholic Pontiff will be the prophesied False Prophet!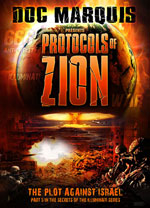 2. America moved closer to all-out violence this weekend, moving us closer to the Protocols Plan.
NEWS BRIEF: "Milwaukee Riots After Black Policeman Shoots Armed Black Suspect: Police Cars Burned, Officer Injured", Breitbart News, 13 August 2016
".@MilwaukeePolice have covered the windows at District 7. MPD: shots were fired at the building today. #Milwaukee"
"Revealed: the name of the man fatally shot before the riots — and the ethnicity of the officer. Milwaukee police have identified the 23-year-old man who was shot and killed by an officer Saturday afternoon. The man has been identified as Sylville K. Smith. Milwaukee Police Chief Edward Flynn said Smith has a lengthy arrest record."
Radical blacks forced the riot and the fires and the destruction of police cars because the victim was black. What they did not realize was that the policeman who shot the criminal was also black. But, after all, why let a little truth get in the way of a riot?
NEWS BRIEF: "Shock Video–Milwaukee Rioters: 'They Beatin' Up Every White Person!', Breitbart News, 14 August 2016
"The clip shows angry rioters chanting "black power!" before asking "is they white?" as cars slowly drive past. 'Yeah they white'" states someone else, prompting the mob to run towards the vehicle.
" 'Yeah they white, get their ass!' screams another."
" 'Hey they beatin' up every white person!' exclaims another rioter."
" 'He white – beat his head – bitch!' he adds.
"The footage appears to show the mob attacking cars and trying to drag out the drivers."
Violence continued in New York City when a much beloved Iman and his associate were murdered in cold blood on the street, execution style.
NEWS BRIEF: "Queens Imam and his assistant executed in broad daylight", New York Post, August 13, 2016
"A beloved imam and his assistant were gunned down execution-style in broad daylight Saturday as they walked home in their traditional robes after prayers at a Queens mosque — and some members of the community believe it was a hate crime. Imam Maulama Aknojee, 55, and Thara Uddin, 64, both died at ­Jamaica Hospital, police said."
"Police confirm the victims were not robbed when they were shot in the back of their heads by a lone gunman on foot, but stressed it was premature to call it a hate crime. 'There is nothing in the preliminary investigation that would indicate that they were targeted because of their faith," NYPD Deputy Inspector Henry Sautner said."
"The married imam hailed from Bangladesh, and was beloved in the community. 'He's like the pope for this neighborhood', Johnny Patwary, 28, told The Post."
In the anger and the anguish caused by this brutal, bloody murder, people cast about for someone to blame. Some people -- must be Democrats -- point their accusing fingers at Donald Trump!
NEWS BRIEF: "Trump incitement blamed for fatal shooting of New York imam and associate", The Jerusalem Post, August 14, 2016
"The Anti-Defemation League expressed solidarity with the Muslim community on Sunday after a lone gunman killed an imam and his assistant as they walked in Queens, New York City. The double murder took place on Saturday following afternoon prayers at a mosque in the Ozone Park neighborhood."
Who did such a dastardly deed?
"While the motive for the shooting was not immediately known and no evidence has been uncovered that the two men were targeted because of their faith, some in the Muslim community have spoken out against Republican Presidential candidate Donald Trump, blaming him for creating an atmosphere of Islamophobia."
This accusation is pure nonsense. Since the Afghan invasion of October, 2001, Sunni Muslims have been murdering Shi'ite Muslims -- and vice versa -- by the many tens of thousands. At times, it is difficult to know whom the Muslims hate worse, the Jews or each other.
Since Muslims have been killing each other for 1,000 years, my money is on an extremist Muslim who carried out the murder for reasons totally unrelated to Donald Trump!
America seems to be trembling toward a civil war not based upon reason and fact, but based totally on propaganda sound bites. And, this plan was first formulated nearly 200 years ago in a Planning document known as the "Protocols of the Learned Elders of Zion".
Here is the wording of that Plan.
"There is another reason also why they will close their eyes: for we shall keep promising them to give back all the liberties we have taken away as soon as we have quelled the enemies of peace and tamed all parties .... It is not worth to say anything about how long a time they will be kept waiting for this return of their liberties ..." ("The Protocols of Zion", Protocol Nr. 11, "We Are Wolves")
3. The top leader of the Palestinian Hezbollah terrorist group boldly stated the President Obama did, indeed, found ISIS!
NEWS BRIEF: "Hezbollah Leader: Obama did, indeed, found ISIS", Israel National News, August 14, 2016
"Hassan Nasrallah, leader of the Hezbollah terror group, cited American Republican presidential candidate Donald Trump's words several days ago stating that current American President Barack Obama had founded ISIS - and agreed with him."
"Nasrallah, who sent thousands of his soldiers to Syria in order to take part in the fight against ISIS alongside fighters of the Syrian regime, has asserted for some time now that the US helped found ISIS in order to create instability in the Middle East."
How effectively will the Mass Media protect Hillary from this shocking revelation?
---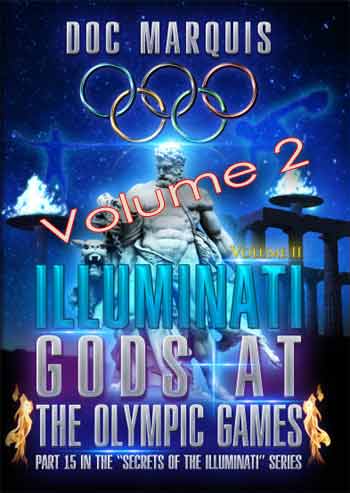 "Through the Olympic Games the adoration and worship of ancient gods are revised and brought back in such a way that no one could've guessed the whole of what the Illuminati had been doing right in front of us all along. And yet, we've always known that something was there, something in those Games that just didn't seem right but were accepted nevertheless. However, with his unique background as a former, 7th generation Illuminati witch Doc Marquis reveals the stories and details of the Olympic Games which the Illuminist wants no one to know.
Beginning where he left off in Vol.1, Doc takes us from the Closing Ceremony of the 2000 Olympic Games of Sydney, Australia all the way through the Closing Ceremony of the 2012 Olympic Games of London, England. At the end Doc makes some startling predictions as to what he expects will occur during the 2016 Olympic Games of Rio de Janeiro in Brazil.
The worship of the "serpent god (Satan), Illuminati symbols, occult stories and myths, ancient pagan rituals, the revival of the ancient gods and so much more will be unveiled as you go through "Illuminati gods at the Olympics Games, Vol.2".
2 DVD set, nearly 4 hours long.