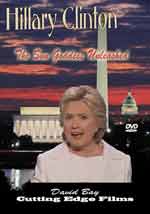 DVD
2. Hillary Clinton has threatened Christianity more than any American leader, and yet, she claims to be a champion of Religious Freedom!
NEWS BRIEF: "Hillary Clinton Claims She 'Defends Religious Freedom': A Christian Writer's Response is Priceless", Life News, August 17, 2016
"Bestselling Christian author and talk show host Eric Metaxas said Christians should not be fooled by Hillary Clinton's talk about standing for religious freedom. Metaxas said the pro-abortion Democrat does not stand up for traditional Christian values, and her claims about fighting for religious liberty are just a 'cynical joke' ... "
When did Hillary ever claim to be a champion for religious liberty?
"His comments were in response to an article Clinton wrote this week for the Deseret News in Utah, claiming that she has been an advocate for religious liberty throughout her time in office."
" 'I've been fighting to defend religious freedom for years', Clinton wrote. 'As secretary of state, I made it a cornerstone of our foreign policy to protect the rights of religious minorities around the world — from Coptic Christians in Egypt to Buddhists in Tibet'."
Ah, yes, Hillary has acted to protect other religions, including Coptic Christians in Egypt, but she is only worried about Fundamental, Born Again Christians, in America; she recognizes them, and only them, as her true enemy. And, she might very well be in power -- if elected -- when Antichrist arises, and she will be more than eager to do his bidding.
Metaxas continues, 'I am stunned at the level of cynicism from Hillary Clinton to make a statement like that. It's ugly', Metaxas continued. 'To hear her talk about religious liberty. She is the enemy, if ever there was an enemy of religious liberty in America, it's Hillary Rodham Clinton and every American should be frightened to death on that issue'."
In a speech last year, Clinton essentially said Christians must be forced to change their religious views to accommodate abortions. 'Far too many women are still denied critical access to reproductive health care and safe childbirth', Clinton said at the time, using the euphemism for abortion. "… 'And deep-seated cultural codes, religious beliefs and structural biases have to be changed'."
She will be very dangerous to us because she is empowered by power from the Abyss, just as our new DVD, "Hillary Clinton: The Sun Goddess Unleashed" proves.
3. One Trump adviser believes that Hillary should not be assassinated.
She should be shot for treason!
NEWS BRIEF: "Trump Adviser Al Baldasaro: Hillary Clinton should be shot for treason, not assassinated", MassLive News, August 16, 2016
"An adviser to Republican presidential nominee Donald Trump doubled down Tuesday on comments he made saying that Democratic presidential nominee Hillary Clinton should be shot for treason. But New Hampshire state Rep. Al Baldasaro, a Republican who co-chairs Trump's national veterans' coalition, stressed that he was not saying someone should assassinate Clinton."
" 'I said I spoke as a veteran, and she should be shot in a firing squad for treason'."
While this statement might shock many, I believe that most veterans would agree, at least to the proposition that Hillary committed treason because of her cavalier attitude toward using her insecure private network to send out classified emails while she was Secretary of State.
Had any private citizen committed the same crime, he/she would have been imprisoned a long time ago, and might be facing the death penalty. Just last week, Iran executed an Iranian nuclear scientist whose identity was blown by a Clinton email which had been sent out via her private email server.
How many other American spies have lost their lives because Clinton simply did not care enough to follow the strict rules for a handling sensitive intelligence. Hillary ascends to the Oval Office, she will be privy to a lot more Top Secret Crypto intelligence. How can we trust her to protect those secrets from prying eyes?
4. Is all-out nuclear war with Russia over Ukraine possible? Russia is reportedly moving 40,000 troops to the border and armored vehicles along the border.
NEWS BRIEF: "THREAT OF WAR: Fears of all-out conflict in Ukraine as sabre-rattling Vladimir Putin places 40,000 troops and armoured vehicles along the border", The Sun News, 18th August 2016
"AS many as 40,000 Russian troops are massing on the country's border with Ukraine – prompting fears of a new military invasion. The Pentagon has identified eight staging areas dotted along the border, suggesting Russian strongman Vladimir Putin is preparing for new incursions. Among the units deployed to the area are armoured vehicles, tanks and fighter jets."
In the past few months, numerous people have worried on line that as President, Hillary Clinton just might start a nuclear war with Russia. In fact, this fear has been prevalent on American's minds since 1950, when Russia deployed her nuclear warheads.
And, every time, the fears proved bogus. Why? What does the Bible say?
Revelation 17:12-13 -- Special Revelation About the 10 Rulers Supporting Antichrist - "Also the ten horns that you observed are ten rulers who have as yet received no royal dominion, but together they are to receive power and authority as rulers for a single hour, along with the beast. These [rulers] have one common policy, opinion, purpose, and they deliver their power along with the beast." [Parallel Bible, KJV/Amplified Commentary]. In other words, these 10 rulers of these reorganized 10 Super Nations will strive to accumulate global power for the express purpose of ruling with the Antichrist. In other words, each of these 10 rulers secretly supports Antichrist, and is planning to rule with him.
God is even more specific about the secret support of each of the 10 rulers in the next Scripture.
Revelation 17:17 -- God Controls The Hearts of Each of the 10 Rulers -- "For God has put it into their hearts to carry out His own purpose by acting in harmony in surrendering their royal power and authority to the beast, until the prophetic words, intentions, and promises of God shall be fulfilled." [Parallel Bible, KJV/Amplified Commentary].
Once again, we see that God will put the plan into the hearts of each of these 10 Super Rulers to work in concert to produce Antichrist. Literally, these 10 Super Rulers will work mightily to create global authority, for the express purpose of surrendering this power to Antichrist.
The leaders of the last 10 Supernations are really "acting in harmony" with each other, because God's Holy Spirit is controlling their hearts, to do what His prophecy commands. None of these 10 leaders are acting on their own.
So, since the Bible declares in Revelation 18 that He will destroy that Economic Babylon called America, and He will destroy Russia at the moment her troops arrive at the border with Israel in Ezekiel 38-39, there can be NO nuclear war between these two countries.
You can laugh to scorn anyone who tries to drum up irrational fears of a nuclear war between Russia and America. Jesus was truly correct when He said:
"... ye shall know the truth, and the truth shall make you free." (John 8:32)
---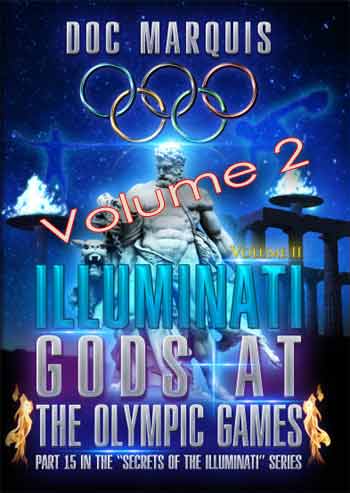 "Through the Olympic Games the adoration and worship of ancient gods are revised and brought back in such a way that no one could've guessed the whole of what the Illuminati had been doing right in front of us all along. And yet, we've always known that something was there, something in those Games that just didn't seem right but were accepted nevertheless. However, with his unique background as a former, 7th generation Illuminati witch Doc Marquis reveals the stories and details of the Olympic Games which the Illuminist wants no one to know.
Beginning where he left off in Vol.1, Doc takes us from the Closing Ceremony of the 2000 Olympic Games of Sydney, Australia all the way through the Closing Ceremony of the 2012 Olympic Games of London, England. At the end Doc makes some startling predictions as to what he expects will occur during the 2016 Olympic Games of Rio de Janeiro in Brazil.
The worship of the "serpent god (Satan), Illuminati symbols, occult stories and myths, ancient pagan rituals, the revival of the ancient gods and so much more will be unveiled as you go through "Illuminati gods at the Olympics Games, Vol.2".
2 DVD set, nearly 4 hours long.