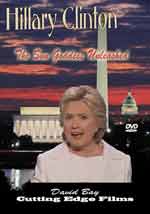 DVD
1. Iran executed a scientist whom they discovered was a spy only because Hillary Clinton "outed" him in an email.
NEWS BRIEF: "Iran executes nuclear scientist for 'spying' for the U.S.", Israel National News, 8/8/2016
"Iran has executed a nuclear scientist convicted of handing over 'confidential and vital' information to the United States, a judicial spokesman said on Sunday ... 'Shahram Amiri was hanged for revealing the country's top secrets to the enemy', the spokesman, Gholamhossein Mohseni Ejeie, was quoted as having told reporters in Tehran."
And, how did Iran know that Shahram Amiri was a spy working for America?
NEWS BRIEF: "Senator Cotton: Clinton discussed executed Iranian scientist on email", The Examiner, 8/7/2016
"Hillary Clinton recklessly discussed, in emails hosted on her private server, an Iranian nuclear scientist who was executed by Iran for treason, Sen. Tom Cotton, R-Ark., said Sunday ... in the emails that were on Hillary Clinton's private server, there were conversations among her senior advisors about this gentleman," he said on "Face the Nation." Cotton was speaking about Shahram Amiri, who gave information to the U.S. about Iran's nuclear program."
"The senator said this lapse proves she is not capable of keeping the country safe."
In our newest DVD shown above, "Hillary Clinton: The Sun Goddess Unleashed", we noted that White House FBI agent, Gary Aldrich, noted that both Bill and Hillary were completely unconcerned that classified information was properly handled, so it would not fall into enemy hands.
The REAL mystery is that the first evil fruit of the Clinton' refusal to protect American secrets did not occur during Bill's eight years of Presidency, but waited until 2009, when Hillary was Secretary of State. If undercover agents for American intelligence services truly understood how easily an ignorant or complacent Hillary Clinton could reveal their identity to the country in which they are stationed, they would resign en masse!
Returning now to the remarks from Senator Cotton:
"That goes to show just how reckless and careless her decision was to put that kind of highly classified information on a private server."
Will this newest revelation cause any political damage to Hillary's White House bid?
"The revelation could cause further political damage to Clinton, who was already on the defensive Sunday after commenting oddly last week that she had "short-circuited" in a statement related to her honesty about the email scandal."
"The scientist shows up in Clinton's emails back in 2010, just nine days before he returned to Iran."
"Iran confirmed on Sunday that Amiri had been hanged for treason. He was convicted of spying charges in a death sentence case that was upheld on appeal ... This person who had access to the country's secret and classified information had been linked to our hostile and No. 1 enemy, America, the Great Satan" a spokesman for the Iranian judiciary said. 'He provided the enemy with vital and secret information of the country'."
President Obama must feel like he has "egg on his face", after the nation he literally bent over backwards to accommodate during the Iranian nuclear program "negotiations" has now labeled America its "#1 Enemy"! Will American voters be intelligent or informed enough to link Obama's naivete to Hillary's equal naivete? When Hillary claims she has more Foreign Policy experience than Donald Trump, she must include her email disaster AND her Benghazi fiasco; since these constitute her "greater foreign policy experience", voters must reject her outright, as a fraud and an incompetent!
Will the FBI now arrest Hillary today, for this blatant violation of the law? One of her defenses is that no foreign power read her emails, a defense now in shreds.
2. Donald Trump is revealing that the British voter who did not want his country's National Sovereignty to be permanently destroyed is not alone.
NEWS BRIEF: "The Worldwide Trumpian Majority: Lessons from Brexit, Britain, and the United States, by James P. Pinkerton, Breitbart News, 7 August 2016
"Lessons from Brexit: perhaps the reader has noticed the title of this series: "The Emerging Trumpian Majority." And one might ask: How can we have an 'Emerging Trumpian Majority' if, as the MSM stoutly insists, Donald Trump's candidacy is doomed?"
"First off, Trump is not doomed ... on August 6 that there was yet another jihadi attack, this time in Belgium, reminds us that the conjoined issues of immigration and homeland security will remain paramount through November—and that's good for Trump."
Moreover, increasing numbers of American voters are coming to understand that a Hillary victory will really bring about a Third Term for President Obama, and that is going to prove disastrous to Hillary.
"Second, we can observe that long-term trends are favorable to nationalists, such as Trump, and unfavorable to globalists, such as Clinton ... Indeed, the degree to which the UK establishment was flummoxed by Brexit is astounding. The polls were virtually unanimous that Brexit would lose—and they were all wrong."
"British Politics as a Leading Indicator for American Politics" -- If we study UK politics, we notice something interesting: Elections across the Atlantic have a way of anticipating American elections." (author then lists several examples, which are beyond our space here)
"So now, as we think about the 2016 presidential election, we can readily see that the same populist-nationalist forces that powered Brexit to victory—and pushed the globalist incumbent, Prime Minister David Cameron, out of office—are at work here in the US. So does the win of Brexit portend a win for Trump? Trump himself seems to think so; speaking of the UK, he tweeted on June 24, 'They took their country back, just like we will take America back'."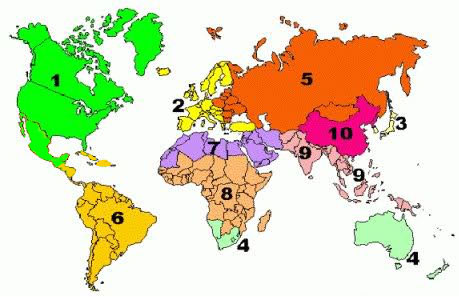 "Nationalism vs. Globalism: "Yes, Brexit won, and that means that the nationalists won. And yet, the globalists are attempting to deny that victory. This is not surprising ... the globalists seek to extend the EU model to the world ... Indeed, the globalists are so invested in this model that Brexit came as a stunning shock ..."
"... we can step back and see that around the world, the dueling forces are globalism, on the one hand, and nationalism, on the other. Globalism, as we have observed, is a curious combination of socialism and capitalism—that is, bureaucrats and bankers, working together to flatten national boundaries and, indeed, to flatten the nation-state itself."
This observation is entirely correct, except that the final objective is to complete the reorganization of all nations of the world into the prophesied "10", a reorganization which will form the "New World Order" (the NOVUS ORDO SECLORUM on the back of the American One Dollar Bill). That is the Plan of the Global Elite, and it is under attack for the first time since 1791, when the Founding Fathers set America on this goal.
"As for nationalism, that's the credo of all others, whether we like them or not. Trump, Farage, and LePen are nationalists, but then so, too, are the Russians, Chinese, and Iranians. In other words, just about all the peoples of the world are instinctive nationalists; it's globalism that is the strange mutation, afflicting mostly the West."
Vigilant concern over loss of National Sovereignty is proven to be an international phenomenon. I do not see how the Elite can establish the reorganization of all nations into only the prophet "10" (Daniel 7"7-8, 2:40-45; Revelation 17:12, 17) can occur before the Rapture of the Church.
3. Russia is finalizing the diplomatic ties with Turkey and Ancient Persia (Iran) required by the Ezekiel 38-39 prophecy.
NEWS BRIEF: "After failed coup, Russia and Turkey aim to thaw icy ties", The Times of Israel, August 8, 2016
"Erdogan heads to Russia for first meeting with Putin since fallout over downed jet put relations in the deep freeze ... just half a year on Russia has accepted Ankara's expressions of regret over the incident and Erdogan will meet Putin in Saint Petersburg on Tuesday for their first summit since the crisis erupted, in the hope of reviving the relationship."
"Ankara was also gladdened by Moscow's response to the July 15 failed coup in Turkey. Putin was one of the first foreign leaders to phone Erdogan offering support and, unsurprisingly, sharing none of the scruples of EU leaders about the ensuing crackdown. 'The Russian response stood in stark contrast to those of Turkey's Western allies', said Jeffrey Mankoff of the Center for Strategic and International Studies (CSIS)."
History between Russia and Turkey is so belligerent that there should be no way in which Turkey allies with Russia when the Bear invades Israel in fulfillment of Ezekiel 38-39. Yet, prophecy foretold this scenario 2,500 years ago, and so it is happening today!!
"Relations between Turkey and Russia — two powers vying for influence in the strategic Black Sea region and Middle East — have never been straightforward and their predecessor Ottoman and Russian empires fought three centuries of war."
""The only person that Erdogan fears is Vladimir Putin," argued Steven Cook of the Council on Foreign Relations. Mankoff said the tension between Turkey and the West creates for Moscow a "prime opportunity to pull Ankara closer."
Jewish Bible scholars are getting very excited as they see the line up of nations right now, because they are aligning exactly as Prophecy foretold 2,500 years ago!