Hot News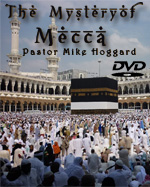 1. A President of Whom We Should Be Ashamed
A. President Obama may have just flashed a signal to Hillary that he will not allow the DoJ to indict her for her illegal use of "Above Top Secret" emails while she was Secretary of State!
NEWS BRIEF: "Did Obama just send Hillary Clinton the all-clear on the FBI investigation?", by Michael Goodwin, Fox News, January 27, 2016
"Each day brings new details about the classified information Hillary Clinton had on her homebrew server. The disclosures are inevitably followed by demands that she be indicted."
At this point, the author states the reasons he believes that Hillary will never, ever be indicted by this sitting President, at least during a Presidential campaign.
"Color me skeptical that she will face criminal charges, especially after President Obama's kind words for her. His praise of Clinton's experience in an interview, twinned with his comparison of Bernie Sanders as a 'bright, shiny object', were widely interpreted as a Clinton endorsement. Correctly so, but there's more to it. Obama wouldn't be endorsing Clinton if he intended to let the Justice Department indict her. Thus, I believe his remarks also were meant to signal the all-clear on the FBI investigation."
Have you seen Hillary's facial expressions during times of intense Media pressure on her to explain herself? Since Hillary is one of the world's most powerful Illuminatus, she feels that, sometimes, she is pushed on this subject more than she would like, so she unleashes one of her patented expressions of disgust.
The Illuminati will get whomever they want for President. If Hillary falls in the polls so far that even the Elite do not want to push her candidacy any longer, she will be ditched, and not for Bernie Sanders. But, believe me, the Elite would like to shove Hillary's "Victory" down the throats of a lot of critics, and they can do so as long as the wave seeking to push her out of the race can be held to something less than a political and/or legal tsunami!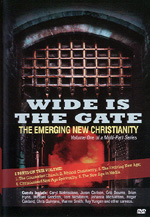 B. President Obama is planning to visit an Islamic Mosque in the United States, whose Imam praised suicide bombings!
NEWS BRIEF: "Obama to Speak at Baltimore Mosque Where Imam Condoned Suicide Bombings", Breitbart News, 30 Jan 2016
"President Obama is set to speak next week at a mosque which was led for over a decade by an Imam who justified suicide bombings in some circumstances and who helped found a mosque with ties to Al Qaeda."
Leave it to our President, who cannot miss an opportunity to promote Islam as a peaceful religion and a religion equal to Christianity, Judaism, Buddhism, and Hinduism! After all as the New World Order (NOVUS ORDO SECLORUM) gets closer each day, the time is quickly coming when no person can assert that their Monotheistic religion is unique and represents the only way to eternal Heaven!
"The President will visit the Islamic Society of Baltimore on Wednesday and deliver remarks there ... This will be the first time the President has paid an official visit to a mosque during his seven years as President. However, Obama has toured mosques while on overseas trips."
Barack Hussein Obama wasted no opportunity to praise Islam, even if one of its terrorist organization shouted approval of this spectacle of a sitting President worshipping at a mosque.
"The Council on American Islamic Relations (CAIR)–which has been declared a terrorist organization in the United Arab Emirates and was named by federal prosecutors as an unindicted co-conspirator in the Holy Land Foundation's Hamas-funding operation–welcomed Obama's decision ... But critics of Obama's decision may question his choice of the Islamic Society of Baltimore, where Mohamad Adam el-Sheikh, a native of Sudan and former member of the Muslim Brotherhood, led the institution for eighteen years as its Imam. "
Truly, this man is more than a 32nd Degree, Prince Hall Mason, and he is certainly more than a top-level Illuminatus; he is a genuine Islamic sympathizer! America has endured nearly 8 long years of humiliation at the hands of this secret sympathizer of America's most dedicated enemy.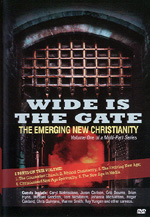 2. Can A R.I.N.O. (Republican In Name Only) / Liberal Democrat win the Presidency if Hillary falters so badly that not even Establishment Democrats can stand her?
Curiously, R.I.N.O. Liberal Democrat/Republican MIchael Bloomberg is suddenly "interested in" the Democrat / Liberal candidacy for President!
NEWS BRIEF: "Hillary Clinton's worst nightmare: Hint -- it's not Bernie Sanders", Fox News 1/28/16
"Hillary Clinton's nightmare is not the sudden resurgence of Bernie Sanders. It is the fidelity to the rule of law of the FBI. The recent revelations of the receipt by Clinton of a Special Access Program email, as well as cut and pasted summaries of state secrets on her server and on her BlackBerry nearly guarantee that the FBI will recommend that the Department of Justice convene a grand jury and seek her indictment for espionage."
When Bernie Sanders stated during a recent debate that he was tired of hearing nothing but Clinton's emails, pundits declared that this issue was over, dead and buried and long forgotten. Guess they were wrong! The integrity of the FBI seems to be getting in the way of Hillary continuing her fairy tale of securing the Presidency of the United States.
"It seems that every week, more information comes to light about Clinton's grave legal woes. Her worries are in two broad categories ... 1) "... her well-documented failure to safeguard state secrets; 2) "... her probable use of her position as secretary of state to advance financially her husband's charitable foundation."
"The FBI is currently and aggressively investigating both."
Therein lies the grave danger to Hillary. Even though she was designated as future President of the United States several decades ago, and even though the Illuminati is dedicated to that plan, they must act if Hillary is in such legal and political trouble that the public can never believe she won an election fairly!
Suddenly, the Democrat Establishment has a new candidate if Hillary needs to be debunked. His name is Michael Bloomberg, former Mayor of New York City and a Liberal R.I.N.O. Republican. Since he is heir to the Bloomberg financial fortune, he is probably, more rich than even Donald Trump.
NEWS BRIEF: "Bloomberg's Rapid Rise",
"Fox's Trump-less debate last night brought another colorful interlude to the disarray and randomness of this whole angry and discordant election cycle. But the big story this week could be elsewhere. In one of the first polls to come out last Sunday on how former New York Mayor Michael Bloomberg (I) would fare if he entered the presidential race as an independent candidate ... this week a new poll came out and The New York Post claimed that "Mike Bloomberg has a better chance of becoming president as an independent candidate than most people realize." Even in a race against Clinton..."
Michael Bloomberg ran an extremely Liberal New York City, but he probably would be easier on America than Hillary Rodham Clinton. However, please do remember that any President is simply following his daily script written for him by the Global Elite. Every Republican and every Democrat President follows this daily script, or he is removed by the Illuminati, as Presidents Abraham Lincoln and John Kennedy discovered.
Still, I find it disconcerting to think of Michael Bloomberg doing for America what he did for New York City.
3. God is fulfilling a critical part of His prophecy against the Palestinians in Obadiah 15-18
" Behold, I have made thee small among the heathen: thou art greatly despised." (Obadiah 2)
NEWS BRIEF: "Palestinian Arabs are willing executioners", Israel National News, Jan 31, 2016
"UN-designated International Holocaust Remembrance Day is just behind us and perhaps it is the time to consider what makes Palestinian Arabs so barbaric and so full of hate for Jews and Israelis that they have no reservations about stabbing and murdering infants, children, women and men as they go about their daily chores ... Both Palestinian Arabs and Israeli Arabs are equally involved in the current terror wave afflicting all of Israel."
God is using this terror wave against innocent Jewish men,women, and children, to stimulate feelings on the part of Gentiles throughout the world that view the Palestinians as monstrous murderers, deserving of death themselves.
But, this feeling of dislike against Palestinians is also fueled by the murders, rapes and intimidations of European innocent people by Syrian refugees which have flooded the Continent.
Add to this noxious mix the brutal beheadings of victims by ISIS and Saudi Arabia.
The sum total of animosity toward Palestinians is unprecedented. But, God foretold that part of His final annihilating judgment would be His deliberate action of making people around the Palestinians to hate them exceedingly.
Listen to God's prophecy:
" Behold, I have made thee small among the heathen: thou art greatly despised." (Obadiah 2)
Listen as the Security Agency of the United States Government describes how much other Arabs despise the Palestinians.
If the battle plan goes as envisioned, the victorious Arab armies will owe a great debt of gratitude to the Palestinian Arabs. The Palestinians will have fulfilled their mission well, in drawing Israeli resources away from the border, in preventing reserve soldiers from reaching their battle stations, and in causing enormous initial casualties among Israeli soldiers and civilians.'
Since this will be true, if the Arab battle plan successfully destroys Israel, then we might be a little surprised to discover that the Arabs do not plan on honoring the Palestinian Arabs, nor even thanking them; rather, we discover that they plan on turning on their Palestinian brethren, to annihilate them!! Let us return now to the article from the Jewish Press.'
"The Arab war plan does, indeed, call for the annihilation of the Jewish State, but there is another target. The Palestinian Arabs have been a hated thorn to most of the Arab world. While the Arab dictators used the Palestinian Arabs as a terrorist front to recover Arab pride for past battlefield defeats, they never allowed them to settle as citizens in their nations. They know that once these clever, hostile people have an operating state, they can and will cause havoc in the Arab world. They will constantly demand money, using the 'or else' blackmail, as in the past. Therefore, during this coming war, the two targets are both the Jews and the Palestinian Arabs."
God has prepared the hearts and minds of the people living around the Palestinians, in accordance with His prophecy here in Obadiah 1-18. When the Palestinians are annihilated, their Arab cousins will be in no hurry to avenge their deaths.
---
Jesus' Resurrection - Christianity's Most Important Doctrine
New Prophetic DVD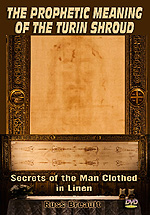 "The Prophetic Meaning of the Turin Shroud: Secrets of the Man Clothed In Linen"
PLUS A Bonus Video - by Russ Breault
God has always provided His believers with solid proof that He exists and that the Bible is true. At this End of the Age -- full of scoffers and unbelievers -- God has provided solid proof that Jesus rose from the grave! This proof is so solid that modern science can test it and prove it completely!
Mankind no longer has any reason to disbelieve the Death, Burial, and Resurrection of Jesus Christ! The Shroud has been scientifically authenticated.
A fascinating examination of Ezekiel 9 and Daniel 12. These two powerful Scriptures teach of Gods Mercy and Grace to His believers just before He wreaks physical destruction in Judgment.
Who is the 'Man Clothed in Linen?' He only appears twice in scripture. Could it be Jesus? How does he relate to the Shroud? Does the story of the Shroud of Turin contain a prophetic message for our time? The answer will amaze you.
Bonus video: Seven Secrets of the Sacred Shroud: Beyond science and history lies the theology of the Shroud. This presentation also focuses on seven proofs from theology and apologetics that support the Shroud's probable authenticity. These concepts are powerful and will raise your faith to new heights!
Has Plan of Salvation at the end, making this DVD a soul-winning tool
Run Time 1 hour 40 minutes -- Watch the Trailer http://www.cuttingedge.org/detail.cfm?ID=2717
Also see Proofs of the Resurrection DVD by Pastor Billy Crone
RUSS BREAULT has been researching and lecturing on The Shroud of Turin for over 30 years. He has presented to numerous college and universities including Duke, Johns Hopkins, U Mass, West Point, Penn State, Cal State and many more. Russ Breault has appeared in several nationally televised documentaries including Mysteries of the Ancient World on CBS. He was both advisor and a primary expert for the highly acclaimed, The Real Face of Jesus A two-hour documentary on The History Channel that has been seen in over 20 countries. Most recently he appeared on Good Morning America to discuss the latest research. He has participated in a dozen international research symposiums since 1981 and three recent public exhibitions in Turin, Italy in 1998, 2000 and 2010. He is a long-time member of the Shroud Science Group, an international consortium of scientists and scholars dedicated to further research. Russ Breault is the president and founder of the Shroud of Turin Education Project Inc., with a simple eleven word mission statement: To advance the knowledge of the Shroud to a new generation.
---
Popular NEW DVD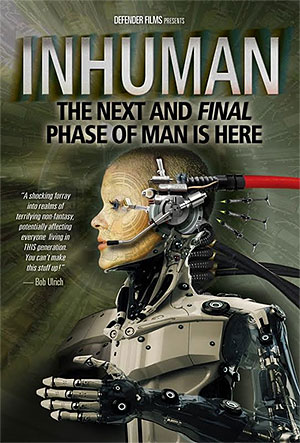 "Inhuman: Final Phase of Mankind Is Here"
DVD by Defender Films
This film is not fiction or a mockudrama but a new investigative documentary from the internationally acclaimed team at SkyWatch TV. INHUMAN travels the globe to unveil for the first time how breakthrough advances in science, technology, and philosophy - including cybernetics, bioengineering, nanotechnology,machine intelligence, and synthetic biology - are poised to create mind- boggling game-changes to everything we have known until now about Homosapiens.

As astonishing technological developments push the frontiers of humanity towards far-reaching morphological transformation (which promises in the very near future to redefine what it means to be human), an intellectual and fast-growing cultural movement known as transhumanism intends the use of these powerful new fields of science and technology as tools that will radically redesign our minds, our memories, our physiology, our offspring, and even perhaps-as Professor Joel Garreau, Lincoln Professor of Law, claims- our immortal souls.
Certainly, the Global Elite wants desperately to end biological death and to defeat God's plans for our souls.
As viewers will learn, this includes rewriting human genetics, combining human and animal DNA, and interfacing our brains with strong artificial intelligence systems. As a result, new modes of perception between things visible and invisible are expected to challenge bioethics in ways that are historically, sociologically and theologically unprecedented.
The destiny of each individual - as well as the future of their families - depends on their knowledge of this new paradigm, an extraordinary time in the earth's history already being called the "Hybrid Age".
3 Hours long, 2-Disc Set - Only $24.95
As the Apostle John wrote 'Amen! Come quickly, Lord Jesus'
As Jesus promised, 'When ye see these things come to pass, look up, for your Redemption draweth nigh'!
New DVD by David Bay - Only $14.99
In the minds of most people, two words carry so much emotional baggage that people cringe whenever they hear these Apocalyptic words. 1) Armageddon; 2) World War III.
In the past 20 years, whenever a battle begins in the Middle East or whenever a verbal confrontation breaks out between major powers, 'gloom and doom' scare-mongers immediately begin to shout 'World War III',much like a person yells 'FIRE' in a crowded theater.
Bible prophecy reveals that Antichrist will be produced on the world scene by a number of signs, including 'wars and rumors of wars'. Demonic familiar spirits told the Elite in 1870 that three world wars will be needed to produce Antichrist. Make no mistake about it: Antichrist will be produced by World War III.
Therefore, the question of the hour is, 'when will this global war begin' and 'what are the signs it is about to commence'? Many major events are planned to occur just as World War III begins. Mankind will be systematically hit with unparalleled disasters of every kind as this planned global war unfolds. But, none of these events will occur until the lynchpin called 'World War III' is pulled.
When the Global Elite pulls this lynchpin event called World War III, events are going to be unleashed in such severity and in such great numbers the peoples of the world will not stand in awe, they will panic and run for the hills. Jesus said that 'men's hearts shall fail them for fear', and the Elite is creating just such climactic events which shall not occur until the lynchpin known as 'World War III' is pulled.
We will show you the 12 major disasters the Elite has created and is waiting only for the beginning of World War III to unleash them all, almost at once. No one need fear that any of these disasters will jump across the starting line ahead of time; each awaits the 'pulling of the lynchpin', World War III.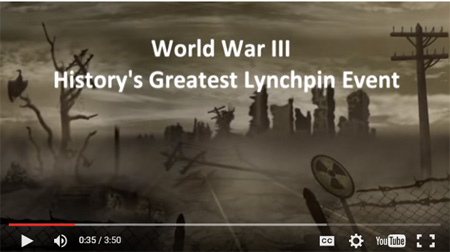 ---
'Another Jesus' Calling -- New Book by Warren B. Smith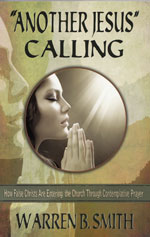 Inspired by the New Age book God Calling, Sarah Young claims to be receiving messages from Jesus Christ which she compiled into what is now her best-selling book, Jesus Calling. Author Warren Smith carefully documents his concerns about her book, her 'Jesus', and the New Age implications contained in many of Young's devotional messages. He also warns about the danger of contemplative prayer and in elevating spiritual experiences over the Word of God.
'Another Jesus' Calling is his call for much needed discernment in these very deceptive times.
173 pages
---
Why Is Your Pastor Ignoring Fulfillment of Prophecy In the Daily News?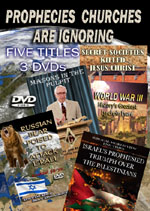 "Prophecies Churches Are Ignoring" - 3 DVD set
Regularly $89.94, Now only $29.94, Saving You $60!
Cutting Edge Director, David Bay, teaches six hard- hitting lessons on six unique End Times instances where events are fulfilling prophecy, but no one is talking about it. Five hot topics on three discs.
1) Israel's Prophesied Triumph over the Palestinians
2) Russian Bear Poised To Strike Israel
3) Masons In The Pulpit
4) World War III: History's Greatest Lynchpin Event
5) Secret Societies Killed Jesus Christ
Almost 6 Hours of Teaching - http://www.cuttingedge.org/detail.cfm?ID=2718
Each message is followed by a complete Salvation Plan, so each DVD becomes a Soul-Winning tool.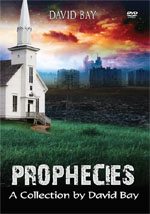 "Prophecies A Collection by David Bay" - 3 DVD set
Regularly $89.94, Now only $29.94, Saving You $60!
Why Are Genuinely Born-Again Pastors So Terribly Blind As To The Prophetic Times In Which We Live? 'Speak to us smooth illusions' [Isaiah 30:10] is the desire of too many pastors, while Jesus is lamenting, 'You did not know the time of your visitation' [Luke 19:44] Too many pastors refuse to believe that the unparalleled deception foretold in Matthew 24:24 really applies to today's events and leaders; thus such pastors are so wide open to spiritual deception.
Pastors also are reluctant to alert their people that events today are uniquely fulfilling key Bible prophecies. As a result, Christians by the many millions do not realize that the time for the Rapture of the Church and for Antichrist to arise is very, very close.
There are a number of unique prophecies being fulfilled that are exceedingly critical, but pastors and ministries are ignoring them totally, to the severe detriment of all Christians. This 3-DVD set contains 6 messages, each of which is unique to Cutting Edge Ministries/Films.
Here are the six hot topics:
* The Prophetic Beast Arises: Ten Toes of Daniel Are Forming
* Rapture Precedes Israel's Final 'WEEK' of History
* Eternal Security: God's Anchor In A Brutal Storm
* End Times' Judgment On Iraq (Babylon) Worse Than Believed Possible - Isaiah 13
* Invisible, Invincible Mind Control You are Targeted
* America Identified In Prophecy: Economic Babylon of Revelation 18
http://www.cuttingedge.org/detail.cfm?ID=2656
---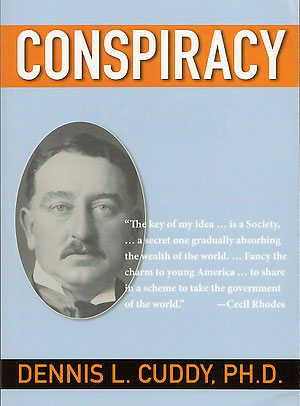 NEW BOOK by Dennis Cuddy
Have you ever wondered how people like H.G. Wells seemed to know what was going to happen? These people either had to be privy to the plans of the power elite, or they were extraordinarily intelligent at figuring out what the secret cabal running the world had planned.
An ancient saying 'Ordo ab Chao' (Order out of Chaos) applies to the power elite's machinations. And so as to make particular problems seem intractable, they select global leaders who feign incompetence. This is one way the American people are manipulated. In the end, the public really doesn't have much choice when it comes to political candidates, and the power elite controls both major parties.
207 pages. Order yours today
---
Dynamic New DVD
"Masons In The Pulpit"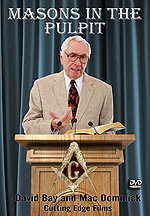 New DVD by David Bay and Mac Dominick - !
If your church allows Masons to fill the pulpit, or be Deacons, or Sunday School teachers, you have a very serious spiritual problem with Almighty God. The Holy Spirit has written 'Ichabod (The Glory Has Departed)' above your front door!
While Freemasonry has successfully deceived a great many people, convincing them that Freemasonry is compatible with Christianity, God knows the Truth and is not tolerant of Masons In The Pulpit.
We begin at a very reasonable beginning premise: If a pastor refuses to resign from the Masonic Lodge he does so because he feels greater loyalty to the Lodge than to Jesus Christ.
Starting from this premise, we examine a number of key Masonic teachings and then ask the Pastor how he can reconcile these teachings with Biblical Christianity. We ask, 'Mr. Pastor, when you are teaching key Biblical doctrine, are you really thinking of the radically different teaching of Freemasonry?
Prime Example: Freemasonry teaches that its religion is far superior to any other religion on Earth, including Christianity. Mr. Pastor, are you thinking how superior Masonry is to Christianity when you are teaching Biblical doctrine. Second Example: Freemasonry teaches that it is necessary for Lodge leaders to deliberately lie to their people until they are 'mature enough' to comprehend and accept the truth; Mr. Pastor, when you are teaching key Biblical doctrine, are you secretly thinking that it is necessary for you to teach these 'lies' about Jesus and the God of the Bible until your people are spiritually mature to comprehend the true Masonic doctrine?
We prove that a Holy God cannot tolerate Masons in the pulpit of a church for which His Son, Jesus, bled on that cruel cross of Calvary.
Almost two hours of teaching
Authors are Mac Dominick and David Bay.!
- http://www.cuttingedge.org/detail.cfm?ID=2712
Shipping NOW!