Hot News

1. Pope Francis I calls for the global elimination of the Death Penalty
This Pope obviously does not believe the Bible!
NEWS BRIEF: "Pope Calls for Worldwide Abolition of Death Penalty", NBC News, Feb 21, 2016
"VATICAN CITY — Pope Francis on Sunday called for the worldwide abolition of the death penalty, saying the commandment 'You shall not kill' was absolute and equally valid for the guilty as for the innocent. Using some of his strongest words ever against capital punishment, he also called on Catholic politicians worldwide to make 'a courageous and exemplary gesture' by seeking a moratorium on executions during the Church's current Holy Year, which ends in November."
" 'I appeal to the consciences of those who govern to reach an international consensus to abolish the death penalty', he told tens of thousands of people in St. Peter's Square."
This Pope obviously has not read his Bible, for the admonition "Thou shalt not kill" applies only to individual killing, not to judicial execution by a lawful government. In fact, God decreed that the death penalty be administered for quite a number of reasons. Listen to the Word of God!
What is the REAL purpose God wants to achieve through the Death Penalty?
1) Deuteronomy 22:21, "... so shalt thou put evil away from among you."
2) Deuteronomy 22:22, " ... so shalt thou put away evil from Israel."
3) Deuteronomy 22:24, " ... so thou shalt put away evil from among you."
Three times, in four verses, God stated that the purpose of killing the perpetrator shall be to remove the evil from the healthy population of Israel. Once a person is executed for a crime, he is permanently removed from society so he will never kill again.
The issue is not now, nor has it EVER been, one of "preventing" the crime from occurring. Nor is time in prison meant to "rehabilitate" a murderer. The Bible presents no evidence, nor revelation, to the effect that a person given to extreme sin and/or violence will be deterred from committing that crime because they would be facing the death penalty. Rather, the Biblical emphasis has always been on physically removing that person from society so they can never, ever commit that crime again!!
What happens to a nation whose leaders fail to carry out God's decreed penalty for sin, like the death penalty?
God's physical annihilation of the nation-states of Sodom and Gomorrah serve as the perfect example of God finally carrying out His prescribed Judgment for a sin worthy of the Death Penalty on the entire nation, because that nation's leaders consistently refused to enforce God's decrees. Since God decreed that the sin of homosexuality was to be punished by death [Leviticus 18:22, 29], He moved to carry out the Death Penalty against the entire nation that had allowed it! Furthermore, God removed the evil of homosexuality from the nations that surrounded Sodom and Gomorrah. He will carry out the same Judgment on America, so do not be deceived into thinking otherwise. God's Judgment against America is not far behind. In fact, God's Judgment will begin to fall very quickly after Antichrist arises, and confirms the Covenant with Israel. That day is soon to arrive.
The time for repentance is rapidly coming to an end. If you have not repented of your sins, please take a few moments to read God's Plan of Salvation. Soon, and very soon, we shall see the Lord!
2. Israeli security services stopped an assassination attempt on PM Netanyahu
Such an murder would throw Israel into such turmoil that the prophesied annihilation of the Palestinians might be quickly carried out.
NEWS BRIEF: "Assassination Attempt on PM Netanyahu Averted", Breaking Israel News, Feb 22, 2016
"A Hamas terror cell operating out of Jerusalem had been planning a mass casualty attack with the added goal of assassinating Prime Minister Benjamin Netanyahu ... The cell consisted of six members, with direct support from operatives in Gaza. Cell leader Ahmed Azzam, originally from Kfar Yussuf but living in Abu Dis, revealed during interrogation that the group had planned to detonate a bomb at Jerusalem's Great Synagogue or Payis Arena during a speech by Israel's leader."
"According to the website, the cell had already secured a safe house in Abu Dis, a Palestinian town within Jerusalem, and amassed chemicals needed to build the explosive, such as potassium, hydrogen peroxide and fertilizer."
Hamas had better be careful not to poke the Lion of Judah! Israel is planning to carry out the prophesied annihilation of the Palestinians as foretold in Obadiah and Isaiah 34, as we detail in the DVD pictured above, "Israel's Prophesied Triumph Over The Palestinians".
She has been making these plans ever since early, 1990. She has gone to great expense to create a massive wall of separation between the Palestinians and the Jews, so that her attack will not kill a great many Jews as Israel carries out God's prophesied judgment against the 'House of Esau/Edom'. This massive wall is 15 feet high and is concrete, so the overspray of Israel's weapon of fire would be deflected away from Jewish citizens.
Israel appears nearly ready to launch this prophesied annihilation; her leaders would welcome a provocative act from the Palestinians which would allow her to launch her annihilating attack. Hamas should be very afraid and very cautious.
DVD
3. What might a Hillary Clinton Presidency mean to Israel?
Israel might have a harder time with Hillary than she did with Barack Obama
NEWS BRIEF: "PM Netanyahu Might Not Have Easier Time With 'President' Hillary", Israel Today, Feb 22, 2016
"There has been muted hope in Israel that no matter who wins the upcoming US presidential election, the result will surely be healthier relations that those with the Obama White House. But the latest publication of emails written by Hillary Clinton during her time as Secretary of State suggests, again, that should she win, the present hostility from Washington toward the Netanyahu government could persist."
How can this possibly be true? Can any President be worse than a Barack Obama, who has proven to be Islam's greatest cheerleader? Rumors have persisted that he is really a Muslim, and we cannot refute these claims. Therefore, any change would be welcomed by Israel! right?
Possibly NOT!
Hillary's emails which have been released paint a troubling picture of the depth of commitment to Israel's existence.
"Previous dumps from Clinton's email server revealed that she views Netanyahu as a schemer against the Obama Administration, and that she was on board with a plan to shame Israel into accepting a Palestinian state on Arab terms."
American Jews and concerned Fundamental Christians should be very careful for whom they vote this November. While God will ultimately come to Israel's rescue against any combination of foes, Americans must do everything in our power to ensure that we vote for the candidate who will be most supportive of the Jewish State.
DVD
4. Jeb Bush withdraws from Presidential race as the "House of Bush" is defeated.
Establishment Republicans unite behind Marco Rubio, the "Republican Obama"!
NEWS BRIEF: "Fall of the House of Bush", Breitbart News, 21 Feb 2016
"That plummeting sound you hear is the fall of the House of Bush. Unfortunately for the family, it is not falling silently into the woods and there are plenty of people to hear it and witness it and, in time, kick over the dead embers of Bushism. "
"With Jeb Bush's dismal loss in South Carolina comes the end of the Bush dynasty, which given the rise of President George HW Bush in 1980 (and even before with Senator Prescott Bush) as Ronald Reagan's running mate, and later two presidencies, it lasted well over 30 years. Only the Adams's, the Roosevelts, and the Kennedys could make the same claim as goes political dynasties."
Presidents George H.W. and George W. were absolute disasters for America. Both Presidents launched a war against Iraq with armed forces armed with Depleted Uranium munitions -- (Read our articles on this horrific arms system in "Depleted Uranium Section")
This DVD pictured above, "Beyond Treason", was created in cooperation with the "Gulf War Vets Association" and is a must viewing for anyone who cares about American vets poisoned with this uranium and for the tens of millions of Arabs now dead or dying from Iraq to Afghanistan and 1,000 miles beyond.
When God carries out His White Throne Judgment, the Bush Presidents will go down in history as the great mass murderers. By the time Depleted Uranium poisoning runs its course, nearly one billion Muslims will have died.
Under President George W. Bush, Americans lost our freedoms in Patriot Acts I and II, on paper at least; the only reason Americans still feel free is because the government has not enforced these draconian laws yet.
Under President George W. Bush, unlawful torture of American citizens and of Islamic aliens living in our midst became routine. Not only were people tortured beyond belief, but they were not lawfully charged, did not have access to an attorney and had no right to an open trial with a jury of their peers.
Under President George W. Bush, America lost her Capitalist Economy, replacing it with a Fascist Economy (Read full details in NEWS2494, entitled, "Powerful Current Positive Proof That America's Economy Is Fascist"). The pain of the Recession starting in 2007 and continuing today was begun by President George W. Bush.
Both Bush Presidents were Skull & Bones Adepts, a Satanic secret society which has long been a major driving force into the New World Order (Read full details in NEWS1314, entitled, "Texas Governor George W. Bush Is Member Of Skull & Bones Satanic Secret Society")
The Bush family has done taken great action designed to move America, and the world, into the New World Order, a.k.a., the Kingdom of Antichrist. Thank God the American people have finally put this family dynasty aside!
Just days before the South Carolina Republican Primary, Governor Nikki Haley did what the Establishment wanted her to do; she publicly endorsed Marco Rubio!
NEWS BRIEF: "South Carolina Gov. Nikki Haley endorses Rubio", MSNBC News, 2/17/2016
"South Carolina Gov. Nikki Haley endorsed Marco Rubio for president on Wednesday night. Her endorsement gives Rubio the backing of three of the state's most prominent, and popular, elected officials — Rep. Trey Gowdy and Sen. Tim Scott, both beloved figures in South Carolina, previously endorsed him. Haley appeared alongside Rubio at his Chapin, South Carolina, town hall Wednesday night."
Nikki Haley demonstrated that she was an Establishment Republican when she gave the GOP rebuttal speech following President Obama's State of the Union address. In the entire field of Republican Presidential candidates, only Rubio and Bush are inside-the-beltway, Establishment figures.
Nikki 's endorsement provided the boost Rubio needed to vault over Cruz for the #1 spot, not too far from the front-runner, Donald Trump. From this moment onward, you will see the Establishment coalesce behind one candidate, whom they hope will defeat Trump.
Then, we have to worry about Trump turning into Ross Perot and putting another Clinton into the White House with a Third Party bid.
---
Popular NEW DVD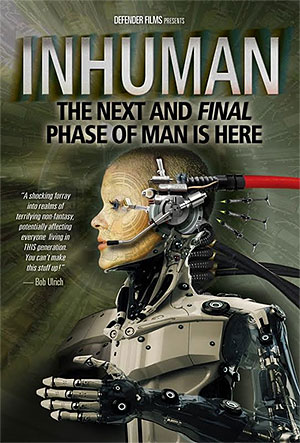 "Inhuman: Final Phase of Mankind Is Here"
DVD by Defender Films
This film is not fiction or a mockudrama but a new investigative documentary from the internationally acclaimed team at SkyWatch TV. INHUMAN travels the globe to unveil for the first time how breakthrough advances in science, technology, and philosophy - including cybernetics, bioengineering, nanotechnology,machine intelligence, and synthetic biology - are poised to create mind- boggling game-changes to everything we have known until now about Homosapiens.

As astonishing technological developments push the frontiers of humanity towards far-reaching morphological transformation (which promises in the very near future to redefine what it means to be human), an intellectual and fast-growing cultural movement known as transhumanism intends the use of these powerful new fields of science and technology as tools that will radically redesign our minds, our memories, our physiology, our offspring, and even perhaps-as Professor Joel Garreau, Lincoln Professor of Law, claims- our immortal souls.
Certainly, the Global Elite wants desperately to end biological death and to defeat God's plans for our souls.
As viewers will learn, this includes rewriting human genetics, combining human and animal DNA, and interfacing our brains with strong artificial intelligence systems. As a result, new modes of perception between things visible and invisible are expected to challenge bioethics in ways that are historically, sociologically and theologically unprecedented.
The destiny of each individual - as well as the future of their families - depends on their knowledge of this new paradigm, an extraordinary time in the earth's history already being called the "Hybrid Age".
3 Hours long, 2-Disc Set - Only $24.95
As the Apostle John wrote 'Amen! Come quickly, Lord Jesus'
As Jesus promised, 'When ye see these things come to pass, look up, for your Redemption draweth nigh'!
New DVD by David Bay - Only $14.99
In the minds of most people, two words carry so much emotional baggage that people cringe whenever they hear these Apocalyptic words. 1) Armageddon; 2) World War III.
In the past 20 years, whenever a battle begins in the Middle East or whenever a verbal confrontation breaks out between major powers, 'gloom and doom' scare-mongers immediately begin to shout 'World War III',much like a person yells 'FIRE' in a crowded theater.
Bible prophecy reveals that Antichrist will be produced on the world scene by a number of signs, including 'wars and rumors of wars'. Demonic familiar spirits told the Elite in 1870 that three world wars will be needed to produce Antichrist. Make no mistake about it: Antichrist will be produced by World War III.
Therefore, the question of the hour is, 'when will this global war begin' and 'what are the signs it is about to commence'? Many major events are planned to occur just as World War III begins. Mankind will be systematically hit with unparalleled disasters of every kind as this planned global war unfolds. But, none of these events will occur until the lynchpin called 'World War III' is pulled.
When the Global Elite pulls this lynchpin event called World War III, events are going to be unleashed in such severity and in such great numbers the peoples of the world will not stand in awe, they will panic and run for the hills. Jesus said that 'men's hearts shall fail them for fear', and the Elite is creating just such climactic events which shall not occur until the lynchpin known as 'World War III' is pulled.
We will show you the 12 major disasters the Elite has created and is waiting only for the beginning of World War III to unleash them all, almost at once. No one need fear that any of these disasters will jump across the starting line ahead of time; each awaits the 'pulling of the lynchpin', World War III.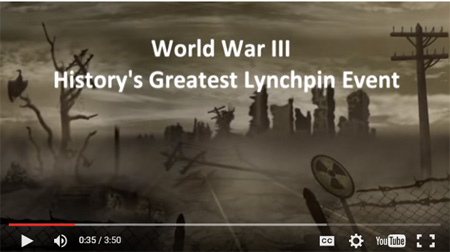 ---
Why Is Your Pastor Ignoring Fulfillment of Prophecy In the Daily News?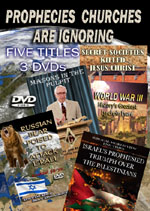 "Prophecies Churches Are Ignoring" - 3 DVD set
Regularly $89.94, Now only $29.94, Saving You $60!
Cutting Edge Director, David Bay, teaches six hard- hitting lessons on six unique End Times instances where events are fulfilling prophecy, but no one is talking about it. Five hot topics on three discs.
1) Israel's Prophesied Triumph over the Palestinians
2) Russian Bear Poised To Strike Israel
3) Masons In The Pulpit
4) World War III: History's Greatest Lynchpin Event
5) Secret Societies Killed Jesus Christ
Almost 6 Hours of Teaching - http://www.cuttingedge.org/detail.cfm?ID=2718
Each message is followed by a complete Salvation Plan, so each DVD becomes a Soul-Winning tool.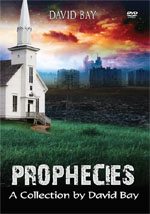 "Prophecies A Collection by David Bay" - 3 DVD set
Regularly $89.94, Now only $29.94, Saving You $60!
Why Are Genuinely Born-Again Pastors So Terribly Blind As To The Prophetic Times In Which We Live? 'Speak to us smooth illusions' [Isaiah 30:10] is the desire of too many pastors, while Jesus is lamenting, 'You did not know the time of your visitation' [Luke 19:44] Too many pastors refuse to believe that the unparalleled deception foretold in Matthew 24:24 really applies to today's events and leaders; thus such pastors are so wide open to spiritual deception.
Pastors also are reluctant to alert their people that events today are uniquely fulfilling key Bible prophecies. As a result, Christians by the many millions do not realize that the time for the Rapture of the Church and for Antichrist to arise is very, very close.
There are a number of unique prophecies being fulfilled that are exceedingly critical, but pastors and ministries are ignoring them totally, to the severe detriment of all Christians. This 3-DVD set contains 6 messages, each of which is unique to Cutting Edge Ministries/Films.
Here are the six hot topics:
* The Prophetic Beast Arises: Ten Toes of Daniel Are Forming
* Rapture Precedes Israel's Final 'WEEK' of History
* Eternal Security: God's Anchor In A Brutal Storm
* End Times' Judgment On Iraq (Babylon) Worse Than Believed Possible - Isaiah 13
* Invisible, Invincible Mind Control You are Targeted
* America Identified In Prophecy: Economic Babylon of Revelation 18
http://www.cuttingedge.org/detail.cfm?ID=2656
---
TWO NEW DVDS from Pastor Billy Crone
World Religions Volume 1

There's a lot of confusion in the world about religion, and what the right path is. With so many belief systems and the heart of man trying to fill a void that only God can fill, some people find themselves involved in strange spiritual groups that sometimes lead to awful consequences. Some of these cults are ran by people who really believe that they are God. Could you be involved in a cult? Have you been deceived by a pseudo form of Christianity? Have you been told that you can become your own god?
Satanism, witchcraft, sorcery and so on. We've all heard of these from one time to another. With the continuing rise of Neo-Paganism, it should be no surprise that the occult is flourishing in these last days. If you want a better understanding of this dark belief system then this series is for you. The war in the spirit realm is very real and you need to be equipped to deal with the realities. 2 Discs, 6 hours of teaching
World Religions Volume 2

The Importance of the Jewish People at the First & Second Coming of Jesus Modern Analysis of Israel & Current Events Jerusalem & the Gog & Magog War What is Jewish Mysticism &the Kabbalah? What are the Dangers of the Hebrew Roots Movement in the Church? How Do I Witness to a Jew? Does a Jewish Person Need to Get Saved Today? 2 Discs, 6 hours of teaching