Hot News
1. The Ukraine has turned into a moral and political 'blackhole".
She may collapse!
Remember the prophetic plan unfolding here.
NEWS BRIEF: "'Ukraine is a moral & political black hole on the brink of collapse' ", Russia Today, 22 Feb 2016
"German Foreign Minister Frank-Walter Steinmeier and his French counterpart, Jean-Marc Ayrault, are currently in Kiev for political talks. Before setting off on the trip, they yet again urged Ukraine's government to implement political reforms, including a new election law, special rights for regions, and stronger efforts in countering corruption."
Last year at this time, Ukrainian-Russian-European Union tensions were running sky-high. Russian military units patrolled the Ukrainian-Russian border, pro-Russian para-military units were regularly fighting with Ukraine's army and many people were very fearful of World War III breaking out.
In the past 6 months, this kind of skirmishing has calmed down a great deal, but Russian economic pressure, plus E.U. economic demands, have slowly turned the Ukraine into a nation under such stress as to caused many to suggest that the Ukraine might fall into the Russian orbit after all.
You see, the E.U. does not really want a problem nation joining her ranks. The European Union is facing great economic stress of her own making right now, even to the point where Great Britain is holding an election to determine whether she is going to exit the E.U.
Meanwhile, the Ukrainian radicals are kicking up a fuss.
"The visit comes just one day after up to 1,000 radicals rallied in central Kiev's Maidan square, demanding the resignation of the government and early elections. This weekend marked two years since the bloody uprising in the Ukrainian capital, which led to the ouster of President Viktor Yanukovich."
What is the real problem with the Ukraine? Under Russian and E.U. pressure, the Ukraine has turned into mush.
"... the electorate in Europe is not satisfied with the results, because having Ukraine – which is morally and politically a black hole and economically at the brink of collapse – would mean that Europe would not only have a crisis situation and tensions on its southern borders, but also on its eastern borders. This is a situation that will not be possible to be handled, because Europe is not in a state to do so. "
What is the REAL Russian plan concerning the Ukraine? As we detail in the DVD pictured above, the Global Elite is enacting a plan to reorganize all the nations of the world into precisely 10 supernations, a plan which will fulfill Daniel 7:7-8 and Revelation 17:12, 17 once it is completed.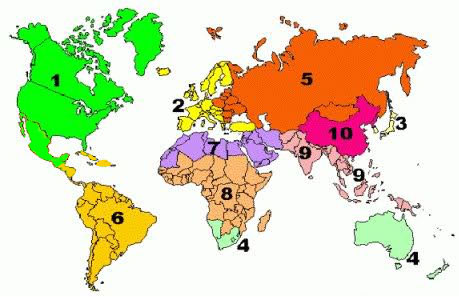 A copy of the world map being so reorganized is pictured to the left.
As you can see, the Ukraine is part of Supernation #5, entitled, "Russia, Eastern Europe".
The problem is that Western Ukraine does NOT want to come under Russian rule again, for they remember the special Russian domination of the past, especially the 25 million Ukrainian farmers whom Josef Stalin brutally murdered throughout the decade of the 1930's.
The Ukraine one day will be forced to capitulate.
Russia continues to build her "Supernation #5".
2. Hillary Clinton demolished Bernie Sanders in South Carolina - 73 to 26%
Is the "Hillary Coronation" plan back on track?
NEWS BRIEF: "Hillary Clinton's South Carolina Salvation", US News & World Report, 26 Feb 2016
"Yet even on a dingy symbol of the area's decay and impoverishment – the abandoned Fair Deal Warehouse – there is a glimmer of hope for redemption ... inside its gymnasium, Hillary Clinton is encircled by an almost entirely African-American audience, in search of her own type of redemption. 'This is the first step', she tells the assembly, 'to move towards the nomination'."
In 2008, Hillary lost the South Carolina Democrat Primary to Barack Obama and was never able to recover from that staggering blow. But, this time around, Hillary was sorely counting on the same blacks who voted for Obama in 2008 to give her candidacy a new life.
Hillary arranged for a Christian revival feel during the last few days prior to the election.
"In the well of the gymnasium, Ronnie Sabb, a state senator and local attorney in Kingstree, is giving Clinton an introduction that could easily be mistaken for a Southern Methodist sermon. With every phrase of praise for Clinton, he pauses his cadence to allow the audience to call back at him, creating a kinetic rhythm seldom found among white crowds. Clinton adapts to the moment, mimicking Sabb's rhetorical pacing and even inserting a slight Southern twang into her dialect."
" 'I have to say, you've got a senator preacher here', she says to claps and cheers. 'I'll tell you what / I can just see him / down there in the Senate / casting out / all those demons'."
Do you remember how Bill Clinton adapted his speech to the audience, in his campaign in 1992? If he was speaking to a Christian audience, he would use the speech of the audience in order to wow them. And wow them he did. Hillary is adopting this successful strategy here.
But, I have to tell you, I am somewhat unnerved when I hear Hillary Clinton, an elite member of the occult Illuminati, and one who outranks Bill in the occult, talk about "casting out all those demons".
And, this strategy worked. South Carolina blacks voted en mass for Hillary, giving her a victory of 73 to 26%. The coronation of Queen Hillary for the White House seems back on track.
3. Alabama Senator Jeff Sessions abruptly endorses Donald Trump
The Establishment GOP is now starting to support "The Donald"
NEWS BRIEF: "Establishment GOP Shifting to Trump", Breitbart News, 26 Feb 2016
"ATLANTA—When Chris Christie threw his support behind Donald Trump, Washington gasped. But the wall of establishment opposition to Trump's candidacy had begun cracking days before New Jersey's governor barreled right through it."
"From Rep. Duncan Hunter (R-CA) and House Majority Leader Rep. Kevin McCarthy (R-CA), who have signaled an openness to working with Trump, to Mike Huckabee's daughter and adviser ... who officially joined Trump's campaign this week, Republican officials and operatives are coming to grips with the reality that this anti-establishment hero is now the presumptive GOP nominee."
" 'Folks are now going through the stages of grief', said one high-ranking Republican operative. 'Some are already at acceptance'."
However important this shift in support from members of the Republican Establishment is, popular Senator Jeff Sessions of Alabama really and truly shook things up.
"Sen. Jeff Sessions Changes the Trajectory of American Politics — and Perhaps American History - First U.S. Senator to endorse Trump", Breitbart News, 28 Feb 2016
"To the catchy riff from Sweet Home Alabama, Sen. Jeff Sessions (R-AL) took the podium in Madison, Alabama, on Sunday afternoon and changed the trajectory of the 2016 Republican nomination fight—and perhaps also of U.S. history. In becoming the first U.S. Senator to endorse Trump, Sessions, regarded as the gold-standard of immigration hawkery, declared, 'Politicians have promised for 30 years to fix illegal immigration. Have they done it?' As the crowd shouted, No!, Sessions answered: 'Donald Trump will do it'."
Since the days of Ronald Reagan, Republican Conservatives have chaffed at the harsh reality that Republicans do not live up to their campaign rhetoric. If Donald Trump actually turns out to be the only Conservative since World War II to fulfill his campaign promises, I will be the first to shout and bellow my approval.
Because American voters are so sick and tired of being lied to and of being deceived by campaign rhetoric, Bernie Sanders on the Democrat side and Donald Trump on the Republican side are receiving enormous support, far in excess of anyone's expectations/ Both candidates are considered by the electorate as being "Outside the Beltway"!
If Donald Trump really becomes the President of the United States, will he be strong enough to carry out his many campaign promises? Only time will tell.
Right now, these days are the days of glorious expectation.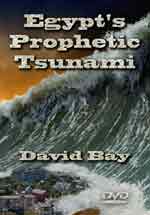 Trailer
4. America warns Iraq of the "imminent collapse" of the huge Mosul Dam
A sudden collapse could inundate Mosul City under 45 feet of water, kill several hundreds of thousands and would ruin infrastructure in its path.
NEWS BRIEF: "US warns of 'tsunami wave' across Iraq if the Mosul Dam collapses: "Could flatten cities and kill hundreds of thousands within hours", The Telegraph (U.K.), 29 Feb 2016
"Iraq's Mosul Dam faces 'unprecedented' risk of a 'catastrophic failure' that would unleash a wave of water which could flatten cities and kill hundreds of thousands within hours, the US has said. The American government issued an unusually stark warning of the horrors that face Iraq if the dam gives way, describing a 'tsunami-like wave' that would crush nearly a third of the country."
Any dam can potentially become a "weapon of mass destruction" if it catastrophically and abruptly breaks. The reservoir of water stored behind the dam suddenly becomes a lethal weapon to anyone downstream.
We have warned, in our DVD, "Egypt's Prophetic Tsunami", the the Grand Renaissance Dam being erected by Ethiopia right now, has the potential to wipe out Egypt and its infrastructure. Coupled with the severe drought brought on by initially filling the reservoir, a tsunami wall of water roaring down the Nile, could fulfill the End of the Age prophecies in Isaiah 19.
Now, we learn that Iraq faces a potential disaster of the same magnitude, from a dam which the government has ignored for many years! What is the degree of the disaster from this Mosul dam?
"Iraq's power grid could be entirely knocked out and parts of major cities would be underwater for weeks like areas of New Orleans after Hurricane Katrina ... 'Mosul Dam faces a serious and unprecedented risk of catastrophic failure with little warning', the US said. 'A catastrophic breach of Iraq's Mosul Dam would result in severe loss of life, mass population displacement, and destruction of the majority of the infrastructure within the path of the projected floodwave'."
"The dam is upstream from Mosul, which is Iraq's second largest city and has been under ISIL control since June 2014 but the dam was soon recaptured by Peshmerga and other foreign forces. Parts of the city could be under 45 feet of water within hours of a dam breach, the US said, giving residents little time to flee."
"The wave of water would sweep as far south as Samarra; killing people, crushing buildings, laying waste to farm land and knocking out power plants. The flood water would probably reach Baghdad within three days and bring chaos to the Iraqi capital with 'increased health hazards, limited to no mobility, and losses of homes, buildings, and services'."
In early, 2003, Cutting Edge posted an article in which we noted that President Bush's war against Iraq seemed to be fulfilling God's End of the Age prophecy of Isaiah 13, which foretold of the complete destruction of Ancient Babylon -- Read full details in NEWS2499, entitled, "Iraq -- Ancient Babylon -- is nearing the End Times' final annihilating judgment just as God foretold 2,700 years ago in Isaiah 13. "Mighty Babylon" is falling and her days shall not be prolonged!")
We encourage you to read of God's utter destruction of Ancient Babylon (Iraq) so you can see how a massive wall of water suddenly being released upon an unsuspecting and defenseless public could complete God's destruction of the ancient country of Nimrod!
The clock of death continues to tick, and soon, Iraq will be history's first "Dead Nation", a place where no person or animal can possibly live. Mighty Babylon is clearly succumbing to God's inexorable judgment -- and Skull & Bones George W. Bush, followed by 32nd Degree Prince Hall Mason Barack Obama, drove the prophetic stake through the heart of the ancient nation of Babylon!
---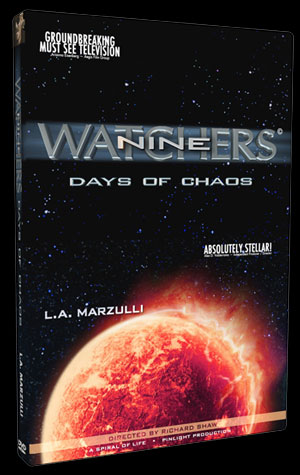 Watchers 9 DVD: Days of Chaos
by Dr. L.A. Marzulli
There are two ways of looking at the events happening in the world around us. The first is that all of these events are just natural phenomena. With this in mind one would look at Israel coming into her ancient homeland after almost 2,000 years of diaspora and would not see any relevance, nor would it matter. To put it bluntly, in this way of thinking one would embrace the world view that there is no god, no prophecy, and no supernatural world. There is only what we can see, hear, taste, smell and observe using the scientific method.
Then there is the other world view that embraces The Holy Bible or The Guidebook to the Supernatural that takes the opposite stance on all of these positions. There is a God and He is good. There is a supernatural world and it is manifesting. There are signs that those who have eyes to see and ears to hear can point to and say that His comingthe Second Coming of Jesusis soon.
There is going to be a profound change in human history, and it begins upon His return.
The skeptic asks, where is the promise of His coming for all things continue as before? We are seeing the birth pains that Jesus warned us would appear before His return. It would seem that prophetic events are accelerating, as I believe we are seeing the signs that warn us of what is coming on the earth... These are the Days of Chaos.
Nearly 2 hours long Shipping Now