Hot News
1. Incredible! Donald Trump has been nominated for the Nobel Peace Prize!
This nomination is not as ridiculous as Barack Obama, Adolf Hitler, and Josef Stalin being nominated for this prize.
NEWS BRIEF: "Donald Trump on list of possible nominees for Nobel Peace Prize", The Jerusalem Post, 2/4/2016
"An unnamed U.S. nominator has proposed US Republican presidential candidate Donald Trump for the Nobel Peace Prize for his 'vigorous peace through strength ideology'."
Immediately, we can spot the REAL reason Donald Trump was nominated for this spurious Illuminati award. The person who nominated Trump wants to place the emphasis on "peace through military might". Or perhaps "Peace through willingness to use military might. This nomination was purely motivated through politics.
"Thousands of people, including members of all national parliaments, former laureates and university rectors, can make nominations. Last year there were 273 nominees. 'Huge numbers of nominations are still coming in', said Olav Njoelstad, Director of the Norwegian Nobel Institute. The committee will have its first meeting on Feb. 29 and announce the winner in October."
Wouldn't it be most interesting if Trump is the Republican / Independent candidate for President and the "October Surprise" which boosts his candidacy would be the Nobel Peace Prize?
As the card above demonstrates, the Nobel Peace Prize has been controlled by the Illuminati almost from the beginning. This card reveals that the Nobel Peace Prize is designed to establish the New World Order. The Nobel Peace Prize process has been under the control of the New World Order leadership for over 50 years now. This prize is designed to give honor and credence to someone whose work was deemed to be especially valuable in aiding in the movement of the peoples of the world into the coveted "New World Order", that "NOVUS ORDO SECLORUM" on the back of the American One Dollar Bill.
We cover the occult/Illuminati symbolism which completely covers the One Dollar Bill in our DVD "Eye of the Phoenix", proving that the plan of the Elite to use America as the primary mover and shaker of the coming New World Order dates all the way back to 1782, when Congressional Freemasons secretly created the left hand symbol of the Eye of Lucifer hovering over the unfinished Egyptian pyramid.
Masonic President Franklin Roosevelt, aided by his Secretary of Agriculture/Vice President Wallace, ordered these Seals to be placed on the back of the Dollar Bill in 1935, having been urged on and advised by the Russian channeler/mystic, Nicolas Roerach. Americans had no idea that the Roosevelt Administration was as controlled by mystic, Black Magick forces, as it was. Had they known the degree to which Roosevelt was controlled by Black Magick forces, he would have been forced out of office immediately! This is the hidden truth of our One Dollar Bill, and quite a story it is!
Now, let us return to the news story of Donald Trump being nominated for the Nobel Peace Prize.
To demonstrate the awful political nature of the Nobel Peace Prize, did you know that both bloody tyrants, Adolf Hitler of Germany and Josef Stalin of Russia, were also nominated for the Nobel Prize?
"Unbelievable as it may sound, both of these shady characters were nominated for the most prestigious award given to people who work towards world peace. Stalin was nominated in 1945 and 1948 for his efforts to end World War II."
Even though Stalin ordered the murder of 25 million Ukrainian farmers during the decade of the 1930's, he was nominated for the Nobel Peace Prize, twice!
"Hitler's nomination, however was supposed to be a joke. In 1939, a member of the Swedish parliament, EGC Brandt, nominated Hitler for the peace prize. Brandt never intended for the nomination to be taken seriously. Brandt intended for the nomination to be satiric criticism of the current political climate in Sweden. The nomination was, obviously, not well received and was swiftly withdrawn."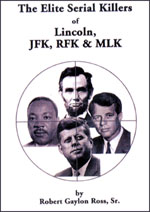 If Donald Trump is named the Nobel Peace Prize winner, his reaction will tell everything we need to know about his true character and his true allegiance. If Trump accepts the award, we will know that he is Illuminati and is fully in line with their goals for the New World Order. If he rejects the award, we will know that he really might be his own man and will chart a course according to his own precepts.
However, he then must watch his head, for it will be the target of Illuminati assassins.
The only Presidents to ever actually reject the Illuminati Plan was Abraham Lincoln and John F. Kennedy, both of whom were felled by accurate assassins! Ronald Reagan literally "came out of nowhere" to win the Republican nomination and then the election. He let everyone know that he was going to chart his own course.
We all know what happened very early in his first term. A single shooter was allowed to get close enough to Reagan to shoot at him, nearly killing him. The Ronald Reagan who emerged from his hospital bed was NOT the Ronald Reagan prior to the shooting. The new Ronald Reagan was cold to the Conservative promises he had made during the campaign and in 1984, after winning reelection, the new Reagan fired all his genuine Conservative Cabinet ministers, replacing each one with a Rockefeller R.I.N.O. Republican.
The Elite does not stand for any significant deviation from their Plan. Listen to one New World Order author explain how tightly scripted and controlled each leader of each nation is:
" "Their script is now written, subject only to last-minute editing and stage-directions. The stage itself, albeit as yet in darkness, is almost ready. Down in the pit, the subterranean orchestra is already tuning up. The last-minute, walk-on parts are even now being filled. Most of the main actors ... have already taken up their roles. Soon it will be time for them to come on stage, ready for the curtain to rise. The time for action will have come." ( [Peter Lemesurier, "The Armageddon Script", p. 252, 1981)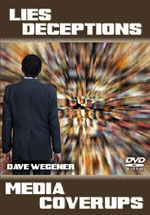 2. A Spanish newspaper has run this shocking headline: Marco Rubio Is A 'Republican Obama'.
NEWS BRIEF: "La Opinión Newspaper: Marco Rubio Is a 'Republican Obama'," Breitbart News, 3 February 2016
"Wednesday's cover of La Opinión, the nation's largest daily Spanish-language newspaper, prominently portrays ... Sen. Marco Rubio (R-FL) with the infamous 'hope and change' imagery that defined Barack Obama's presidential campaign. The cover of the Spanish-language paper writes: "The Republican Obama?"
How can this possibly be true? After all, most Republican voters view Marco Rubio as Conservative at heart. Yes, he may favor immigration, but does that one issue make him a rank Liberal in the class of Barack Obama? As it turns out, Rubio is more like Obama than most would like to admit. For example:
* "Marco Rubio and Barack Obama share many of the same policy goals, such as Obamatrade and military intervention in Libya."
* Both men share the same views on immigration. "Both men support citizenship for illegal aliens, expanded refugee resettlement, more green cards, more H-1B visas, and large permanent expansions to the rate of immigration and foreign worker importation."
Now that similarity is positively huge! Has the Media shaped our image of Marco Rubio that he can win our votes even though he is too close to President Obama?
"Marco Rubio was the co-author of the 2013 Obama-backed immigration bill. Rubio's immigration bill was endorsed by La Raza, the AFL-CIO, SEIU, Rep. Nancy Pelosi (D-CA), Rep. Luis Gutierrez (D-IL), Sen. Harry Reid (D-NV), Mark Zuckerberg, and George Soros. Rubio has not renounced his support for a single policy item outlined in the Gang of Eight bill—including his desire to triple green card issuances, double foreign worker visas, and grant citizenship to illegal immigrants."
And, now his campaign is copying some of the same successful images from Obama's 2008 campaign!
"Rubio has even borrowed much of the language of the Obama's campaign—prompting Joe Scarborough to mock the young Senator. Following the Iowa caucus, "Morning Joe" replayed Obama's 2008 acceptance speech celebrating his victory at the Iowa caucus and juxtaposed that with Rubio's strikingly similar Iowa speech celebrating his campaign's ability to inch up to third place. 'You know, I have said for a year that he is the Republican Obama', Scarborough said. 'He is the Republican Obama and he just stole the speech…"
This issue is one which Conservative Republicans must sit up and take serious notice. We simply cannot afford to be deceived again.
3. New word just out from the FBI: Hillary may be facing legal trouble from the Whitewater Investigations in the 1990's
And, Hillary may have implicated Bill in her email fiasco.
NEWS BRIEF: "Feds fight disclosure of Hillary Clinton Whitewater indictment drafts during the 1990's", Politico News, 2/3/2016
"The National Archives is fighting a lawsuit trying to force disclosure of several draft indictments of Hillary Clinton prepared by a Whitewater prosecutor in the 1990s. In a brief filed late Tuesday, Justice Department lawyers and the Archives argue ... 'As an uncharged person, Hillary Rodham Clinton retains a significant interest in her personal privacy despite any status as a public figure'."
"The conservative group Judicial Watch, which filed suit for the records in October under the Freedom of Information Act, is arguing that Clinton's ongoing bid for the presidency reinforces the public interest in records about her alleged misconduct. 'She's one of the most well-known women in the world, seeking the office of the presidency and her privacy interests outweigh the public interest in knowing what's in that indictment? It's absurd and it's shameful that the administration is proposing this', Judicial Watch President Tom Fitton said in an interview. 'This is a political decision to protect her candidacy—because it is laughable, legally'."
What was the Whitewater scandal, anyway?
"The Whitewater controversy (also known as the Whitewater scandal, or simply Whitewater) began with investigations into the real estate investments of Bill and Hillary Clinton and their associates, Jim and Susan McDougal, in the Whitewater Development Corporation, a failed business venture in the 1970s and 1980s. A March 1992 New York Times article published during the U.S. presidential campaign reported that the Clintons—then governor and first lady of Arkansas—had invested and lost money in the Whitewater Development Corporation. The article stimulated the interest of L. Jean Lewis, a Resolution Trust Corporation investigator who was looking into the failure of Madison Guaranty Savings and Loan, owned by McDougal. She looked for connections between the savings and loan company and the Clintons, and on September 2, 1992, she submitted a criminal referral to the FBI naming Bill and Hillary Clinton as witnesses in the Madison Guaranty case. Little Rock U.S. Attorney Charles A. Banks and the FBI determined that the referral lacked merit, but she continued to pursue it. From 1992 to 1994, Lewis issued several additional referrals against the Clintons and repeatedly called the U.S. Attorney's Office in Little Rock and the Justice Department regarding the case. Her referrals eventually became public knowledge, and she testified before the Senate Whitewater Committee in 1994." (Wickipedia Online Encyclopedia)
By 1994, Bill Clinton was President of the United States and could influence the Department of Justice on how it was to proceed. Clinton's D.O.J. finally concluded that evidence of criminal wrongdoing was "insufficient" and the entire episode died.
But, if sealed documents do exist that speak to Hillary's wrongdoing, the voting public deserves to see and hear that information before Liberals and Moderates vote for her for President.
Hillary has truly earned her reputation among voters for being untrustworthy!
NEWS BRIEF: "Is Bill Clinton in the FBI crosshairs too? Hillary may have implicated her husband", The Washington Times, Feb 3, 2016
"In the unfolding political and legal drama surrounding Hillary Clinton and her private server, one name has been conspicuously missing. Bill Clinton."
"There has been scant mention of the former president's possible role and potential exposure in the server/classified material controversy, which now represents an existential threat to Mrs. Clinton's presidential ambitions. But perhaps his role may be more central that we've been led to believe."
"... the FBI investigation may be proceeding along two tracks: his and hers. So far, two areas of focus have been mentioned."
1) "... the possible abuse of highly sensitive information by Mrs. Clinton through her use of a private, unsecured server."
2) "... possible violations of public corruption law: whether she and Mr. Clinton used her position as secretary of state to further the interests of the Clinton Foundation."
We shall have to watch this issue very closely. Wouldn't it be delicious if Bill Clinton were proven to be guilty at the same time as Hillary is revealed? The same political tsunami wave might catch them both!
---
Jesus' Resurrection - Christianity's Most Important Doctrine
New Prophetic DVD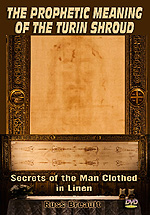 "The Prophetic Meaning of the Turin Shroud: Secrets of the Man Clothed In Linen"
PLUS A Bonus Video - by Russ Breault
God has always provided His believers with solid proof that He exists and that the Bible is true. At this End of the Age -- full of scoffers and unbelievers -- God has provided solid proof that Jesus rose from the grave! This proof is so solid that modern science can test it and prove it completely!
Mankind no longer has any reason to disbelieve the Death, Burial, and Resurrection of Jesus Christ! The Shroud has been scientifically authenticated.
A fascinating examination of Ezekiel 9 and Daniel 12. These two powerful Scriptures teach of Gods Mercy and Grace to His believers just before He wreaks physical destruction in Judgment.
Who is the 'Man Clothed in Linen?' He only appears twice in scripture. Could it be Jesus? How does he relate to the Shroud? Does the story of the Shroud of Turin contain a prophetic message for our time? The answer will amaze you.
Bonus video: Seven Secrets of the Sacred Shroud: Beyond science and history lies the theology of the Shroud. This presentation also focuses on seven proofs from theology and apologetics that support the Shroud's probable authenticity. These concepts are powerful and will raise your faith to new heights!
Has Plan of Salvation at the end, making this DVD a soul-winning tool
Run Time 1 hour 40 minutes -- Watch the Trailer http://www.cuttingedge.org/detail.cfm?ID=2717
Also see Proofs of the Resurrection DVD by Pastor Billy Crone
RUSS BREAULT has been researching and lecturing on The Shroud of Turin for over 30 years. He has presented to numerous college and universities including Duke, Johns Hopkins, U Mass, West Point, Penn State, Cal State and many more. Russ Breault has appeared in several nationally televised documentaries including Mysteries of the Ancient World on CBS. He was both advisor and a primary expert for the highly acclaimed, The Real Face of Jesus A two-hour documentary on The History Channel that has been seen in over 20 countries. Most recently he appeared on Good Morning America to discuss the latest research. He has participated in a dozen international research symposiums since 1981 and three recent public exhibitions in Turin, Italy in 1998, 2000 and 2010. He is a long-time member of the Shroud Science Group, an international consortium of scientists and scholars dedicated to further research. Russ Breault is the president and founder of the Shroud of Turin Education Project Inc., with a simple eleven word mission statement: To advance the knowledge of the Shroud to a new generation.
---
Popular NEW DVD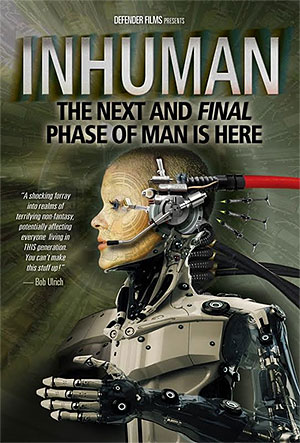 "Inhuman: Final Phase of Mankind Is Here"
DVD by Defender Films
This film is not fiction or a mockudrama but a new investigative documentary from the internationally acclaimed team at SkyWatch TV. INHUMAN travels the globe to unveil for the first time how breakthrough advances in science, technology, and philosophy - including cybernetics, bioengineering, nanotechnology,machine intelligence, and synthetic biology - are poised to create mind- boggling game-changes to everything we have known until now about Homosapiens.

As astonishing technological developments push the frontiers of humanity towards far-reaching morphological transformation (which promises in the very near future to redefine what it means to be human), an intellectual and fast-growing cultural movement known as transhumanism intends the use of these powerful new fields of science and technology as tools that will radically redesign our minds, our memories, our physiology, our offspring, and even perhaps-as Professor Joel Garreau, Lincoln Professor of Law, claims- our immortal souls.
Certainly, the Global Elite wants desperately to end biological death and to defeat God's plans for our souls.
As viewers will learn, this includes rewriting human genetics, combining human and animal DNA, and interfacing our brains with strong artificial intelligence systems. As a result, new modes of perception between things visible and invisible are expected to challenge bioethics in ways that are historically, sociologically and theologically unprecedented.
The destiny of each individual - as well as the future of their families - depends on their knowledge of this new paradigm, an extraordinary time in the earth's history already being called the "Hybrid Age".
3 Hours long, 2-Disc Set - Only $24.95
As the Apostle John wrote 'Amen! Come quickly, Lord Jesus'
As Jesus promised, 'When ye see these things come to pass, look up, for your Redemption draweth nigh'!
---
New DVD by David Bay - Only $14.99
In the minds of most people, two words carry so much emotional baggage that people cringe whenever they hear these Apocalyptic words. 1) Armageddon; 2) World War III.
In the past 20 years, whenever a battle begins in the Middle East or whenever a verbal confrontation breaks out between major powers, 'gloom and doom' scare-mongers immediately begin to shout 'World War III',much like a person yells 'FIRE' in a crowded theater.
Bible prophecy reveals that Antichrist will be produced on the world scene by a number of signs, including 'wars and rumors of wars'. Demonic familiar spirits told the Elite in 1870 that three world wars will be needed to produce Antichrist. Make no mistake about it: Antichrist will be produced by World War III.
Therefore, the question of the hour is, 'when will this global war begin' and 'what are the signs it is about to commence'? Many major events are planned to occur just as World War III begins. Mankind will be systematically hit with unparalleled disasters of every kind as this planned global war unfolds. But, none of these events will occur until the lynchpin called 'World War III' is pulled.
When the Global Elite pulls this lynchpin event called World War III, events are going to be unleashed in such severity and in such great numbers the peoples of the world will not stand in awe, they will panic and run for the hills. Jesus said that 'men's hearts shall fail them for fear', and the Elite is creating just such climactic events which shall not occur until the lynchpin known as 'World War III' is pulled.
We will show you the 12 major disasters the Elite has created and is waiting only for the beginning of World War III to unleash them all, almost at once. No one need fear that any of these disasters will jump across the starting line ahead of time; each awaits the 'pulling of the lynchpin', World War III.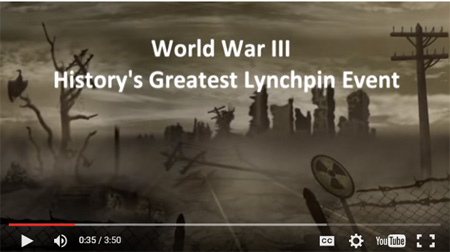 ---
'Another Jesus' Calling -- New Book by Warren B. Smith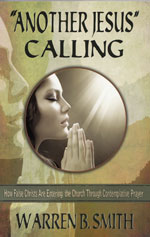 Inspired by the New Age book God Calling, Sarah Young claims to be receiving messages from Jesus Christ which she compiled into what is now her best-selling book, Jesus Calling. Author Warren Smith carefully documents his concerns about her book, her 'Jesus', and the New Age implications contained in many of Young's devotional messages. He also warns about the danger of contemplative prayer and in elevating spiritual experiences over the Word of God.
'Another Jesus' Calling is his call for much needed discernment in these very deceptive times.
173 pages
---
Why Is Your Pastor Ignoring Fulfillment of Prophecy In the Daily News?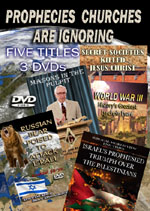 "Prophecies Churches Are Ignoring" - 3 DVD set
Regularly $89.94, Now only $29.94, Saving You $60!
Cutting Edge Director, David Bay, teaches six hard- hitting lessons on six unique End Times instances where events are fulfilling prophecy, but no one is talking about it. Five hot topics on three discs.
1) Israel's Prophesied Triumph over the Palestinians
2) Russian Bear Poised To Strike Israel
3) Masons In The Pulpit
4) World War III: History's Greatest Lynchpin Event
5) Secret Societies Killed Jesus Christ
Almost 6 Hours of Teaching - http://www.cuttingedge.org/detail.cfm?ID=2718
Each message is followed by a complete Salvation Plan, so each DVD becomes a Soul-Winning tool.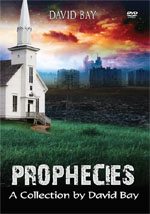 "Prophecies A Collection by David Bay" - 3 DVD set
Regularly $89.94, Now only $29.94, Saving You $60!
Why Are Genuinely Born-Again Pastors So Terribly Blind As To The Prophetic Times In Which We Live? 'Speak to us smooth illusions' [Isaiah 30:10] is the desire of too many pastors, while Jesus is lamenting, 'You did not know the time of your visitation' [Luke 19:44] Too many pastors refuse to believe that the unparalleled deception foretold in Matthew 24:24 really applies to today's events and leaders; thus such pastors are so wide open to spiritual deception.
Pastors also are reluctant to alert their people that events today are uniquely fulfilling key Bible prophecies. As a result, Christians by the many millions do not realize that the time for the Rapture of the Church and for Antichrist to arise is very, very close.
There are a number of unique prophecies being fulfilled that are exceedingly critical, but pastors and ministries are ignoring them totally, to the severe detriment of all Christians. This 3-DVD set contains 6 messages, each of which is unique to Cutting Edge Ministries/Films.
Here are the six hot topics:
* The Prophetic Beast Arises: Ten Toes of Daniel Are Forming
* Rapture Precedes Israel's Final 'WEEK' of History
* Eternal Security: God's Anchor In A Brutal Storm
* End Times' Judgment On Iraq (Babylon) Worse Than Believed Possible - Isaiah 13
* Invisible, Invincible Mind Control You are Targeted
* America Identified In Prophecy: Economic Babylon of Revelation 18
http://www.cuttingedge.org/detail.cfm?ID=2656
---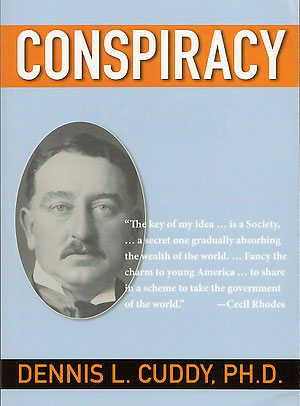 NEW BOOK by Dennis Cuddy
Have you ever wondered how people like H.G. Wells seemed to know what was going to happen? These people either had to be privy to the plans of the power elite, or they were extraordinarily intelligent at figuring out what the secret cabal running the world had planned.
An ancient saying 'Ordo ab Chao' (Order out of Chaos) applies to the power elite's machinations. And so as to make particular problems seem intractable, they select global leaders who feign incompetence. This is one way the American people are manipulated. In the end, the public really doesn't have much choice when it comes to political candidates, and the power elite controls both major parties.
207 pages. Order yours today
---
Dynamic New DVD
"Masons In The Pulpit"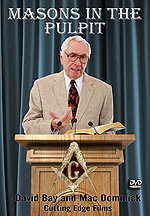 New DVD by David Bay and Mac Dominick - !
If your church allows Masons to fill the pulpit, or be Deacons, or Sunday School teachers, you have a very serious spiritual problem with Almighty God. The Holy Spirit has written 'Ichabod (The Glory Has Departed)' above your front door!
While Freemasonry has successfully deceived a great many people, convincing them that Freemasonry is compatible with Christianity, God knows the Truth and is not tolerant of Masons In The Pulpit.
We begin at a very reasonable beginning premise: If a pastor refuses to resign from the Masonic Lodge he does so because he feels greater loyalty to the Lodge than to Jesus Christ.
Starting from this premise, we examine a number of key Masonic teachings and then ask the Pastor how he can reconcile these teachings with Biblical Christianity. We ask, 'Mr. Pastor, when you are teaching key Biblical doctrine, are you really thinking of the radically different teaching of Freemasonry?
Prime Example: Freemasonry teaches that its religion is far superior to any other religion on Earth, including Christianity. Mr. Pastor, are you thinking how superior Masonry is to Christianity when you are teaching Biblical doctrine. Second Example: Freemasonry teaches that it is necessary for Lodge leaders to deliberately lie to their people until they are 'mature enough' to comprehend and accept the truth; Mr. Pastor, when you are teaching key Biblical doctrine, are you secretly thinking that it is necessary for you to teach these 'lies' about Jesus and the God of the Bible until your people are spiritually mature to comprehend the true Masonic doctrine?
We prove that a Holy God cannot tolerate Masons in the pulpit of a church for which His Son, Jesus, bled on that cruel cross of Calvary.
Almost two hours of teaching
Authors are Mac Dominick and David Bay.!
- http://www.cuttingedge.org/detail.cfm?ID=2712
Shipping NOW!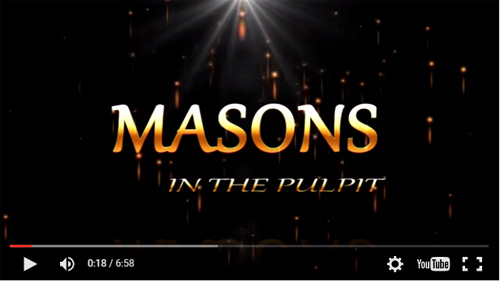 POPULAR DVD's FROM
CUTTING EDGE FILMS JUST $14.99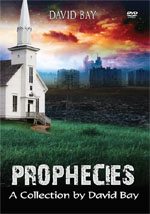 Prophecies Churches Are Ignoring - DVD Combo by David Bay - Volume 1 contains 3 DVDs with our first six programs.
Here are the six hot topics:
• The Prophetic Beast Arises: Ten Toes of Daniel Are Forming
• Rapture Precedes Israels Final 'WEEK' of History
• Eternal Security: God's Anchor In A Brutal Storm
• End Times' Judgment On Iraq (Babylon) Worse Than Believed Possible - Isaiah 13
• Israel's Prophesied Annihilation of the Palestinians
• America Identified In Prophecy: Economic Babylon of Revelation 18
Regular Price: $89.94 Sale Price: $29.99
See All Our $9.99 Books / DVD's
89 Titles From Which To Choose!

See All Our $4.99 Books DVD's
27 Titles From Which To Choose!
May Jesus Richly Bless You,
David Bay, Director
Cutting Edge Ministries
803-356-2850 -- Customer Service or Orders Toll Free within the USA 800-451-8211