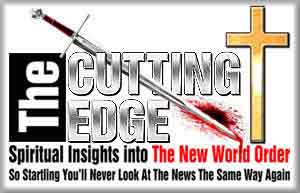 HOT NEWS
Friday, January 15, 2016
1. Bill Clinton's sexual deviancy and his preying on women while President is proving to be very damaging to Hillary's campaign
Is this issue the reason why Hillary's campaign is sinking faster now than it did in 2008?
2. Martin Luther King, Jr.'s Niece attacks abortion, equating it with violence in society.
Her shocking statement gives backhanded support to gun rights.
3. Might the price of crude oil suddenly shoot to $250 a barrel?
All it would take is for Iran and Saudi Arabia to be shooting at each other!
---
What Must I Do To Be Saved? Most recent News Alert online
This week we ask you to help Cutting Edge Ministries. To protect our independence, we'll never run outside advertising on our site. We're sustained by donations and Bookstore sales, both of which are declining. Only a tiny portion of our readers give, only about 2%. If everyone reading this right now gave $3, our fundraiser would be done within an hour. That's right, the price of a cup of coffee is all we need. We're a small non-profit with costs of a top website: servers, staff, studio expenses and programs. We believe everyone should have access to free knowledge, without restriction or limitation. If Cutting Edge is useful to you, please take one minute to keep us online and reaching out to over 100,000 people a year with the Plan of Salvation. We have tried to make supporting Cutting Edge Ministry easy and convenient, with our green "Donation Button".

May Jesus Richly Bless You. David Bay, Director
---
Why Is Your Pastor Ignoring Fulfillment of Prophecy In the Daily News?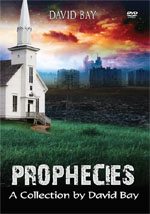 "Prophecies Churches Are Ignoring" - DVD - Volume 1
Regularly $89.94, Now only $29.94, Saving You $60!
Why Are Genuinely Born-Again Pastors So Terribly Blind As To The Prophetic Times In Which We Live? 'Speak to us smooth illusions' [Isaiah 30:10] is the desire of too many pastors, while Jesus is lamenting, 'You did not know the time of your visitation' [Luke 19:44] Too many pastors refuse to believe that the unparalleled deception foretold in Matthew 24:24 really applies to today's events and leaders; thus such pastors are so wide open to spiritual deception.
Pastors also are reluctant to alert their people that events today are uniquely fulfilling key Bible prophecies. As a result, Christians by the many millions do not realize that the time for the Rapture of the Church and for Antichrist to arise is very, very close.
There are a number of unique prophecies being fulfilled that are exceedingly critical, but pastors and ministries are ignoring them totally, to the severe detriment of all Christians. This 3-DVD set contains 6 messages, each of which is unique to Cutting Edge Ministries/Films.
Here are the six hot topics:
* The Prophetic Beast Arises: Ten Toes of Daniel Are Forming
* Rapture Precedes Israel's Final 'WEEK' of History
* Eternal Security: God's Anchor In A Brutal Storm
* End Times' Judgment On Iraq (Babylon) Worse Than Believed Possible - Isaiah 13
* Invisible, Invincible Mind Control You are Targeted
* America Identified In Prophecy: Economic Babylon of Revelation 18
http://www.cuttingedge.org/detail.cfm?ID=2656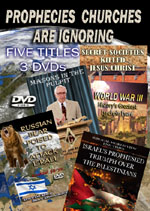 "Prophecies Churches Are Ignoring" - DVD - Volume 2
Regularly $89.94, Now only $29.94, Saving You $60!
Cutting Edge Director, David Bay, teaches six hard- hitting lessons on six unique End Times instances where events are fulfilling prophecy, but no one is talking about it. Five hot topics on three discs.
1) Israel's Prophesied Triumph over the Palestinians
2) Russian Bear Poised To Strike Israel
3) Masons In The Pulpit
4) World War III: History's Greatest Lynchpin Event
5) Secret Societies Killed Jesus Christ
Almost 6 Hours of Teaching - http://www.cuttingedge.org/detail.cfm?ID=2718
Each message is followed by a complete Salvation Plan, so each DVD becomes a Soul-Winning tool.

Hot News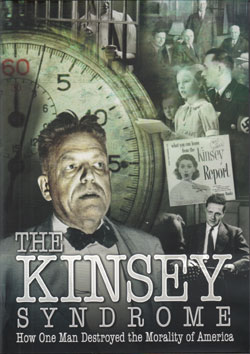 DVD
1. Bill Clinton's sexual deviancy and his preying on women while President is proving to be very damaging to Hillary's campaign
Is this issue the reason why Hillary's campaign is sinking faster now than it did in 2008?
NEWS BRIEF: "Bill Clinton's Past Infidelity And What It Means For Hillary's Campaign", Here & Now News, January 14, 2016
"Republican presidential candidate Donald Trump has warned that Democratic Party rival Hillary Clinton should not play 'the woman's card' against him because of Bill Clinton's 'terrible record of women abuse'."
" with Bill Clinton and extra-marital relationships, is that there are two sets of people. There are people with whom he has acknowledged consensual affairs – there is no dispute about that. Then there is this other set that we are talking about, women who have, very publicly and on the record, leveled accusations. But Bill Clinton has never acknowledged these to be true,"
The real problem here is that Hillary and other Feminists during the Bill Clinton era savagely attacked the women who were complaining about Bill's sexual advances,.
"People that would ordinarily say that all women are entitled to a hearing, that more often than not these claims have truth to them. The benefit of the doubt was not given by Hillary Rodham Clinton, as first lady, and certainly not by Democratic women's groups. It seems to me, both then and now, that it is impossible to remove this question from the politics that swirl around it."
To women of today, the way in which Hillary and other Feminists turned on these victims is horrific. Hillary is likely to lose a lot of votes from active women who would normally be expected to warmly embrace Hillary's candidacy.
The issue is not Bill Clinton's sexually predatory nature, but Hillary's refusal to live up to the Feminist ideal that all women victims had the right to gain JUSTICE against the man who violated them. Hillary led the fight to destroy these women in order to defend her man, and that may be the issue which drags Hillary down.
This issue may be why Hillary's campaign is losing support far more quickly now than it did in the campaign of 2008.
NEWS BRIEF: "Hillary Clinton's national lead is slipping faster in 2016 than it did in 2008", The Washington Post, Jan 14, 2016
"In 2008, Hillary Clinton saddled up for the Kentucky Derby on a thoroughbred that was a sure thing. Her campaign was the finest colt in Kentucky, at odds that barely made it worth betting on her. The race began, and she was up by a quarter mile. Then, as another jockey started to gain, she slipped out of her saddle. She was barely hanging on, bumping along against the dirt, bruised and struggling and still hanging in there a half-a-length back. And then she lost and grudgingly wished the victor luck in winning the Triple Crown."
Translation: Hillary lost the 2008 campaign in dramatic fashion to Barack Obama. Can she avoid this same type of disaster in 2016? After all, she is not facing a dynamic young man as Obama was, but only a very old Liberal Jewish candidate, Bernie Sanders.
Hillary is slipping in the polls now faster than she did in 2008. Let us hope this trend continues.
Anybody but Hillary is our cry!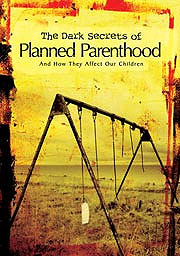 2. Martin Luther King, Jr.'s Niece attacks abortion, equating it with violence in society.
Her shocking statement gives backhanded support to gun rights.
NEWS BRIEF: "Martin Luther King Jr's Niece Slams Obama on Abortion: "We Need Violence Control, Not Gun Control", Life News, Jan 13, 2016
"Appeals for African American leaders to step up and protect unborn babies from abortion are growing louder and louder this month as more pro-life advocates call on politicians to end their support of the abortion industry and instead defend the vulnerable. The latest appeal came from one of America's most prominent black families. Dr. Alveda King, the niece of Dr. Martin Luther King Jr. and a pro-life advocate, wrote an open letter to President Barack Obama this week, asking him to end abortion violence against unborn children."
I find it especially gratifying to learn that one of the most prominent of black families in America -- the Dr. Martin Luther King family. One of the greatest tragedies of Planned Parenthood is that abortion targets blacks proportionately far more than whites A greater proportion of blacks than whites are murdered within the womb.
Then, I am really gratified to learn that Martin Luther King Jr's, niece is taking up the gauntlet and is personally writing to President Barack Obama!
"Your appeal seemed to be directed at gun control. Yet, the one life chord is vibrating on a frequency that embraces not just victims of gun violence, but even reaching the innocent lives in the womb. Many people often try to marginalize the sanctity of life voice. Yet, I would appeal to you to consider that death by forceps or bullets is death all the same ... 'I have sinned by betraying innocent blood.' They said, 'What is that to us? See to it yourself.'" – Matthew 27:4 ESV"
"Sir, we are trying to "see to it," to see an end to senseless violence in every corridor … Violence can take many forms. Gun violence is one of those forms. Knife violence is another. Fist violence another; and word violence too. Bomb violence is another. And abortion violence is yet another."
We congratulate Dr. Alveda King for taking such a strong stand for righteousness, based upon the Bible, to the most powerful leader in the world -- President Obama -- urging him to change his policy of murdering within the womb!
Dr. Alveda King also placed a heavier value on ending abortion violence than on ending gun violence. We need to all applaud this courageous black Christian leader for her determination to take on the most powerful black man in the country; we need more righteous indignation!
Dr. Kevin Clarkson, of Prophecy In The News, and David Bay of Cutting Edge Ministries, discuss in depth the process of over throwing Saudi Arabia's brutal dictatorship in the new Cutting Edge Films DVD - 'BRINGING SAUDI ARABIA DOWN'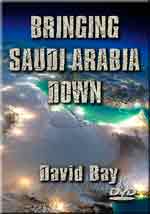 3. Might the price of crude oil suddenly shoot to $250 a barrel?
All it would take is for Iran and Saudi Arabia to be shooting at each other!
NEWS BRIEF: "War Between Saudi Arabia And Iran Could Send Oil Prices To $250", Oil Price News, 12 January 2016
"The rift between Saudi Arabia and Iran has quickly ballooned into the worst conflict in decades between the two countries. The back-and-forth escalation quickly turned the simmering tension into an overt struggle for power in the Middle East ... The effect from the brewing conflict on oil is murky, but for now it is not having a bullish impact. In the past, geopolitical tension in the Middle East, especially involving large oil producers, would add a few dollars to the price of oil. This risk premium captured the possibility of a supply disruption into the price of a barrel of crude. However, recent events barely registered in oil trading. That is because the global glut in oil supplies loom larger than any potential for a supply disruption. Oil dropped to nearly $30 per barrel on January 12 and oil speculators are not paying any attention to the tension in the Middle East."
We thoroughly covered this reality in the DVD shown above, "Bringing Saudi Arabia Down", and at the time our premise seemed shocking beyond belief. After all, Saudi oil is so important to the economy of the world that its abrupt loss would spell financial doom immediately. Right?
That kind of thinking is old school and does not reflect the reality of the desire of the Global Elite to overthrow this horrific entrenched dictator without destroying the world's economy. The key is to develop ready and significant oil resources that could immediately start flowing and would immediately replace Saudi oil on the world scene.
The dramatic drop in crude oil pricing is proof positive that this effort to develop other supplies of oil to replace the Saudi oil is well underway. But, once Iran and Saudi Arabia start directly shooting at each other, the price of oil will temporarily skyrocket. Listen to the conclusion of this news article.
""If there is a war confronting Iran and Saudi Arabia, oil could overnight go to above $250, but decline [back] down to the $100 level," said Askari. "If they attack each other's loading facilities, then we could see oil spike to over $500 and stay around there for some time depending on the extent of the damage."
Before you panic over the possibility of long-term pricing of $500 per barrel, please continue to read more of this article.
"... $250 and $500 per barrel are numbers pulled out of thin air, and may seem a bit sensationalistisc...."
Iranian theater missiles, coupled with sophisticated Russian missile defenses, probably will mean that any skyrocketing of crude price because a shooting war has broken out between Iran and Saudi Arabia will end very quickly with almost total defeat by the Saudis. Remember, the Illuminati wants to keep world financial markets in turmoil that ends short of another Great Depression.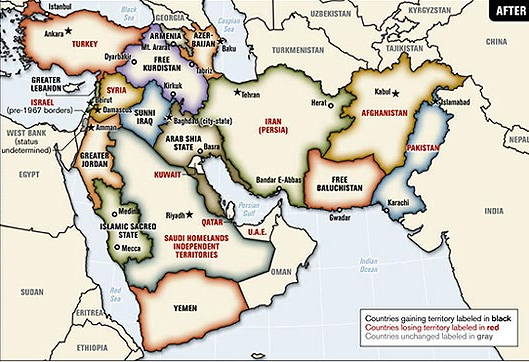 Saudi Arabia will be defeated badly, but the world financial market will stabilize once investors realize that the world market can pump enough oil from other sources to compensate for the loss of Saudi crude.
---
Popular NEW DVD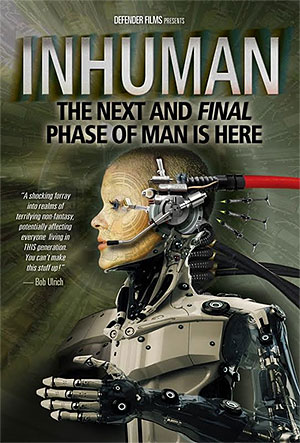 "Inhuman: Final Phase of Mankind Is Here"
DVD by Defender Films
This film is not fiction or a mockudrama but a new investigative documentary from the internationally acclaimed team at SkyWatch TV. INHUMAN travels the globe to unveil for the first time how breakthrough advances in science, technology, and philosophy - including cybernetics, bioengineering, nanotechnology,machine intelligence, and synthetic biology - are poised to create mind- boggling game-changes to everything we have known until now about Homosapiens.

As astonishing technological developments push the frontiers of humanity towards far-reaching morphological transformation (which promises in the very near future to redefine what it means to be human), an intellectual and fast-growing cultural movement known as transhumanism intends the use of these powerful new fields of science and technology as tools that will radically redesign our minds, our memories, our physiology, our offspring, and even perhaps-as Professor Joel Garreau, Lincoln Professor of Law, claims- our immortal souls.
Certainly, the Global Elite wants desperately to end biological death and to defeat God's plans for our souls.
As viewers will learn, this includes rewriting human genetics, combining human and animal DNA, and interfacing our brains with strong artificial intelligence systems. As a result, new modes of perception between things visible and invisible are expected to challenge bioethics in ways that are historically, sociologically and theologically unprecedented.
The destiny of each individual - as well as the future of their families - depends on their knowledge of this new paradigm, an extraordinary time in the earth's history already being called the "Hybrid Age".
3 Hours long, 2-Disc Set - Only $24.95
As the Apostle John wrote 'Amen! Come quickly, Lord Jesus'
As Jesus promised, 'When ye see these things come to pass, look up, for your Redemption draweth nigh'!
---
New Prophetic DVD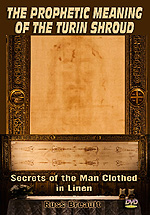 "The Prophetic Meaning of the Turin Shroud: Secrets of the Man Clothed In Linen"
PLUS A Bonus Video - by Russ Breault
A fascinating examination of Ezekiel 9 and Daniel 12. These two powerful Scriptures teach of Gods Mercy and Grace to His believers just before He wreaks physical destruction in Judgment.
Who is the 'Man Clothed in Linen?' He only appears twice in scripture. Could it be Jesus? How does he relate to the Shroud? Does the story of the Shroud of Turin contain a prophetic message for our time? The answer will amaze you.
Bonus video: Seven Secrets of the Sacred Shroud: Beyond science and history lies the theology of the Shroud. This presentation also focuses on seven proofs from theology and apologetics that support the Shroud's probable authenticity. These concepts are powerful and will raise your faith to new heights!
Has Plan of Salvation at the end, making this DVD a soul-winning tool
Run Time 1 hour 40 minutes -- Watch the Trailer http://www.cuttingedge.org/detail.cfm?ID=2717
RUSS BREAULT has been researching and lecturing on The Shroud of Turin for over 30 years. He has presented to numerous college and universities including Duke, Johns Hopkins, U Mass, West Point, Penn State, Cal State and many more. Russ Breault has appeared in several nationally televised documentaries including Mysteries of the Ancient World on CBS. He was both advisor and a primary expert for the highly acclaimed, The Real Face of Jesus A two-hour documentary on The History Channel that has been seen in over 20 countries. Most recently he appeared on Good Morning America to discuss the latest research. He has participated in a dozen international research symposiums since 1981 and three recent public exhibitions in Turin, Italy in 1998, 2000 and 2010. He is a long-time member of the Shroud Science Group, an international consortium of scientists and scholars dedicated to further research. Russ Breault is the president and founder of the Shroud of Turin Education Project Inc., with a simple eleven word mission statement: To advance the knowledge of the Shroud to a new generation.
---
New DVD by David Bay - Only $14.99
In the minds of most people, two words carry so much emotional baggage that people cringe whenever they hear these Apocalyptic words. 1) Armageddon; 2) World War III.
In the past 20 years, whenever a battle begins in the Middle East or whenever a verbal confrontation breaks out between major powers, 'gloom and doom' scare-mongers immediately begin to shout 'World War III',much like a person yells 'FIRE' in a crowded theater.
Bible prophecy reveals that Antichrist will be produced on the world scene by a number of signs, including 'wars and rumors of wars'. Demonic familiar spirits told the Elite in 1870 that three world wars will be needed to produce Antichrist. Make no mistake about it: Antichrist will be produced by World War III.
Therefore, the question of the hour is, 'when will this global war begin' and 'what are the signs it is about to commence'? Many major events are planned to occur just as World War III begins. Mankind will be systematically hit with unparalleled disasters of every kind as this planned global war unfolds. But, none of these events will occur until the lynchpin called 'World War III' is pulled.
When the Global Elite pulls this lynchpin event called World War III, events are going to be unleashed in such severity and in such great numbers the peoples of the world will not stand in awe, they will panic and run for the hills. Jesus said that 'men's hearts shall fail them for fear', and the Elite is creating just such climactic events which shall not occur until the lynchpin known as 'World War III' is pulled.
We will show you the 12 major disasters the Elite has created and is waiting only for the beginning of World War III to unleash them all, almost at once. No one need fear that any of these disasters will jump across the starting line ahead of time; each awaits the 'pulling of the lynchpin', World War III.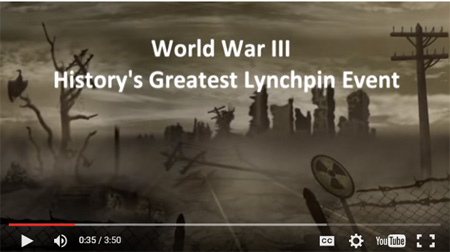 ---
'Another Jesus' Calling -- New Book by Warren B. Smith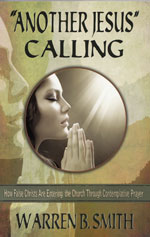 Inspired by the New Age book God Calling, Sarah Young claims to be receiving messages from Jesus Christ which she compiled into what is now her best-selling book, Jesus Calling. Author Warren Smith carefully documents his concerns about her book, her 'Jesus', and the New Age implications contained in many of Young's devotional messages. He also warns about the danger of contemplative prayer and in elevating spiritual experiences over the Word of God.
'Another Jesus' Calling is his call for much needed discernment in these very deceptive times.
173 pages
---
---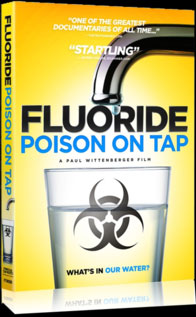 "FLUORIDE: POISON ON TAP" DVD
Water fluoridation has been hailed by the CDC as one of the ten great public health achievements of the 20th century. However, the practice has been mired in controversy since it began over 70 years ago. Does water fluoridation actually prevent tooth decay, or have we been sold a lie?
Join producers Paul Wittenberger and Chris Maple as they engage with world-renowned experts in exposing one of the biggest frauds the world has ever known. Together, they unravel the shocking secrets and deception of a corrupt industry that has been poisoning communities for generations. This surprising research creates a compelling case against the fluoridation of our water supplies, revealing long hidden health hazards, fraudulent findings, and corporate corruption.
FLUORIDE: POISON ON TAP will inspire you to take action on a local and global scale before its too late!

FEATURING SPEAKERS::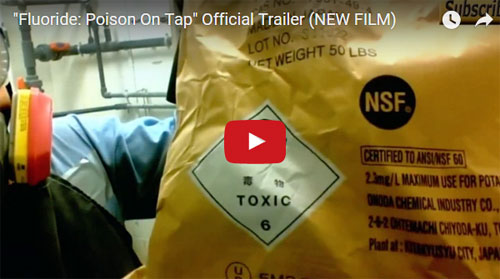 Dr. Edward Group
Dr. David Kennedy
Mike Adams
Dr. Paul Connett
Dr. James E. Rota
Dr. Charlie Goetschel
Karen Johnson
Neil Carman
Dr. Laura Pressley
Chris Maple
Gary Pittman
Paul Wittenberger
Mary Ellen Moore
Jeff Green
Dr. Doris Rapp
Gianluca Zanna
Only $19.98 - http://www.cuttingedge.org/detail.cfm?ID=2716
---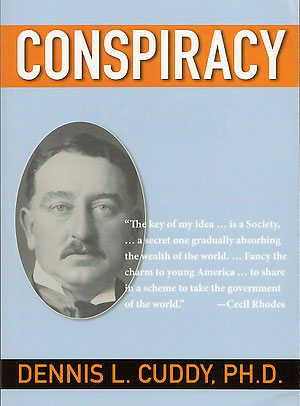 NEW BOOK by Dennis Cuddy
Have you ever wondered how people like H.G. Wells seemed to know what was going to happen? These people either had to be privy to the plans of the power elite, or they were extraordinarily intelligent at figuring out what the secret cabal running the world had planned.
An ancient saying 'Ordo ab Chao' (Order out of Chaos) applies to the power elite's machinations. And so as to make particular problems seem intractable, they select global leaders who feign incompetence. This is one way the American people are manipulated. In the end, the public really doesn't have much choice when it comes to political candidates, and the power elite controls both major parties.
207 pages. Order yours today
---
Dynamic New DVD
"Masons In The Pulpit"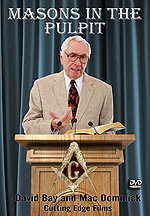 New DVD by David Bay and Mac Dominick - !
If your church allows Masons to fill the pulpit, or be Deacons, or Sunday School teachers, you have a very serious spiritual problem with Almighty God. The Holy Spirit has written 'Ichabod (The Glory Has Departed)' above your front door!
While Freemasonry has successfully deceived a great many people, convincing them that Freemasonry is compatible with Christianity, God knows the Truth and is not tolerant of Masons In The Pulpit.
We begin at a very reasonable beginning premise: If a pastor refuses to resign from the Masonic Lodge he does so because he feels greater loyalty to the Lodge than to Jesus Christ.
Starting from this premise, we examine a number of key Masonic teachings and then ask the Pastor how he can reconcile these teachings with Biblical Christianity. We ask, 'Mr. Pastor, when you are teaching key Biblical doctrine, are you really thinking of the radically different teaching of Freemasonry?
Prime Example: Freemasonry teaches that its religion is far superior to any other religion on Earth, including Christianity. Mr. Pastor, are you thinking how superior Masonry is to Christianity when you are teaching Biblical doctrine. Second Example: Freemasonry teaches that it is necessary for Lodge leaders to deliberately lie to their people until they are 'mature enough' to comprehend and accept the truth; Mr. Pastor, when you are teaching key Biblical doctrine, are you secretly thinking that it is necessary for you to teach these 'lies' about Jesus and the God of the Bible until your people are spiritually mature to comprehend the true Masonic doctrine?
We prove that a Holy God cannot tolerate Masons in the pulpit of a church for which His Son, Jesus, bled on that cruel cross of Calvary.
Almost two hours of teaching
Authors are Mac Dominick and David Bay.!
- http://www.cuttingedge.org/detail.cfm?ID=2712
Shipping NOW!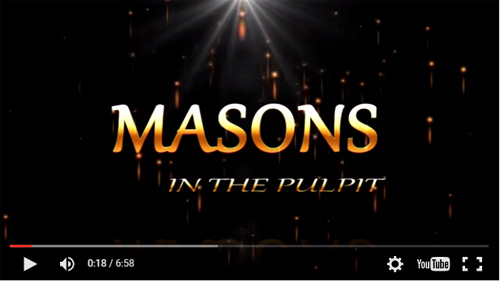 POPULAR DVD's FROM
CUTTING EDGE FILMS JUST $14.99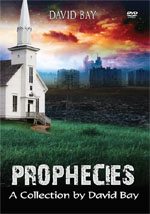 Prophecies Churches Are Ignoring - DVD Combo by David Bay - Volume 1 contains 3 DVDs with our first six programs.
Here are the six hot topics:
• The Prophetic Beast Arises: Ten Toes of Daniel Are Forming
• Rapture Precedes Israels Final 'WEEK' of History
• Eternal Security: God's Anchor In A Brutal Storm
• End Times' Judgment On Iraq (Babylon) Worse Than Believed Possible - Isaiah 13
• Israel's Prophesied Annihilation of the Palestinians
• America Identified In Prophecy: Economic Babylon of Revelation 18
Regular Price: $89.94 Sale Price: $29.99
See All Our $9.99 Books / DVD's
89 Titles From Which To Choose!

See All Our $4.99 Books DVD's
27 Titles From Which To Choose!
May Jesus Richly Bless You,
David Bay, Director
Cutting Edge Ministries
803-356-2850 -- Customer Service or Orders Toll Free within the USA 855-368-7639