Hot News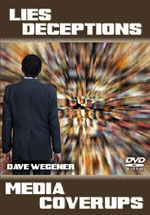 1. Hillary Clinton is declared to be the "best candidate to "protect the Obama legacy"!
Need we any further proof that Hillary will be disaster as President?
NEWS BRIEF: Eric Holder: Hillary Clinton is the best candidate to 'protect the Obama legacy'," The Washington Post, January 17, 2016
"Eric H. Holder Jr., the nation's first African American attorney general, said black voters can't afford to let 'wistfulness' about the excitement of the historic 2008 and 2012 elections keep them from the polls this year. He has endorsed Democratic presidential candidate Hillary Clinton, with whom he served in President Obama's Cabinet, and he spent the weekend stumping for her in South Carolina, where black voters make up more than half of the Democratic primary electorate."
In praising Hillary's credentials to be President, Holder made a statement which should raise the hackles of any Conservative.
"... we have to do is protect the Obama legacy. We've made really substantial progress in the last eight years -- it'll be eight years at the end of 2016 -- and the question is who is best situated to protect that legacy and not let the progress that we have made get rolled back."
Holder is admitting here that much of the disastrous changes which President Obama has so successfully institute in his 8 years in the Oval Office might be rolled back by the next President. Further, the "substantial progress' he cites as reason to put Hillary in as President are the very reasons Conservatives are so concerned about this election. These issues are:
* "Affordable Care Act" - Obamacare
* Gun Control
* "Immigration Issues"
* Foreign Policy
* "Hillary Clinton is and always has been a change agent."
Even though Holder does not mention the Climate Change issue and her undying support of Planned Parenthood, these are two more issues about which Conservatives / Christians strongly disagree with Obama and Hillary Clinton.
For Christians who care about America right now, the 2016 election is absolutely crucial. I am just concerned that our Public Schools have graduated enough government-minded citizens that traditional Christian / Republican voters are simply outnumbered by the Socialist thinking voters.
Hillary will be a disastrous President for Christians, Coming after the disastrous Obama years, Clinton's Presidency will drive America completely into the Abyss.
2. Hillary continued Bill's promise in the 1992 campaign that a vote for him meant that America was going to bet "two for the price of one", i.e., Hillary was going to be co-President!
Hillary came close to making the same promise, but she inadvertently opened the door to authorizing a close examination of Bill's background, including his sexual misdeeds! One former White House staffer said it was common knowledge amongst those working at the White House that Bill had "thousands of women".
NEWS BRIEF: "Hillary Clinton just declared Bill Clinton fair game in the 2016 campaign", The Washington Post, January 18, 2016
" Here's what she said about the role that Bill Clinton would play in her administration ... Here's what she said about the role that Bill Clinton would play in her administration: 'I'm going to have the very best advisers that I can possibly have ... I'm going to ask for his ideas, I'm going ask for his advice, and I'm going use him as a goodwill emissary ...' "
"She said she'd use him as an 'emissary', sending him around the country on White House business. When Holt asked if Bill Clinton would have a 'real policy role' or be limited to chatter around the kitchen table, Hillary Clinton replied that "it'll start at the kitchen table; we'll see how it goes from there."
In other words, Hillary is planning to make Bill as "Co-President", in much the same manner as Bill announced he was going to make Hillary in 1992. Do you remember that statement, and how it was based in the power structure of the Occult?
Please take a few moments to read our Archived Article, NEWS1225, entitled, "CO-PRESIDENCY DECLARED BY BILL CLINTON IN 1992 CAMPAIGN SURE SIGN OF THE RULE OF THE PAGAN GOD AND GODDESS".
Quoting one segment of this article:
"Bill Clinton startled people in his 1992 campaign for the Presidency when he announced that Hillary was going to be a Co-President. Bill explained, 'It will be like getting two for the price of one'. While no one really knew what to make of this announcement, occultists knew. The Pagan god and goddess were finally in control of the White House."
A former Black Magick Satanist once told me, "In the realm of the Illuminati occult, Hillary outranks Bill"!
A Hillary President would ensure that the higher-ranking of the Clintons would finally rule the top roost!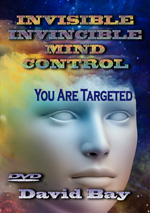 3. Senior Republican leadership is in shock, as Conservatives are finally taking over the Party.
If Conservatives rule the GOP Convention, will Establishment Leaders open a Third Party campaign, thus handing the election to Hillary?
NEWS BRIEF: "Stunned GOP Establishment Loses Hope in Iowa and NH", Breitbart News, January 18, 2016
"HOLLIS, N.H. (AP) — After months of predicting a comeback for their preferred candidates, Republican establishment leaders now concede the first two contests of the presidential race, in Iowa and New Hampshire early next month, are Donald Trump's and Sen. Ted Cruz (R-TX)'s to lose. That leaves many GOP traditionalists, who fear each candidate would be a disaster in the November general election, pinning their White House hopes on a feat no Republican has pulled off in modern political history: securing the nomination without winning at least one of the first two states on the calendar."
The Tea Party is finally getting such grassroots support that the Establishment R.I.N.O." GOP Party is starting to fear that a man of their own choosing cannot win the nomination! Do you remember a few years ago that pundits were saying that the Tea Party had reached its high-water mark and was going to start a slide into irrelevancy?
No one is saying that now!
---
Popular NEW DVD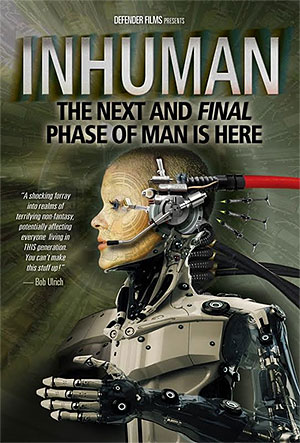 "Inhuman: Final Phase of Mankind Is Here"
DVD by Defender Films
This film is not fiction or a mockudrama but a new investigative documentary from the internationally acclaimed team at SkyWatch TV. INHUMAN travels the globe to unveil for the first time how breakthrough advances in science, technology, and philosophy - including cybernetics, bioengineering, nanotechnology,machine intelligence, and synthetic biology - are poised to create mind- boggling game-changes to everything we have known until now about Homosapiens.

As astonishing technological developments push the frontiers of humanity towards far-reaching morphological transformation (which promises in the very near future to redefine what it means to be human), an intellectual and fast-growing cultural movement known as transhumanism intends the use of these powerful new fields of science and technology as tools that will radically redesign our minds, our memories, our physiology, our offspring, and even perhaps-as Professor Joel Garreau, Lincoln Professor of Law, claims- our immortal souls.
Certainly, the Global Elite wants desperately to end biological death and to defeat God's plans for our souls.
As viewers will learn, this includes rewriting human genetics, combining human and animal DNA, and interfacing our brains with strong artificial intelligence systems. As a result, new modes of perception between things visible and invisible are expected to challenge bioethics in ways that are historically, sociologically and theologically unprecedented.
The destiny of each individual - as well as the future of their families - depends on their knowledge of this new paradigm, an extraordinary time in the earth's history already being called the "Hybrid Age".
3 Hours long, 2-Disc Set - Only $24.95
As the Apostle John wrote 'Amen! Come quickly, Lord Jesus'
As Jesus promised, 'When ye see these things come to pass, look up, for your Redemption draweth nigh'!
---
New Prophetic DVD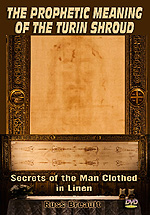 "The Prophetic Meaning of the Turin Shroud: Secrets of the Man Clothed In Linen"
PLUS A Bonus Video - by Russ Breault
A fascinating examination of Ezekiel 9 and Daniel 12. These two powerful Scriptures teach of Gods Mercy and Grace to His believers just before He wreaks physical destruction in Judgment.
Who is the 'Man Clothed in Linen?' He only appears twice in scripture. Could it be Jesus? How does he relate to the Shroud? Does the story of the Shroud of Turin contain a prophetic message for our time? The answer will amaze you.
Bonus video: Seven Secrets of the Sacred Shroud: Beyond science and history lies the theology of the Shroud. This presentation also focuses on seven proofs from theology and apologetics that support the Shroud's probable authenticity. These concepts are powerful and will raise your faith to new heights!
Has Plan of Salvation at the end, making this DVD a soul-winning tool
Run Time 1 hour 40 minutes -- Watch the Trailer http://www.cuttingedge.org/detail.cfm?ID=2717
RUSS BREAULT has been researching and lecturing on The Shroud of Turin for over 30 years. He has presented to numerous college and universities including Duke, Johns Hopkins, U Mass, West Point, Penn State, Cal State and many more. Russ Breault has appeared in several nationally televised documentaries including Mysteries of the Ancient World on CBS. He was both advisor and a primary expert for the highly acclaimed, The Real Face of Jesus A two-hour documentary on The History Channel that has been seen in over 20 countries. Most recently he appeared on Good Morning America to discuss the latest research. He has participated in a dozen international research symposiums since 1981 and three recent public exhibitions in Turin, Italy in 1998, 2000 and 2010. He is a long-time member of the Shroud Science Group, an international consortium of scientists and scholars dedicated to further research. Russ Breault is the president and founder of the Shroud of Turin Education Project Inc., with a simple eleven word mission statement: To advance the knowledge of the Shroud to a new generation.
---
New DVD by David Bay - Only $14.99
In the minds of most people, two words carry so much emotional baggage that people cringe whenever they hear these Apocalyptic words. 1) Armageddon; 2) World War III.
In the past 20 years, whenever a battle begins in the Middle East or whenever a verbal confrontation breaks out between major powers, 'gloom and doom' scare-mongers immediately begin to shout 'World War III',much like a person yells 'FIRE' in a crowded theater.
Bible prophecy reveals that Antichrist will be produced on the world scene by a number of signs, including 'wars and rumors of wars'. Demonic familiar spirits told the Elite in 1870 that three world wars will be needed to produce Antichrist. Make no mistake about it: Antichrist will be produced by World War III.
Therefore, the question of the hour is, 'when will this global war begin' and 'what are the signs it is about to commence'? Many major events are planned to occur just as World War III begins. Mankind will be systematically hit with unparalleled disasters of every kind as this planned global war unfolds. But, none of these events will occur until the lynchpin called 'World War III' is pulled.
When the Global Elite pulls this lynchpin event called World War III, events are going to be unleashed in such severity and in such great numbers the peoples of the world will not stand in awe, they will panic and run for the hills. Jesus said that 'men's hearts shall fail them for fear', and the Elite is creating just such climactic events which shall not occur until the lynchpin known as 'World War III' is pulled.
We will show you the 12 major disasters the Elite has created and is waiting only for the beginning of World War III to unleash them all, almost at once. No one need fear that any of these disasters will jump across the starting line ahead of time; each awaits the 'pulling of the lynchpin', World War III.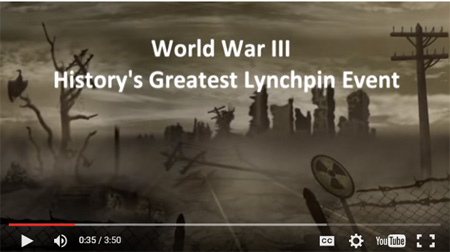 ---
'Another Jesus' Calling -- New Book by Warren B. Smith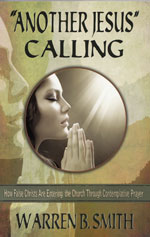 Inspired by the New Age book God Calling, Sarah Young claims to be receiving messages from Jesus Christ which she compiled into what is now her best-selling book, Jesus Calling. Author Warren Smith carefully documents his concerns about her book, her 'Jesus', and the New Age implications contained in many of Young's devotional messages. He also warns about the danger of contemplative prayer and in elevating spiritual experiences over the Word of God.
'Another Jesus' Calling is his call for much needed discernment in these very deceptive times.
173 pages
---
---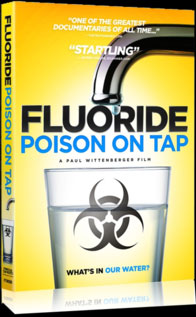 "FLUORIDE: POISON ON TAP" DVD
Water fluoridation has been hailed by the CDC as one of the ten great public health achievements of the 20th century. However, the practice has been mired in controversy since it began over 70 years ago. Does water fluoridation actually prevent tooth decay, or have we been sold a lie?
Join producers Paul Wittenberger and Chris Maple as they engage with world-renowned experts in exposing one of the biggest frauds the world has ever known. Together, they unravel the shocking secrets and deception of a corrupt industry that has been poisoning communities for generations. This surprising research creates a compelling case against the fluoridation of our water supplies, revealing long hidden health hazards, fraudulent findings, and corporate corruption.
FLUORIDE: POISON ON TAP will inspire you to take action on a local and global scale before its too late!

FEATURING SPEAKERS::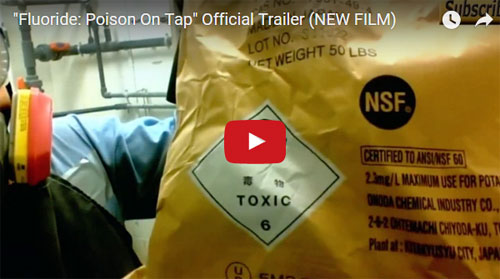 Dr. Edward Group
Dr. David Kennedy
Mike Adams
Dr. Paul Connett
Dr. James E. Rota
Dr. Charlie Goetschel
Karen Johnson
Neil Carman
Dr. Laura Pressley
Chris Maple
Gary Pittman
Paul Wittenberger
Mary Ellen Moore
Jeff Green
Dr. Doris Rapp
Gianluca Zanna
Only $19.98 - http://www.cuttingedge.org/detail.cfm?ID=2716
---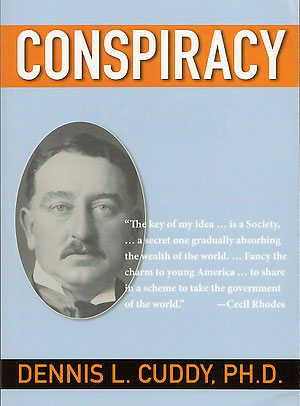 NEW BOOK by Dennis Cuddy
Have you ever wondered how people like H.G. Wells seemed to know what was going to happen? These people either had to be privy to the plans of the power elite, or they were extraordinarily intelligent at figuring out what the secret cabal running the world had planned.
An ancient saying 'Ordo ab Chao' (Order out of Chaos) applies to the power elite's machinations. And so as to make particular problems seem intractable, they select global leaders who feign incompetence. This is one way the American people are manipulated. In the end, the public really doesn't have much choice when it comes to political candidates, and the power elite controls both major parties.
207 pages. Order yours today
---
Dynamic New DVD
"Masons In The Pulpit"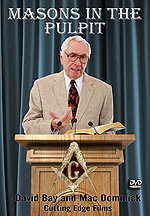 New DVD by David Bay and Mac Dominick - !
If your church allows Masons to fill the pulpit, or be Deacons, or Sunday School teachers, you have a very serious spiritual problem with Almighty God. The Holy Spirit has written 'Ichabod (The Glory Has Departed)' above your front door!
While Freemasonry has successfully deceived a great many people, convincing them that Freemasonry is compatible with Christianity, God knows the Truth and is not tolerant of Masons In The Pulpit.
We begin at a very reasonable beginning premise: If a pastor refuses to resign from the Masonic Lodge he does so because he feels greater loyalty to the Lodge than to Jesus Christ.
Starting from this premise, we examine a number of key Masonic teachings and then ask the Pastor how he can reconcile these teachings with Biblical Christianity. We ask, 'Mr. Pastor, when you are teaching key Biblical doctrine, are you really thinking of the radically different teaching of Freemasonry?
Prime Example: Freemasonry teaches that its religion is far superior to any other religion on Earth, including Christianity. Mr. Pastor, are you thinking how superior Masonry is to Christianity when you are teaching Biblical doctrine. Second Example: Freemasonry teaches that it is necessary for Lodge leaders to deliberately lie to their people until they are 'mature enough' to comprehend and accept the truth; Mr. Pastor, when you are teaching key Biblical doctrine, are you secretly thinking that it is necessary for you to teach these 'lies' about Jesus and the God of the Bible until your people are spiritually mature to comprehend the true Masonic doctrine?
We prove that a Holy God cannot tolerate Masons in the pulpit of a church for which His Son, Jesus, bled on that cruel cross of Calvary.
Almost two hours of teaching
Authors are Mac Dominick and David Bay.!
- http://www.cuttingedge.org/detail.cfm?ID=2712
Shipping NOW!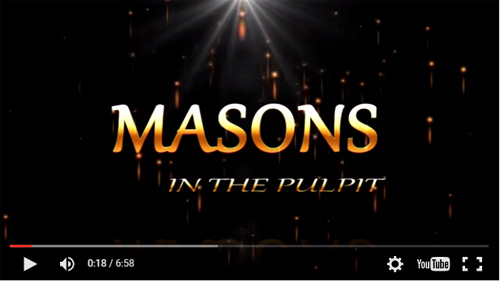 POPULAR DVD's FROM
CUTTING EDGE FILMS JUST $14.99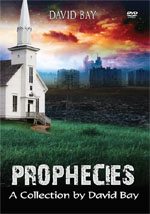 Prophecies Churches Are Ignoring - DVD Combo by David Bay - Volume 1 contains 3 DVDs with our first six programs.
Here are the six hot topics:
• The Prophetic Beast Arises: Ten Toes of Daniel Are Forming
• Rapture Precedes Israels Final 'WEEK' of History
• Eternal Security: God's Anchor In A Brutal Storm
• End Times' Judgment On Iraq (Babylon) Worse Than Believed Possible - Isaiah 13
• Israel's Prophesied Annihilation of the Palestinians
• America Identified In Prophecy: Economic Babylon of Revelation 18
Regular Price: $89.94 Sale Price: $29.99
See All Our $9.99 Books / DVD's
89 Titles From Which To Choose!

See All Our $4.99 Books DVD's
27 Titles From Which To Choose!
May Jesus Richly Bless You,
David Bay, Director
Cutting Edge Ministries
803-356-2850 -- Customer Service or Orders Toll Free within the USA 855-368-7639