Hot News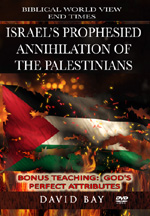 1. As Israel prepares to annihilate the Palestinians in fulfillment of Obadiah 15-18 and Isaiah 34, Hamas may provide the required spark.
Hamas is said to be ready for a new war with Israel.
NEWS BRIEF: "IDF Officials: Hamas is Ready for New War With Israel", Breaking Israel News, January 24, 2016
"Hamas has licked its wounds and is ready for a new armed conflict with Israel, said a senior defense official on Friday. Eighteen months after Operation Protective Edge, in which the IDF took out many of Hamas's weapons arsenals and destroyed a number of its tunnels, the terror group which runs the Gaza Strip is back on its feet ... According to various reports, Hamas has rebuilt its complex system of terror tunnels, several of which reach below the border into Israel."
Israel is prepared to fulfill the prophecies of Obadiah 15-18 and Isaiah 34, which declare that God will annihilate the "House of Esau" (Palestinians) using Israel as His weapon. Once this prophecy is fulfilled, it will be the first time since the Old Testament era in which God used Israel to destroy an entire people.
Therefore, people today are not prepared for what God is going to do to the Palestinians. As we prove in this DVD, "Israel's Prophesied Triumph Over The Palestinians", Israel has made all the necessary preparations to annihilate all Palestinians.
All that Israel needs now is the provocation.
All Israel needs now is the necessary attack by the Palestinians which would give her the excuse to annihilate this entire people. While we do not gain any kind of pleasure in proclaiming this shocking 2,700-year prophecy, God has given the "House of Esau" a lot of time in which to stop their incessant hatred and persecution of God's Chosen People.
How many of us would give someone almost 3,000 years warning to stop hating the Jews? God's patience is long-suffering, but the time always comes when that patience comes to an end and God's Omnipotent judgment falls.
Are you ready to explain this development when it occurs? Christians can only explain it by holding Obadiah 15-18 up to the unsaved world, explaining that God's Justice is just as powerful as His attribute of Love.
We must also warn the unsaved world that, soon, entire nations are going to start suffering the same fate as the Palestinians, as foretold in the books of Revelation, Daniel, Zechariah, and others. God will be calling all of us as the "Watchman on the Wall", crying out a warning to the unsaved throughout the globe.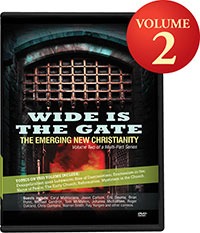 2. Rev. Franklin Graham speaks the truth about Islam boldly!
"Islam and Christianity clearly do not worship the same God"!
NEWS BRIEF: "Franklin Graham: 'Islam and Christianity Clearly Do Not Worship the Same God', " Breitbart News, January 24, 2016
"Muslims and Christians do not worship the same God, celebrated evangelist Franklin Graham said in response to the controversial claim by a faculty member at Wheaton College in Illinois ... In December 2015, Larycia Hawkins, who teaches political science at Wheaton College, was put on administrative leave after wearing a hijab to school in solidarity with Muslims. Wheaton is a private evangelical Christian college, which has sometimes been called the "evangelical Harvard" because of its reputation for academic rigor."
""The fundamental issue for Graham is the theological question of the nature of God and therefore the mission of the college. 'Islam denies that God has a Son', Graham wrote. 'They deny that Jesus is God. They do not believe in a Triune God–the Father, the Son, and the Holy Spirit. I can tell you–Islam and Christianity clearly do not worship the same God.."
The only way in which this college professor could state that the God of Islam and of Christianity are the same is that she has succumbed to the heresy which the DVD, above, exposes, "Wide Is The Gate, Volume 2". This heresy seeks to meld Christian with Islam, and it sweeping our christian churches like a tsunami!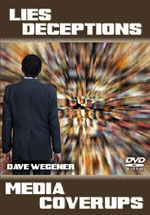 3. The latest Hillary Clinton emails produce a powerful 'smoking gun' proving her incompetence to be the President of the United States.
She sent emails "Above Top Secret" on her private email server!
How can we trust her with the most critical national secrets as President?
NEWS BRIEF: "Latest batch of Clinton emails are the ".44 Magnums of smoking guns", Breitbart News, 24 Jan 2016
"Dr. Sebastian Gorka, a Breitbart News contributor and Chair of Military Theory at Marine Corps University, appeared on the Fox Business Network to discuss the latest revelations in the Hillary Clinton email story. He described the discovery of beyond-Top Secret material on Clinton's unsecured email server as 'absolutely enormous'. 'We've talked about numerous smoking guns', said Dr. Gorka. 'This is the biggest. This is the .44 Magnum of smoking guns'."
"He explained the meaning of the TOP SECRET-SAP, or Special Access Program, designation as "one of the highest classifications out there," covering sensitive material all the way up to the United States' nuclear weapons program. 'The idea that we're putting these onto private, unguarded servers… this means that any enemy nation could penetrate and get access to those secrets, which undermines our national security, or could lead to the Secretary being blackmailed', said Gorka, referring to Clinton's tenure as Secretary of State."
Again, we proclaim that Hillary Clinton is not competent to be President of the United States.
---
Popular NEW DVD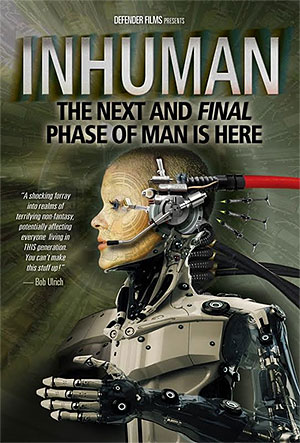 "Inhuman: Final Phase of Mankind Is Here"
DVD by Defender Films
This film is not fiction or a mockudrama but a new investigative documentary from the internationally acclaimed team at SkyWatch TV. INHUMAN travels the globe to unveil for the first time how breakthrough advances in science, technology, and philosophy - including cybernetics, bioengineering, nanotechnology,machine intelligence, and synthetic biology - are poised to create mind- boggling game-changes to everything we have known until now about Homosapiens.

As astonishing technological developments push the frontiers of humanity towards far-reaching morphological transformation (which promises in the very near future to redefine what it means to be human), an intellectual and fast-growing cultural movement known as transhumanism intends the use of these powerful new fields of science and technology as tools that will radically redesign our minds, our memories, our physiology, our offspring, and even perhaps-as Professor Joel Garreau, Lincoln Professor of Law, claims- our immortal souls.
Certainly, the Global Elite wants desperately to end biological death and to defeat God's plans for our souls.
As viewers will learn, this includes rewriting human genetics, combining human and animal DNA, and interfacing our brains with strong artificial intelligence systems. As a result, new modes of perception between things visible and invisible are expected to challenge bioethics in ways that are historically, sociologically and theologically unprecedented.
The destiny of each individual - as well as the future of their families - depends on their knowledge of this new paradigm, an extraordinary time in the earth's history already being called the "Hybrid Age".
3 Hours long, 2-Disc Set - Only $24.95
As the Apostle John wrote 'Amen! Come quickly, Lord Jesus'
As Jesus promised, 'When ye see these things come to pass, look up, for your Redemption draweth nigh'!
---
New DVD by David Bay - Only $14.99
In the minds of most people, two words carry so much emotional baggage that people cringe whenever they hear these Apocalyptic words. 1) Armageddon; 2) World War III.
In the past 20 years, whenever a battle begins in the Middle East or whenever a verbal confrontation breaks out between major powers, 'gloom and doom' scare-mongers immediately begin to shout 'World War III',much like a person yells 'FIRE' in a crowded theater.
Bible prophecy reveals that Antichrist will be produced on the world scene by a number of signs, including 'wars and rumors of wars'. Demonic familiar spirits told the Elite in 1870 that three world wars will be needed to produce Antichrist. Make no mistake about it: Antichrist will be produced by World War III.
Therefore, the question of the hour is, 'when will this global war begin' and 'what are the signs it is about to commence'? Many major events are planned to occur just as World War III begins. Mankind will be systematically hit with unparalleled disasters of every kind as this planned global war unfolds. But, none of these events will occur until the lynchpin called 'World War III' is pulled.
When the Global Elite pulls this lynchpin event called World War III, events are going to be unleashed in such severity and in such great numbers the peoples of the world will not stand in awe, they will panic and run for the hills. Jesus said that 'men's hearts shall fail them for fear', and the Elite is creating just such climactic events which shall not occur until the lynchpin known as 'World War III' is pulled.
We will show you the 12 major disasters the Elite has created and is waiting only for the beginning of World War III to unleash them all, almost at once. No one need fear that any of these disasters will jump across the starting line ahead of time; each awaits the 'pulling of the lynchpin', World War III.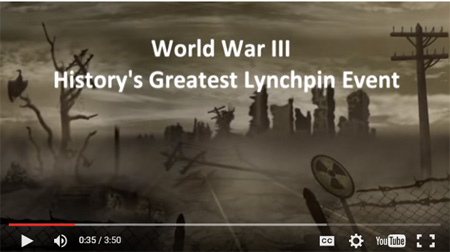 ---
'Another Jesus' Calling -- New Book by Warren B. Smith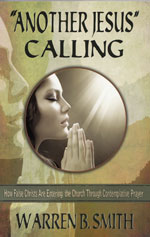 Inspired by the New Age book God Calling, Sarah Young claims to be receiving messages from Jesus Christ which she compiled into what is now her best-selling book, Jesus Calling. Author Warren Smith carefully documents his concerns about her book, her 'Jesus', and the New Age implications contained in many of Young's devotional messages. He also warns about the danger of contemplative prayer and in elevating spiritual experiences over the Word of God.
'Another Jesus' Calling is his call for much needed discernment in these very deceptive times.
173 pages
---
Why Is Your Pastor Ignoring Fulfillment of Prophecy In the Daily News?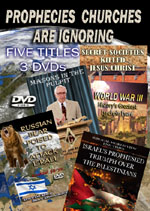 "Prophecies Churches Are Ignoring" - 3 DVD set
Regularly $89.94, Now only $29.94, Saving You $60!
Cutting Edge Director, David Bay, teaches six hard- hitting lessons on six unique End Times instances where events are fulfilling prophecy, but no one is talking about it. Five hot topics on three discs.
1) Israel's Prophesied Triumph over the Palestinians
2) Russian Bear Poised To Strike Israel
3) Masons In The Pulpit
4) World War III: History's Greatest Lynchpin Event
5) Secret Societies Killed Jesus Christ
Almost 6 Hours of Teaching - http://www.cuttingedge.org/detail.cfm?ID=2718
Each message is followed by a complete Salvation Plan, so each DVD becomes a Soul-Winning tool.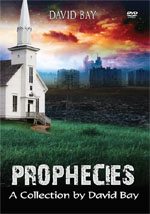 "Prophecies A Collection by David Bay" - 3 DVD set
Regularly $89.94, Now only $29.94, Saving You $60!
Why Are Genuinely Born-Again Pastors So Terribly Blind As To The Prophetic Times In Which We Live? 'Speak to us smooth illusions' [Isaiah 30:10] is the desire of too many pastors, while Jesus is lamenting, 'You did not know the time of your visitation' [Luke 19:44] Too many pastors refuse to believe that the unparalleled deception foretold in Matthew 24:24 really applies to today's events and leaders; thus such pastors are so wide open to spiritual deception.
Pastors also are reluctant to alert their people that events today are uniquely fulfilling key Bible prophecies. As a result, Christians by the many millions do not realize that the time for the Rapture of the Church and for Antichrist to arise is very, very close.
There are a number of unique prophecies being fulfilled that are exceedingly critical, but pastors and ministries are ignoring them totally, to the severe detriment of all Christians. This 3-DVD set contains 6 messages, each of which is unique to Cutting Edge Ministries/Films.
Here are the six hot topics:
* The Prophetic Beast Arises: Ten Toes of Daniel Are Forming
* Rapture Precedes Israel's Final 'WEEK' of History
* Eternal Security: God's Anchor In A Brutal Storm
* End Times' Judgment On Iraq (Babylon) Worse Than Believed Possible - Isaiah 13
* Invisible, Invincible Mind Control You are Targeted
* America Identified In Prophecy: Economic Babylon of Revelation 18
http://www.cuttingedge.org/detail.cfm?ID=2656
---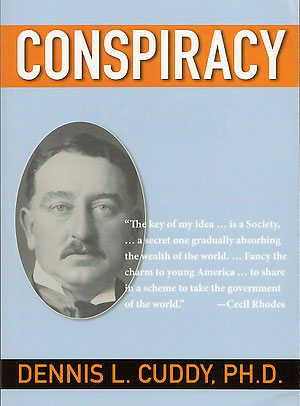 NEW BOOK by Dennis Cuddy
Have you ever wondered how people like H.G. Wells seemed to know what was going to happen? These people either had to be privy to the plans of the power elite, or they were extraordinarily intelligent at figuring out what the secret cabal running the world had planned.
An ancient saying 'Ordo ab Chao' (Order out of Chaos) applies to the power elite's machinations. And so as to make particular problems seem intractable, they select global leaders who feign incompetence. This is one way the American people are manipulated. In the end, the public really doesn't have much choice when it comes to political candidates, and the power elite controls both major parties.
207 pages. Order yours today
---
Dynamic New DVD
"Masons In The Pulpit"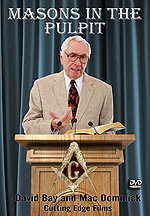 New DVD by David Bay and Mac Dominick - !
If your church allows Masons to fill the pulpit, or be Deacons, or Sunday School teachers, you have a very serious spiritual problem with Almighty God. The Holy Spirit has written 'Ichabod (The Glory Has Departed)' above your front door!
While Freemasonry has successfully deceived a great many people, convincing them that Freemasonry is compatible with Christianity, God knows the Truth and is not tolerant of Masons In The Pulpit.
We begin at a very reasonable beginning premise: If a pastor refuses to resign from the Masonic Lodge he does so because he feels greater loyalty to the Lodge than to Jesus Christ.
Starting from this premise, we examine a number of key Masonic teachings and then ask the Pastor how he can reconcile these teachings with Biblical Christianity. We ask, 'Mr. Pastor, when you are teaching key Biblical doctrine, are you really thinking of the radically different teaching of Freemasonry?
Prime Example: Freemasonry teaches that its religion is far superior to any other religion on Earth, including Christianity. Mr. Pastor, are you thinking how superior Masonry is to Christianity when you are teaching Biblical doctrine. Second Example: Freemasonry teaches that it is necessary for Lodge leaders to deliberately lie to their people until they are 'mature enough' to comprehend and accept the truth; Mr. Pastor, when you are teaching key Biblical doctrine, are you secretly thinking that it is necessary for you to teach these 'lies' about Jesus and the God of the Bible until your people are spiritually mature to comprehend the true Masonic doctrine?
We prove that a Holy God cannot tolerate Masons in the pulpit of a church for which His Son, Jesus, bled on that cruel cross of Calvary.
Almost two hours of teaching
Authors are Mac Dominick and David Bay.!
- http://www.cuttingedge.org/detail.cfm?ID=2712
Shipping NOW!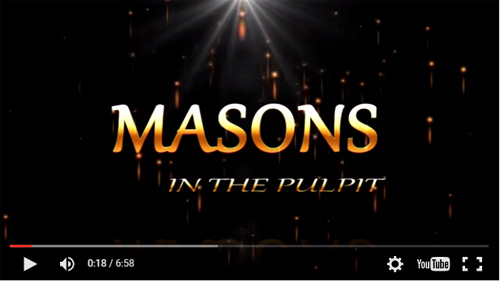 POPULAR DVD's FROM
CUTTING EDGE FILMS JUST $14.99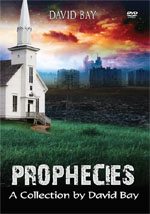 Prophecies Churches Are Ignoring - DVD Combo by David Bay - Volume 1 contains 3 DVDs with our first six programs.
Here are the six hot topics:
• The Prophetic Beast Arises: Ten Toes of Daniel Are Forming
• Rapture Precedes Israels Final 'WEEK' of History
• Eternal Security: God's Anchor In A Brutal Storm
• End Times' Judgment On Iraq (Babylon) Worse Than Believed Possible - Isaiah 13
• Israel's Prophesied Annihilation of the Palestinians
• America Identified In Prophecy: Economic Babylon of Revelation 18
Regular Price: $89.94 Sale Price: $29.99
See All Our $9.99 Books / DVD's
89 Titles From Which To Choose!

See All Our $4.99 Books DVD's
27 Titles From Which To Choose!
May Jesus Richly Bless You,
David Bay, Director
Cutting Edge Ministries
803-356-2850 -- Customer Service or Orders Toll Free within the USA 800-451-8211