Hot News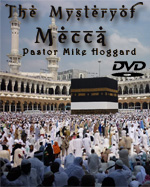 DVD
1. Parents successfully forced an elementary school in Austria to remove a song assigned where the word "God" had been replaced by "Allah".
Remember, in most instances, truth is found in the opposite end of the public rhetoric!
NEWS BRIEF: "Parents Angry After Teacher Changes 'God' To 'Allah' In Christian Hymn", Opposing Views, January 28, 2016
"A fourth grade teacher in Wels, Austria, changed the word 'God' to 'Allah' in a Christian hymn in order not to offend Muslim students, who are the majority in the elementary school. However, the handwritten change enraged Christian parents .... Some Christian parents filed a compliant with the school inspector Karin Lang, who met with the teacher and the school headmaster, Ulrik Fellinger.
Lang said that the school teacher meant to give Christian and Muslim students different versions of the song, but one of the Christian kids got a Muslim version, notes Kronen Zeitung, an Austrian newspaper. The hymn has since been removed from the school lesson."
We can understand, perhaps, that this incident was the work of a local teacher, but this kind of acquiescence to the Muslim faith is occurring all over this world today. People and authorities are trying hard to please the Muslim, for a variety of reasons -- all of which are misguided. This trend has become so prevalent that many ordinary citizens are beginning to fear that we are going to be taken over by these Islamic adherents, even to the point where we will come under Sharia Law.
We do not need to fear this, as the Illuminati will never let it happen. For two reasons:
1) The Elite are planning to stage their Masonic Christ, who will precisely fit the definition of the Biblical Antichrist. This Masonic Superman will practice and will preach and will enforce, Polytheism (worship of many gods). They will not tolerate any person who believes, who practices and who preaches Monotheism (worship of one god).
2) Since Islam is strictly Monotheistic, the Illuminati will never, ever allow them to live. In fact, Christian author, Constance Cumbey, wrote in her book, "Hidden Dangers of the Rainbow" (1984), that the Elite had decided already to completely annihilate all members of all Monotheistic Religions on Earth; they had further decided to start eradicating the Muslims since they were so virulent and so militant.
DVD
In January-February, 1991, the Elite began warfare against Iraq troops to force them out of Kuwait, and they used Depleted Uranium weapons. Skull & Bones President George H.W. Bush was leading the Coalition against Iraq.
When Skull & Bones President George W. Bush ordered Coalition forces to attack across Iraqi borders, his forces were even more heavily equipped with Depleted Uranium weapons. And, just as this DVD "Beyond Treason" proves, Depleted Uranium contaminates the soldiers using it, plus the air, the soil and the water where the battlefields were located.
And, the monstrous Middle East windstorms are pushing these radioactive dust particles over 1,000 miles from the battlefields in Afghanistan and in Iraq.
Make no mistake about it: the Illuminati has declared a "Silent War" against Islam. That war will continue until all Muslims are eliminated.
But, you protest, how is it possible, then, for authorities all over the world to publicly defend Islam? And to promote this religion with domestic laws? The answer is simple: they want to lull Islam into a false sense of security and make them complicit. Just as the Nazis disguised their Death Camps as convalescent hospitals, so the Elite are disguising their murderous campaign against the Muslim.
Remember the truth Cutting Edge enunciated in November, 2001: The truth of a matter is most often found at the opposite end of the public rhetoric -- read full details in NEWS1558, entitled, "BREAKING OUT OF THE MENTAL BOX -- LEARNING TO THINK IN THE OPPOSITE DIRECTION OF PROPAGANDA TO FIND THE TRUTH"
In U.S. Army Intelligence, I was trained that the truth most often lies in the exact opposite direction of the public rhetoric. You must learn this technique if you are to successfully glean the truth from news reports. This is the truth behind the pro-Muslim news stories. Doubt it not!!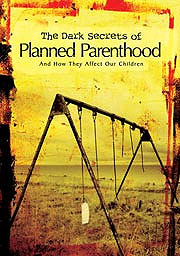 DVD
2. The Zika Virus in Central and South America is now reaching pandemic levels! Pre-born babies are said to be at great risk.
Planned Parenthood is taking advantage of this very sad situation by advocating abortions!
Genetically modified, sterilized mosquitoes are being released to combat this virus.
NEWS BRIEF: "Love in the Time of Zika", National Catholic Register, 1/27/2014
"Enter the Zika virus. It's a nasty, mosquito-borne disease that is spreading through South America and Latin America, and is the likely cause of thousands of serious birth defects. Mosquitoes thrive in warm, wet environments without enough cold to cause die-offs ... Hardest hit in the region so far has been Brazil, where more than a million cases have been confirmed, including nearly 4,000 cases of microcephaly in newborns that could be linked to Zika. Microcephaly is a rare, incurable condition in which an infant's head is abnormally small."
"The birth defect gives babies small heads, partially-formed brains, and myriad developmental problems. There is no cure and no vaccine; and travelers who contracted the virus while in South America and the Caribbean have now turned up in the United States...."
Enter Planned Parenthood, never to lose an opportunity to "drum up business" by killing more pre-born babies!
NEWS BRIEF: "Planned Parenthood Capitalizes on Zika Tragedy to Promote Abortion in Latin America", Breitbart News, 29 Jan 2016
"Officials from the abortion giant Planned Parenthood are taking advantage of fears surrounding the Brazilian Zika crisis to push for the expansion of abortion-on-demand throughout Latin America. A number of recent cases of microcephaly, a condition that causes babies to be born with an abnormally small head and a short life expectancy, have been registered in Brazil and are thought to be possibly related to the mosquito-borne Zika virus ... For years it has been of little concern, occasionally producing "mild" illness in human populations. Its possible ties to microcephaly in babies, however, have turned the virus into a global concern."
Some global headlines are even calling this current Zika Virus outbreak a "pandemic"! Planned Parenthood is aggressively reacting to this virus outbreak by promoting their baby-killing business to mothers afraid their unborn child might have the virus!
Their real target: countries in the region which tightly restrict access to abortion.
"Although so far only Brazil has seen a sharp rise in microcephaly cases, Planned Parenthood is targeting other Latin American countries with restrictive abortion laws, such as El Salvador, in hopes of exploiting the crisis to change existing legislation."
"As one report stated, even though Zika's exact link to the rare birth defect known as microcephaly is still unclear, "warnings from El Salvador, at least six other countries and health officials across the Americas are raising anxiety for millions of would-be and could-be mothers in affected areas ... 'What happens in a country where abortion is completely illegal?' said Angélica María Rivas of ACDA, a Salvadoran partner of Planned Parenthood that agitates for the decriminalization of abortion. 'What can be expected is an increase in the rates of illegal abortions, unsafe abortions and a mental health issue for women'."
This last statement demonstrates that Planned Parenthood has not changed their tactics one iota from when they were warning that abortion on demand was necessary to prevent "unsafe abortions" which desperate women were carrying out on themselves in back allies using metal clothes hangers!
That rhetorical scare tactic was later proven to be absolutely false. In fact, an abortion activist in Massachusetts admitted to me that prior to Roe vs Wade, there were slightly more parents seeking infants to adopt than there were babies to adopt. Her words were "but after Roe vs Wade, those numbers of babies to adopt dried right up"!
In these countries in which Planned Parenthood is scaring mothers to death, the actual figures for the Zika Virus in pre-born babies is very small.
"Even though there have been no confirmed cases of microcephaly in El Salvador, Salvadoran officials are cautioning women not to get pregnant for two years to avoid the Zika virus, a measure that health advocates have called wildly unrealistic ... Giselle Carino, deputy director for the International Planned Parenthood Federation's (IPPF) Western Hemisphere Region, called El Salvador's response to the Zika virus "insufficient at best," but said she hopes it will move legislators to reconsider their ban on abortion."
El Salvador has a ban on abortion? Indeed, they do.
"In January of 1999, Article 1 of the Constitution of El Salvador was amended to recognize the right to life from the moment of conception."
So Planned Parenthood steps in to scare mothers even more in order to persuade political leaders into legalizing the murder of babies within the womb. But, they better hurry before science proves that there is no provable link.
"WHO officials say it may be six to nine months before a correlation between Zika and microcephaly can be established or dismissed. This leaves Planned Parenthood and their Latin American partners a reasonable window of time to try to scare women into agitating for legal abortion."
"Brazilian President Dilma Rousseff said her country must wage war against the Aedes aegypti mosquito that spreads the virus, and efforts there will target the elimination of the insect's breeding grounds, such as stagnant water spots where it lives and reproduces."
Now that is a common sense idea!
Let us hope and pray that officials in Central and South America will see through the propaganda hype and stand firm against the moral blight of Abortion on Demand!
Scientists are rushing to the rescue with genetically modified, sterilized mosquitoes!
NEWS BRIEF: "Genetically Modified Mosquitoes Join The Fight To Stop Zika Virus", WAMU 88.5 News, January 26, 2016
"The rapid spread of the Zika virus has raised interest in a British company that's developed a genetically modified mosquito. Oxitec has produced a genetically engineered line of the Aedes aegypti mosquito, the mosquito that carries dengue fever and chikungunya. Those tropical diseases have become common in Latin America and are now showing up in Florida. Aedes aegypti also carries Zika, a disease whose symptoms include fever, like dengue. It has also been linked to a birth defect, microcephaly in children born to women infected with Zika."
This news sounds so fantastic, can it really be true?
"The company breeds and releases into the wild male mosquitoes that don't produce viable offspring. When females mate with the GMO males, they lay eggs that hatch but the larvae die before adulthood. Oxitec says trials conducted in Brazil and other countries over the last decade show releasing bioengineered male mosquitoes can reduce the wild Aedes aegypti population by 90 percent."
Maybe scientists can stop this type of mosquito that carries the Zika malady. Then, Planned Parenthood can be told to leave their hands of our preborn babies!
DVD
3. Can you say, "President Hillary Clinton"?
Some Liberal pundits are falling all over themselves to predict that, no matter what happens in the primaries, Hillary is guaranteed the Democrat Party nomination and then she will win in November.
NEWS BRIEF: "IT DOESN'T MATTER ABOUT TRUMP, 'HILLARY WILL WIN': Influential CEO suggests outcome of 2016 presidential election already decided", DC Whispers, JANUARY 24, 2016
"It was at that conference that a figure with significant ties to Fox News' own bottom line let it be known his intention to make certain Donald Trump will never win the White House. His name is Martin Sorrell, a British citizen and head of WPP, quite possibly the single most influential and prominent marketing firm in the world with decades-old ties to the most elite of the elite. Here is what Mr. Sorrell had to say regarding Donald Trump just days ago:
"It doesn't matter who the Republicans put up…Hillary will win."
When a marketing executive like Martin Sorrell boldly states that Hillary already has the Presidency sewn up, and that it does not matter one whit whom the Republicans nominate, you have confirmation of all that Cutting Edge has been saying since the 1988 election: the Global Elite -- the Illuminati -- plans whom will be President. Our elections are just designed to make us think we are electing the candidate of our choice.
Christian author and former Freemason, William Schnoebelen, thoroughly nails down this reality in his DVD shown above, "The Throne of Fools: For Whom Should Christians Vote"?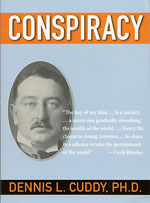 Dr. Dennis Cuddy also captures the essence of the control of the Illuminati over our political institutions. In this book pictured left, Dr. Cuddy reveals the extent of this silent, but deadly, control over our elected officials and the offices they hold.
"The public doesn't have much choice when it comes to political candidates; the power elite controls both major parties"
An ancient Masonic saying 'Ordo ab Chao' (Order out of Chaos) applies to the power elite's machinations. And so as to make particular problems seem intractable, they select global leaders who feign incompetence, and who propose laws that are ridiculous. This is one way the American people are manipulated.
In the end, the public really doesn't have much choice when it comes to political candidates, and the power elite controls both major parties. Or, as former Governor George Wallace once remarked, with a steel in his voice.
"There ain't a dime's worth of difference between Republican and Democrat Parties"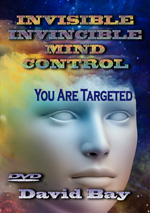 4. Can the FBI force Obama's Department of Justice to indict Hillary?
In this crazy world, even a legal indictment might not keep Hillary from the Oval Office! Might make her more popular than she ever could be otherwise.
NEWS BRIEF: "How the FBI Could Force DOJ to Prosecute Hillary Clinton", National Review, Jan 26, 2016
"Could the Hillary Clinton e-mail saga end with FBI Director James Comey resigning in protest? Ken Cuccinelli, the former attorney general of Virginia, knows the laws regarding classified information firsthand ... He says Clinton's actions in the e-mail scandal clearly satisfy all five requirements necessary to sustain charges of mishandling classified material, and constitute a breach perhaps even more glaring than the one for which General David Petraeus was convicted. Like Petraeus, Clinton was clearly 'an employee of the United States government'."
But, not only did Hillary illegally handle extremely classified material, she did so even though warnings were visibly displayed as she was using her email server.
"... an intelligence official examined "several dozen e-mails containing classified information determined . . . to be . . . CONFIDENTIAL, SECRET, and TOP SECRET/SAP information" residing on Clinton's server. (SAP is an acronym for 'special access programs,' a level of classification above top secret.)"
"Like Petraeus, Clinton 'knowingly removed such documents or material's. Cuccinelli points out that she actually committed this crime on a significant scale three separate times: First, by setting up her e-mail system to route messages to and through her unsecured server, then by moving the server to Platte River Networks, a private company, in June of 2013, and then by transferring the server's contents to her private lawyers in 2014."
So how can the FBI force the DOJ to prosecute Hillary even though the President does not want to do so?
"Cuccinelli says that if the FBI's handling of Petraeus is any guide, Comey's agents are likely to recommend a Clinton indictment to the Department of Justice. Then, the issue becomes really high-stakes ... if the Department of Justice gives the signal that they're going to ignore the FBI's investigations, or drag out their own review past election day, Cuccinelli — along with Judge Andrew Napolitano, Roger Stone, Charles Krauthammer, and other observers — predicts that Comey will resign in protest, and other high-level FBI officials could follow him out the door."
If this issue hits the Mass Media in a huge way, the Department of Justice might feel compelled to indict Hillary, even over the objections of the White House and even over the realities of Hillary being in the midst of an election campaign. If this indictment occurs, and Hillary wins anyway, then we shall know for certain that the Elite controls the entire process.
Hopefully, the Elite shall ditch Hillary and bring in another candidate: anybody but Hillary!
5. Honduran Cardinal reveals that a "homosexual lobby" does, indeed, exist within the Vatican!
Pope Francis I is aware of this lobby and is attempting to "purify it"!
NEWS BRIEF: "Cardinal Rodriguez: Homosexual Lobby Exists in the Vatican", National Catholic Register, 1/13/2016
"Cardinal Oscar Rodriguez Maradiaga has confirmed the presence of a homosexual "lobby" in the Vatican and revealed that Pope Francis is trying 'little by little to purify it' ... The Pope acknowledged the presence of a homosexual network of priests at the Vatican during a private conversation with leaders of a Latin American confederation of religions in June 2013. In the context of saying he found reform of the Roman Curia difficult, the Pope said: "The 'gay lobby' is mentioned, and it is true, it is there … We need to see what we can do."
For years, we have all wondered if the terrible scourge of homosexual priests within the churches strongly implied that there was a similar scourge of gay bishops and cardinals, possibly even within the Vatican. Now we know this to be true.
As Bill Schnoebelen so eloquently states in his DVD above, "Catholicism: Church On Haunted Hill", fully 75% of all priest candidates in seminary were gay! This homosexual bent within the male priesthood of the Roman Catholic Church can only be eliminated if a thorough house-cleaning is carried out.
But, if the pedophile scandals continue, the Roman Catholic Church might be soon extinct! People are already "voting with their feet" as they leave the Catholic "church"!
---
Jesus' Resurrection - Christianity's Most Important Doctrine
New Prophetic DVD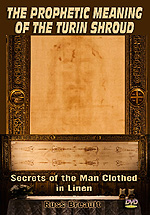 "The Prophetic Meaning of the Turin Shroud: Secrets of the Man Clothed In Linen"
PLUS A Bonus Video - by Russ Breault
God has always provided His believers with solid proof that He exists and that the Bible is true. At this End of the Age -- full of scoffers and unbelievers -- God has provided solid proof that Jesus rose from the grave! This proof is so solid that modern science can test it and prove it completely!
Mankind no longer has any reason to disbelieve the Death, Burial, and Resurrection of Jesus Christ! The Shroud has been scientifically authenticated.
A fascinating examination of Ezekiel 9 and Daniel 12. These two powerful Scriptures teach of Gods Mercy and Grace to His believers just before He wreaks physical destruction in Judgment.
Who is the 'Man Clothed in Linen?' He only appears twice in scripture. Could it be Jesus? How does he relate to the Shroud? Does the story of the Shroud of Turin contain a prophetic message for our time? The answer will amaze you.
Bonus video: Seven Secrets of the Sacred Shroud: Beyond science and history lies the theology of the Shroud. This presentation also focuses on seven proofs from theology and apologetics that support the Shroud's probable authenticity. These concepts are powerful and will raise your faith to new heights!
Has Plan of Salvation at the end, making this DVD a soul-winning tool
Run Time 1 hour 40 minutes -- Watch the Trailer http://www.cuttingedge.org/detail.cfm?ID=2717
Also see Proofs of the Resurrection DVD by Pastor Billy Crone
RUSS BREAULT has been researching and lecturing on The Shroud of Turin for over 30 years. He has presented to numerous college and universities including Duke, Johns Hopkins, U Mass, West Point, Penn State, Cal State and many more. Russ Breault has appeared in several nationally televised documentaries including Mysteries of the Ancient World on CBS. He was both advisor and a primary expert for the highly acclaimed, The Real Face of Jesus A two-hour documentary on The History Channel that has been seen in over 20 countries. Most recently he appeared on Good Morning America to discuss the latest research. He has participated in a dozen international research symposiums since 1981 and three recent public exhibitions in Turin, Italy in 1998, 2000 and 2010. He is a long-time member of the Shroud Science Group, an international consortium of scientists and scholars dedicated to further research. Russ Breault is the president and founder of the Shroud of Turin Education Project Inc., with a simple eleven word mission statement: To advance the knowledge of the Shroud to a new generation.
New DVD by David Bay - Only $14.99
In the minds of most people, two words carry so much emotional baggage that people cringe whenever they hear these Apocalyptic words. 1) Armageddon; 2) World War III.
In the past 20 years, whenever a battle begins in the Middle East or whenever a verbal confrontation breaks out between major powers, 'gloom and doom' scare-mongers immediately begin to shout 'World War III',much like a person yells 'FIRE' in a crowded theater.
Bible prophecy reveals that Antichrist will be produced on the world scene by a number of signs, including 'wars and rumors of wars'. Demonic familiar spirits told the Elite in 1870 that three world wars will be needed to produce Antichrist. Make no mistake about it: Antichrist will be produced by World War III.
Therefore, the question of the hour is, 'when will this global war begin' and 'what are the signs it is about to commence'? Many major events are planned to occur just as World War III begins. Mankind will be systematically hit with unparalleled disasters of every kind as this planned global war unfolds. But, none of these events will occur until the lynchpin called 'World War III' is pulled.
When the Global Elite pulls this lynchpin event called World War III, events are going to be unleashed in such severity and in such great numbers the peoples of the world will not stand in awe, they will panic and run for the hills. Jesus said that 'men's hearts shall fail them for fear', and the Elite is creating just such climactic events which shall not occur until the lynchpin known as 'World War III' is pulled.
We will show you the 12 major disasters the Elite has created and is waiting only for the beginning of World War III to unleash them all, almost at once. No one need fear that any of these disasters will jump across the starting line ahead of time; each awaits the 'pulling of the lynchpin', World War III.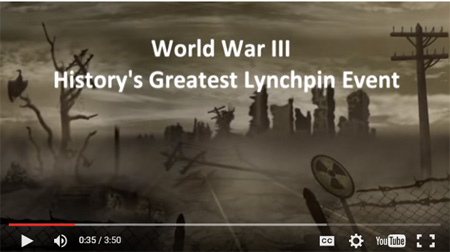 ---
'Another Jesus' Calling -- New Book by Warren B. Smith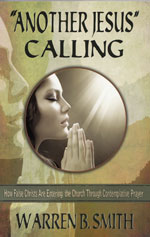 Inspired by the New Age book God Calling, Sarah Young claims to be receiving messages from Jesus Christ which she compiled into what is now her best-selling book, Jesus Calling. Author Warren Smith carefully documents his concerns about her book, her 'Jesus', and the New Age implications contained in many of Young's devotional messages. He also warns about the danger of contemplative prayer and in elevating spiritual experiences over the Word of God.
'Another Jesus' Calling is his call for much needed discernment in these very deceptive times.
173 pages
---
Why Is Your Pastor Ignoring Fulfillment of Prophecy In the Daily News?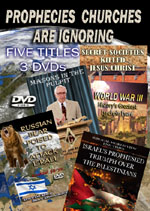 "Prophecies Churches Are Ignoring" - 3 DVD set
Regularly $89.94, Now only $29.94, Saving You $60!
Cutting Edge Director, David Bay, teaches six hard- hitting lessons on six unique End Times instances where events are fulfilling prophecy, but no one is talking about it. Five hot topics on three discs.
1) Israel's Prophesied Triumph over the Palestinians
2) Russian Bear Poised To Strike Israel
3) Masons In The Pulpit
4) World War III: History's Greatest Lynchpin Event
5) Secret Societies Killed Jesus Christ
Almost 6 Hours of Teaching - http://www.cuttingedge.org/detail.cfm?ID=2718
Each message is followed by a complete Salvation Plan, so each DVD becomes a Soul-Winning tool.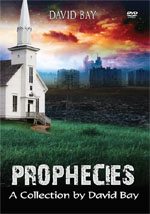 "Prophecies A Collection by David Bay" - 3 DVD set
Regularly $89.94, Now only $29.94, Saving You $60!
Why Are Genuinely Born-Again Pastors So Terribly Blind As To The Prophetic Times In Which We Live? 'Speak to us smooth illusions' [Isaiah 30:10] is the desire of too many pastors, while Jesus is lamenting, 'You did not know the time of your visitation' [Luke 19:44] Too many pastors refuse to believe that the unparalleled deception foretold in Matthew 24:24 really applies to today's events and leaders; thus such pastors are so wide open to spiritual deception.
Pastors also are reluctant to alert their people that events today are uniquely fulfilling key Bible prophecies. As a result, Christians by the many millions do not realize that the time for the Rapture of the Church and for Antichrist to arise is very, very close.
There are a number of unique prophecies being fulfilled that are exceedingly critical, but pastors and ministries are ignoring them totally, to the severe detriment of all Christians. This 3-DVD set contains 6 messages, each of which is unique to Cutting Edge Ministries/Films.
Here are the six hot topics:
* The Prophetic Beast Arises: Ten Toes of Daniel Are Forming
* Rapture Precedes Israel's Final 'WEEK' of History
* Eternal Security: God's Anchor In A Brutal Storm
* End Times' Judgment On Iraq (Babylon) Worse Than Believed Possible - Isaiah 13
* Invisible, Invincible Mind Control You are Targeted
* America Identified In Prophecy: Economic Babylon of Revelation 18
http://www.cuttingedge.org/detail.cfm?ID=2656
---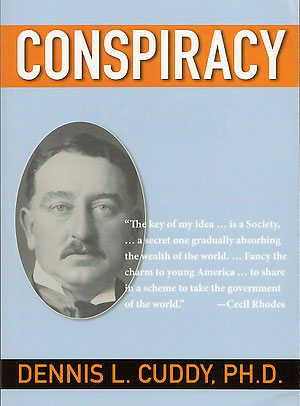 NEW BOOK by Dennis Cuddy
Have you ever wondered how people like H.G. Wells seemed to know what was going to happen? These people either had to be privy to the plans of the power elite, or they were extraordinarily intelligent at figuring out what the secret cabal running the world had planned.
An ancient saying 'Ordo ab Chao' (Order out of Chaos) applies to the power elite's machinations. And so as to make particular problems seem intractable, they select global leaders who feign incompetence. This is one way the American people are manipulated. In the end, the public really doesn't have much choice when it comes to political candidates, and the power elite controls both major parties.
207 pages. Order yours today
---
Dynamic New DVD
"Masons In The Pulpit"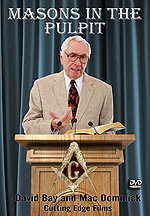 New DVD by David Bay and Mac Dominick - !
If your church allows Masons to fill the pulpit, or be Deacons, or Sunday School teachers, you have a very serious spiritual problem with Almighty God. The Holy Spirit has written 'Ichabod (The Glory Has Departed)' above your front door!
While Freemasonry has successfully deceived a great many people, convincing them that Freemasonry is compatible with Christianity, God knows the Truth and is not tolerant of Masons In The Pulpit.
We begin at a very reasonable beginning premise: If a pastor refuses to resign from the Masonic Lodge he does so because he feels greater loyalty to the Lodge than to Jesus Christ.
Starting from this premise, we examine a number of key Masonic teachings and then ask the Pastor how he can reconcile these teachings with Biblical Christianity. We ask, 'Mr. Pastor, when you are teaching key Biblical doctrine, are you really thinking of the radically different teaching of Freemasonry?
Prime Example: Freemasonry teaches that its religion is far superior to any other religion on Earth, including Christianity. Mr. Pastor, are you thinking how superior Masonry is to Christianity when you are teaching Biblical doctrine. Second Example: Freemasonry teaches that it is necessary for Lodge leaders to deliberately lie to their people until they are 'mature enough' to comprehend and accept the truth; Mr. Pastor, when you are teaching key Biblical doctrine, are you secretly thinking that it is necessary for you to teach these 'lies' about Jesus and the God of the Bible until your people are spiritually mature to comprehend the true Masonic doctrine?
We prove that a Holy God cannot tolerate Masons in the pulpit of a church for which His Son, Jesus, bled on that cruel cross of Calvary.
Almost two hours of teaching
Authors are Mac Dominick and David Bay.!
- http://www.cuttingedge.org/detail.cfm?ID=2712
Shipping NOW!