Hot News
Dr. Kevin Clarkson, of Prophecy In The News, and David Bay of Cutting Edge Ministries, discuss in depth the process of over throwing Saudi Arabia's brutal dictatorship in the new Cutting Edge Films DVD - 'BRINGING SAUDI ARABIA DOWN'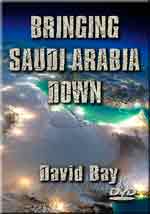 1. Sunni Saudi Arabia has angered all Shi'ite countries by executing 47 prisoners in one day!
Iran reacted vociferously to the killing of a prominent Shi'ite cleric.
Iran and Saudi Arabia have severed diplomatic ties, bringing the entire Middle East region to a boil.
NEWS BRIEF: "Saudi Arabia executes 47 terrorism convicts", Arab News, 4 Jan 2016
"RIYADH: Saudi Arabia executed 47 people on Saturday for terrorism, mostly suspected Al-Qaeda members ... The executions were carried out inside prisons across the Kingdom and implemented through firing squad or by the sword ... Warning Saudi youth, in particular, not to associate with these types of deviant groups, Al-Turki said, "These groups will use you as tools to undermine the security and stability of Saudi Arabia."
Iran was particularly incensed by one execution, that of a Shi'ite cleric who was famous in Saudi Arabia for his public opposition to the Saudi Family regime. Iranian anger exploded within Tehran, as protestors set the Saudi Embassy on fire.
NEWS BRIEF: "Iranian Protesters Ransack Saudi Embassy After Execution of Shiite Cleric ", The New York Times, 2 Jan 2016
"Iranian protesters ransacked and set fire to the Saudi Embassy in Tehran on Saturday after Saudi Arabia executed an outspoken Shiite cleric who had criticized the kingdom's treatment of its Shiite minority. The cleric, Sheikh Nimr al-Nimr, was among 47 men executed in Saudi Arabia on terrorism-related charges, drawing condemnation from Iran and its allies in the region, and sparking fears that sectarian tensions could rise across the Middle East."
"The cleric, Sheikh Nimr al-Nimr, was among 47 men executed in Saudi Arabia on terrorism-related charges, drawing condemnation from Iran and its allies in the region, and sparking fears that sectarian tensions could rise across the Middle East."
Iran certainly "got the message" as she immediately severed diplomatic ties with Saudi Arabia. Since Iran is already at a low-level proxy war against Saudi Arabia, severing of diplomatic ties might be a prelude to war! Remember, the 2006 Pentagon's Middle East Map showed that Saudi Arabia was going to be taken down, lose control of Islam's Holy Places, and lose much of her oil facilities.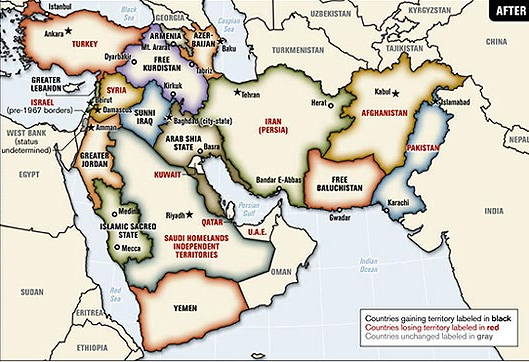 This Middle East Map, released by the Pentagon in 2006, represents the end goal in all politics of the region. (Read full details in NEWS2213, " President Bush's "New Middle East Map" Is Enraging Friends and Foes Alike ")
Saudi Arabia has been attacking Yemen for about 9 months now, and is being slowly sucked into a military, diplomatic, and religious quagmire.
One day, Iranian missiles are likely to start raining down upon the oil facilities of Saudi Arabia. The Desert Kingdom has always been fragile, much like a glass house.
Her demise will not be far behind a missile attack. The scenario we propose in our DVD, "Bringing Saudi Arabia Down" will continue unfolding just as we predicted.
The Global Elite is firmly in control and will continue incessant wars through Africa and the Middle East until their plans are completely fulfilled and the nations of the world are reorganized to 10 (See full details in our DVD, "The Prophetic Beast Arises: Ten Toes of Daniel Are Being Formed")
Our DVD's "The Prophetic Beast Arises: Ten Toes of Daniel Are Being Formed" and "Bringing Saudi Arabia Down: Without Destroying World Economy" providing an excellent road map as to what events are occurring in this region. This Middle East Map is being followed by the Elite and will come to fruition!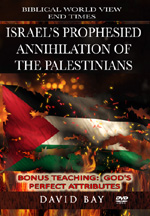 2. Hamas is plotting to assassinate Israeli politicians.
Such an act could bring about an Israeli response which might include the fulfillment of Obadiah!
NEWS BRIEF: "Hamas 'plotted assassination of Israeli Foreign Minister Avigdor Lieberman': Plot was foiled by Israeli security forces", The Independent, 21 Nov 2015
"Hamas members planned to jolt Israel into halting the conflict in Gaza by assassinating the Foreign Minister Avigdor Lieberman, but the plot was foiled by Israeli security forces, according to an announcement by the Shin Bet intelligence agency."
Notice the truth which Hamas is admitting in this sentence. They are trying to "jolt Israel". While this jolt is intended to force Israel into concessions in The Gaza Strip -- which Hamas controls -- a campaign of assassinating top Israeli government officials might produce the opposite effect of jolting Israel into carrying out her plan to annihilate all Palestinians throughout all Israel, in fulfillment of Obadiah 15-18. In fact, Israel may be attempting to tempt Hamas into such an assassination campaign, giving them the excuse to attack.
In the meantime, Islamic jihadists are continuing to paint an awful picture of their religion in the Mass Media of Western countries.
NEWS BRIEF: ":Islamic State Issues Fatwa On How To Properly Rape Enslaved Women, Girls", Huffington Post, 12/29/2015
"Islamic State theologians have issued an extremely detailed ruling on when "owners" of women enslaved by the extremist group can have sex with them, in an apparent bid to curb what they called violations in the treatment of captured females ... It sheds new light on how the group is trying to reinterpret centuries-old teachings to justify the sexual slavery of women in the swaths of Syria and Iraq it controls ... Among the religious rulings are bans on a father and son having sex with the same female slave; and the owner of a mother and daughter having sex with both. Joint owners of a female captive are similarly enjoined from intercourse because she is viewed as "part of a joint ownership."
Even the Liberal United Nations is outraged.
"The United Nations and human rights groups have accused the Islamic State of the systematic abduction and rape of thousands of women and girls as young as 12, especially members of the Yazidi minority in northern Iraq. Many have been given to fighters as a reward or sold as sex slaves. Far from trying to conceal the practice, Islamic State has boasted about it and established a department of "war spoils" to manage slavery..."
When Israel carries out God's judgments in Obadiah and Isaiah 34, citizens living in the West are likely to simply shrug their shoulders in the belief that the Palestinians deserved the punishment which Israel is meting out.
3. Hillary Clinton's Presidential campaign is running into an unexpected barrier.
Bill Clinton's sex scandals are coming to light once again now that Bill Cosby has been indicted for rape. Feminists consider Bill to be their enemy!
NEWS BRIEF: "Kirsten Powers: Bill Clinton's 'Bimbo Eruptions' Going to Become Problem for Hillary in Wake of Bill Cosby Allegations", Breitbart News, 3 Jan 2016
"On this weekend's broadcast of "Fox News Sunday," USA Today columnist Kirsten Powers explained why it was her view that former President Bill Clinton's past being raised in this presidential campaign could be a problem for Hillary Clinton's bid. According to Powers, the Bill Cosby situation shows that attitudes across the country have changed about allegations of rape and that could be problematic for Hillary Clinton's bid."
Do you remember Rush Limbaugh's term for Bill Clinton's continual sex explorations?
"I think that what was once referred to as Bill Clinton's bimbo eruptions, which now sounds like something that people wouldn't say today, are going to become problems for Hillary during the campaign," Powers said. "The conventional wisdom says this has all been hashed out, and nobody cares about it anymore, but I think if we look at the Bill Cosby situation, we can see the country has definitely changed in terms of how we look at these issues, and these are serious allegations, and her role in them at well."
Hillary was widely praised during the time of Bill's sex-ploits, but now attitudes amongst feminists have changed so dramatically that Hillary is getting damaged as "collateral damage" brought on by events of the past 25 years, capped off by the Bill Cosby sex crimes!
Whatever it takes to keep Hillary out of the White House, right?
---
New Prophetic DVD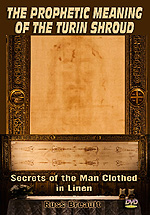 "The Prophetic Meaning of the Turin Shroud: Secrets of the Man Clothed In Linen"
PLUS A Bonus Video - by Russ Breault
A fascinating examination of Ezekiel 9 and Daniel 12. These two powerful Scriptures teach of Gods Mercy and Grace to His believers just before He wreaks physical destruction in Judgment.
Who is the 'Man Clothed in Linen?' He only appears twice in scripture. Could it be Jesus? How does he relate to the Shroud? Does the story of the Shroud of Turin contain a prophetic message for our time? The answer will amaze you.
Bonus video: Seven Secrets of the Sacred Shroud: Beyond science and history lies the theology of the Shroud. This presentation also focuses on seven proofs from theology and apologetics that support the Shroud's probable authenticity. These concepts are powerful and will raise your faith to new heights!
Has Plan of Salvation at the end, making this DVD a soul-winning tool
Run Time 1 hour 40 minutes -- Watch the Trailer http://www.cuttingedge.org/detail.cfm?ID=2717
RUSS BREAULT has been researching and lecturing on The Shroud of Turin for over 30 years. He has presented to numerous college and universities including Duke, Johns Hopkins, U Mass, West Point, Penn State, Cal State and many more. Russ Breault has appeared in several nationally televised documentaries including Mysteries of the Ancient World on CBS. He was both advisor and a primary expert for the highly acclaimed, The Real Face of Jesus A two-hour documentary on The History Channel that has been seen in over 20 countries. Most recently he appeared on Good Morning America to discuss the latest research. He has participated in a dozen international research symposiums since 1981 and three recent public exhibitions in Turin, Italy in 1998, 2000 and 2010. He is a long-time member of the Shroud Science Group, an international consortium of scientists and scholars dedicated to further research. Russ Breault is the president and founder of the Shroud of Turin Education Project Inc., with a simple eleven word mission statement: To advance the knowledge of the Shroud to a new generation.
New DVD by David Bay - Only $14.99
In the minds of most people, two words carry so much emotional baggage that people cringe whenever they hear these Apocalyptic words. 1) Armageddon; 2) World War III.
In the past 20 years, whenever a battle begins in the Middle East or whenever a verbal confrontation breaks out between major powers, 'gloom and doom' scare-mongers immediately begin to shout 'World War III',much like a person yells 'FIRE' in a crowded theater.
Bible prophecy reveals that Antichrist will be produced on the world scene by a number of signs, including 'wars and rumors of wars'. Demonic familiar spirits told the Elite in 1870 that three world wars will be needed to produce Antichrist. Make no mistake about it: Antichrist will be produced by World War III.
Therefore, the question of the hour is, 'when will this global war begin' and 'what are the signs it is about to commence'? Many major events are planned to occur just as World War III begins. Mankind will be systematically hit with unparalleled disasters of every kind as this planned global war unfolds. But, none of these events will occur until the lynchpin called 'World War III' is pulled.
When the Global Elite pulls this lynchpin event called World War III, events are going to be unleashed in such severity and in such great numbers the peoples of the world will not stand in awe, they will panic and run for the hills. Jesus said that 'men's hearts shall fail them for fear', and the Elite is creating just such climactic events which shall not occur until the lynchpin known as 'World War III' is pulled.
We will show you the 12 major disasters the Elite has created and is waiting only for the beginning of World War III to unleash them all, almost at once. No one need fear that any of these disasters will jump across the starting line ahead of time; each awaits the 'pulling of the lynchpin', World War III.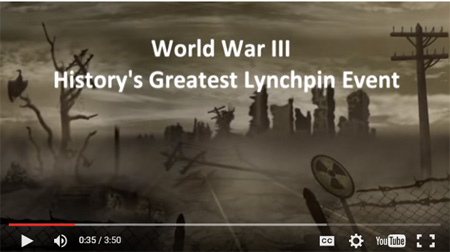 ---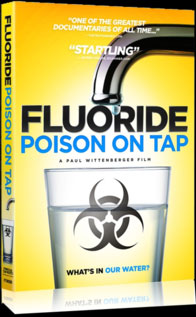 "FLUORIDE: POISON ON TAP" DVD
Water fluoridation has been hailed by the CDC as one of the ten great public health achievements of the 20th century. However, the practice has been mired in controversy since it began over 70 years ago. Does water fluoridation actually prevent tooth decay, or have we been sold a lie?
Join producers Paul Wittenberger and Chris Maple as they engage with world-renowned experts in exposing one of the biggest frauds the world has ever known. Together, they unravel the shocking secrets and deception of a corrupt industry that has been poisoning communities for generations. This surprising research creates a compelling case against the fluoridation of our water supplies, revealing long hidden health hazards, fraudulent findings, and corporate corruption.
FLUORIDE: POISON ON TAP will inspire you to take action on a local and global scale before its too late!

FEATURING SPEAKERS::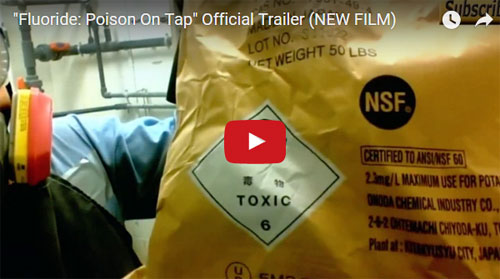 Dr. Edward Group
Dr. David Kennedy
Mike Adams
Dr. Paul Connett
Dr. James E. Rota
Dr. Charlie Goetschel
Karen Johnson
Neil Carman
Dr. Laura Pressley
Chris Maple
Gary Pittman
Paul Wittenberger
Mary Ellen Moore
Jeff Green
Dr. Doris Rapp
Gianluca Zanna
Only $19.98 - http://www.cuttingedge.org/detail.cfm?ID=2716
---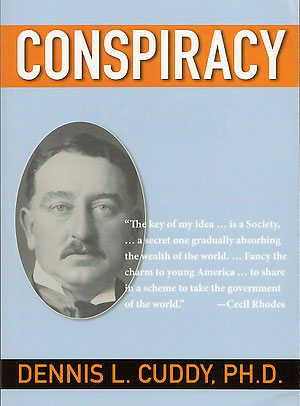 NEW BOOK by Dennis Cuddy
Have you ever wondered how people like H.G. Wells seemed to know what was going to happen? These people either had to be privy to the plans of the power elite, or they were extraordinarily intelligent at figuring out what the secret cabal running the world had planned.
An ancient saying 'Ordo ab Chao' (Order out of Chaos) applies to the power elite's machinations. And so as to make particular problems seem intractable, they select global leaders who feign incompetence. This is one way the American people are manipulated. In the end, the public really doesn't have much choice when it comes to political candidates, and the power elite controls both major parties.
207 pages. Order yours today
---
Dynamic New DVD
"Masons In The Pulpit"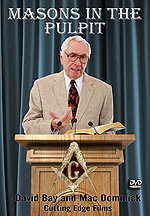 New DVD by David Bay and Mac Dominick - !
If your church allows Masons to fill the pulpit, or be Deacons, or Sunday School teachers, you have a very serious spiritual problem with Almighty God. The Holy Spirit has written 'Ichabod (The Glory Has Departed)' above your front door!
While Freemasonry has successfully deceived a great many people, convincing them that Freemasonry is compatible with Christianity, God knows the Truth and is not tolerant of Masons In The Pulpit.
We begin at a very reasonable beginning premise: If a pastor refuses to resign from the Masonic Lodge he does so because he feels greater loyalty to the Lodge than to Jesus Christ.
Starting from this premise, we examine a number of key Masonic teachings and then ask the Pastor how he can reconcile these teachings with Biblical Christianity. We ask, 'Mr. Pastor, when you are teaching key Biblical doctrine, are you really thinking of the radically different teaching of Freemasonry?
Prime Example: Freemasonry teaches that its religion is far superior to any other religion on Earth, including Christianity. Mr. Pastor, are you thinking how superior Masonry is to Christianity when you are teaching Biblical doctrine. Second Example: Freemasonry teaches that it is necessary for Lodge leaders to deliberately lie to their people until they are 'mature enough' to comprehend and accept the truth; Mr. Pastor, when you are teaching key Biblical doctrine, are you secretly thinking that it is necessary for you to teach these 'lies' about Jesus and the God of the Bible until your people are spiritually mature to comprehend the true Masonic doctrine?
We prove that a Holy God cannot tolerate Masons in the pulpit of a church for which His Son, Jesus, bled on that cruel cross of Calvary.
Almost two hours of teaching
Authors are Mac Dominick and David Bay.!
- http://www.cuttingedge.org/detail.cfm?ID=2712
Shipping NOW!