1. Hillary Clinton is not expected to face indictment over her alleged illegal emails.
"The system is rigged"! And Hillary is one of the favored Elite.
NEWS BRIEF: "Hillary Clinton Not Expected to Face Charges in Federal Email Probe", Breitbart News, 2 July 2016
"According to sources that are familiar with the FBI's investigation into Hillary Clinton's use of a private email server, the former Secretary of State is not expected to face charges in the probe ... "
"During an unexpected interview hit on MSNBC this evening with Chuck Todd, Clinton herself was asked about the reports that she would not face charges. 'As we were talking, there are news reporters that indicate no charges may be brought against you and a final decision in a couple weeks', said Todd in the waning seconds of the hit."
Hillary Clinton simply replied, "No comment".
For two decades, Cutting Edge has repeatedly warned that this political system is rigged, so that the Illuminati will get the leaders they want in the countries important to their plan, and at the moment in history when they need them in those posts.
The old Illuminati saying is: "Those people who vote count for nothing; but, those people who count the votes count for everything".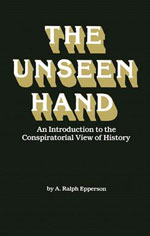 In his masterpiece on the conspiracy of the Illuminati to produce Antichrist, Christian author, Ralph Epperson, demonstrates time and time again where the Elite placed their right person at the right election so they could carry out the provisions of the Plan at that time.
The Illuminati always seems to get the person they want for the next four to eight years, no matter the opposition against them.
The Elite promised the White House to Hillary, and I am afraid she will "win" the election, this email scandal notwithstanding!
We encourage you to read this 500-page book, "The Unseen Hand", as it will change your attitude toward the Biblical fact of conspiracy permanently. Once you begin reading, you will not be able to put it down!
2. Massive bomb attack kills over 200 in Baghdad.
Ramadan cause spike in violent attacks around the world, as adherents "Kill For Allah".
NEWS BRIEF: "Baghdad Bomb Death Toll Hits 200 ", NBC News, July 4, 2016
"The death toll from a suicide bombing in a Baghdad shopping district reached 200 on Monday, fueling calls for security forces to crack down on ISIS sleeper cells blamed for one of Iraq's worst single bombings."
In the days prior to this massive bombing against civilians, Iraq and Western media were celebrating their military success against ISIS, claiming to have liberated several cities and pushing ISIS rebels out of much of the land they had occupied.
This bombing is ISIS' way of proclaiming that they are not defeated yet.
In fact, Iraq continues to slide down the slippery slope of completely fulfilling the End Times' prophecy against Ancient Babylon written in Isaiah 13. From the beginning of the Bush invasion of Iraq on March 20, 2003, we began alerting our readers that this invasion seemed to fulfill the disastrous End Times' prophecies found in this very special chapter.
We posted an article on it then and continued to update it as the 8-year war unfolded. Finally, in 2013, we posted our final, updated report, showing how the American-led Coalition War really did fulfill this dramatic prophecy -- NEWS2499, entitled, "Iraq -- Ancient Babylon -- is nearing the End Times' final annihilating judgment just as God foretold 2,700 years ago in Isaiah 13. "Mighty Babylon" is falling and her days shall not be prolonged!"
The only part of this prophecy which have not been fulfilled is the prophecy that the final blow of judgment against the Babylonians/Iraqis is that the Medes/Kurds have not yet marched into Babylon to annihilate the Iraqi civilians man, woman and child.
But, the Kurds are poised menacingly on the northern border with Iraq and her army is being battle tested against ISIS and is being supplied by Western arms. Once the Kurds march into Iraq to commit genocide against the Sunni / Shi'ite who are currently bleeding themselves with the civil war, then the final part of the prophecy will be fulfilled.
"Everyone who is found will be thrust through, and everyone who is connected with the slain and is caught will fall by the sword. Their infants also will be dashed to pieces before their eyes; their houses will be plundered and their wives ravished." [Isaiah 13:13-16]
"And Babylon, the glory of kingdoms, the beauty of the Chaldeans' pride, shall be like Sodom and Gomorrah when God overthrew them. [Babylon] shall never be inhabited or dwelt in from generation to generation; neither shall the Arab pitch his tent there, nor shall the shepherds make their sheepfolds there. But wild beasts of the desert will lie down there, and the people's houses will be full of dolefully howling creatures; and ostriches will dwell there, and wild goats [like demons] will dance there. And wolves and howling creatures will cry and answer in the deserted castles, and jackals in the pleasant palaces. And [Babylon's] time has nearly come, and her days will not be prolonged." [Isaiah 13:17-22; Emphasis added; Parallel Bible, KJV/Amplified Bible Commentary]
This last single prophecy WILL be fulfilled, to the letter. And, the way in which this nationwide creeping Depleted Uranium poisoning is developing, this last prophecy will be fulfilled exactly. Truly, this unfolding of prophecy warns us strongly that the End of the Age is truly upon us!
Violence around the world has spiked during this time of Ramadan.
NEWS BRIEF: "Ramadan: A Time to Kill for Allah", Breitbart News, 4 July 2016
"Last Friday's jihadist assault on a Bangladeshi bakery resulting in the brutal deaths of at least 20 hostages and two police officers is the latest in a spate of lethal attacks commemorating the month-long Islamic holy season of Ramadan."
The attackers left no doubt but that the attack was based upon radical Islam.
"In their faith-based attack, the Islamist terrorists freed all the people who identified as Muslim and could prove it by reciting the Qur'an, while hacking to death the infidels ... with machetes ... Just before Ramadan began, the Islamic State summoned Muslims to carry out terror attacks during what a group spokesman vowed would be 'the month of conquest and jihad'."
Muslims believe that a person who is killed carrying out jihad during Islam will receive very special reward.
3. California gun owners are up in arms over the latest 11 new Gun Control laws passed by the legislature and signed by Gov. Brown.
Gun owners are warning that they will "not comply" -- "Come get my guns", they warn.
NEWS BRIEF: "Gunpocalypse — Gun Owners to California Governor Jerry Brown: Come and Take It", Breitbart News, 3 July 2016
"In the wake of 'gunpocalypse', Second Amendment supporters in California are vowing civil disobedience: 'Come and take it'."
"Governor Jerry Brown signed six of the 11 new gun control bills that passed the California legislature last week, including a ban on 'the sale of semiautomatic rifles equipped with bullet buttons'."
"Bullet buttons are simple mechanisms that allow a gun owner to switch out an empty magazine for a full one. In addition to the ban on the sale of such rifles, Brown also signed bills that will require law-abiding citizens to go through a background check before being allowed to buy ammunition."
This fact is one that drives me especially crazy when it comes to gun control legislation; "law-abiding citizens" are not the one committing mass murder. The ones murdering a lot of people in public "Gun Free Zones" are NOT law-abiding. Many of them have been under the care of a psychiatrist, who has been prescribing mind-altering drugs.
If you type into Google the words "mind-altering drugs AND school shootings", you will get 268,000 responses. This link between mind-altering medications and mass murder is a very well-known "secret".
Now, let us return to our featured article about California making it difficult for her law-abiding citizens to arm themselves for their personal protection.
"Senate President Kevin de Léon (D-Los Angeles) praised the new laws, according to the Orange County Register: 'Taken together, these bills will save lives and make our communities, our families and our children safer', de Leon said in an email. "
Then, this Democrat demagogue turned the emotional screws:
" 'Where Republicans in Congress have turned a deaf ear, we have answered the cries of the mothers, fathers, family members and friends who have lost loved ones to gun violence'."
None of the hundreds of gun laws passed in the past two decades have deterred criminals and crazies who want to commit mass murder. And, neither do these new 11 California laws.
"But many law-abiding gun owners do not see how the Second Amendment is protected by more gun control. In fact, gun owners rallied near Sacramento's Cesar Chavez Plaza on Saturday morning to to say the new controls simply turn "law-abiding citizens into criminals."
"For that reason, they have no plans to obey."
The old saying is still true: "When law-abiding citizens surrender their guns, only criminals will have guns."
You can add "terrorists" to this list!!
---








Popular New DVD Series
World Religions Volume 4 -- "Hinduism"
Also NEW by Pastor Billy Crone
The Character of GOD series Volumes 1, 2 and 3
The Existence of GOD, The Intimacy of GOD and
The Wisdom of GOD
---
Radical Revelation Series
Get the Volume 1 and 2 Combo at 25% off through July 4th
by Cutting Edge Author, Mac Dominick
Related DVD Subjects To Further Your Understanding Of "Revelation 3"