---
The beginning of Summer, is a time when sales, donations, and subscriptions normally dry up as graduations and family vacations become the focus of many of our readers. But, we are so low already, we truly need your support now to continue reaching the lost.
Since world and domestic events holding End Times' significance have suddenly been erupting lately, we have been writing new Headline News Articles.
We are also introducing new DVD's and Books.
We're a small non-profit with costs of a top website: servers, staff, studio expenses and programs. We believe everyone should have access to free knowledge, without restriction or limitation. If Cutting Edge is useful to you, please take one minute to keep us online and to keep us reaching out to over 100,000 people a year with the Plan of Salvation.
We have tried to make supporting Cutting Edge Ministry easy and convenient, with our green "Donation Button".

May Jesus Richly Bless You. David Bay, Director
---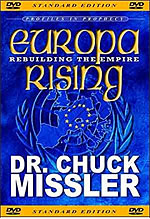 DVD
1. Old-Fashioned Patriotism and National Sovereignty spurred the British to vote to leave the European Union!
NEWS BRIEF: "Brexit: Britain Votes To Leave EU, PM Cameron Resigns", Breitbart News, 22 June 2016
"Prime Minister David Cameron has spoken outside Number 10 and conceded he is no longer the man to lead the country after Brexit ... 'The British people have voted to leave the European Union and their will must be respected ... I would reassure those markets and investors that Britain's economy is fundamentally strong' ..."
The Bank of England Governor acted quickly to assure investors and citizens that nothing much will change.
"There will be no initial change in the way our people can travel, in the way our goods can move or the way our services can be sold. And it will take some time for the United Kingdom to establish new relationships with Europe and the rest of the world. Some market and economic volatility can be expected as this process unfolds."
"But we are well prepared for this." (Bank of England governor, Mark Carney)
BUT, WHAT IF????
What if the crowd of "Leave" is led by a "Benedict Arnold" who will sell England out to the interests of the European Union after he takes office? In American politics, we have repeatedly seen instances in which Conservative Republicans won an election, but watched in abject horror as our leaders suddenly cave to the Liberal Democrats. We catalog this political treason in our Headline News Article, NEWS2555, entitled, "Not A Dime's Worth of Difference".
The 1996 Republican Congressional victory is a good example. During the election, Representative Newt Gingrich created, and widely publicized, his list of changes the GOP would produce once leadership of Congress passed to the GOP. He called this list of changes, "A Contract With America".
GOP leaders promised to "bring to the floor" 10 bills drawn from this "Contract".
But, once the Republicans gained control of Congress, they so weakly introduced bills that would fulfill the Contract that, by the next election of 1998, not one of significant change proposed by Gingrich was ever enacted into law.
But, Gingrich and others simply said that they did not promise to enact, but to introduce, to the floor of Congress.
The whole "Contract With America" was a sham and a fake.
"In 2014, business and finance writer John Steele Gordon, writing in The American, an online magazine published by the American Enterprise Institute, said that ... the Contract 'turned out to be a brilliant political ploy. The contract tuned in to the American electorate's deep yearning for reform in Washington, a yearning that had expressed itself in the elections of both (U.S. Presidents) Jimmy Carter and Ronald Reagan' (Gordon, John Steele, May 16, 2014). "Time for a New Contract with America". The American (American Enterprise Institute). Retrieved August 19, 2014, Emphasis added)."
My first suspicison that the "Leave" British leadership might be prepared to turn abruptly around and betray the principles upon which they won the election, just as did the 1994-1996 Republicans, came from the Bank of England Governor, quoted above:
* "There will be no initial change..."
* "And it will take some time ..."
But, then, I was startled when one of the major leaders of Brexit issued much the same warning.
NEWS BRIEF: "Boris Johnson - Major Leader of Brexit Movement: 'No need for haste' on pulling UK out of EU", The Times of Israel, June 24, 2016
"Bris Johnson, who spearheaded the successful campaign for Britain to leave the European Union, said Friday there was no need to rush the process of pulling out of the bloc. 'There is now no need for haste', Johnson told a London press conference in his first public comments since the results were announced."
"The former London mayor stressed that Britain would not 'turn our backs on Europe' and that 'our children and grandchildren will continue to have a wonderful future as Europeans'."
Since these words are coming from the man who was the most influential in this Brexit election, they are most troubling. What if, once he begins his term as Prime Minister, he quietly waits so long to take Britain out of the E.U. that he, in effect, keeps her in the union?
Then, E.U. leaders weighed in, voicing the same message.
"European Union leaders on Friday said that Britain will remain a member of the bloc until its exit negotiations are concluded, which probably means at least two years longer. The leaders of the EU's institutions said Friday that 'until this process of negotiations is over, the United Kingdom remains a member of the European Union, with all the rights and obligations that derive from this'. They said in a statement that under the bloc's treaties 'EU law continues to apply to the full to and in the United Kingdom until it is no longer a member'."
The Global Elite may have staged this election simply to create an illusion amongst the Brits who voted to leave that their wishes have been heard and heeded. Thus, the Elite have 'released pent-up pressure' in much the same way as a small earthquake relieves pressure when it quakes.
Let us hope that Bris Johnson and other members of his office of Prime Minister do not cave to pressures during " this process of negotiations", and make concessions that quietly keep Britain in the European fold. We experienced this "cave-in during negotations" repeatedly over the years as Republican leaders suddenly surrendered to a Democrat White House over one issue after another.
After 24 years, British prove that love of one's country is still alive and a very powerful force with which to be reckoned.
NEWS BRIEF: "In Trump, Brexit supporters, a shared anger and grievances: Brit's slogan is "Take Back Our Country" , CBS News, June 23, 2016
"As Donald Trump presses the attack in cruising toward the Republican presidential nomination, millions of British voters headed to the polls Thursday to decide on whether to wrench the United Kingdom out of the European Union."
"Yet while these political insurgencies may be separated by an ocean, they are rooted in the same ideological soil. As Trump vows to 'Make America Great Again', advocates of a so-called Brexit echo his slogan with their own battle cry: 'Take back our country'."
The British people had come to feel very sorry that they had surrendered their national sovereignty in 1992 as they joined the European Union. Many policies over the years were forced upon them which they would never have allowed had they been sovereign over their own affairs. They truly wanted to "take back our country''!
The widespread ease with which this sentiment spread speaks volumes about Donald Trump and his patriotic brand of message. When Trump says "Make America Great Again", he is implying far more than his belief that current leadership has taken America down to the point where she can be considered Elite or Great. Trump has repeatedly said that he would make decisions based only on what changes he has to make so that America can be great again.
The British electorate demonstrated that they want to take their own country back so that they can make Great Britain great again!
If Trump keeps talking about this issue of American sovereignty being surrendered to the Global Elite, he will most undoubtedly win this election.
2. Establishment Elite -- especially Democrats -- have to be concerned because American patriots might rise up as the British have done, to prevent the North American Union surrender of National Sovereignty.
NEWS BRIEF: "Donald Trump, Cheering Brexit, Says 'I Hope America is Watching", Bloomberg News, June 24, 2016
"Donald Trump says U.K. voters 'have declared their independence from the European Union and have voted to reassert control over their own politics, borders and economy' ... Trump, who's in Scotland, says in statement Americans 'will have the chance to re-declare their independence' in November."
From whom do American voters have to separate?
"They will have the chance to reject today's rule by the global elite, and to embrace real change that delivers a government of, by and for the people ... I hope America is watching, it will soon be time to believe in America again."
Amen, we agree. We need to separate ourselves from the politicians who are determined to deliver our national sovereignty to the Global Elite on the path to Global Government, Economy, and Religion. This system is known as the "NOVUS ORDO SECLORUM" on the back of our One Dollar Bill, known commonly as the "New World Order".
Trump declares that his administration will look forward to working closely with a newly revived sovereign Britain.
Hillary Clinton seems especially vulnerable on this issue.
NEWS BRIEF: "Brexit: Britain Votes with Trump, against Hillary, Obama", Breitbart News. 23 June 2016
"British voters chose to 'leave' the European Union on Thursday, defying the polls — and President Barack Obama, who had urged Britain to 'remain' in the EU. Former Secretary of State Hillary Clinton had also urged Britain to stay in the EU. Only Donald Trump had backed the campaign to leave."
"Hillary Clinton also backed a 'remain' vote in April, with a senior policy adviser issuing a statement on her behalf: