1. MAJOR NEW DEVELOPMENT IN PLAN TO PRODUCE FALSE PROPHET AND THEN ANTICHRIST!
Between September 5 to 11, a public ceremony will be held which will feature a joint prayer meeting between worshippers of Islam / Judaism / Christianity, a planned event which fulfills one of the most important goals of the Global Elite.
Literally, at the right moment, the False Prophet is planned to stride on to the world scene to proclaim that "All Religions Are Now One"!
You have heard it only on Cutting Edge Ministries, starting 24 years ago!
NEWS BRIEF: "Christians, Muslims and Jews to build joint house of Monotheistic worship in Jerusalem", The Jerusalem Post, 6/27/2016
"For one week in September, a small structure of four walls and a bit of balcony, called the Alpert Youth Music Center will become AMEN. In theory this should not be be a big deal: men and women of faith, who share a belief in one God and a love for the city of Jerusalem, coming together to pray, study and sing. In practice, it is about as plausible as a snowball's chance in the desert."
"... a home for something that has never before been attempted in the Holy City – a place of worship for the three great monotheistic religions 'who share a passion for Jerusalem in which they will co-exist temporarily under the wings of the Almighty'."
Can you believe it? Worshippers of the three Monotheistic Religions are going to come under one roof to pray together. How can this turn of events occur, when Muslims are attempting to kill all Jews and bury them in the Mediterranean Sea?
But, The Illuminati Plan calls for exactly this development! Listen to the wording of this Plan, personally witnessed by David Bay on 18 August 1991, at the Boston House of Theosophy, by Director Bill Lambert.
"Sometime, .... the following scenario will unfold, depending only on the right set of circumstances. Moslem and Jewish areas in Jerusalem will be combined with Christian to create the New Jerusalem Covenant. Then, and only then, will it be possible to build a combination Temple/Church/Mosque in Jerusalem ..."
To reiterate what Lambert just said:
The specific part of the New World Order Plan, called the New Jerusalem Covenant Project, envisions the establishment of a combination religious Jerusalem -- Islam, Christianity, Judaism.Bill further stated that "any purely political settlement in the Middle East would not, by itself, bring peace. In other words, a purely political settlement would leave the religious nature of the problem unsolved."
"Any permanent solution to the Middle East conflict would also have to see the religious portion of the problem solved. Once this religious problem is solved, then the power and influence of the Orthodox Jews in Israel would permanently decline." (Lambert)
At this point in history, once the combination worship center is established, then the Plan calls for the Pope to come to this combination center.
"At the proper moment in history, the Pope will visit the combined Jewish/Christian/Moslem sector of Jerusalem to announce that all religions should be combined into one. This action will then finally break the Middle East logjam." (Bill Lambert, New England Director, House of Theosophy, August 18, 2016, read thorough seminar notes from David Bay, NEWS1052)
Between September 5-11, this critically important development in the Elite's Plan to produce both the False Prophet and their Masonic Christ will occur. When will the Pope arrive to declare all world's religions to be one? We cannot be sure, but this combination worship service is a major milestone along the long, tortuous road to the appearance of Antichrist on the world scene.
And only Cutting Edge Ministries is -- has been -- reporting it.
Liberal, apostate Christian churches have been preparing the hearts and minds of christian worshippers so they will accept a combination worship concept. Listen:
NEWS BRIEF: "Presbyterian Church (USA) Lifts Up Muslim Prayers to Allah", Polemics Report, 6/24/2016
"The General Assembly of the Presbyterian Church (USA) offered prayers to the Islamic deity, Allah. The prayer was led by a representative of the Muslim community on behalf of the Presbyterian Assembly. The representative, Wallid Said, prayed… 'Allah bless us and bless our families and bless our Lord. Lead us on the straight path – the path of all the prophets: Abraham, Ishmael, Isaac, Moses, Jesus and Muhammad."
This blasphemous prayer puts Almighty. Omniscient Jesus Christ on the same level as Muhammed and the Old Testament leaders! While it is typical for a Muslim to express this blasphemy, Christian leaders have always refused to do so.
But, not now. At this time, when so-called Christian Churches are sliding down the prophetic path of apostasy, denying the key doctrines of the Christian Faith, agreeing with the pagan religions that Jesus is Nobody special is routine. And, it has conditioned Christians to participate in an Ecumenical service where all three Monotheistic religions come together to pray!
This minor development will produce major developments: For example:
* Demonstrates that, at long last, the drive to the Kingdom of Antichrist is getting close to completion
* Will contribute mightily to the appearance on the world scene of the False Prophet (the Roman Catholic Pope) and of the prophesied One World Religion
* How far behind the announcement of a One-World Religion will Antichrist be?
We must adhere to specific commands relating to this End Period of time.
"Seeing then that all these things shall be dissolved, what manner of persons ought ye to be in all holy conversation and godliness, Looking for and hasting unto the coming of the day of God, wherein the heavens being on fire shall be dissolved, and the elements shall melt with fervent heat?" (2 Peter 3:11-12)
These events prove to us that the " coming of the day of God" is at hand. Therefore, we must be holy in our daily living, thinking and speaking and we must be diligent in sharing the Gospel of Jesus Christ!
Genuine Christians, now is the time to obey the Lord and lift up your eyes to Heaven, for your Redemption draweth nigh. Listen to our Lord Jesus:
"And when these things begin to come to pass, then look up, and lift up your heads; for your redemption draweth nigh." (Luke 21:28)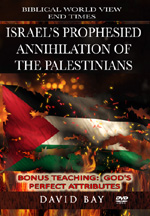 2. Israel continues to shore up her strategic diplomatic standing.
Israel reaches an important accommodation with Turkey, in preparation for her annihilating war against the Palestinians.
NEWS BRIEF: "Israel, Turkey officially reconcile: Netanyahu says Gaza blockade to remain", The Jerusalem Post, 6/27/2016
"The raapprochement agreement between Israel and Turkey will strengthen Israel's position in the region, Prime Minister Benjamin Netanyahu said in Rome on Monday announcing the reaching of the accord more than six years after the Mavi Marmara incident."
Soon after the announcement of this agreement, the Turkish PM stated that, soon, Turkey and Israel would exchange ambassadors. Israeli PM Netanyahu stated his reasoning behind this historic agreement.
"Netanyahu said that with both the world and the region going through enormous changes, it is important to create islands of stability, and this accord does that with Turkey. He said that his strategy is to create these points of stability in ties with some Arab states in the region, with Greece and Cyprus, and with Russia."
The key words in Netanyahu's statement were "create islands of stability". The PM then specifically listed these islands: Turkey, Greece, Cyprus and Russia. Turkey and Greece are NATO members, while Russia is the new power with whom Israel must reckon in the Middle East.
These diplomatic moves are exactly what you would expect the Prime Minister of Israel to undertake before he launches his war against the Palestinians. When the expected "blowback" from this annihilating war occurs, Netanyahu has previously established these "islands of stability" which will help him maintain Israel's standing from Europe to Russia.
Turkey will be especially helpful in staving off Islamic furor, as her armed forces are just about the only Muslim military force which has not been decimated since the invasion of Afghanistan in October, 2001. If Netanyahu can prevent the Turkish forces from attacking Israel after the Palestinians have been vanquished, he has to worry about no other Islamic country.
This development is one more step Israel needed to take before launching her attack. Obadiah 15-18 is close to exploding, as we discuss in this DVD shown above, "Israel's Prophesied Triumph Over the Palestinians'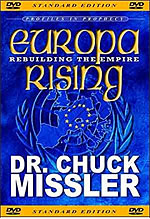 DVD