1. American Conservatives are gored by another RINO leader!
Speaker Paul Ryan suddenly "blinked" in his confrontation with Democrats over Gun Control.
Will allow a vote on a Gun Control measure which would not have stopped any of the last three gun massacres!
NEWS BRIEF: "Paul Ryan Blinks: Will Allow Vote on Gun Control Next Week", Breitbart News, 30 June 2016
"House Speaker Paul Ryan (R-Wisc.) will allow a vote on legislation dealing with terrorism and guns next week ... Roll Call reports that Ryan told House Republicans about the vote during a June 30 conference call."
"During the call, Ryan said it is "common sense that suspects on terror watch lists not be able to buy guns." His announcement of this scheduled vote comes one week after House Democrats ended their 25-hour sit-in for gun control."
When Speaker Ryan allowed the Liberal Democrats to stage their 25-hour sit-in, he granted their cause more credibility with the public than they deserved. He is now granting them even more credibility by allowing a vote on their demand for their new Gun Control bill ... Senator Chuck Schumer (D-NY) observed that mixing the language of gun control with the language of fighting terrorism has yielded GOP support ..."
"For his part, Ryan continues to stress that House gun control has to contain 'a provision [protecting] due process for people who may mistakenly be added to [no fly or terror watch] lists'."
Since 9/11/2001, people who are accidentally added to "no fly" or to "terror watch lists" can hardly get their names removed, no matter what proof they offer to protect their honor.
But, that is not the real issue with this newest "Gun Control" bill.
"But it is important to note that Omar Mateen was not on such a list, so gun control based on such lists would have been impotent to stop him. It is equally important to note that San Bernardino attackers Syed Farook and Tashfeen Malik were not on a such a list either. This makes it difficult to ascertain how more list-based gun control is going to stop such attackers."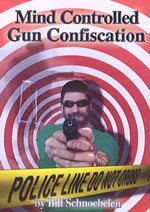 Amen!! And all lawmakers know that these new regulations cannot stop any dedicated terrorist. Then, why do we continually blame the gun for massacres and not the shooter? Why do we continually pass new laws that will not prevent the next terrorist attack?
Our lawmakers continually stage sit-in and pass worthless bills because they believe that, one day, America's psyche is going to flip, and support real gun confiscation laws, so they can then bring in their coveted "New World Order".
Are we seriously getting closer to this dreaded event?
Yes, I believe we are.
2. On two different continents, a private citizen carrying a concealed weapon, saved lives.
Quickly stopped the shooter, acting before police could arrive.
NEWS BRIEF: "Terror Attack in Netanya: Palestinian wounds two, killed by armed civilian", The Jerusalem Post, 6/30/2016
"A Palestinian terror attack on Israeli civilians, the second of the day, was carried out in the vicinity of Netanya's central market, on the corner of Milkhemet Sheshet ha-Yamim Street (Six Day War Street) and Shoham Street. "
"The assailant, a 40-year old Palestinian male, stabbed and wounded two Israelis before being shot and killed by an armed civilian present at the scene, with security forces arriving in the minutes following the attack. "
NEWS BRIEF: "Concealed carrier takes down shooter at South Carolina nightclub", The Washington Times, 6/30/2016
"A South Carolina man is facing multiple attempted murder charges after he opened fire on a crowd gathering outside a nightclub early Sunday, police said. Deputies with Spartanburg County said 32-year-old Jody Ray Thompson pulled out an illegally carried firearm during an argument with another man and fired several rounds toward a crowd outside Playoffz nightclub in Lyman, a local NBC News affiliate reported."
How was this shooter stopped before he could kill anybody?
"His rounds struck 3 victims, and almost struck a fourth victim, who in self-defense, pulled his own weapon and fired, striking Thompson in the leg," Lt. Kevin Bobo said.
Lt. Bobo said the man who shot Mr. Thompson, who has not been identified, has a valid concealed weapons permit and will not face any charges."
These attacks occurred in real life, not during a debate in a classroom. And, in each instance, an armed civilian pulled in legal concealed weapon and shot the attacker, preventing loss of precious life.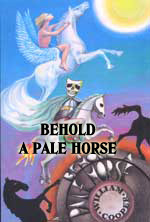 The reality as to why these attacks are occurring is shown by the Illuminati Card Game shown above. In an attempt to panic Americans into accepting sweeping gun control seizures, the Elite are staging public shootings. Listen to New Age author, William Cooper, in his book, "Behold A Pale Horse" show at left.
"Using drugs and hypnosis on mental patients in a process called Orion, the CIA inculcated the desire in these people to open fire on school yards and thus inflame the antigun lobby ... The middle class is begging the government to do away with the 2nd amendment. Author's Note: I have found that these events have, indeed, happened all over the country. In every instance that I have investigated -- the incident at the women's school in Canada, the shopping center incident in Canada, the Stockton, California, massacre, and the murder of Rabbi Meir Kahane -- the shooters were all ex-mental patients or were current mental patients who were ALL ON THE DRUG PROZAC! This drug, when taken in certain doses, increases the serotonin level in the patient, causing extreme violence. Couple that with a post-hypnotic suggestion or control through an electronic brain implant, or microwave or E.L.F. intrusion, and you get mass murder, ending in every case with the suicide of the perpetrator." ["Beyond A Pale Horse", p. 225; Emphasis was in the original]
When our nation was agonizing over the terrible spate of public shootings, who would have thought the Illuminati had instigated them in order to further destabilize our culture so as to bring on their New World Order? All these upsetting events have a cumulative effect far beyond their individual force. They make many people feel bad about their lives and about our civilization, as these people question, "what is wrong with our society that such murderous rampages are occurring"? When enough of these upsetting events occur, the Illuminati will have enough people questioning our current society that they will embrace the coming superman (Antichrist) as he proposes a brand new society, based upon his brand new values.
Then, public blood will REALLY flow!
3. Ignoring the damage that "Brexit Vote" will do to plans for the North American Union, Obama pushes hard for Globalization in the "New International Order"!
NEWS BRIEF: "Obama Defends Globalization, Vows Commitment to 'International Order': Speaking at North American Union Meeting ", Breitbart News, 29 June 2016
"President Barack Obama spoke strongly in favor of globalization on Wednesday, vowing to pursue an 'international order' ... 'The integration of national economies into a global economy, that's here. That's done', he said after meeting with Canadian Prime Minister Justin Trudeau and Mexican President Enrique Pena Neito at the North America Leaders' Summit in Canada."
" 'We'd lose jobs and the amount of disruption that would be involved would be enormous', he said."
The President is arguing for a North American Union on the basis that to not go forward will cause the loss of jobs? Donald Trump, meanwhile, is quoting studies which prove that over 700,000 American jobs have been lost since Congress passed the free trade agreement known as NAFTA (North American Free Trade Agreement). How many more American jobs will flow out of our country if we proceed with the North American Union.
Hillary is on the wrong side of this issue with her support.
Let us hope it costs her dearly in the upcoming Presidential election!
---








Popular New DVD Series
World Religions Volume 4 -- "Hinduism"
Also NEW by Pastor Billy Crone
The Character of GOD series Volumes 1, 2 and 3
The Existance of GOD, The Intimacy of GOD and
The Wisdom of GOD
---
Radical Revelation Series
Get the Volume 1 and 2 Combo at 25% off through July 4th
by Cutting Edge Author, Mac Dominick
Related DVD Subjects To Further Your Understanding For "Revelation 3"