1. The Plan calls for police brutality to bring in the New World Order and to justify troops in the streets!
Are we on the cusp of just such a war and an Absolute Dictatorship?
The Elite are the force behind this revolution.
NEWS BRIEF: "5 Police Officers Killed, 6 Wounded by Snipers in Dallas #BlackLivesMatter Protest", Breitbart News, 7 July 2016
"Five police officers were killed and six were wounded after at least two snipers opened fire in Dallas on Thursday night during a protest over police brutality, throwing the city into chaos and turning parts of downtown into a massive crime scene by Friday morning. Dallas Police Chief David Brown said the snipers had opened fire on officers from "elevated positions" during the protests. A civilian was also wounded.' "
While I do not condone this type of violence, I have been almost daily confronted with news stories where cops have killed innocent people with senseless brutality. While space does not allow me to report on each story just in the past few days, I am going to list the news headline, each of which is hotlinked so you can peruse the articles at your leisure.
Woman records horrific scene after boyfriend is fatally shot by police - Black Victim
Aftermath of fatal Falcon Heights officer-involved shooting captured on video
New video shows moment cop shoots restrained Louisiana man - Black Victim
New Video Shows Portion of Deadly Fresno Police Shooting of Dylan Noble - White Victim, Unarmed
FEDS OPEN CIVIL RIGHTS INVESTIGATION IN LOUISIANA SHOOTING
Update: 911 calls reveal details in police shooting - Black Victim
Call for Grand Jury to Probe Police Shooting in Mississippi- Black Victim
Appeals court reinstates lawsuit in Martinsburg fatal police shooting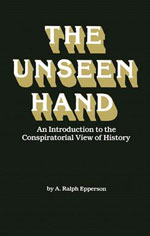 As America hurtles toward the New World Order, we will also be stripped of our Constitutional rights and guarantees and cast into the greatest, most brutal Absolute Dictatorship in world history. And, do not be deceived, the Elite is the hidden force behind both sides of this current unrest.
This developing situation on the street in Dallas is beginning to look a lot like the late 1960's and early 1970's, during the time of massive demonstrations against the war in Vietnam. Christian author, Ralph Epperson, writing in his book, The Unseen Hand, demonstrates that the monied elements of the Illuminati, led by the Rockefeller Foundation, were actually paying the costs of the demonstrators. In other words, the seeming contradiction is huge, to believe that Establishment foundations could actually be paying the demonstrators to take actions that would result in the dissolving of the very country and economy which gave the foundations their money to begin with; however, when you understand that many of our foundations today are Illuminist, and that they want to tear down our Capitalist economy so they can erect the new Fascist economy of the New World Order, the confusion begins to clear up a bit.
As one of the demonstrators remarks, "The Establishment is buying themselves a revolution".
This is the situation in these counties in Florida right now. The Establishment is buying themselves a revolution. (Ralph Epperson, "The Unseen Hand", p. 404)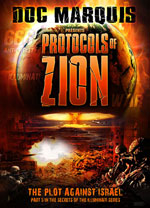 DVD
Listen to the scenario of the Illuminati, so chillingly planned 200 years ago, in the Protocols of the Learned Elders of Zion.
"... our kingdom will be distinguished by a despotism of such magnificent proportions as to be at any moment and in every place in a position to wipe out any ... who oppose us by deed or word." [PROTOCOL 5 -- DESPOTISM AND MODERN PROGRESS]
"The [people] are a flock of sheep, and we are their wolves. And you know what happens when the wolves get hold of the flock? ..... There is another reason also why they will close their eyes: for we shall keep promising them to give back all the liberties we have taken away as soon as we have quelled the enemies of peace and tamed all parties ....."
"It is not worthwhile to say anything about how long a time they will be kept waiting for this return of their liberties ....." [PROTOCOL 11 -- THE TOTALITARIAN STATE]
In order for this plan to work, America's national tranquility must be threatened. When police and military forces move to violently "quell the enemies of peace and tamed all parties", the average citizen will probably cheer, completely unaware that his days of freedom and Constitutional guarantees are over, never to return in his lifetime.
You see, this violent imposition of Absolute Dictatorship will occur either just before or just after, the appearance of Antichrist on the world scene.
As the plans of the Protocols works its way through our Daily News, the discerning Christian must keep his or her eyes on world events, to watch prophetic events unfold which can give us a general sense of "how long" it will be before the Rapture of the Church!
Are you ready for abruptly meeting the Lord in the Air? The discerning Christian does not have to "get right with God" because he lives right with God!
2. Hillary Clinton has just disqualified herself to be President.
NEWS BRIEF: "Hillary Clinton disqualifies herself: Op Ed", by John Kass, Contact Reporter, July 7, 2016
"Hillary Clinton has disqualified herself from the presidency. No matter what your tribal politics may be, after FBI Director James Comey's withering testimony before Congress on Thursday over her email scandal, there really is no way around it, is there?"
"She disqualified herself by her own hand."
What did FBI Director Comey reveal during his pro-Hillary news conference that should disqualify her from ever being President?
* "... she can't be trusted with national secrets. She put those secrets at risk by using a private email server kept in her basement, against security protocol."
* "That server was likely hacked by foreign intelligence. She failed, miserably, in protecting the secrets of her nation."
* "... she lied to the American people. That much is clear. She lied about what she did and how and why. There are tapes of it floating all about on the internet, lies to reporters, lies in those rare public appearances where she actually takes questions."
* "Comey also confirmed that she allowed her lawyers — who didn't have security clearance — to view and assess her vast store of incriminating emails."
Now, whom does Hillary have to blame for this mess?
"The Republicans didn't do this to her. The mad barbarian Donald Trump, ranting and shouting and mugging like some vulgar late-night TV pitchman, didn't do it. Thoughtful Democrats who put their country above their ambitions didn't do it."
This author then touches upon what this Hillary scandal tells us about America today.
"A nation that values a commonly held belief in the obligations of leadership couldn't ever elect someone like this. Advocating for someone like this would be seen as shameful. Only a corrupt nation could do so, a nation that values a Chicago-style political payoff more than it values a belief that leaders should be held to ethical standards ... There is a weakening. A listlessness, a nihilism ... inevitably, is a fall, and the frightened citizens rally around a strong and brutal personality who offers them muscular leadership. And what they once had is gone."
And this last paragraph brings us back to the frightening plan of the "Protocols of the Learned Elders of Zion", quote and shown above.
She is the candidate most threatening to our Constitution, Life, Liberty and the Pursuit of Happiness.
3. FBI Director Comey has a long history of favorable legal rulings with Bill and Hillary Clinton.
Surely, Hillary had the right man on the job at the FBI just when she needed a "No Foul" ruling.
NEWS BRIEF: "Comey has long history of cases ending favorable to Clintons", World Net Daily, 7/7/2016
"FBI Director James Comey has a long history of involvement in Department of Justice actions that arguably ended up favorable to the Clintons."
* "In 2004, Comey, then serving as a deputy attorney general in the Justice Department, apparently limited the scope of the criminal investigation of Sandy Berger, which left out former Clinton administration officials who may have coordinated with Berger in his removal and destruction of classified records from the National Archive."
* "Lynch and Comey both served as U.S. attorney for the Southern District of New York. They crossed paths in the investigation of HSBC bank, which avoided criminal charges in a massive money-laundering scandal..."
* "After Attorney General John Aschroft recused himself in the Valerie Plame affair in 2004, Comey appointed as special counsel Patrick J. Fitzgerald, who ended up convicting "Scooter" Libby ... "
* "As deputy attorney general, Comey was involved in the investigation of Berger, as Fox News reported in 2004 ... Berger at that time was under criminal investigation by the Justice Department for removing from the National Archives various classified documents that should have been turned over to the independent commission investigating the 9/11 terror attacks and for removing handwritten notes he made while reviewing the documents."
* "There is no evidence Comey's investigation for the Justice Department made any attempt to determine if anyone affiliated with the Clinton White House prompted Berger or coordinated with him in the decision to remove the classified documents."
So, we must conclude that Comey has served the Clintons well, shielding them both from receiving the penalty any other citizen would receive because of their illegal activities.
In America today, there are, indeed, TWO (2) standards of Justice:
One standard for the Elite
One standard for everyone else
Welcome to the New World Order!!
---








Popular New DVD Series
World Religions Volume 4 -- "Hinduism"
Also NEW by Pastor Billy Crone
The Character of GOD series Volumes 1, 2 and 3
The Existence of GOD, The Intimacy of GOD and
The Wisdom of GOD
---
Radical Revelation Series
Get the Volume 1 and 2 Combo at 25% off through July 4th
by Cutting Edge Author, Mac Dominick
Related DVD Subjects To Further Your Understanding Of "Revelation 3"