Hot News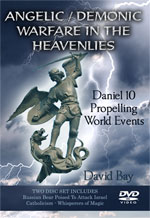 1. Russia starkly and sternly warned North Korea that, if she continued to publicly threaten nuclear attack, Russia may have to invade her.
The deadly Plan of the Elite to stir up a nuclear crisis on the Korean Peninsula at the End of the Period continues to surge forward!
NEWS BRIEF: "Russia Warns North Korea Nuclear Rhetoric Could Create Grounds For Invasion", The Guardian (London), 8 March 2016
"Russia has warned North Korea that threats to deliver "preventive nuclear strikes" could create a legal basis for the use of military force against the country .... The Russian foreign ministry statement, which follows a North Korean threat to "annihilate" the US and South Korea, also criticises Washington and Seoul for launching the largest joint military drills yet to be held on the peninsula."
" 'We consider it to be absolutely impermissible to make public statements containing threats to deliver some 'preventive nuclear strikes' against opponents," the Russian foreign ministry said in response to North Korea's threats. 'Pyongyang should be aware of the fact that in this way the DPRK will become fully opposed to the international community and will create international legal grounds for using military force against itself in accordance with the right of a state to self-defense enshrined in the United Nations Charter', continued the statement, translated by Itar Tass news agency."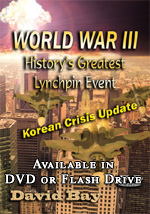 A plan does exist within the Illuminati plan for World War III that envisions a nuclear crisis emanating from the Korean Peninsula. Let us review the exact wording of this part of the Plan to produce Antichrist on the world scene.
"A hair-raising nuclear confrontation in Korea may, towards the end of the period, threaten man's very survival." [Peter Lemesurier, "The Armageddon Script", p. 223, 1981; NOTE: Lemesurier is a major New World Order author]
In other words, in the Third World War, out of which Antichrist will come striding, the Korean Peninsula is guaranteed a major role; she is planned to provide a huge blow in the Dialectic Struggle -- Controlled Conflict Bringing About Controlled Change. To fully understand how this entire global war is planned, yea, scripted, let us go back to Lemesurier, and this most important book.
"The Armageddon Script" is a major book if one is to properly comprehend the planned rise of Antichrist, as Lemesurier details how the Illuminati is going to deceive the whole world -- especially Jews and Fundamental Christians -- into believing that this Masonic Christ is the Messiah for whom they have been long awaiting. Now, let us quote Lemesurier on how scripted this entire event is to be, and then we shall go to Scripture to see that God foretold just such a scripted cooperation at the End of the Age.
Plan Thoroughly Scripted: "Their script is now written, subject only to last-minute editing and stage-directions. The stage itself, albeit as yet in darkness, is almost ready. Down in the pit, the subterranean orchestra is already tuning up. The last-minute, walk-on parts are even now being filled. Most of the main actors ... have already taken up their roles. Soon it will be time for them to come on stage, ready for the curtain to rise. The time for action will have come." [Lemesurier, "Armageddon Script", p. 252]
Now, listen to God declare that He devised the plan by which the final 10 rulers of Earth's history are going to cooperate to carry out God's plan to produce Antichrist on the world scene.
"And the ten horns which thou sawest are ten kings ... For God hath put in their hearts to fulfil his will, and to agree (act in harmony), and give their kingdom unto the beast, until the words of God shall be fulfilled." (Revelation 17:12, 1-17)
Just as Lemesuier stated, God wrote the script in Revelation 17:17, predicting that all final rulers at the End of the Age will "act in harmony" to carry out God's plan, and now the New Age book, "Armageddon Script" said "Their script is now written"!
Current news, like this one, remind us that this part of the Illuminati Plan for World War III to put Antichrist on the world scene is still very much active and still very much a threat.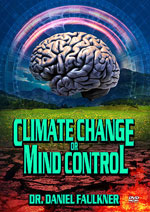 DVD
2. President Obama's Attorney General states that the Administration has discussed prosecuting people who do not believe in Global Warming!
America has gone past the point of polite debate over whether Global Warming is real or is a hoax.
Now, we are at the very dangerous place where political leaders will simply squash the opposition through the legal system.
NEWS BRIEF: "US Attorney General Reveals: We've 'Discussed' Prosecuting Climate Change Deniers", Breitbart News, 10 March 2016
"The US Department of Justice has been considering whether people should be prosecuted for the offense of climate change denial."
Wait a minute!! President Obama's Attorney General is considering prosecuting people for the "non-crime" of disbelieving in Climate Change! How can this be? To date, there is no law on the books which states that a person commits a crime by not believing in Climate Change.
But, there is a law on the books called the Constitution which guarantees every private citizen the RIGHT to Freedom of Speech. Listen to this guarantee:
"The amendment as adopted in 1791 reads as follows:
Congress shall make no law respecting an establishment of religion, or prohibiting the free exercise thereof; or abridging the freedom of speech, or of the press; or the right of the people peaceably to assemble, and to petition the Government for a redress of grievances."
This Constitutional guarantee IS on the legal books of our nation's Judiciary, and has been since 1791.
Therefore, this proposal to prosecute any American citizen simply because they disbelieve the government lie on Climate Control is Un-Constitutional and should never, ever be considered by an American official, even if that official is the top Prosecutor in America.
However, this kind of law can be easily established in an Absolute Dictatorship.
And, the Illuminati Plan does foresee an Absolute Dictatorship being imposed upon America, just as World War III and the rise of Antichrist are underway.
3. Ezekiel 38-39 "Gog and Magog War" Alert
Turkey and Iran are warming up to each other.
NEWS BRIEF: "Are Turkey and Iran warming up to each other?", AL Arabiya News, March 10, 2016
"U.S. Secretary of State John Kerry told American lawmakers last month that Iran's Revolutionary Guard Corps (IRGC) 'has actually pulled its troops back from Syria', and that supreme leader Ali Khamenei 'pulled a significant number of troops out'. Tehran did not comment on this claim, but it was nonetheless welcomed by neighboring Turkey, which has been unhappy about Iranian-Russian cooperation in the Syrian conflict."
"The nuclear deal may have placed greater importance on the economy than on air-defense capability. As such, boosting trade and economic ties with Turkey suits the pragmatic government of Iranian President Hassan Rowhani more than military cooperation with Russia. Tehran and Ankara are moving closer."
When God listed the exact line-up of nations who will join forces with Russia as she moves her military forces against Israel, in fulfillment of Ezekiel 38-39, He listed both Iran and Turkey! Listen:
"Persia, Cush, and Put or Libya with them, all of them with shield and helmet, Gomer and all his hordes, the house of Togarmah in the uttermost parts of the north and all his hordes--many people are with you." (Ezekiel 38:5)
Scholars agree that "Persia" is modern-day Iran. We have stated time and time again that we believe Iran is protected from either national destruction or "regime change" by either America or Israel by this prophecy. Obviously, if Iran (Persia) is going to march with Russia in this invasion, her government needs to be the hardline anti-West, anti-Israel government it currently is; and just as obviously, Iran at this foretold time has to possess an army worthy to be on the same battlefield with the Russian.
But, how about Turkey? Some modern Bible scholars believe that the "House of Togarmah" is modern day Turkey, rather than Armenia as tradition holds. Let us examine that possibility.
When we look up Togarmah in the Wikipedia Encyclopedia, we read:
"In the Torah, Togarmah is listed in the genealogy of nations as the son of Gomer, and grandson of Japheth (Gen. 10:3). Traditionally he is regarded as the ancestor of the Turkic-speaking peoples. For example, in King Joseph's Reply, the Khazar monarch writes:
"You ask us also in your epistle: 'Of what people, of what family, and of what tribe are you?' Know that we are descended from Japhet, through his son Togarmah. I have found in the genealogical books of my ancestors that Togarmah had ten sons. These are their names: the eldest was Ujur, the second Tauris, the third Avar, the fourth Uauz, the fifth Bizal, the sixth Tarna, the seventh Khazar, the eighth Janur, the ninth Bulgar, the tenth Sawir." (These are the mythical founders of tribes that once lived in the neighborhood of the Black and Caspian Seas)."
Obviously, the most important "Turkic-speaking" country in the world today is Turkey.
Iran -- Turkey -- Russia: Three key elements of this Ezekiel 38-39 prophecy. Watch your Daily News! Things could get very interesting as the world continues its march toward the final events of the End of the Age.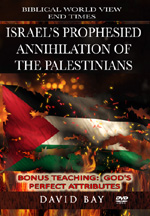 Trailer
4. As soon as V.P. Biden landed in Israel, he was briefed by Israeli leaders as to Israel's "Separation Plan"!
Separation of populations is the key to understanding when this prophecy of annihilation of the Palestinians might be ready to be launched.
NEWS BRIEF: "MK Herzog presents his 'separation plan' to Biden ", Israel National News, 3/10/2016
"US Vice President Joe Biden met with Israeli opposition leader Isaac Herzog on Thursday, amid a rash of terror attacks across Israel that have further dimmed the prospects for renewed negotiations between Israel and the Palestinian Authority. Herzog (Zionist Union) spoke with Biden ... During the meeting, Herzog presented Biden with his "Separation Plan", a framework for partial disengagement from Judea and Samaria which the Labor Party adopted as part of their official platform last month. Herzog emphasized the need for Israel to disconnect from Judea and Samaria, telling Biden 'Only separation will lead to an end of the terror. If we don't separate from the Palestinians, they will continue murder Jews here'."
Cutting Edge first stated in September, 2000, that Israel must build security fences to separate Jew from Palestinian before they annihilated the Palestinian in fulfillment of Obadiah 15-18. Israel began building 15-foot-high cement blast walls in November, 2000, and is still building them.
Listen now as MK Herzog's discussion of "separating" from the Palestinians featured building more separation walls.
"The Separation Plan would complete the security fence in Judea and Samaria, and alter the route of the security wall in Jerusalem to cut out Arab villages in or near Jerusalem's municipal bounds, effectively removing them from the city."
Obadiah 15-18 foretells the annihilation by fire of an entire nation, the House of Esau, which today are the Palestinians. Israel possesses the "Weapon of Fire" (Fuel Air Bomb) that could fulfill this prophecy precisely! Understanding how Israel is planning to carry out this annihilation soon is critical to comprehending events in Israel today between the Palestinians and Israel.
We do not know the exact timing of Israel's prophesied attack, but if the time has come for Israel to brief the United States on the need to finish the separation wall, then the time of the attack must be close.
---
Dr. Kevin Clarkson and guest, David Bay, explain how Obadiah 15-18 foretells the annihilation by fire of an entire nation, the House of Esau, which today are the Palestinians. Israel possesses the "Weapon of Fire" (Fuel Air Bomb) that could fulfill this prophecy precisely! Order the DVD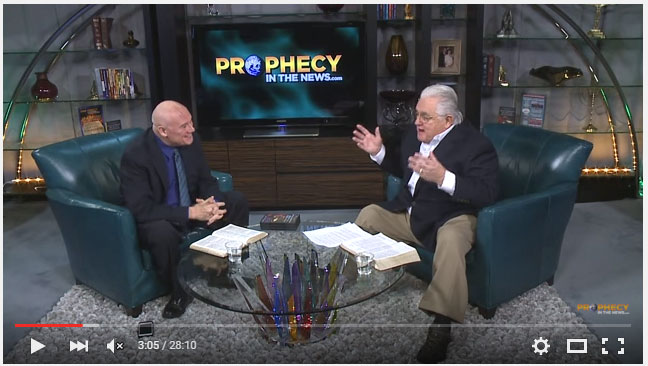 ---
"REVELATION: ARE WE IN EARTH'S FINAL HOUR?"
Volume One: "Jesus' Warning To His 7 Churches"
We are going to examine areas which no other teacher has even addressed, but you should expect this kind of in-depth valuable information from Cutting Edge Ministries! Jesus wrote this prophetic book through John the Apostle, addressing:
• 7 Christian Churches in Asia Minor
• 7 Prophetic Seals
• 7 Trumpet Judgments
• 7 Histories (Persons)
• 7 Bowls (Vials)
• 7 Judgments (Dooms)
• 7 New Things
Since God considers the number Seven as His Perfect Number, we can see that God is offering a final prophetic book which consists of 7 subjects, each of which contains 7 events. A Divinely Perfect Book in all ways!
A few of the points we will cover in Volume 1 include:
The Rapture of the Church true or false?

Will the Antichrist be Islamic?

How do we understand Islamic eschatology?

Who is ISIS, and will ISIS conquer the Middle East?

What is the true bloodline of the Antichrist?

What is the fate of Russia?

How can the stars fall to earth from heaven?

Was there any prophetic significance to Nazi Germany?

Can we find the USA in the Book of Revelation?
We will teach the Book of Revelation in a survey format that will mingle a traditional, contextual approach to the book with a digression to apply these teachings and prophecies to cover the influence (or lack of influence) of the events we see taking place right before our eyes.
Run Time is nearly 2 hours -- http://www.cuttingedge.org/detail.cfm?ID=2729 - Shipping Friday, Feb 26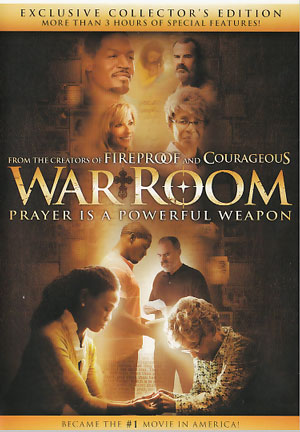 "War Room" DVD
Prayer Is A Powerful Weapon
Filled with heart, humor, and wit, 'War Room' follows Tony and Elizabeth, a couple who seemingly have it all---good jobs, a beautiful daughter, and their dream home.
But their appearances are deceiving: Tony relishes in his professional success and flirts with temptation, while Elizabeth resigns herself to increasing bitterness. Their marriage is on the verge of crumbling until their lives take an unexpected turn. When Elizabeth meets Miss Clara, she challenges Elizabeth to create a battle plan of prayer for her family by establishing a 'war room'.
This new film from the Kendrick brothers is a vivid reminder that prayer is powerful weapon.
'War Room' is a terrific movie, gripping and inspiring! It has that dynamic mix of good acting, an interesting storyline, and humor tossed in at the right moments.
Run Time: 120 Minutes --- Official Movie Trailer
---
Jesus' Resurrection - Proof of Christianity's Most Important Doctrine
New Prophetic DVD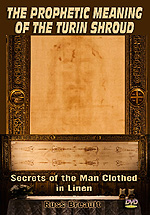 "The Prophetic Meaning of the Turin Shroud: Secrets of the Man Clothed In Linen"
PLUS A Bonus Video - by Russ Breault
God has always provided His believers with solid proof that He exists and that the Bible is true. At this End of the Age -- full of scoffers and unbelievers -- God has provided solid proof that Jesus rose from the grave! This proof is so solid that modern science can test it and prove it completely!
Mankind no longer has any reason to disbelieve the Death, Burial, and Resurrection of Jesus Christ! The Shroud has been scientifically authenticated.
A fascinating examination of Ezekiel 9 and Daniel 12. These two powerful Scriptures teach of Gods Mercy and Grace to His believers just before He wreaks physical destruction in Judgment.
Who is the 'Man Clothed in Linen?' He only appears twice in scripture. Could it be Jesus? How does he relate to the Shroud? Does the story of the Shroud of Turin contain a prophetic message for our time? The answer will amaze you.
Bonus video: Seven Secrets of the Sacred Shroud: Beyond science and history lies the theology of the Shroud. This presentation also focuses on seven proofs from theology and apologetics that support the Shroud's probable authenticity. These concepts are powerful and will raise your faith to new heights!
Has Plan of Salvation at the end, making this DVD a soul-winning tool
Run Time 1 hour 40 minutes -- Watch the Trailer http://www.cuttingedge.org/detail.cfm?ID=2717
Also see Proofs of the Resurrection DVD by Pastor Billy Crone
RUSS BREAULT has been researching and lecturing on The Shroud of Turin for over 30 years. He has presented to numerous college and universities including Duke, Johns Hopkins, U Mass, West Point, Penn State, Cal State and many more. Russ Breault has appeared in several nationally televised documentaries including Mysteries of the Ancient World on CBS. He was both advisor and a primary expert for the highly acclaimed, The Real Face of Jesus A two-hour documentary on The History Channel that has been seen in over 20 countries. Most recently he appeared on Good Morning America to discuss the latest research. He has participated in a dozen international research symposiums since 1981 and three recent public exhibitions in Turin, Italy in 1998, 2000 and 2010. He is a long-time member of the Shroud Science Group, an international consortium of scientists and scholars dedicated to further research. Russ Breault is the president and founder of the Shroud of Turin Education Project Inc., with a simple eleven word mission statement: To advance the knowledge of the Shroud to a new generation.
---
TWO NEW DVDS from Eric Barger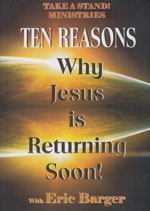 Ten Reasons Why Jesus Is Returning Soon! DVD

Eric Barger refers to this as one of the most important messages in his 31+ years of ministry.
Fulfilled Bible prophecy is the focus here, in particular the extraordinary volume of direct prophetic fulfillments in modern times.
Consider that 2500 YEARS AGO the men of the tribe of Issachar knew the signs around them and how to respond (I Chronicles 12:32). Stressing the importance of understanding the times, Jesus Himself chastised the Jewish leaders for an ignorance of the signs in their day (Matthew 16:1-3).
Now, the voluminous nature of the signs indicate that the return of Jesus, our Blessed Hope, is surely just ahead! Believers cannot afford ignorance during these exciting days.
Do you know the signs? Watch the trailer
Price: $19.99 Sale Price: $15.99
The Most Dangerous Cult - DVD
Eric Barger This item is on sale.
- Is it Mormonism? -
Jehovahs Witnesses?
Islam?
Atheism?
Scientology?
Perhaps the New Age Movement?
- Maybe the Mind Sciences?
In this recent update Eric Barger carefully documents the rise of the Cult of Liberalism within the walls of the Christian Church. This resource is designed to inform the Saints and also challenge misguided spiritual liberals to examine the tragic path they have taken and asks the question:
Are YOU a part of The MOST Dangerous Cult? INCLUDES: Dozens of updated slides and clips documenting the spread of spiritual Liberalism within Mainline and Evangelical circles.
This new resource, an hour and 32 minutes (1:32) in length, also includes the account of how Eric and Melanie were called into Christian ministry. In those early days they came face to face with the fact that not everything or everyone who claims the title Christian actually is.
Liberalism is presented as Christianity: The MOST Dangerous Cult then and now! Order yours today - Price: $19.99 Sale Price: $15.99
---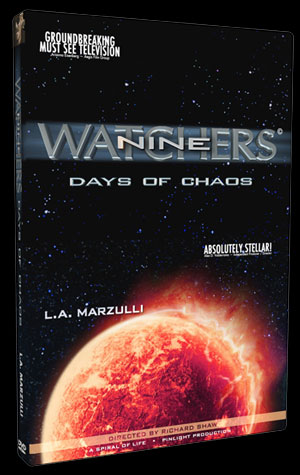 Watchers 9 DVD: Days of Chaos
by Dr. L.A. Marzulli
There are two ways of looking at the events happening in the world around us. The first is that all of these events are just natural phenomena. With this in mind one would look at Israel coming into her ancient homeland after almost 2,000 years of diaspora and would not see any relevance, nor would it matter. To put it bluntly, in this way of thinking one would embrace the world view that there is no god, no prophecy, and no supernatural world. There is only what we can see, hear, taste, smell and observe using the scientific method.
Then there is the other world view that embraces The Holy Bible or The Guidebook to the Supernatural that takes the opposite stance on all of these positions. There is a God and He is good. There is a supernatural world and it is manifesting. There are signs that those who have eyes to see and ears to hear can point to and say that His comingthe Second Coming of Jesusis soon.
There is going to be a profound change in human history, and it begins upon His return.
The skeptic asks, where is the promise of His coming for all things continue as before? We are seeing the birth pains that Jesus warned us would appear before His return. It would seem that prophetic events are accelerating, as I believe we are seeing the signs that warn us of what is coming on the earth... These are the Days of Chaos.
Nearly 2 hours long Shipping Now
---
Why Is Your Pastor Ignoring Fulfillment of Prophecy In the Daily News?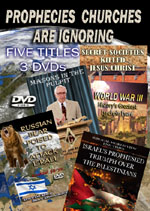 "Prophecies Churches Are Ignoring" - 3 DVD set
Regularly $89.94, Now only $29.94, Saving You $60!
Cutting Edge Director, David Bay, teaches six hard- hitting lessons on six unique End Times instances where events are fulfilling prophecy, but no one is talking about it. Five hot topics on three discs.
1) Israel's Prophesied Triumph over the Palestinians
2) Russian Bear Poised To Strike Israel
3) Masons In The Pulpit
4) World War III: History's Greatest Lynchpin Event
5) Secret Societies Killed Jesus Christ
Almost 6 Hours of Teaching - http://www.cuttingedge.org/detail.cfm?ID=2718
Each message is followed by a complete Salvation Plan, so each DVD becomes a Soul-Winning tool.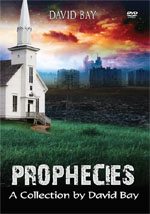 "Prophecies A Collection by David Bay" - 3 DVD set
Regularly $89.94, Now only $29.94, Saving You $60!
Why Are Genuinely Born-Again Pastors So Terribly Blind As To The Prophetic Times In Which We Live? 'Speak to us smooth illusions' [Isaiah 30:10] is the desire of too many pastors, while Jesus is lamenting, 'You did not know the time of your visitation' [Luke 19:44] Too many pastors refuse to believe that the unparalleled deception foretold in Matthew 24:24 really applies to today's events and leaders; thus such pastors are so wide open to spiritual deception.
Pastors also are reluctant to alert their people that events today are uniquely fulfilling key Bible prophecies. As a result, Christians by the many millions do not realize that the time for the Rapture of the Church and for Antichrist to arise is very, very close.
There are a number of unique prophecies being fulfilled that are exceedingly critical, but pastors and ministries are ignoring them totally, to the severe detriment of all Christians. This 3-DVD set contains 6 messages, each of which is unique to Cutting Edge Ministries/Films.
Here are the six hot topics:
* The Prophetic Beast Arises: Ten Toes of Daniel Are Forming
* Rapture Precedes Israel's Final 'WEEK' of History
* Eternal Security: God's Anchor In A Brutal Storm
* End Times' Judgment On Iraq (Babylon) Worse Than Believed Possible - Isaiah 13
* Invisible, Invincible Mind Control You are Targeted
* America Identified In Prophecy: Economic Babylon of Revelation 18
http://www.cuttingedge.org/detail.cfm?ID=2656
POPULAR DVD's FROM
CUTTING EDGE FILMS JUST $14.99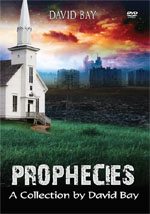 Prophecies Churches Are Ignoring - DVD Combo by David Bay - Volume 1 contains 3 DVDs with our first six programs.
Here are the six hot topics:
• The Prophetic Beast Arises: Ten Toes of Daniel Are Forming
• Rapture Precedes Israels Final 'WEEK' of History
• Eternal Security: God's Anchor In A Brutal Storm
• End Times' Judgment On Iraq (Babylon) Worse Than Believed Possible - Isaiah 13
• Israel's Prophesied Annihilation of the Palestinians
• America Identified In Prophecy: Economic Babylon of Revelation 18
Regular Price: $89.94 Sale Price: $29.99
See All Our $9.99 Books / DVD's
89 Titles From Which To Choose!

See All Our $4.99 Books DVD's
27 Titles From Which To Choose!
May Jesus Richly Bless You,
David Bay, Director
Cutting Edge Ministries
803-356-2850 -- Customer Service or Orders Toll Free within the USA 800-451-8211