Hot News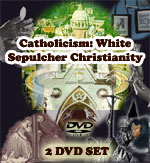 1. "Spotlight" Movie shocked the world by winning "Best Picture" Oscar!
This movie powerfully depicts the heartlessness of Roman Catholicism run amok in a Catholic city -- Boston, Massachusetts.
This film demonstrates that the sin of sexual rape / abuse is systemic within the Catholic Church, and that the culpability extends from the root of the Church to the Vatican itself!
In June, 2002, Cutting Edge created a DVD which reported these facts about the Boston sex scandal, but revealed a startling fact that no one had ever reported! (Pictured Left)
NEWS BRIEF: "Why Spotlight's Oscar win is a great thing for journalism", The Guardian (London), 1 March 2016
"Spotlight, which just won the Oscar for best picture, allows viewers to peek behind the byline, authentically portraying the tediousness of strong investigative reporting, the fierce determination of reporters, the bravery of top editors and how persistence can bring about real change – as long as management has your back."
We agree. While the content of this movie is undeniably strong, the story of how the Boston Globe carried out an extremely brave investigation of sexually predatory Catholic priests over a long period of time, against all manner of resistance up and down the line, is a riveting story by itself.
But, the story goes far deeper than Roman Catholic priests sexually raping and intimidating young boys and girls entrusted to them, and the top editor of the Globe understood this reality. He ordered the Globe investigators to keep digging until they proved that the REAL story was a massive cover-up, running at least to Cardinal Law and maybe all the way to the Vatican!
He succeeded, beyond his wildest dreams. In fact, the undeniable proof that Catholic superiors regularly covered up the sins of the priests by transferring them to another Church, where they can continue to molest and rape, resulted in the ultimate cover-up: as the legal and moral pressure built up against Cardinal Law, the Vatican abruptly "promoted" him to a diplomatic post in the Vatican! No one can touch Law again, no matter the crimes he committed.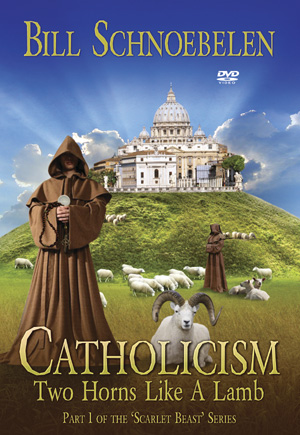 However, even though the Boston Globe revealed that sexual crimes are systemic to the Catholic priestly hierarchy, the story goes even deeper! To a spiritual level. No one in the Boston Globe knew anything about Witchcraft to take this story to that ultimate depth.
But, Cutting Edge could go to that level, because we had studied Black Magick Witchcraft since 1987, as we realized that the religion of Antichrist and his False Prophet was going to be deep, black Witchcraft. We further realized that the False Prophet was going to be considered a Christian by the entire world. Listen:
"And I beheld another beast coming up out of the earth; and he had two horns like a lamb, and he spake as a dragon." (Revelation 13:11; Emphasis added)
Since the Illuminati had declared the Roman Pontiff -- whomever he was at the time -- to be the top religious leader of the global religion of the New World Order in early 1991 (NEWS1052), we knew the deepest truth about Catholicism: it was deep, Black Magick Witchcraft established on the lines of Satanic Baal Worship, while disguised as Christianity.
Once you understood the Satanism of Roman Catholicism, you can comprehend how rape and molestation of young people by the Priesthood runs from the very root to the very top branch! In fact, Anton LaVey, writing in the "Satanic Bible" boldly stated that Satanists do not recognize any prohibition whatsoever in an adult having sex with a child of any age!
Listen to the exact quote:
The Satanic Bible boldly states, on page 67, "Satanism condones any type of sexual activity which properly satisfies your individual desires --be it heterosexual, homosexual, bisexual, or even asexual."
In June, 2002, we released the DVD pictured above, "Catholicism: White Sepulcher Christianity", which used the 2002 Boston sex scandal as the basis upon which we proved that Catholicism is sexually corrupt because it is Satanically based.
We still consider this video to be among the most important we have ever created.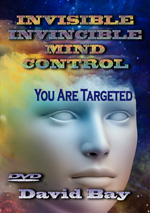 2. The Obama Justice Department has just offered immunity to Hillary Clinton's staff member who set up and maintained her email server while she was Sec/State.
The rumblings in this scandal are getting louder and more intense; Hillary needs them to simply disappear right now, before her election campaign for President.
NEWS BRIEF: "Justice Department grants immunity to staffer who set up Hillary Clinton email server", The Dallas Morning News, March 2, 2016
"WASHINGTON – The Justice Department has granted immunity to the former State Department staffer who worked on Hillary Clinton's private email server as part of a criminal investigation into the possible mishandling of classified information ... The official said the FBI had secured the cooperation of Bryan Pagliano, who worked on Clinton's 2008 presidential campaign before setting up the server in her New York home in 2009."
The FBI is said to be close to wrapping up their investigation, which means that a criminal indictment against Hillary could come either right before the Democrat Convention, or right afterward. This news also seems to indicate that the pressure to investigate Hillary properly is so strong that it cannot be turned aside, even though top-level political figures would like nothing better than to simply bury the fact that Hillary Clinton refused to abide by the rules in handling classified information.
Here is the bottom line: if Hillary was incompetent in protecting America's top secrets when she was Secretary of State, she will prove to be equally incompetent in protecting our vital secrets in the White House!
Perceived incompetency is a label from which no political candidate can survive.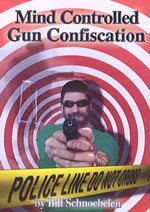 3. The top NRA leader states that Hillary cannot be considered pro-women's rights if she is anti-gun!
Nothing equalizes a woman being confronted by a physically stronger man than a gun.
NEWS BRIEF: "NRA head suggests Hillary Clinton isn't pro-women's rights if she isn't pro-guns", The Week, March 3, 2016
"National Rifle Association President Wayne LaPierre questioned Hillary Clinton's dedication to women's rights Thursday at the Conservative Political Action Conference, suggesting that since Clinton is advocating for gun control, she is essentially leaving women 'to face evil with empty hands'."
This argument is spectacularly true, which makes me wonder why no one has thought to use it before. But, as every woman who has to nightly venture into a dark auto parking garage understands instinctively, she needs a gun if she is ever confronted by a criminal male who is stronger than she.
If my wife had to go into a parking garage in a large city night after night, I would ensure she not only had a gun at her ready disposal, but that she would be well trained in how to defend herself! This consideration is literally "life and death"!
President Wayne LaPierre continues:
"All of America's women, you aren't free if you aren't free to defend yourself. If President Obama, Hillary Clinton or anyone else denies you that right, they don't really care about you at all', LaPierre said, arguing that women are at a greater risk of encountering violent crimes if their access to weapons is restricted."
Amen! We could not have said it any better!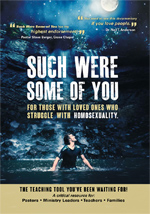 4. Senator Ted Cruz received support from a source he will wish he never had.
Transsexual Caitlyn Jenner offered to be his "Trans-Ambassador"!
NEWS BRIEF: "Caitlyn Jenner volunteers to be Ted Cruz's 'trans ambassador' ", The Week, March 4, 2016
"In a new interview, Caitlyn Jenner said she is a fan of Republican presidential candidate Ted Cruz, and suggested she could one day become 'trans ambassador to the president of the United States'."
Bruce Jenner -- now Caitlyn -- has been a life-long Republican, but Senator Cruz undoubtedly does not appreciate this public backing from the new Jenner, the Trans-sexual! Since Cruz depicts himself as a Fundamentalist Christian who devoutly courts the Evangelical vote, he can be badly hurt by this development.
Caitlyn continues:
"We can say, 'Ted, love what you're doing, but here's what's going on' ... she likes Cruz because 'he's very conservative, and a great constitutionalist, and a very articulate man'. Jenner, who said she met Cruz before she transitioned, hasn't officially endorsed the candidate, and noted that 'he's an evangelical Christian, and probably one of the worst ones when it comes to trans issues'."
Then, why does he/she/it is coming out publicly now to support Cruz?
"Jenner said that while 'the Democrats are better when it comes to these types of social issues', if 'we don't have a country, we don't have trans issues. We need jobs. We need a vibrant economy. I want every trans person to have a job'."
So, Bruce/Caitlyn Jenner believes that Democrats cannot produce a vibrant economy with lots of available jobs! That kind of reasoning would be condemned were it uttered by any other person.
But, not since a Transgendered Person says it. Welcome to the new world into which we have fallen!
---
Jesus' Resurrection - Proof of Christianity's Most Important Doctrine
New Prophetic DVD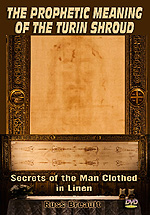 "The Prophetic Meaning of the Turin Shroud: Secrets of the Man Clothed In Linen"
PLUS A Bonus Video - by Russ Breault
God has always provided His believers with solid proof that He exists and that the Bible is true. At this End of the Age -- full of scoffers and unbelievers -- God has provided solid proof that Jesus rose from the grave! This proof is so solid that modern science can test it and prove it completely!
Mankind no longer has any reason to disbelieve the Death, Burial, and Resurrection of Jesus Christ! The Shroud has been scientifically authenticated.
A fascinating examination of Ezekiel 9 and Daniel 12. These two powerful Scriptures teach of Gods Mercy and Grace to His believers just before He wreaks physical destruction in Judgment.
Who is the 'Man Clothed in Linen?' He only appears twice in scripture. Could it be Jesus? How does he relate to the Shroud? Does the story of the Shroud of Turin contain a prophetic message for our time? The answer will amaze you.
Bonus video: Seven Secrets of the Sacred Shroud: Beyond science and history lies the theology of the Shroud. This presentation also focuses on seven proofs from theology and apologetics that support the Shroud's probable authenticity. These concepts are powerful and will raise your faith to new heights!
Has Plan of Salvation at the end, making this DVD a soul-winning tool
Run Time 1 hour 40 minutes -- Watch the Trailer http://www.cuttingedge.org/detail.cfm?ID=2717
Also see Proofs of the Resurrection DVD by Pastor Billy Crone
RUSS BREAULT has been researching and lecturing on The Shroud of Turin for over 30 years. He has presented to numerous college and universities including Duke, Johns Hopkins, U Mass, West Point, Penn State, Cal State and many more. Russ Breault has appeared in several nationally televised documentaries including Mysteries of the Ancient World on CBS. He was both advisor and a primary expert for the highly acclaimed, The Real Face of Jesus A two-hour documentary on The History Channel that has been seen in over 20 countries. Most recently he appeared on Good Morning America to discuss the latest research. He has participated in a dozen international research symposiums since 1981 and three recent public exhibitions in Turin, Italy in 1998, 2000 and 2010. He is a long-time member of the Shroud Science Group, an international consortium of scientists and scholars dedicated to further research. Russ Breault is the president and founder of the Shroud of Turin Education Project Inc., with a simple eleven word mission statement: To advance the knowledge of the Shroud to a new generation.
---
TWO NEW DVDS from Eric Barger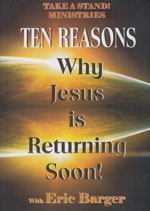 Ten Reasons Why Jesus Is Returning Soon! DVD

Eric Barger refers to this as one of the most important messages in his 31+ years of ministry.
Fulfilled Bible prophecy is the focus here, in particular the extraordinary volume of direct prophetic fulfillments in modern times.
Consider that 2500 YEARS AGO the men of the tribe of Issachar knew the signs around them and how to respond (I Chronicles 12:32). Stressing the importance of understanding the times, Jesus Himself chastised the Jewish leaders for an ignorance of the signs in their day (Matthew 16:1-3).
Now, the voluminous nature of the signs indicate that the return of Jesus, our Blessed Hope, is surely just ahead! Believers cannot afford ignorance during these exciting days.
Do you know the signs? Watch the trailer
Price: $19.99 Sale Price: $15.99
The Most Dangerous Cult - DVD
Eric Barger This item is on sale.
- Is it Mormonism? -
Jehovahs Witnesses?
Islam?
Atheism?
Scientology?
Perhaps the New Age Movement?
- Maybe the Mind Sciences?
In this recent update Eric Barger carefully documents the rise of the Cult of Liberalism within the walls of the Christian Church. This resource is designed to inform the Saints and also challenge misguided spiritual liberals to examine the tragic path they have taken and asks the question:
Are YOU a part of The MOST Dangerous Cult? INCLUDES: Dozens of updated slides and clips documenting the spread of spiritual Liberalism within Mainline and Evangelical circles.
This new resource, an hour and 32 minutes (1:32) in length, also includes the account of how Eric and Melanie were called into Christian ministry. In those early days they came face to face with the fact that not everything or everyone who claims the title Christian actually is.
Liberalism is presented as Christianity: The MOST Dangerous Cult then and now! Order yours today - Price: $19.99 Sale Price: $15.99
---
Popular NEW DVD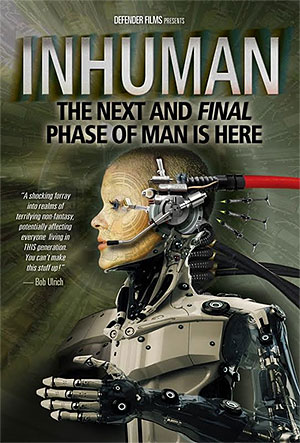 "Inhuman: Final Phase of Mankind Is Here"
DVD by Defender Films
This film is not fiction or a mockudrama but a new investigative documentary from the internationally acclaimed team at SkyWatch TV. INHUMAN travels the globe to unveil for the first time how breakthrough advances in science, technology, and philosophy - including cybernetics, bioengineering, nanotechnology,machine intelligence, and synthetic biology - are poised to create mind- boggling game-changes to everything we have known until now about Homosapiens.

As astonishing technological developments push the frontiers of humanity towards far-reaching morphological transformation (which promises in the very near future to redefine what it means to be human), an intellectual and fast-growing cultural movement known as transhumanism intends the use of these powerful new fields of science and technology as tools that will radically redesign our minds, our memories, our physiology, our offspring, and even perhaps-as Professor Joel Garreau, Lincoln Professor of Law, claims- our immortal souls.
Certainly, the Global Elite wants desperately to end biological death and to defeat God's plans for our souls.
As viewers will learn, this includes rewriting human genetics, combining human and animal DNA, and interfacing our brains with strong artificial intelligence systems. As a result, new modes of perception between things visible and invisible are expected to challenge bioethics in ways that are historically, sociologically and theologically unprecedented.
The destiny of each individual - as well as the future of their families - depends on their knowledge of this new paradigm, an extraordinary time in the earth's history already being called the "Hybrid Age".
3 Hours long, 2-Disc Set - Only $24.95
As the Apostle John wrote 'Amen! Come quickly, Lord Jesus'
As Jesus promised, 'When ye see these things come to pass, look up, for your Redemption draweth nigh'!
---
Why Is Your Pastor Ignoring Fulfillment of Prophecy In the Daily News?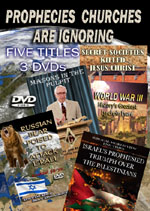 "Prophecies Churches Are Ignoring" - 3 DVD set
Regularly $89.94, Now only $29.94, Saving You $60!
Cutting Edge Director, David Bay, teaches six hard- hitting lessons on six unique End Times instances where events are fulfilling prophecy, but no one is talking about it. Five hot topics on three discs.
1) Israel's Prophesied Triumph over the Palestinians
2) Russian Bear Poised To Strike Israel
3) Masons In The Pulpit
4) World War III: History's Greatest Lynchpin Event
5) Secret Societies Killed Jesus Christ
Almost 6 Hours of Teaching - http://www.cuttingedge.org/detail.cfm?ID=2718
Each message is followed by a complete Salvation Plan, so each DVD becomes a Soul-Winning tool.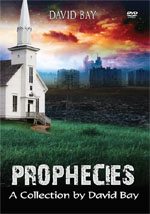 "Prophecies A Collection by David Bay" - 3 DVD set
Regularly $89.94, Now only $29.94, Saving You $60!
Why Are Genuinely Born-Again Pastors So Terribly Blind As To The Prophetic Times In Which We Live? 'Speak to us smooth illusions' [Isaiah 30:10] is the desire of too many pastors, while Jesus is lamenting, 'You did not know the time of your visitation' [Luke 19:44] Too many pastors refuse to believe that the unparalleled deception foretold in Matthew 24:24 really applies to today's events and leaders; thus such pastors are so wide open to spiritual deception.
Pastors also are reluctant to alert their people that events today are uniquely fulfilling key Bible prophecies. As a result, Christians by the many millions do not realize that the time for the Rapture of the Church and for Antichrist to arise is very, very close.
There are a number of unique prophecies being fulfilled that are exceedingly critical, but pastors and ministries are ignoring them totally, to the severe detriment of all Christians. This 3-DVD set contains 6 messages, each of which is unique to Cutting Edge Ministries/Films.
Here are the six hot topics:
* The Prophetic Beast Arises: Ten Toes of Daniel Are Forming
* Rapture Precedes Israel's Final 'WEEK' of History
* Eternal Security: God's Anchor In A Brutal Storm
* End Times' Judgment On Iraq (Babylon) Worse Than Believed Possible - Isaiah 13
* Invisible, Invincible Mind Control You are Targeted
* America Identified In Prophecy: Economic Babylon of Revelation 18
http://www.cuttingedge.org/detail.cfm?ID=2656
POPULAR DVD's FROM
CUTTING EDGE FILMS JUST $14.99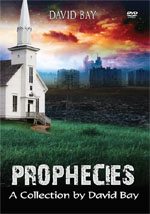 Prophecies Churches Are Ignoring - DVD Combo by David Bay - Volume 1 contains 3 DVDs with our first six programs.
Here are the six hot topics:
• The Prophetic Beast Arises: Ten Toes of Daniel Are Forming
• Rapture Precedes Israels Final 'WEEK' of History
• Eternal Security: God's Anchor In A Brutal Storm
• End Times' Judgment On Iraq (Babylon) Worse Than Believed Possible - Isaiah 13
• Israel's Prophesied Annihilation of the Palestinians
• America Identified In Prophecy: Economic Babylon of Revelation 18
Regular Price: $89.94 Sale Price: $29.99
See All Our $9.99 Books / DVD's
89 Titles From Which To Choose!

See All Our $4.99 Books DVD's
27 Titles From Which To Choose!
May Jesus Richly Bless You,
David Bay, Director
Cutting Edge Ministries
803-356-2850 -- Customer Service or Orders Toll Free within the USA 800-451-8211