Hot News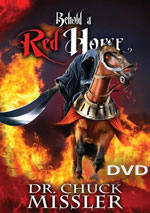 1. U.N. "experts" warn that a nuclear terror attack is possible, news which ratchets fear upward.
But, since 1986, American and Russian satellites can pinpoint the exact location of every device -- large or small -- anywhere on the globe!
And in real time.
NEWS BRIEF: "UN Nuclear Watchdog Says Nuclear Terror Possible", Breaking Israel News, March 27, 2016
"International Atomic Energy Agency (IAEA) chief Yukiya Amano in an interview late Thursday reacted to the recent terror attacks in Brussels by warning that not enough is being done to prevent nuclear terrorism. He warned it is a very real possibility."
According to the Illuminati's "Protocols of the Learned Elders of Zion", the Elite will create a myriad of intentional crises throughout the worldat the end of the period, at any given time, so that the desired overall level of consternation will be achieved. One deadly crisis might not create a general level of overwhelming terror within people's minds, but 20 at one time might accomplish this goal.
Possibly the greatest single fear is nuclear warfare, both conventional and the terrorist "dirty bomb'. Since the attacks of 9/11, movies and TV shows have repeatedly emphasized the horror of any kind of a nuclear device. Therefore, this current news story is going to garner instant attention from a very nervous citizenry.
" 'Terrorism is spreading and the possibility of using nuclear material cannot be excluded', Amano, the head of the UN nuclear watchdog committee said in an interview. 'Member states need to have sustained interest in strengthening nuclear security ... Amid rumors that the Brussels terrorists had planned on using a 'dirty bomb', Amano said it is 'not impossible'. "
We wish to take exception to the last statement from this United Nations "expert" when he states that a 'dirty bomb is not impossible"! If authorities around the world properly use the technology available to them, terrorists would find it impossible to move nuclear material of any size anywhere in the world without detection.
In late November, 2001 -- just weeks after the attacks of 9/11/2001, a former Army satellite operator wrote to Rense.com to report why it is impossible for nuclear materials to be secretly moved into position to carry out a terrorist attack. We posted an article on this subject, NEWS1938, entitled, "Debunking The Propaganda Lie That Terrorists Can Actually Hit The United States With A Nuclear Terrorist Weapon".
Listen to pertinent excerpts from this most important archived article:
"A so-called dirty bomb, a conventional weapon laced with radioactive material, would make a scene like the attack on the World Trade Center even worse, Steinhausler says. 'Picture the bucket brigades that we saw in Ground Zero in a radioactive-contaminated area. They couldn't operate there', he said. 'Picture the dust-caked office worker who survived the World Trade Center attack. He would not only be covered in dust from the detonation, he would have inhaled radioactive stuff. His body would be contaminated. 'The technology required is really high school level. You don't have even to be an engineer to fabricate that. If you can make your conventional explosive, to lace it with radioactivity is really child's play'."
Nuclear devices can be hidden in any one of 18 million containers passing through our sea ports every single year. Anyone who has watched the movie, "Sum of All Fears", based upon Tom Clancy's novel, remembers how the stolen Israeli nuclear bomb was shipped into Baltimore in a container ship, loaded on to a pickup and then driven on to the football stadium concealed in a cigarette vending machine.
Very scary.
Very impossible -- but that is the "rest of the story".
NEWS BRIEF: "US Satellite Detection Of Portable Nuclear Weapons", by Robert, Rense.com, 11-7-2001
""If an internal nuclear attack ever occurs in this country without a major failure of our satellite assets...perhaps we should rethink just who the enemy really is..."
What could Robert possibly mean by this most interesting, but cryptic, statement? Robert explains:
"As you have probably heard from the major news networks, there is some concern about the so-called portable nuclear devices developed by the old USSR. Their former head of the KGB has confirmed the existence of 150 portable devices: 100 of which are presently unaccounted for ... none of these devices are missing; We know exactly where these devices are located at any given point in time.
"This is how we know: During the 1980's I worked as a Senior Systems Engineer for several DOD companies in San Diego (Advanced Digital Systems and SAIC). While in this position I was tasked with developing a 'Fleet Satellite Catastrophic Restoral Plan' for the Joint Chiefs of Staff. My group was to develop a method for satellite intelligence restoral in the event of a space born nuclear strike by the Soviet Union. In the course of this study, we had to review all satellite capabilities and characteristics: both current and projected through the early ninety's. A series of satellites planned to begin deployment in 1989 ... They carry special sensor devices (Developed by SAIC) that can detect high-velocity spin-off particles from enriched uranium (necessary for nuclear devices). Due to the small size and velocity of these particles, no amount of shielding can block them: not lead, not earth (subterranean). Radiation hazards from these particles are minimal due to limited quantity. Our satellites are fool-proof in detecting and pin-pointing the locations of enriched uranium throughout the world." (Ibid., Emphasis added)
The implications of this shocking realization are quite staggering. Doubtless you can think of more implications, but some really obvious ones pop out immediately.
1. Every suitcase terror warning ever issued is a completely, absolutely boldface lie!
2. The FBI, Homeland Security and the White House are revealed to be the liars we all knew they were. Hopefully, this revelation will open the minds heretofore firmly bolted shut.
3. All these high-level stories alleging "Massive Intelligence Failure" are completely false and totally staged! With this technologically capability, it is absolutely impossible for MI6 and the CIA to make "mistakes" like they are accused of making regarding Iraq's supposed nuclear weapons. Both these intelligence agencies would have known with 100% certainty that Saddam did not possess nuclear weapons. President Bush, Vice President Cheney, Secretary of State Powell, Prime Minister Blair and his entire leadership are likewise shown to be deliberate liars.
4. Our agencies are lying to us simply to scare us so badly we will acquiesce in the plan to dissolve our government and take away our liberties.
The mask is now off. We know now that our original stories warning that Bush and Blair were invading Iraq based on a thin lie were absolutely correct. Spread the word: all these nuclear terror stores are nothing but lies.
This deception is so very great that we are seeing Matthew 24:6-8 and 24:24 are coming true on a daily basis in our Daily News. What did Jesus foretell in the Last Days?
"Men's hearts failing them for fear, and for looking after those things which are coming on the earth..." (Luke 21:26)

"And ye shall hear of wars and rumours of wars..." (Matt 24:6)
Now, you know why Robert could say that, if any city is hit with a nuclear device -- conventional or dirty -- we must realize that our authorities knew the precise location of the radioactive material and did nothing. But, of course, our governments throughout the world are engaged in a cooperative struggle to overthrow the entire existing order so they can bring in the New World Order (NOVUS ORDO SECLORUM on the back of the American One Dollar Bill).
This technological fact is the reason no nuclear terror device has been exploded in the 15 long years since 9/11/2001, despite countless warnings of an "impending nuclear terrorist attack".
DVD
2. Democrats need to run from Hillary Clinton while they still can.
The FBI is reportedly ready to indict the former First Lady!
NEWS BRIEF: "Democrats Should Run From Clinton While They Still Can", Observer News, 3/24/2016
"Hillary Clinton's controversial use of a private email server while she served as Secretary of State has loomed over her presidential campaign, and will certainly be an often-cited argument against her candidacy as the general election in November draws nearer ... as the case filters through the FBI and Department of Justice, attention is focused on whether or not Ms. Clinton will be reprimanded for her actions ... In pushing a presidential nominee who is under investigation, Democrats are sabotaging their party. "
"The emails released to the public have illuminated many of Ms. Clinton's inadequacies as Secretary of State."
This issue is the one which is the most dangerous to Hillary's campaign chance in the general election. If voters decide, en masse, that Hillary was incompetent as Secretary of State, they will not trust her to be competent as President of the United States.
Listen to the conclusion of this Op-Ed, quoted above.
"The Democratic Party should look for a candidate who doesn't have such controversies clouding their campaign. Not only does it make Ms. Clinton vulnerable during the general election, but it provides the American people with further reason to dub her dishonest and untrustworthy. Obstructionism and the polarity between both political parties would worsen dramatically if Hillary Clinton is elected—because no president has ever entered office while under investigation by the FBI and DOJ."
Yes, Democrats need to dump Hillary while they still have an alternative!
And, that means, BEFORE the Democrat Convention.
NOTE: This News Alert continues after the advertisement below
---
"REVELATION: ARE WE IN EARTH'S FINAL HOUR?"
Volume One: "Jesus' Warning To His 7 Churches"
We are going to examine areas which no other teacher has even addressed, but you should expect this kind of in-depth valuable information from Cutting Edge Ministries! Jesus wrote this prophetic book through John the Apostle, addressing:
• 7 Christian Churches in Asia Minor
• 7 Prophetic Seals
• 7 Trumpet Judgments
• 7 Histories (Persons)
• 7 Bowls (Vials)
• 7 Judgments (Dooms)
• 7 New Things
Since God considers the number Seven as His Perfect Number, we can see that God is offering a final prophetic book which consists of 7 subjects, each of which contains 7 events. A Divinely Perfect Book in all ways!
A few of the points we will cover in Volume 1 include:
The Rapture of the Church true or false?

Will the Antichrist be Islamic?

How do we understand Islamic eschatology?

Who is ISIS, and will ISIS conquer the Middle East?

What is the true bloodline of the Antichrist?

What is the fate of Russia?

How can the stars fall to earth from heaven?

Was there any prophetic significance to Nazi Germany?

Can we find the USA in the Book of Revelation?
We will teach the Book of Revelation in a survey format that will mingle a traditional, contextual approach to the book with a digression to apply these teachings and prophecies to cover the influence (or lack of influence) of the events we see taking place right before our eyes. Run Time is nearly 2 hours -- http://www.cuttingedge.org/detail.cfm?ID=2729 - Shipping Friday, Feb 26
---
3. A citizen's petition to allow convention delegates and attendees to carry guns at the convention garners surprising support.
Trump wants to "study the fine print".
NEWS BRIEF: "Petition Allowing Guns at GOP convention tops 35K: Trump wants to study 'fine print'," USA Today, March 28, 2016
"Donald Trump says he wants to study a petition that calls for allowing the open carry of guns at the Republican convention this July in Cleveland. Posted on the website change.org, the petition of unknown origin notes that "though Ohio is an open carry state, which allows for the open carry of guns, the hosting venue -- the Quicken Loans Arena -- strictly forbids the carry of firearms on their premises." That "is a direct affront to the Second Amendment and puts all attendees at risk," said the petition that has more than 35,000 signers as of Sunday."
Was this petition started as a farce? As a joke?
"The name of the group purportedly behind the effort — Americans for Responsible Open Carry — does not appear anywhere else online and accepts online message only from networked supporters ... According to the website cnet on Sunday, the petition may have been started by a group as satire.
For once, police and military forces will be on hand before any terrorist can mount an attack, and probably can effectively apprehend the attackers before they can cause much harm.
But, if convention delegates are allowed to carry, and a terrorist group decides to attack, the resulting carnage could dramatically change the way American citizens support the Second Amendment rights!
A terror attack on a heavily-armed GOP convention could be a very bad "game changer"!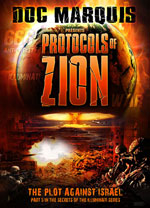 4. Authorities conduct anti-terror raids which reveal a Europe-wide jihadist plan of attack!
President Obama comes to a sniveling defense of Islam!
NEWS BRIEF: "Raids uncover evidence of Europe-wide jihadist cell", CBS News, March 26, 2016
"In the wake of the bombings in Belgium this week -- and increasing criticism of officials for their inability to thwart those attacks -- police in the last 24 hours have made at least four arrests in a series of raids in Belgium and four other countries across Europe. New evidence shows disturbing evidence of just how big the terror network is across Europe."
"... The raids have uncovered what is being described as "alarming" evidence of a Europe-wide jihadist cell connected to the attacks in Belgium as well as those in Paris in November."
Donald Trump, who has repeatedly warned that countries who allow massive influxes of Islamic refugees are putting their citizens at risk for terror attacks, was asked what he thought of this news. He simply said "I told you so"!
But, then, President Obama insulted good citizens all over the world.
NEWS BRIEF: "After Brussels Attack Obama Warns Against 'Stigmatizing' Muslims", Breaking Israel News, March 26, 2016
"In the wake of deadly terror attacks in Brussels, US President Barack Obama stated that it was important to avoid measures that might 'stigmatize' Muslims-Americans ... In his weekly media address, President Obama responded to the double attack in Brussels ... Obama said that targeting Muslims would be counterproductive'."
"[Muslim-Americans are] our most important partners in the nation's fight against those who would wage violent jihad. That's why we have to reject any attempt to stigmatize Muslim-Americans..."
While we understand that we cannot accuse an entire people for the actions of a few, we strongly believe that it was a mistake of huge proportions to let so many hundreds of thousands of refugees of a violent, extremist religion to migrate across our borders. Donald Trump was right; it would have been easier to not allow floods of Islamic refugees in our countries than to deal with the violent hatred spewing from the extremists among them.
---
Dr. Kevin Clarkson and guest, David Bay, explain how Obadiah 15-18 foretells the annihilation by fire of an entire nation, the House of Esau, which today are the Palestinians. Israel possesses the "Weapon of Fire" (Fuel Air Bomb) that could fulfill this prophecy precisely! Order the DVD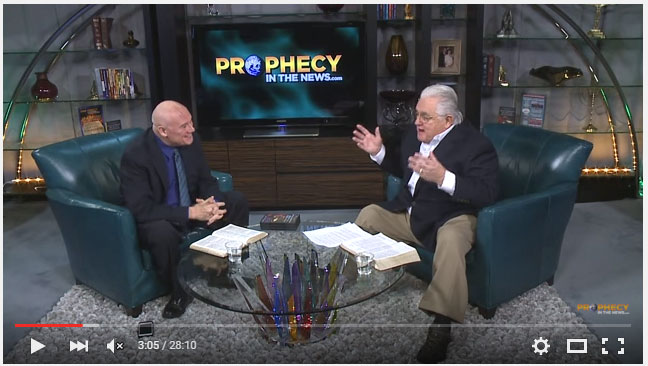 ---
Popular NEW DVD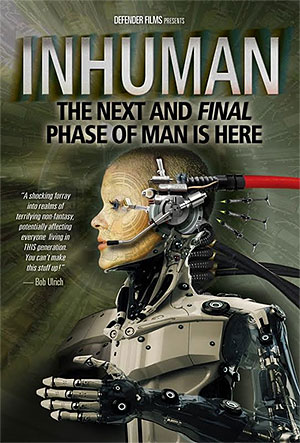 "Inhuman: Final Phase of Mankind Is Here"
DVD by Defender Films
This film is not fiction or a mockudrama but a new investigative documentary from the internationally acclaimed team at SkyWatch TV. INHUMAN travels the globe to unveil for the first time how breakthrough advances in science, technology, and philosophy - including cybernetics, bioengineering, nanotechnology,machine intelligence, and synthetic biology - are poised to create mind- boggling game-changes to everything we have known until now about Homosapiens.

As astonishing technological developments push the frontiers of humanity towards far-reaching morphological transformation (which promises in the very near future to redefine what it means to be human), an intellectual and fast-growing cultural movement known as transhumanism intends the use of these powerful new fields of science and technology as tools that will radically redesign our minds, our memories, our physiology, our offspring, and even perhaps-as Professor Joel Garreau, Lincoln Professor of Law, claims- our immortal souls.
Certainly, the Global Elite wants desperately to end biological death and to defeat God's plans for our souls.
As viewers will learn, this includes rewriting human genetics, combining human and animal DNA, and interfacing our brains with strong artificial intelligence systems. As a result, new modes of perception between things visible and invisible are expected to challenge bioethics in ways that are historically, sociologically and theologically unprecedented.
The destiny of each individual - as well as the future of their families - depends on their knowledge of this new paradigm, an extraordinary time in the earth's history already being called the "Hybrid Age".
3 Hours long, 2-Disc Set - Only $24.95
As the Apostle John wrote 'Amen! Come quickly, Lord Jesus'
As Jesus promised, 'When ye see these things come to pass, look up, for your Redemption draweth nigh'!
DVD's Sharply Reduced
See All Our $9.99 Books / DVD's
89 Titles From Which To Choose!

See All Our $4.99 Books DVD's
27 Titles From Which To Choose!
---
TWO NEW DVDS from Eric Barger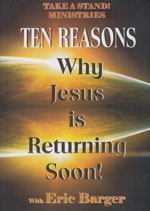 Ten Reasons Why Jesus Is Returning Soon! DVD

Eric Barger refers to this as one of the most important messages in his 31+ years of ministry.
Fulfilled Bible prophecy is the focus here, in particular the extraordinary volume of direct prophetic fulfillments in modern times.
Consider that 2500 YEARS AGO the men of the tribe of Issachar knew the signs around them and how to respond (I Chronicles 12:32). Stressing the importance of understanding the times, Jesus Himself chastised the Jewish leaders for an ignorance of the signs in their day (Matthew 16:1-3).
Now, the voluminous nature of the signs indicate that the return of Jesus, our Blessed Hope, is surely just ahead! Believers cannot afford ignorance during these exciting days.
Do you know the signs? Watch the trailer
Price: $19.99 Sale Price: $15.99
The Most Dangerous Cult - DVD
Eric Barger This item is on sale.
- Is it Mormonism? -
Jehovahs Witnesses?
Islam?
Atheism?
Scientology?
Perhaps the New Age Movement?
- Maybe the Mind Sciences?
In this recent update Eric Barger carefully documents the rise of the Cult of Liberalism within the walls of the Christian Church. This resource is designed to inform the Saints and also challenge misguided spiritual liberals to examine the tragic path they have taken and asks the question:
Are YOU a part of The MOST Dangerous Cult? INCLUDES: Dozens of updated slides and clips documenting the spread of spiritual Liberalism within Mainline and Evangelical circles.
This new resource, an hour and 32 minutes (1:32) in length, also includes the account of how Eric and Melanie were called into Christian ministry. In those early days they came face to face with the fact that not everything or everyone who claims the title Christian actually is.
Liberalism is presented as Christianity: The MOST Dangerous Cult then and now! Order yours today - Price: $19.99 Sale Price: $15.99
---
Why Is Your Pastor Ignoring Fulfillment of Prophecy In the Daily News?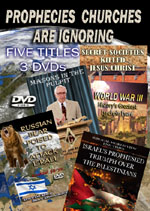 "Prophecies Churches Are Ignoring" - 3 DVD set
Regularly $89.94, Now only $29.94, Saving You $60!
Cutting Edge Director, David Bay, teaches six hard- hitting lessons on six unique End Times instances where events are fulfilling prophecy, but no one is talking about it. Five hot topics on three discs.
1) Israel's Prophesied Triumph over the Palestinians
2) Russian Bear Poised To Strike Israel
3) Masons In The Pulpit
4) World War III: History's Greatest Lynchpin Event
5) Secret Societies Killed Jesus Christ
Almost 6 Hours of Teaching - http://www.cuttingedge.org/detail.cfm?ID=2718
Each message is followed by a complete Salvation Plan, so each DVD becomes a Soul-Winning tool.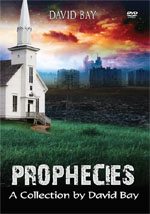 "Prophecies A Collection by David Bay" - 3 DVD set
Regularly $89.94, Now only $29.94, Saving You $60!
Why Are Genuinely Born-Again Pastors So Terribly Blind As To The Prophetic Times In Which We Live? 'Speak to us smooth illusions' [Isaiah 30:10] is the desire of too many pastors, while Jesus is lamenting, 'You did not know the time of your visitation' [Luke 19:44] Too many pastors refuse to believe that the unparalleled deception foretold in Matthew 24:24 really applies to today's events and leaders; thus such pastors are so wide open to spiritual deception.
Pastors also are reluctant to alert their people that events today are uniquely fulfilling key Bible prophecies. As a result, Christians by the many millions do not realize that the time for the Rapture of the Church and for Antichrist to arise is very, very close.
There are a number of unique prophecies being fulfilled that are exceedingly critical, but pastors and ministries are ignoring them totally, to the severe detriment of all Christians. This 3-DVD set contains 6 messages, each of which is unique to Cutting Edge Ministries/Films.
Here are the six hot topics:
* The Prophetic Beast Arises: Ten Toes of Daniel Are Forming
* Rapture Precedes Israel's Final 'WEEK' of History
* Eternal Security: God's Anchor In A Brutal Storm
* End Times' Judgment On Iraq (Babylon) Worse Than Believed Possible - Isaiah 13
* Invisible, Invincible Mind Control You are Targeted
* America Identified In Prophecy: Economic Babylon of Revelation 18
http://www.cuttingedge.org/detail.cfm?ID=2656
POPULAR DVD's FROM
CUTTING EDGE FILMS JUST $14.99
May Jesus Richly Bless You,
David Bay, Director
Cutting Edge Ministries
803-356-2850 -- Customer Service or Orders Toll Free within the USA 800-451-8211