Hot News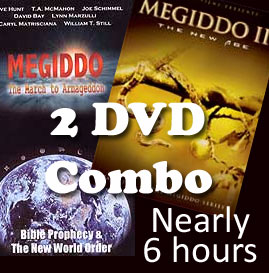 1. The video, "Clinton Cash" threatens Hillary Clinton's campaign like no other, because it is aimed at Liberals who support Hillary!
Environmentalists. Anti-nuke activists. Gay-rights advocates. Good-government folks are the targets - If Hillary loses their vote, she is finished
NEWS BRIEF: "TIME Expose': 'Clinton Cash' Is a 'Scathing Broadside Aimed at Persuading Liberals'," Breitbart News, 12 May 2016
"... sitting in a Manhattan screening room late Wednesday, it quickly became clear that conservatives weren't the intended audience for Clinton Cash. Environmentalists. Anti-nuke activists. Gay-rights advocates. Good-government folks. They're all going to find themselves increasingly uncomfortable over claims that the likely Democratic nominee, in the film's words, takes cash from the 'darkest, worst corners of the world'."
The danger posed to the Hillary Presidential campaign is potentially far more serious than the email server issue. If the facts purported in this movie turn out to be true, then Americans must decide whether they want 4 or 8 years of another President Clinton standing with both arms stretched to the world, hauling in buckets and trainloads of cash designed to bribe her for their cause.
Will a Hillary Clinton White House really post a permanent "For Sale" sign?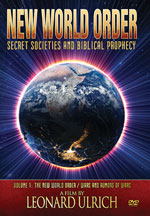 2. Donald Trump and Speaker Paul Ryan met and seemingly united in an effort to defeat Hillary.
Is the politically deadly Third Party issue now dead?
NEWS BRIEF: "Trump, Ryan tout unity in wake of meeting", CNN Politics, May 12, 2016
"Donald Trump and House Speaker Paul Ryan concluded their highly anticipated meeting Thursday amid signals that the Republican Party will work to piece itself together after a fractious primary. " 'While we were honest about our few differences, we recognize that there are also many important areas of common ground', Trump and Ryan said in a joint statement. 'We will be having additional discussions, but remain confident there's a great opportunity to unify our party and win this fall, and we are totally committed to working together to achieve that goal'."
If these two leaders are genuine Republicans -- and not RINO Republicans (Republican In Name Only) -- the most important area of common ground is to deny Hillary the Oval Office. That is the #1 priority of the majority of Republican voters across the world! Whatever issues that are separating them pale into consideration of the damage to our culture and our way of life that a Hillary can do, following directly on the steps of this disastrous President Obama!
"The speaker called Trump's achievement of earning more votes than any Republican candidate in history 'really kind of unparalleled', and clearly hopes to channel the support for the presumptive nominee into support for a conservative policy agenda writ large. 'The question is ... how we unify it all? How do we keep adding and adding and adding voters while not subtracting any voters?' he said. 'Most Americans do not like where this country is headed'."
"Republican National Committee Chairman Reince Priebus -- who helped broker the meeting -- told CNN's Dana Bash the meeting was 'great', and 'a good first step toward unifying our party'."
Does this unification talk mean that the Third Party fiasco is now dead?
NEWS BRIEF: "Third-party effort fizzling out", The Hill, May 13, 2013
"An effort by prominent conservatives to recruit a third party candidate to run against Donald Trump and Hillary Clinton is fizzling out. A serious third party run would cost millions, and GOP donors have so far been reluctant to embrace a bid. No major political star has stepped forward publicly so far to be a third-party candidate either, and possible recruits, such as Mitt Romney and Sen. Ben Sasse (R-Neb.), have ruled out doing so."
Surely everyone knows that, if you split the anti-Hillary vote, then Hillary becomes President of the United States! Bill Clinton won in 1992 and again in 1996 because one oil billionaire, Ross Perot, ran a "Conservative" campaign against the Republican. This time around, surely every person has learned this history and this math equation!
"Polls also indicate that Republicans around the country are coming around to Trump now he's their presumptive nominee. A Public Policy Polling survey found Republicans are as unified around Trump as Democrats are around Clinton, with 72 percent or Republicans saying they are comfortable with him as their nominee."
When Trump and Clinton face off in the general election, I believe Trump can mount a glittering Ronald Reagan type campaign, where he uses his charm and his intellect to win voters to his side who would normally have voted for the Democrat.
At least, I hope and pray that this will be the case.
3. Obama Administration now moving quickly to force Public Schools to provide facilities for Transgendered students
NEWS BRIEF: "Obama Forces All Schools To Create Transgender-Ready Mixed-Sex Bathrooms, Locker Rooms", Breitbart News, 12 May 2016
"President Barack Obama will decree Friday that schools must welcome a tiny number of apparently transgender children by taking single-sex bathrooms, single-sex locker rooms and sexual privacy away from almost 55 million American kids in 100,000 K-12 public schools. Obama will use the administration's power over funding and advocacy lawsuits to enforce his demand, which will establish the far-left theory of "gender identity" as government orthodoxy in the nation's school system."
Is there nothing the Republicans can do to block this insanity? Apparently not now.
"There's little that House Speaker Paul Ryan's GOP caucus in Congress can do to stop this power-grab, because they've already approved federal funding until October.'
"Among actual adults, various estimates say that only 1 in 330 or as few as 1 in 2,400 adults are transgender ... In carefully scripted language that portrays the administration as wise and kind, Lynch claimed the new federal decree "gives administrators, teachers, and parents the tools they need to protect transgender students from peer harassment and to identify and address unjust school policies."
But, the student who woke up one morning "feeling" like he/she was really a member of the opposite sex, will have to prove it to the school nurse, right? This concept is really common sense. Evidently, Obama's White House is lacking even this basic element of Common Sense.
"The letter will also inform school districts they won't even be allowed to require some evidence that the child is "transgender" or is undergoing treatment or a sex-change procedures. That "no-test" rule reflects progressives' hostility to any tests or rules that limit people's choice of fluid 'gender identity'."
What does "fluid gender identity" really mean? I guess it means whatever a student wants it to mean on any given day. If a teen boy wants to see body private parts of a girl on whom he is sweet, he can just declare himself to be Transgendered that day so he can go into the girl's locker room to try to catch a glimpse of those coveted body parts.
But, this is not the REAL danger in this entire scenario.
The practical, bottom line threat to our students is not that Transgendered people will attack our straight students.
The problem is that, now, sexually perverted people will have the official blessing to enter these bathrooms!
American leaders are aggressively pushing this country into being a new Sodom, a new Gomorrah.
Please take a few moments to read our newest Headline News article on this very subject. You will be outraged and galvanized into action.
---
NEW DVD FROM CUTTING EDGE FILMS
REVELATION, Volume 2 - ARE WE IN EARTH'S FINAL HOUR?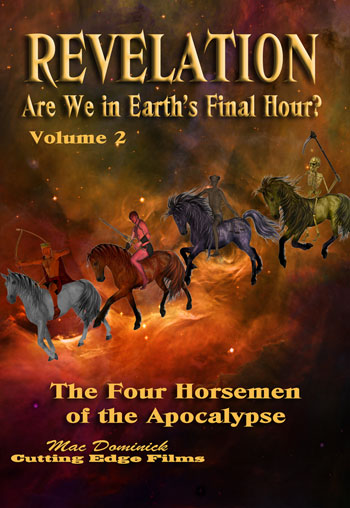 The Four Horsemen of the Apocalypse
New DVD by Mac Dominick
Shipping NOW!!
The control of the earth that Adam transferred to Satan is documented in Heaven in the form of a Title Deed of the Earth. As we take up our study in Revelation chapter 5, we are given by God in this inspired account the details of the exercising of this title deed. As with any deed that is held by a lien holder, payment for the property will eventually come due. In Disc 2 and following, we become witnesses to this payment and the judgment for the abuse of said property by those who were entrusted with its care. The Book with Seven Seals, a seven-sealed scroll, is this very title deed, and as the Lord Jesus Christ breaks each of these seals, the demand for payment is executed.
Disc 2 details the breaking of the first four of the seven seals, and with the breaking of each of these seals, the lien-holder (God) allows the empowerment of Satan and his minions their opportunity to exercise their will over the earth and mankind. The manifestation of the will of Satan is illustrated as 4 horsemen who are loosed and empowered to work their evil will over the planet earth and its inhabitants. The results are both tragic and devastating:
• Satan will install his man to rule the earth over a one-world government
• This ruler will deceive the Jews into believing he is their long-awaited Messiah and the savior of the world by instituting world peace.
• However, because this is a false peace, war will break out that reveals the evil that controls the planet.
• Subsequently, there will be famine, pestilence, and death to more than one-third of the earth's inhabitants
• Finally, the world ruler will declare war on the Jews and set up his image in a rebuilt Jewish Temple.
Disc 2 will detail this account, establish its credibility with prerequisites that show exactly how these events can and will take place, and prepare the viewer for the breaking of the remaining seals that initiate the wrath of Almighty God upon the earth dwellers.
Disc 2 includes answers to the following questions:
• Who is Antichrist, and where will he originate?
• Will the Antichrist be a Muslim as many Evangelicals now teach?
• Will Israel declare war on her Arab neighbors, and finally live in peace and safety?
• Is Russia a threat to Israel, and what does Scripture teach concerning this?
• How will the Jews realize that Antichrist is not their Messiah but rather, evil incarnate?
Buckle your seat belts and join us---this is a wild ride. Order - watch trailer here .
"REVELATION: ARE WE IN EARTH'S FINAL HOUR?" VOL. 1
'Jesus' Warning To His 7 Churches', New DVD by Mac Dominick of Cutting Edge Films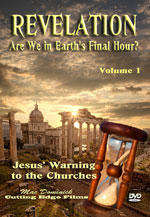 We are going to examine in this series areas which no other teacher has even addressed, but you should expect this kind of in-depth valuable information from Cutting Edge Ministries! Jesus wrote this prophetic book through John the Apostle, addressing:
7 Christian Churches in Asia Minor
7 Prophetic Seals
7 Trumpet Judgments
7 Histories (Persons)
7 Bowls (Vials)
7 Judgments (Dooms)
7 New Things
Since God considers the number Seven as His Perfect Number, we can see that God is offering a final prophetic book which consists of 7 subjects, each of which contains 7 events. A Divinely Perfect Book in all ways!

We are living in an age in which the question, Is there any hope for mankind? seems to become more relevant with each passing hour. Every waking hour is filled with reports of a new crisis, new disasters, new terror threats, and the realization that the fate of all of mankind is spinning out of control.

Additionally, this generation is facing more onslaughts of pure evil than has ever been witnessed in the entire history of man. As we search for answers, we must realize that God has given us a guidebook to prepare us for the future, and that guidebook is none other than the last book of the BibleThe Book of Revelation.

While there have been any who have taught and studied this book, most who teach it either teach it out of the context of the balance of the Word of God or fail to ask the hard questions surrounding the prophecies in this book. We at Cutting Edge Ministries are presenting this series to provide answers to not only the mysteries of this book, but also to deal with difficult subjects and answer the hard questions.

A few of the points we will cover in Volume 1 include:

The Rapture of the Church true or false?

Will the Antichrist be Islamic?

How do we understand Islamic eschatology?

Who is ISIS, and will ISIS conquer the Middle East?

What is the true bloodline of the Antichrist?

What is the fate of Russia?

How can the stars fall to earth from heaven?

Was there any prophetic significance to Nazi Germany?

Can we find the USA in the Book of Revelation?

We will teach the book in a survey format that will mingle a traditional, contextual approach to the book with a digression to apply these teachings and prophecies to cover the influence (or lack of influence) of the events we see taking place right before our eyes.

Run Time is nearly 2 hours Watch the Trailer
NEW DVD PROPHETIC SET!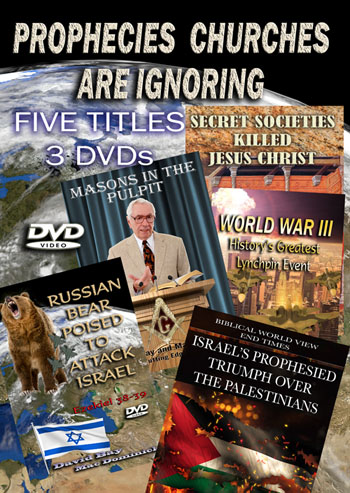 "Prophecies Churches Are Ignoring"
DVD Combo by David Bay
Regularly $84.94,Now only $29.99
You save nearly $55
Why are so many pastors so reluctant to teach prophecy? Why are so many pastors even more reluctant to teach how current events are uniquely fulfilling End of the Age prophecy?
Cutting Edge Director, David Bay, teaches six hard- hitting lessons on six unique End Times instances where events are fulfilling prophecy, but no one is talking about it. Five hot topics on three discs.
1) Israel's Prophesied Triumph over the Palestinians
2) Russian Bear Poised To Strike Israel
3) 'Masons In The Pulpit'
4) World War III: History's Greatest Lynchpin Event
5) Secret Societies Killed Jesus Christ
Each message is followed by a complete Salvation Plan, so each DVD becomes a Soul-Winning tool.
Almost 6 Hours of Teaching -- http://www.cuttingedge.org/detail.cfm?ID=2718
---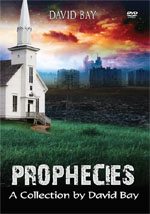 Prophecies a Collection by David Bay- DVD Combo - Volume 1 which contains 3 DVDs with our first six programs.
Here are the six hot topics:
• The Prophetic Beast Arises: Ten Toes of Daniel Are Forming
• Rapture Precedes Israels Final 'WEEK' of History
• Eternal Security: God's Anchor In A Brutal Storm
• End Times' Judgment On Iraq - Worse Than Believed Possible - Isaiah 13
• Israel's Prophesied Annihilation of the Palestinians
• America Identified In Prophecy: Economic Babylon of Revelation 18
Regular Price: $89.94 Sale Price: $29.99
---
View All TV Interviews on Prophecy In The News

"Israel's Prophesied Triumph Over the Palestinians"
"Bringing Saudi Arabia Down: Without Destroying World Economy"
Egypt's Prophetic Tsunami - Isaiah 19
More Interviews On Prophetic Subjects + Southwest Radio Interviews
---