Hot News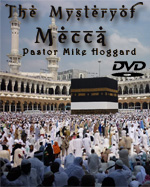 1. Al-Qaea's online magazine tells Islamic terrorists to target American business leaders in their homes.
Are "home invasions" going to be the next serious threat?
NEWS BRIEF: "Al Qaeda's online magazine tells terrorists to target U.S. business leaders in their homes", The Washington Times, May 15, 2016
"Al Qaeda's 'Inspire' online magazine is calling on jihadis to damage the American economy by killing business leaders and entrepreneurs in their homes."
Since American forces led the invasion of Afghanistan in October, 2001, and then Iraq in March, 2003, I have feared that Islamic terrorists would turn to this tactic. Since our Capitalist/Fascist Economy operates largely on the basis of stability and confidence, a tactic such as organized home invasions by trained terrorists against key American businessmen, could have strong consequences. American businesses amy hire former military armies, such as Blackwater, to defend key executives.
But, Al-Qaeda also wants to turn to another tactic against Americans.
"Articles in the May 14 edition, its 15th, also urge radical Islamic terrorists to emulate the Palestinian street-killings of Jews by walking up to Americans and stabbing them to death."
While this tactic killed a few Jews on the street, it did not sow enough damage and death to bring Israel down; in fact, the Netanyahu government has loosened the restrictions on gun ownership and when guns can be carried, so that individual Jews can react to a jihadist suddenly attacking them. With the sheer numbers of Americans owning guns, I cannot imagine that this tactic of individually attacking Americans on the street will succeed.
But, this tactic might sow widespead fear.
"Inspire's cover carries the headline "Professional Assassinations" and the subhead "Home Assassinations." It depicts the dark profile of a hooded killer stalking a victim who lives in an upscale American home. A photo montage shows Microsoft founder Bill Gates, a pistol and spattered blood."
The longer American and Russian forces apply only minimal force against jihadist forces throughout the Middle East, the longer the hatred toward us will fester and grow. The longer this war drags on, the more likely that the jihadists will extend their reach, change their tactics, and train their terrorists more thoroughly, to successfully attack us on our soil.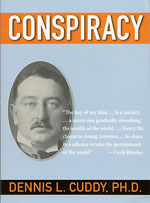 2. Just as the Donald Trump / Paul Ryan meeting seemed to promote Party unity so that a Third Party campaign was no longer a threat, very wealthy and extremely Elite Republicans declare that they are seriously planning to launch a Third Party candidate!
NEWS BRIEF: "Bill Kristol: Republican Spoiler ", Breitbart News, May 15, 2016
"While millions of Republican primary voters have chosen Donald Trump as the party's nominee, Bill Kristol and a small but well-heeled group of Washington insiders are preparing a third party effort to block Trump's path to the White House."
How can any Republican support a plan that would automatically give Hillary the White House? Bill Kristol and his group think they have a plan which would not give Hillary this automatic gift.
"Their plan is to run a candidate who could win three states and enough votes in the electoral college to deny both parties the needed majority. This would throw the election into the House of Representatives, which would then elect a candidate the Kristol group found acceptable. "
This extreme manipulation of the voting system is repugnant in and of itself. Consider the damage it can do:
* "... would nullify the largest vote ever registered for a Republican primary candidate"
* "... would jeopardize the Republican majorities in both the House and Senate"
* ... more than likely make Hillary Clinton president..."
Kristol and his group of multi-millionaires represent a new kind of R.I.N.O. Republican, one that would prefer another Clinton in the Oval Office than to allow a Republican who might be a genuine Conservative win the election.
Hillary must be secretly smiling.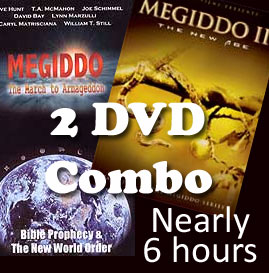 3. Wiccans in Portland, Oregon, hold a ritual to support Bernie Sanders.
NEWS BRIEF: "Wiccan ritual in support of Sanders asks Portlanders to 'feel the Bern, be the Bern'," Oregon Live News, May 13, 2016
"If there were a definitive list that bore the words 'That's so Portland' as its heading, a Wiccan ritual in support of Bernie Sanders might hover somewhere in the middle ..."
One of the reasons Mary and I left Portland, Oregon, in October, 1984, was to escape the steady onslaught of New Age and other occult religions. We di not want our two young boys to be exposed to this kind of occult thinking in the public schools and in our neighborhood. This occult influence was beginning to feel overwhelming.
The very fact that Wicca can now hold public meetings in support of any cause means that this trend toward an acceptability of Satanism which we fled in 1984 has become more and more entrenched in this Oregon society.
"On Friday night, half a dozen Sanders supporters gathered at Woodstock Park in Southeast Portland to foster good vibes for their candidate ahead of Tuesday's primary election.
* "They thanked the four cardinal directions."
* "They confessed their wishes for the outcomes of local elections."
* "And they chanted "Feel the Bern, be the Bern."
* "But first, they had to be smudged..."
Since this article does not explain what "being smudged" is all about, we turn to another news article.
NEWS BRIEF: "Welcome to a Bernie Sanders Wiccan ritual", Los Angeles Times, May 14, 2016
"Instead of metal detectors, entrance required burning ceremonial sweetgrass. Participants were "smudged," meaning the smoke from the sweetgrass was wafted over them before they could enter the sacred circle and begin a Wiccan ritual to support Sanders ahead of Oregon's primary on Tuesday."
While this occult support is small potatoes, Hillary Clinton is a serious power within Illuminati Witchcraft! Chris Pinto's DVD, "Megiddo II" tells this most important story.
Learn the truth and spread it far and wide! She is more than just greedy for money, and more than a rank Socialist, she is a practitioner of Black Magick Withcraft, as "Megiddo II" reports.
---
NEW DVD FROM CUTTING EDGE FILMS
REVELATION, Volume 2 - ARE WE IN EARTH'S FINAL HOUR?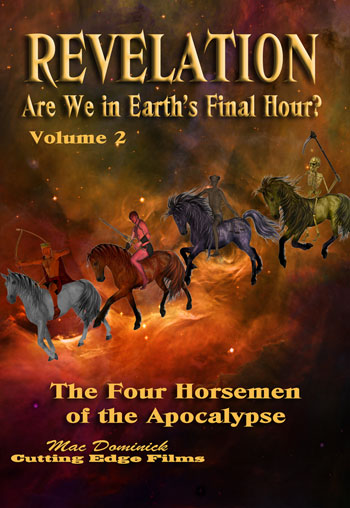 The Four Horsemen of the Apocalypse
New DVD by Mac Dominick
Shipping NOW!!
The control of the earth that Adam transferred to Satan is documented in Heaven in the form of a Title Deed of the Earth. As we take up our study in Revelation chapter 5, we are given by God in this inspired account the details of the exercising of this title deed. As with any deed that is held by a lien holder, payment for the property will eventually come due. In Disc 2 and following, we become witnesses to this payment and the judgment for the abuse of said property by those who were entrusted with its care. The Book with Seven Seals, a seven-sealed scroll, is this very title deed, and as the Lord Jesus Christ breaks each of these seals, the demand for payment is executed.
Disc 2 details the breaking of the first four of the seven seals, and with the breaking of each of these seals, the lien-holder (God) allows the empowerment of Satan and his minions their opportunity to exercise their will over the earth and mankind. The manifestation of the will of Satan is illustrated as 4 horsemen who are loosed and empowered to work their evil will over the planet earth and its inhabitants. The results are both tragic and devastating:
• Satan will install his man to rule the earth over a one-world government
• This ruler will deceive the Jews into believing he is their long-awaited Messiah and the savior of the world by instituting world peace.
• However, because this is a false peace, war will break out that reveals the evil that controls the planet.
• Subsequently, there will be famine, pestilence, and death to more than one-third of the earth's inhabitants
• Finally, the world ruler will declare war on the Jews and set up his image in a rebuilt Jewish Temple.
Disc 2 will detail this account, establish its credibility with prerequisites that show exactly how these events can and will take place, and prepare the viewer for the breaking of the remaining seals that initiate the wrath of Almighty God upon the earth dwellers.
Disc 2 includes answers to the following questions:
• Who is Antichrist, and where will he originate?
• Will the Antichrist be a Muslim as many Evangelicals now teach?
• Will Israel declare war on her Arab neighbors, and finally live in peace and safety?
• Is Russia a threat to Israel, and what does Scripture teach concerning this?
• How will the Jews realize that Antichrist is not their Messiah but rather, evil incarnate?
Buckle your seat belts and join us---this is a wild ride. Order - watch trailer here .
"REVELATION: ARE WE IN EARTH'S FINAL HOUR?" VOL. 1
'Jesus' Warning To His 7 Churches', New DVD by Mac Dominick of Cutting Edge Films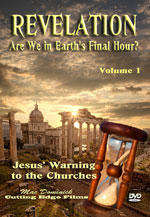 We are going to examine in this series areas which no other teacher has even addressed, but you should expect this kind of in-depth valuable information from Cutting Edge Ministries! Jesus wrote this prophetic book through John the Apostle, addressing:
7 Christian Churches in Asia Minor
7 Prophetic Seals
7 Trumpet Judgments
7 Histories (Persons)
7 Bowls (Vials)
7 Judgments (Dooms)
7 New Things
Since God considers the number Seven as His Perfect Number, we can see that God is offering a final prophetic book which consists of 7 subjects, each of which contains 7 events. A Divinely Perfect Book in all ways!

We are living in an age in which the question, Is there any hope for mankind? seems to become more relevant with each passing hour. Every waking hour is filled with reports of a new crisis, new disasters, new terror threats, and the realization that the fate of all of mankind is spinning out of control.

Additionally, this generation is facing more onslaughts of pure evil than has ever been witnessed in the entire history of man. As we search for answers, we must realize that God has given us a guidebook to prepare us for the future, and that guidebook is none other than the last book of the BibleThe Book of Revelation.

While there have been any who have taught and studied this book, most who teach it either teach it out of the context of the balance of the Word of God or fail to ask the hard questions surrounding the prophecies in this book. We at Cutting Edge Ministries are presenting this series to provide answers to not only the mysteries of this book, but also to deal with difficult subjects and answer the hard questions.

A few of the points we will cover in Volume 1 include:

The Rapture of the Church true or false?

Will the Antichrist be Islamic?

How do we understand Islamic eschatology?

Who is ISIS, and will ISIS conquer the Middle East?

What is the true bloodline of the Antichrist?

What is the fate of Russia?

How can the stars fall to earth from heaven?

Was there any prophetic significance to Nazi Germany?

Can we find the USA in the Book of Revelation?

We will teach the book in a survey format that will mingle a traditional, contextual approach to the book with a digression to apply these teachings and prophecies to cover the influence (or lack of influence) of the events we see taking place right before our eyes.

Run Time is nearly 2 hours Watch the Trailer
NEW DVD PROPHETIC SET!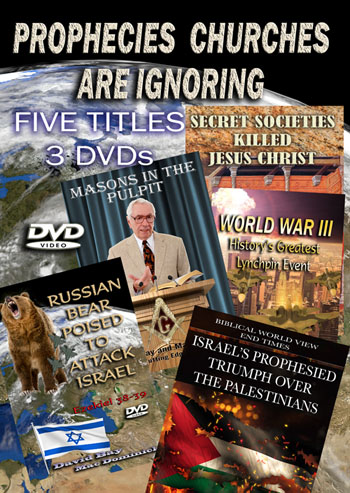 "Prophecies Churches Are Ignoring"
DVD Combo by David Bay
Regularly $84.94,Now only $29.99
You save nearly $55
Why are so many pastors so reluctant to teach prophecy? Why are so many pastors even more reluctant to teach how current events are uniquely fulfilling End of the Age prophecy?
Cutting Edge Director, David Bay, teaches six hard- hitting lessons on six unique End Times instances where events are fulfilling prophecy, but no one is talking about it. Five hot topics on three discs.
1) Israel's Prophesied Triumph over the Palestinians
2) Russian Bear Poised To Strike Israel
3) 'Masons In The Pulpit'
4) World War III: History's Greatest Lynchpin Event
5) Secret Societies Killed Jesus Christ
Each message is followed by a complete Salvation Plan, so each DVD becomes a Soul-Winning tool.
Almost 6 Hours of Teaching -- http://www.cuttingedge.org/detail.cfm?ID=2718
---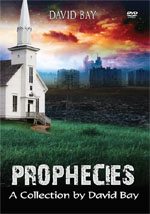 Prophecies a Collection by David Bay- DVD Combo - Volume 1 which contains 3 DVDs with our first six programs.
Here are the six hot topics:
• The Prophetic Beast Arises: Ten Toes of Daniel Are Forming
• Rapture Precedes Israels Final 'WEEK' of History
• Eternal Security: God's Anchor In A Brutal Storm
• End Times' Judgment On Iraq - Worse Than Believed Possible - Isaiah 13
• Israel's Prophesied Annihilation of the Palestinians
• America Identified In Prophecy: Economic Babylon of Revelation 18
Regular Price: $89.94 Sale Price: $29.99
---
View All TV Interviews on Prophecy In The News

"Israel's Prophesied Triumph Over the Palestinians"
"Bringing Saudi Arabia Down: Without Destroying World Economy"
Egypt's Prophetic Tsunami - Isaiah 19
More Interviews On Prophetic Subjects + Southwest Radio Interviews
---