Subtitle: The answer to this simple question will shock you and change the way in which you think about politics forever!
---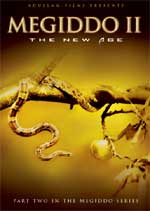 "Megiddo II -- The New Age: Foundation of the New World Order"
Chris Pinto reveals that Hillary Clinton is a channeler of spirits on the level of Aleister Crowley, Adolf Hitler, and Madame Blavatsky (House of Theosophy)!
Current Article: "Wiccan ritual in support of Sanders asks Portlanders to 'feel the Bern, be the Bern'
Watch also "Megiddo I -- The March to Armageddon"
Buy Combination Offer and Save Money
"Megiddo I and Megiddo II Combination Offer "
See also Chris Pinto's Cutting Edge series "Secret Mysteries of America's Beginnings"
---
Memorial Day marks the beginning of Summer, a time when sales, donations, and subscriptions normally dry up. But, we are so low already, will Cutting Edge survive?
Since world and domestic events holding End Times' significance have suddenly been erupting lately, we have been writing new Headline News Articles.
We are also introducing new DVD's and Books.
We're a small non-profit with costs of a top website: servers, staff, studio expenses and programs. We believe everyone should have access to free knowledge, without restriction or limitation. If Cutting Edge is useful to you, please take one minute to keep us online and to keep us reaching out to over 100,000 people a year with the Plan of Salvation.
We have tried to make supporting Cutting Edge Ministry easy and convenient, with our green "Donation Button".

May Jesus Richly Bless You. David Bay, Director
---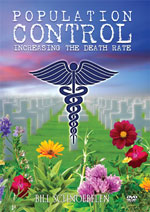 DVD
1. A potentially devastating "superbug" which is resistant to the final "super antibiotics of last resort" has finally arrived in the United States.
The world is increasingly facing the possibility that scientists cannot kill the strongly resistant bacteria which might end life as we know it.
NEWS BRIEF: ""The superbug that could render antibiotics useless just hit the US", The Sydney Morning Herald, May 27, 2016
"For the first time, researchers have found a person in the United States carrying a bacteria resistant to antibiotics of last resort, an alarming development that the top US public health official says could mean 'the end of the road' for antibiotics. The antibiotic-resistant strain was found last month in the urine of a 49-year-old woman in the US state of Pennsylvania. Department of Defence researchers determined that carried a strain of E. coli resistant to the antibiotic colistin ... The authors wrote that the discovery 'heralds the emergence of a truly pan-drug resistant bacteria'."
I well remember reading a news warning in the mid-1980's that, if doctors continued to prescribe antibiotics for such a wide variety of bacteria, more and more bacteria can gradually become resistant to antibiotics, imperiling the health of the entire world.
Sadly, these warnings were unheeded, so today, mankind is facing an illness which its best scientists cannot conquer.
"Colistin is the antibiotic of last resort for particularly dangerous types of superbugs, including a family of bacteria known as CRE, which health officials have dubbed "nightmare bacteria." In some instances, these superbugs kill up to 50 per cent of patients who become infected. The Centers for Disease Control and Prevention has called CRE among the country's most urgent public health threats."
The Illuminati has long wished to destroy all humans on the Planet, possessing the type of attitude foretold in End Times' Scripture. Listen:
"And except that the Lord had shortened those days, no flesh should be saved." (Mark 13:20)
Satan is certainly working feverishly to kill as many people as he can, before Jesus rips control of the world out of his hands. If large numbers of people die because of this superbug that cannot be killed, and if the disaster spreads around the world, we have just seen one more instance of an End of the Age prophecy coming true.
What did Jesus foretell at the End of the Age?
"There will be violent earthquakes, and in various places famines and deadly and devastating pestilences, plagues, epidemics..." (Luke 21:11; Parallel Bible)
Is this mankind's future just out there, on the horizon?
2. As President Obama offered an indirect apology for America's use of the atomic bomb 71 years ago, he called for disarmament of nuclear weapons and an end to all war.
NEWS BRIEF: "Obama Dishonors Memorial Day at Hiroshima", Breitbart News, 28 May 2016
"What Obama proposed in his speech in Japan is moral disarmament, and the consequences of that moral capitulation will be horrific if the world follows his advice. At Hiroshima, Obama was silent on the question of American sacrifice, American valor, and American virtue, but eloquent on the issue of American guilt."
"Obama is wrong, but if even half of Americans agree with the president, then we have abandoned the meaning of Memorial Day and substituted Atonement Day in its place ... The meaning and value of Memorial Day has been lost if Obama's view of the world is representative of an entire generation. Eight presidents from Truman to Kennedy to Reagan saw the importance of American resolve in confronting evil and possessing the resolve to use whatever force is necessary to defeat evil. Does Obama's moral ambivalence on the use of atomic bomb in 1945 speak for America or only for his own peculiar idea of American guilt?"
What President Obama did emphasize during his Hiroshima address was that mankind simply had to destroy all nuclear warheads from the face of the Earth.
Has anyone told the President that nuclear weapons are obsolete?
NEWS BRIEF: "DEBUNKING THE PROPAGANDA LIE THAT TERRORISTS CAN ACTUALLY HIT THE UNITED STATES WITH A NUCLEAR TERRORIST WEAPON!' Cutting Edge Ministries, "Suitcase Nuke Threat Against US Raising More Concern:, By Brian Ross, ABCNEWS.com, reprinted in Rense.com, 11-9-2001
"Does this information indicate that another terrorist attack is coming, this time with a nuclear device? This possibility is greatly strengthened when we examine the writings of one influential New World Order author, William Cooper.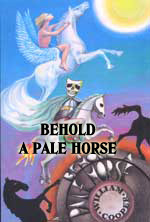 "Of course, a very short but very deadly global war using nuclear weapons upon select population concentrations was contemplated and to tell you the truth, was not ruled out ... can you imagine what will happen if Los Angeles is hit with a 9.0 quake, New York City is destroyed by a terrorist-planted atomic bomb, World War III breaks out in the Middle East, the banks and the stock markets collapse, Extraterrestrials land on the White House lawn, food disappears from the markets, some people disappear, the Messiah presents himself to the world, and all in a very short period of time?" ["Behold A Pale Horse", by William Cooper, p. 167, 177]
Former occultists -- now Born Again -- have reiterated this fact: New York City is targeted to be destroyed by a nuclear device as part of the global plan by which the terrors of World War III will erupt upon the world, so that final birth pangs war designed to allow Antichrist to appear on the world scene.
But, can terrorists sneak in a nuclear device, of any sort, into this country? Let us return to our featured story, as Mr. Ross speaks of small 'suitcase' bombs.
" 'I can tell you unequivocally we built these devices similar to this and so did the Soviets during the Cold War', said Rep. Curt Weldon, R-Pa. 'The defense minister of Russia told me to my face, 'Yes, congressman, we built these devices. Just as your country built them during the Cold War.' In fact, the Department of Defense made a training video in the l960s, demonstrating how 'small atomic demolition munitions' can be stuffed into parachutes and attached to Navy commandos, who then show how the weapons can be affixed to bridges and ships underwater."
" 'These devices were designed to be used to take out major infrastructure facilities', said Weldon ... The general, formerly Russia's leading defense adviser, said 86 of 132 suitcase bombs were unaccounted for. Where were the missing nukes? President Bush this week sounded the alarm about bin Laden's suspected efforts to go nuclear. 'They're seeking chemical, biological and nuclear weapons', Bush told leaders of formerly communist states Tuesday in Warsaw, Poland. 'Given the means, our enemies would be a threat to every nation and eventually to civilization itself'."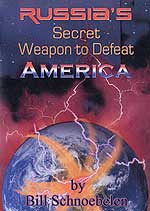 DVD
Remember this warning is coming from the same President who told us unequivocally that Saddam possessed Weapons of Mass Destruction and the means to quickly deliver them -- a statement we now know was completely false.
America was attacked on 9/11/2001, fully 15 years ago. In that time, if our radical enemies could have detonated nuclear devices in our cities, they most assuredly would have done so -- unless they could not set off nuclear bombs. And, this subject is the one we want to focus our attention.
High technology has absolutely developed a sensing capability which forbids them from ever sneaking nuclear bombs into our country!
America possesses the technology to discover and precisely locate any device emitting tiny amounts of radiation.
"If an internal nuclear attack ever occurs in this country without a major failure of our satellite assets ... perhaps we should rethink just who the enemy really is..."
These opening words are shocking, and they are intended to be. The writer wanted all of us to know that America has the technical capability to stop any terrorist in his tracks if he ever dares try to sneak nuclear weapons into this country. Let us now review the "rest of the story".
"As you have probably heard from the major news networks, there is some concern about the so-called portable nuclear devices developed by the old USSR. Their former head of the KGB has confirmed the existence of 150 portable devices: 100 of which are presently unaccounted for ... none of these devices are missing; We know exactly where these devices are located at any given point in time."
" A series of satellites planned to begin deployment in 1989 ... They carry special sensor devices (Developed by SAIC) that can detect high-velocity spin-off particles from enriched uranium (necessary for nuclear devices). Due to the small size and velocity of these particles, no amount of shielding can block them: not lead, not earth (sub-terrainian). Radiation hazards from these particles are minimal due to limited quantity. Our satellites are fool-proof in detecting and pin-pointing the locations of enriched uranium throughout the world." (Ibid., Emphasis added)
Did you realize our satellites had this capability? They can accurately sense the "high-velocity spin-off particles from enriched uranium", even if the device is encased in lead or buried in the earth! This capability means that we know the exact location of every nuclear warhead in the world. We know where every single Russian warhead is, and we knew that Saddam Hussein did not have nuclear warheads!
Therefore, nuclear weapons became obsolete in 1989, when these satellites began flying in orbit. No terrorist group could possibly move any nuclear devices, as they would be watched in Real Time!
An attempted terrorist attack would be an intercepted and annihilated terror attack.
Is this capability the real reason America has suffered no actual nuclear attack since 9/11?
President Obama must have discovered it easy to rail against a technology which is obsolete and cannot be moved without detection? I think this gutless wonder thought along these guidelines for sure!
3. Enough evidence exists that Hillary Clinton did criminally misuse her email server while Secretary of State.
Would her candidacy for President be more hurt by an indictment or by a cover-up within the FBI and the Department of Justice?
NEWS BRIEF: "Clinton email headache is about to get worse: New Discoveries", The Hill News, 5/28/2016
"Hillary Clinton's email headache is about to get even worse. A scathing inspector general's report this week was just the first in what is likely to be a series of official actions related to her private server stemming from the FBI, a federal courthouse and Capitol Hill."
For over a year now, Hillary has blithely brushed aside any and all questions as to whether she could be indicted over this email server issue. She almost sounded as though the question was beneath her dignity. After all, she acted and sounded like Queen Hillary, and Royalty just do not receive this kind of vulgar questioning!
Conservative critics questioned whether Hillary was being protected by an invisible, powerful hedge of protection which would deflect any and all legal threats. Speaking of legal threats, Hillary has never, ever faced such an intense bitter end.
" 'All of that feeds into this overarching problem of public distrust of her', said Grant Reeher, a political science professor at Syracuse University. 'To put it in slang terms, she's got a pretty deeply held street rep at this point... "
Have you ever heard of the old expression, "where there's smoke, there is fire"? As Hillary's campaign heads into the final days leading to the Convention, Judicial Watch will ensure that they will provide plenty of fodder keeping this fire burning hot and heavy.
"But the group ( Judicial Watch) this week released the transcript from its first interview, with longtime State Department veteran Lewis Lukens. And it plans to do the same thing following each of the upcoming depositions, providing fodder for weeks to come from some of the closest rings of Clinton's inner circle."
"The court has said that Clinton herself may be forced to answer questions under oath, which would dramatically escalate the brouhaha surrounding the case."
However, as damaging as the threat of legal indictment is to the Clinton campaign, a "non-indictment" might hurt her election chances even more!
NEWS BRIEF: "Hillary's Non-Indictment Catastrophe", PoliZette News, 5/29/2016
"Democratic Party leaders have grown increasingly optimistic that Hillary Clinton will escape a criminal indictment for her use of an unsecured private email server for official business, even if the FBI recommends that the Justice Department pursue the case."
After all, why do political heavyweights appoint officials around them, unless it is to use the power of their offices to protect their boss? This was the rationale behind President John Fl Kennedy appointing his brother, Robert, as Attorney General. John was a philanderer and had no intention of changing just because he was now President; therefore, he appointed brother Robert to use the power of Attorney General to protect John and to "keep the mess below cleaned up"!
Both President Obama and Attorney General Janet Lynch have been very reluctant to discuss using the power of the D.O.J. against Hillary should she be indicted. The public wants to know if Hillary will be prosecuted in the same manner as any other defendant, or will she be protected by the "Power Elite"?
"If Clinton does escape a formal indictment, she could still face a potentially lethal blow to her campaign ... If an indictment is recommended, Attorney General Loretta Lynch will decide whether to move forward or to ignore the FBI's recommendation."
Would Loretta Lynch DARE prosecute Hillary? After all, she owes her political life to her.
"Lynch has her own history with the Clintons. The current attorney general was nominated as U.S. Attorney for Eastern New York by President Bill Clinton in 1999. Lynch later joined the Hogan & Harrison law firm that did tax work for the Clintons ... "
The author of this article doubts that the Attorney General will decide to prosecute Hillary.
"Enter FBI Director James Comey. Comey has been a highly respected figure in law enforcement ... He has served with high marks across partisan lines under both President Bush as deputy attorney general and President Obama as the director of the FBI."
Some observers believe Comey will resign rather than accept a D.O.J. rebuff of an FBI recommendation to indict.
"The resignation of such a universally respected leader in law enforcement from his post at the head of the nation's top investigative agency would spark a cataclysmic wave of negative media for Clinton. The resignation of Comey over a scorned indictment recommendation would cement Donald Trump's narrative justification for his candidacy and define the course of the contest with Clinton. Trump, the outsider candidate fighting to break the stranglehold of the Establishment, was able to wield the charge of a "rigged" system to devastating effect against Sen. Ted Cruz over the Republican Party's allocation of delegates. Evading a criminal indictment with the direct aid of the U.S. attorney general screams "rigged" on an entirely different level.
Remember, Democrats finally forced President Nixon to resign only because they successfully seized upon his "cover-up" activities! If the voting public comes to believe that Hillary was "too crooked to jail", that she was being protected by powerful Democrat Establishment people, her dreams of winning the White House would be annihilated.
4. The LGBT attack on our culture continues, moving from Transgender bathrooms to Walt Disney cartoons.
"Children are the target", was the New Age mantra during the 1980's, and now we are seeing dramatic transformation of our "People Shapers" in our culture!
This whole process is like a "Mind Control" you have never imagined possible. And your child is the daily target.
NEWS BRIEF: "Progressives Hope 'Finding Dory' Features Disney's First Lesbian Couple", Brieibart News, 29 May 2016
"A blink-and-you'll-miss-it moment from the latest trailer for Disney/Pixar's upcoming film Finding Dory has prompted speculation that the film will be the first Disney project to feature a lesbian couple."
LGBT activists have been pressuring Disney and other film studios whose natual target is children for some time now, trying to persuade them to publish material which supports supports the Great American Cultural War now being waged every single hour of every single day.
Notice the pro-gay medium which gay activists chose to unleash their latest immoral barrage.
"Just after the 1:00 mark in the latest teaser for the film (above), which premiered on the Ellen DeGeneres Show last week, a child gets a bottle knocked out her hands and is helped by a passing adult, possibly the child's mother. When the camera focuses on the adult, she appears next to another woman.
" 'Did Disney just unveil its first lesbian couple?' Salon's Nico Lang asked. "
But, the war rages on other fronts as well, using other cartoon characters.
"The speculation over the possible lesbian characters in Finding Dory comes just a few weeks after progressives took to Twitter to launch a hashtag campaign urging Disney to give one of its princesses — Elsa, from Frozen — a female love interest in that film's upcoming sequel. Thousands of tweeters used the hashtag #GiveElsaAGirlfriend to campaign for that storyline."
"Just last week, a similar hashtag campaign was used to urge Marvel, another subsidiary of Disney, to #GiveCaptainAmericaABoyfriend. Many already had a possible suitor for Cap in mind: Bucky Barnes, aka the Winter Soldier."
Christian parents, you are being warned. Your precious children are under attack by the Lesbian/Gay/Bi-Sexual/Transgender culture, a Sodom /Gormorrah culture which God has already destroyed once because He was so angry at their moral values.
Now Is The Time For God's People To "Separate"!
- 'I heard another voice from heaven, saying, Come out of her, my people, that ye be not partakers of her sins, and that ye receive not of her plagues.' (Rev 18: 4)
God is calling Christian parents to separate their precious children from Public Schools to save them from a secular (Socialist) world view. Common Core is a new label for state -controlled public education standards in an ongoing attempt to dumb down' the American educational system, a struggle that has raged for nearly 200 years. Common Core is a deficient education designed to produce the "Common Herd" work force for the New World Order.
In this DVD, we demonstrate that Christian Churches have gone into steep deline because they have refused for the past 40 years to take their precious children out of a godless Public School. For 8 hours daily, five days a week, public schools teach values straight from the Abyss, and then kids come home to watch Disney cartoons!
Parents, the time for action is NOW. Separate your children from these hellish values.
Do you care for your child's eternal soul? Your actions tell the truth.
---