1. As of 8am, Eastern Standard Time, the Pope had not arrived in Jerusalem to lead an Ecumenical Prayer Service, and to declare that all religions are now ONE, and he is their leader (False Prophet).
Apparently, the Illuminati has conducted a dry run, as a former Satanist has told me so many times, i.e., the Elite never carries out any major plan until the concept is attempted beforehand on a smaller scale. Now, the Global Elite knows that Muslims will not go to war to prevent some of their brethren from participating in a joint prayer and worship with Jews, Christians, and all manner of Polytheistic Religions.
Now, conference organizers can proceed to the next part of the plan to create a ONE World Religion, so let us review that part of this plan again, below.
NEWS BRIEF: "Occultic House of Theosophy Seminar Notes Reveal Details of Antichrist Appearance, plus Identifies Pope as False Prophet", NEWS1052, August 18, 1991
" 'Then, and only then, will it be possible to build a combination Temple/Church/Mosque in Jerusalem'. Bill Lambert refused to say that this combination church building would be built on the Temple Mount, as I directly questioned him. But, note that the specific part of the New World Order Plan, called the New Jerusalem Covenant Project, envisions the establishment of a combination religious Jerusalem -- Islam, Christianity, Judiasm."
This is the Plan which is slowly unfolding on the ground in Jerusalem.
The Elite has produced their first Jerusalem-based Monotheistic Prayer service in a temporary building without Islamic jihadists attacking the assembly. Now, construction can begin on a more permanent "combination Temple/Church/Mosque".
The Elite has proven that it is possible for Jews, Muslims and Christians to pray together for a solid week without one side attempting to annihilate the other. Soon, the Pope will step out of the new Combination Temple/Church/Mosque to declare all religions as one, and he is their global leader. He may even be elected top religious leader of the world by a panel of top religious leaders from all over the globe.
At that point, the Roman Catholic Pontiff will become the False Prophet of Rvelation 13.
Antichrist will be next on the world scene!
2. President Obama continues to publicly revile Israel, and in so doing, he "rushes in where Angels fear to tread"!
This President of the United States -- Barack Hussein Obama -- calls part of the Israel God gave to Abraham, Occupied Territory and insists that Israel must give this holy land back to the true infidels, the Palestinians!
NEWS BRIEF: "Obama Tells UN Israel Can't Permanently 'Occupy' Palestinian Land", Breaking Israel News, Sept 21, 2016
"U.S. President Barack Obama summarized his analysis of the Israeli-Palestinian conflict in his final address to the United Nations General Assembly in New York on Tuesday. Surely Israelis and Palestinians will be better off if Palestinians reject incitement and recognize the legitimacy of Israel…[and if] Israel recognizes that it cannot permanently occupy and settle Palestinian land," Obama said in a portion of his speech, calling for a "course correction" of nations on the path to 'global integration'."
President Obama desperately wants Israel to settle her differences with the Palestinian Authority so the world can continue rushing toward the New World Order, comprised of 10 super nations in a Global Government, a Global Economy and a Global Religion. The American President is looking for his 'legacy' and and "Two State Solution" giving the 'House of Esau' a portion of God's Holy Land as their nation would suffice.
To people like him, this Israeli-Palestinian conflict is simply and only a painful distraction, keeping the world from achieving its global goals. Obama had better harken to God in this matter:
"I will also gather all nations, and will bring them down into the valley of Jehoshaphat, and will plead with them (bring judgment) there for my people and for my heritage Israel, whom they have scattered among the nations, and parted (divided) my land." (Joel 3:2)
This land of Israel which Obama and his Global Elite are trying desperately to rid themselves, just so happens to belong to the only Almighty God, and He has given it to Israel in perpetuity!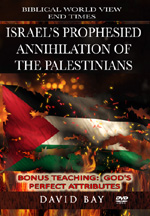 One day soon, God is going to demonstrate His power and authority in this matter, and cause Israel to carry out His prophecy in Obadiah, which He uttered almost 2,600 years ago.
Obadiah 15-18 foretells the annihilation by fire of an entire nation, the House of Esau, which today are the Palestinians. Israel possesses the "Weapon of Fire" (Fuel Air Bomb) that could fulfill this prophecy precisely!
Understanding how Israel is planning to carry out this annihilation soon is critical to comprehending events in Israel today between the Palestinians and Israel.
As we prove in this DVD, pictured above, Israel is ready to launch her annihilating war against an enemy whom God detested so much 2,600 years ago that He prophesied He would cause Israel to war against her and be His weapon by which He completely annihilates the Palestinians.
You will be shocked to see how close Israel is to launching this War of God's Judgment against the Palestinians.
This message is not for the faint of heart, as God reveals His annihilating attribute of Justice and Wrath. Fulfilling Obadiah may be the first major fulfillment of God's End of the Age judgments, triggering the rise of Antichrist.
These times are momentous, indeed!
3. Under the leadership of President Obama for the past 8 years, black/white race relations have significantly deteriorated, almost to the point of civil war.
How did America regress so much in so little time?
NEWS BRIEF: "In the Second Term of the First Black President, Rioting Is the New Normal", Rush Limbaugh, Sept 21, 2016
"RUSH: It's a sad observation, folks. I'm telling you, a sad, sad observation but it's an observation that I don't think I'm alone in making. It seems like rioting is almost expected now when there is a cop shooting. A cop shooting, period. Don't care about the details. It seems like it's now axiomatic that there's going to be rioting or massive public protests or threats of rioting or threats of unrest every time the cops have to draw their weapons. "
"Where are we here? We're in the United States of America. We are in the second term of the presidency of the first African-American president ever elected in this country, a former community organizer -- ah -- agitator, organizer, same thing, who promised and assured us, via hope and change, that none of this would survive the presidency. This kind of thing was destined for the ash heap. "
"The election the first African-American president, not just that act, but the man himself with his promises and his assurances is going to unify us, the country was going to become one, the nation was going to be loved by all the peoples of the world, and, via hope and change, there would be an unbridled optimism that would spread coast to coast, east to west, north to south, all across this country."
"African-Americans are routinely elected to positions of power all over this country, particularly in the Deep South. And yet it doesn't seem to have mattered. Why is that? "
Positive changes, like Rush noted above, do not prevent rioting because the Elite planned, 200 years ago, to use the Riot Tool as a means by which they were going to tear down the old, existing order:
"There is another reason also why they will close their eyes: for we shall keep promising them to give back all the liberties we have taken away as soon as we have quelled the enemies of peace and tamed all parties ..... It is not worthwhile to say anything about how long a time they will be kept waiting for this return of their liberties ....." [Protocol #11 -- The Totalitarian State]
The Elite planned 200 years ago to bring America to this point of self-destruction!
Now, let us return to our featured article, abovce:
"But it just seems like rioting is instantaneous in response and automatic now, seems like the standard reaction. It's becoming expected now ... After eight years of the Obama administration, racial tensions seem to have percolated, seem to have gotten worse, when everybody thought that they were gonna get better or even disappear."
"... Obama was the guy that was gonna have to lead. He was gonna have to lead. Hope and Change was gonna have to mean something." Hope and Change hasn't happened. There isn't a soul who believes is that Hope and Change is something positive that has any idea now that it was. But, I mean, who were the racists that were gonna stop being racists after Obama was elected? That's what was gonna have to happen. Who?"
The fact is that America seems to be teetering on the brink of a civil war / racial war, something the Elite want to occur so they can overthrown our current civilization and replace it with the coveted New World Order -- the Kingdom of Antichrist.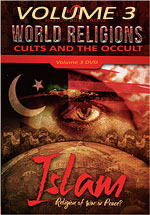 4. Since America is in a defacto war against extremist Islam, what are the differences between Donald Trump and Hillary Clinton on this most important subject?
NEWS BRIEF: "Where Trump, Clinton stand on Islamic extremism", The Times of Israel, September 23, 2016
"Recent spate of attacks, week before 1st presidential debate, has nominees offering vastly different visions for tackling terrorism ... with Donald Trump and Hillary Clinton offering dramatically different visions of how to fight it."
"Trump has embraced aggressive rhetoric in a plan that's short on detail, but centers on limiting immigration — both legal and illegal — and dispensing with 'politically correct' policies that currently block racial profiling and the use of torture.
"Clinton has offered policies that would focus on leveraging alliances and improving relationships with Muslim communities at home while working closely with technology companies to crack down on propaganda and communication that encourages 'lone wolf' attacks."
Let us quickly deal with a few specifics, to see how each candidate will deal with each subject:
1. Immigration
TRUMP -" His plan to combat illegal immigration ... has ranged from imposing a complete ban on foreign Muslims entering the United States" until they can be properly screened. His plan sounds like the one implementing by Democrat President Roosevelt immediately after the attack on Pearl Harbor, minus the concentation camps!
CLINTON - She has said she would expand President Barack Obama's refugee program from accepting 10,000 to about 65,000 Syrian refugees annually.
2. Fighting the Islamic State abroad
CLINTON - "She has said she would not authorize sending ground troops ... She also would increase diplomatic efforts aimed at resolving Syria's civil war and Iraq's sectarian conflict ... She has also called for an "intelligence surge" that would include Arabic speakers with deep expertise in the Middle East and a closer partnership with regional intelligence services."
This remedy is no remedy at all! President Obama followed this "diplomatic" plan and you can see his results in the unparalleled rubble of Syria's cities and in the equally unparalleled stream of desperate Syrian refugees spreading into Europe!
TRUMP: He has said repeatedly that he wants to 'bomb the hell out of ISIS' ... he would give generals "30 days to submit to the Oval Office a plan for defeating ISIS."
If America is to win this war against ISIS, we must wage a war stronger than the lukewarm war which has been waged under Obama. We need to wage an air war, for example, that is 1,500 strikes per day, rather than 150 as we have been waging for the past 8 years. For once since World War II and Gulf War I (1991), we need to fight a war with the intention of winning it.
3. Domestic attacks
TRUMP: He has repeatedly endorsed racial profiling in the United States as a counterterrorism tool. Trump has repeatedly signled out Israel's successful profiling tactics as a model he would like to follow.
CLINTON: She wants local law enforcement to develop improved relationships with Muslim community leaders..."
This tactic is like holding hands with a murderer, hoping they would peacefully change!
4. Coalition building
TRUMP: He has made "America First" a key campaign slogan and has suggested he would pull back on international relationships.
CLINTON: She has pointed to a need to build international coalitions. In a reference to Trump's approach, she warned last month that, "You don't build a coalition by insulting our friends or acting like a loose cannon ... And she has pointed to her coalition-building record as secretary of state, including an 18-month effort to impose sanctions on Iran in an effort to hinder its nuclear programs."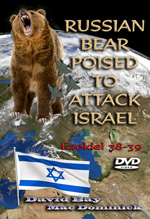 Yeah, Secretary of State Hillary Clinton, how has your policy on Iran turning out? After years of begging the Persian State to agree to some kind of an agreement you could call "success", you produced a "non-agreement agreement" that you touted to the world loudly as "solving" the nuclear threat.
Yet, today, Iran is boldly telling the world how she so easily "snookered" the America President and his inane blonde-haired female Secretary of State. Israel has never felt more threatened and your words of "Peace and Safety" will produce the incredible "Gog and Magog" invasion of Israel as foretold in Ezekiel 38-39 (See our DVD, "Russian Bear Poised To Attack Israel" for full prophetic details)
Hillary Clinton is not only ineffectual, but she is dangerously close to committing treason with Islamic sympathizers!
Remember, Hillary has very close subordinates to her who are Islamic Brotherhood. Since America has been at war with Islam since Gulf War I in 1991, we find it very difficult to believe that Hillary's closest ally -- a member of the Muslim Brotherhood -- works at her side every single day.
5. Has Republican candidate, Donald Trump, just been given an assasination threat?
NEWS BRIEF: "BIZARRE MESSAGE PLAYS ON "HACKED" RADIO STATION: "TRUMP WILL GO 26TH": First presidential debate between Trump and Hillary Clinton will take place on September 26th in Hempstead, NY., InfoWars, September 21, 2016
"A man driving on the New Jersey Turnpike recorded a bizarre radio message that repeatedly stated the words, 'Trump will go 26th', leading some to speculate that the station had been hacked." (Emphasis added)
"The message was heard on 1630 AM at 7am on Monday morning and went on for a full five minutes ... People in the comments speculated that the radio station had been 'hacked' and that the message was a 'rogue transmission'."
" People contacted Chester Township NJ 1630AM, but employees apparently had no idea that the message had been broadcast. By coincidence, the first presidential debate between Trump and Hillary Clinton will take place on September 26th in Hempstead, NY."
Remember our original thesis: the Illuminati has been pursuing the New World Order since 1791 and will not tolerate a leader who threatens to turn America aside from that goal.
Trump should be concerned with the assasins bullet and/or the poisonous dish!
---
"False Prophet Soon To Step On World Stage: Plan To Produce Him Just Now Set In Motion"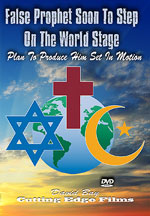 New from David Bay, Director, Cutting Edge Ministries
The Global Elite has devised a mechanism by which they intend to finally form the One World Religion and stage the Roman Catholic Pope as the top leader of this global religion. That makes the Pope the False Prophet, the Second Beast of Revelation 13.
What is this mechanism? At the right moment in history....
---
ANOTHER NEW PASTOR CRONE DVD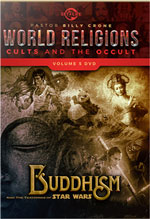 "Buddhism: World Religions, Cults & The Occult - Volume 5"
New Age leaders, led by Benjamin Creme, have always stated that the coming New Age Christ (Antichrist) will take the Buddhist name, Maitreya, a Buddhist god.
Pastor Crone thoroughly reveals the essence of Buddhism. Here are the key subjects:
* What are the Four Noble Truths & Eightfold Path of Buddhism?
* What are the Dangers of the Pokemon Go Craze?
* Is George Lucas a Buddhist?
* What Religion Do the Star Wars Movies Actually Portray?
* Are There Really Jedi Churches Across the World?
* Who Started Buddhism & What was its Founder Really Like?
* Is Buddhism Being Taught in Schools Today?
* Martial Arts
6 Lessons on 2 Disks, almost 6 hours - http://www.cuttingedge.org/detail.cfm?ID=2743
Popular New DVD Series
World Religions Volume 4 -- "Hinduism"