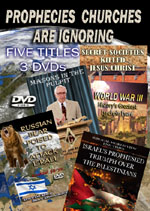 DVD Set
1. Republican Presidential candidate, Donald Trump, pledged to recognize Jerusalem as Israel's capital immediately upon taking office!
NEWS BRIEF: "Trump vows to recognize Jerusalem as Israel's capital after meeting Netanyahu", Russia Today News, 26 September 2016
"Republican nominee Donald Trump pledged to recognize Jerusalem as the 'undivided capital' of Israel if elected president as he met with Benjamin Netanyahu in New York ... Trump and Netanyahu met on Sunday at Trump's residence behind closed doors. Trump was accompanied by his son-in-law and a campaign adviser, Jared Kushner, while Netanyahu brought Israel's Ambassador to US, Ron Dermer."
"... the Republican's campaign issued a statement, saying that Trump pledged to develop 'extraordinary strategic, technological, military and intelligence cooperation between the two countries' if elected president."
"Mr. Trump acknowledged that Jerusalem has been the eternal capital of the Jewish People for over 3,000 years, and that the United States, under a Trump administration, will finally accept the long-standing Congressional mandate to recognize Jerusalem as the undivided capital of the State of Israel', the statement reads."
Trump is said to have a bias TOWARD Jews, and this statement certainly seems to prove that observation.
NEWS BRIEF: "Pride and Affirmative Prejudice: Donald Trump and the Jews - Trump seems to have an affirmative prejudice TOWARD Jews", The Jerusalem Post, 9/19/2016
"NEW YORK –THROUGHOUT MUCH of his adult life and childhood, at seemingly every significant juncture in his business career, Donald J. Trump has surrounded himself with members of a single minority group. His relationship with the Jewish community offers exceptional insight ... THROUGHOUT MUCH of his adult life and childhood, at seemingly every significant juncture in his business career, Donald J. Trump has surrounded himself with members of a single minority group."
"... he considers Jews to be rich, smart, and resourceful and generally powerful deal makers – all traits which Trump himself aspires to, and has sought to emulate ..."
Therefore, Trump seeks out the advice of influential Jewish advisers. He will truly be the President most friendly toward Israel, not Hillary Clinton, who has hired influential Muslims in her organization -- Muslims who are radical and very sympathetic to organizations like the Muslim Brotherhood!

2. Leaked emails show that Hillary Clinton was the force behind the 2011 "Arab Spring Movement" which devastated numerous nations in the Middle East and Northern Africa.
NEWS BRIEF: "Hillary Clinton Sponsored Secretive 2007 Arab Spring Program that Destabilized Middle East", Breitbart News, 23 Sept 2016
"WASHINGTON, D.C. – The U.S. State Department under the leadership of Secretary Hillary Clinton continued a program to embolden foreign, revolutionary, social media activists to agitate for regime change in various parts of the world. The program arguably had major, detrimental consequences for the trajectory of the Middle East."

"Recent leaks show a memo that top Clinton aide Huma Abedin sent to her boss stating, 'I'm giving you credit for inspiring the 'peaceful' protests', with regard to Egypt, with quotation marks around the word 'peaceful'."
"The United States government is believed to have utilized a program called the Alliance of Youth Movements Summit, co-founded by a close Hillary Clinton adviser, to provide networking opportunities for an activist plotting to overthrow Egyptian leader Hosni Mubarak several years before the "Arab Spring" protests that led to widespread regime change in the Middle East."
Therefore, public documents reveal that Hillary Clinton provided the force needed to implement this internal dissent program known as "Arab Spring Movement", the force which overthrew dictators in Afghanistan, Iraq, Egypt, Libya, Morocco, Syria and Lebanon. Syria and Saudi Arabia are slowly twisting in the wind.
Hillary provided the leadership to overthrow these regimes, beginning in 2011.
But, Cutting Edge revealed in March, 2003, that this "Arab Spring Movement" was simply the "next step" in President Bush's strategy entitled, "The Pentagon's New Map". Clinton was simply carrying out the "next step" in Bush's plan.
Once completed, this Pentagon's New Map will have overthrown all dictators in this area, which forms Supernation #7 in the Elite Plan to fulfill Daniel 7:7-8 by reorganizing the world into exactly 10 supernations!
This truth that Hillary Clinton is just fulfilling a plan initiated by President George Bush simply continues to prove that there is no bottom line difference between Democrat and Republican leaders, since both are equally committed to this New World Order -- the NOVUS ORDO SECLORUM on the back of the American One Dollar Bill.
3. President Obama arrogantly and ignorantly lectures Israel that she cannot continue to "occupy" the land in which the Palestinians are now living.
NEWS BRIEF: "Obama Tells UN Israel Can't Permanently 'Occupy' Palestinian Land", Breaking Israel News, 9/21/2016
"U.S. President Barack Obama summarized his analysis of the Israeli-Palestinian conflict in his final address to the United Nations General Assembly in New York on Tuesday. 'Surely Israelis and Palestinians will be better off if Palestinians reject incitement and recognize the legitimacy of Israel…[and if] Israel recognizes that it cannot permanently occupy and settle Palestinian land', Obama said in a portion of his speech, calling for a "course correction" of nations on the path to "global integration." (Emphasis added)
Almighty God Himself gave the Holy Land of Israel permanently to Abraham! Listen:
"In the same day the Lord made a covenant with Abram, saying, Unto thy seed have I given this land, from the river of Egypt unto the great river, the river Euphrates" (Genesis 15-18)
This promise also included the Gaza Strip.
"The Jewish claim to the land goes back to the fifteenth chapter of the book of Joshua, when the tribe of Judah was allotted its portion of the land of Israel – promised by God to the descendants of Abraham, Isaac and Jacob. The territory encompassing 'Gaza, its settlements and villages, as far as the Wadi of Egypt and the coastline of the Great Sea', was to make up the western portion of Judah's inheritance."
The President also reveals his almost total lack of Biblical knowledge, not realizing that, in God's sight, the Palestinians are the "occupiers"! He does not know that God issued very strong warnings against anyone attempting to divide His Land, Israel.
"FOR BEHOLD, in those days and at that time when I shall reverse the captivity and restore the fortunes of Judah and Jerusalem, I will gather all nations and will bring them down into the Valley of Jehoshaphat, and there will I deal with and execute judgment upon them for their treatment of My people and of My heritage Israel, whom they have scattered among the nations and because they have divided My land." [Joel 3:1-2]
God warns that, at the End of the Age, after He brings Israel back to land as a nation, certain people will seek to divide the nation. He threatens Divine Judgment upon all who seek to divide Israel!
4. Hillary Clinton continues the Liberal idiotic dogma that only Government gun seizure can make us safe from terrorist attacks.
"We Cannot End Terrorism Without Gun Control!
NEWS BRIEF: "Hillary Clinton: We Cannot End Terrorism Without Gun Control", Breitbart News, 23 September 2016
"In response to questions from AARP Bulletin, Hillary Clinton made clear her position that to be successful, policies for ending terrorism must include gun control for all Americans. ... But I'm looking at violence broadly. … It's also why I've advocated gun-safety reform, like comprehensive background checks, closing the gun-show loophole, closing the online loophole—because, you know, it's not only terrorists we need to be worried about. Terrorism is part of it, but gun violence kills ... Americans a year. … We've got to get serious about stemming violence and terrorism in every way we can."
No one has yet convinced me that, if a terrorist / criminal is pointing a gun in my direction, I am safer if I am disarmed and depending upon police to arrive in 10-15 minutes! Such logic is absurd and yet government officials like Hillary Clinton and President Obama keeps spouting such nonsense.
Allowing law-abiding citizens the right to defend themselves with a firearm is always the better option, one which ensures that, with citizens armed, the Federal Government cannot turn its guns on the people, making slaves of them. Did you know that Adolf Hitler successfully persuaded Germans to surrender their private weapons, after which he promptly established a brutal dictatorship?
Even the founder of "Black Lives Matter" admits that Gun Control keeps urban citizens totally dependent upon the Federal Government!
NEWS BRIEF: " 'Black Guns Matter' Founder Reveals: Gun Control Keeps Urban Residents Dependent on Government", Breitbart News, 25 Sept 2016
"... Black Guns Matter (BGM) founder Maj Toure explained that gun control is one of the tools Democrats use to keep urban residents dependent on government ... Toure stressed that gun control plays a role in creating this dependence. He said the urban demographic is kept in the dark about their Second Amendment rights 'by design'. Therefore, it is 'not an accident' that residents on Chicago's South Side or Baltimore's inner city associate guns with crime rather than self-defense and freedom. They are not told about their rights in hopes of making them increasingly dependent on the government for protection."
At last, a radical leader speaks the truth about how interrelated gun ownership is to personal freedom!
5. Dead People continue to vote in Colorado elections.
NEWS BRIEF: "Dead people voting in Colorado", Washington Examiner, 9/24/2016
"Local officials in Colorado acknowledged "very serious" voter fraud after learning of votes cast in multiple elections under the named of recently-deceased residents. A local media outlet uncovered the fraud by comparing voting history databases in the state with federal government death records. "Somebody was able to cast a vote that was not theirs to cast," El Paso County Clerk and Recorder Chuck Broerman told CBS4 while discussing what he called a "very serious" pattern of people mailing in ballots on behalf of the dead."
Remember the sage wisdom of that prominent Illuminati leader, Josef Stalin:
"He who votes counts for nothing; but he who counts the vote, counts for everything"!
Voter fraud has always been a part of American elections, and it is not just in Colorado.
---
Fascinating News!! - NEW DVD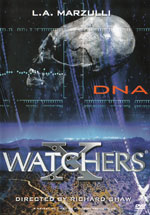 Watchers 10 The Worldwide Nephilim Cover-up, by L.A. Marzulli
For years, there has been an on-going effort to get samples to perform DNA testing on the Peruvian skulls and other organic creatures. Bureaucratic red tape, the TSA, and other roadblocks have prevented it. But now, after decades of being hidden in a box in Oregon, a huge Peruvian skull is found one that has been in the U.S. for so long it became available for DNA testing. Along with this, the red hairs from the baby mummy (WATCHERS 8) and three other skulls were tested. The origins of the elongated-skull people are finally known scientifically.
Every civilization has stories of gods coming from the sky and producing offspring with human women. Most people tend .... Read full description
---
ANOTHER NEW PASTOR CRONE DVD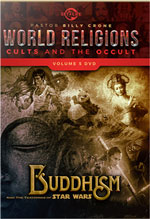 "Buddhism: World Religions, Cults & The Occult - Volume 5"
New Age leaders, led by Benjamin Creme, have always stated that the coming New Age Christ (Antichrist) will take the Buddhist name, Maitreya, a Buddhist god.
Pastor Crone thoroughly reveals the essence of Buddhism. Here are the key subjects:
* What are the Four Noble Truths & Eightfold Path of Buddhism?
* What are the Dangers of the Pokemon Go Craze?
* Is George Lucas a Buddhist?
* What Religion Do the Star Wars Movies Actually Portray?
* Are There Really Jedi Churches Across the World?
* Who Started Buddhism & What was its Founder Really Like?
* Is Buddhism Being Taught in Schools Today?
* Martial Arts
6 Lessons on 2 Disks, almost 6 hours - http://www.cuttingedge.org/detail.cfm?ID=2743