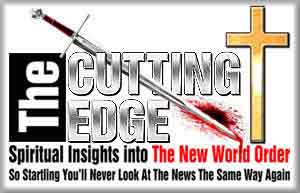 News Alert
Monday 10/2/2017

View the full News Alert online here
---
We truly need your support now to continue reaching the lost.
As we approach the First of October, we are in dire need of additional support. Christians are really cutting back on their purchases, as they face the certainty of outbreak of war on the Korean Peninsula plus Israel fighting her Obadiah war against the Palestinians -- World War III.
But, Cutting Edge is poised to lead a global warning to all sinners to repent and receive Jesus as Savior during these times where "men's hearts are failing them for fear". In the past 21 years, Cutting Edge has shared the Gospel (What Must I Do To Be Saved?) to almost 3,000,000 people. We believe that ten times that many people might be reached during these horrific prophesied/planned terrors.
But, to realize this wonderful soul-winning potential, Cutting Edge must continue and that means we need your financial help now.
We are also introducing new DVD's and Books, whose purpose is to educate you and inform you of current news in light of End Times prophecy. We need your support in the Bookstore.
We're a small non-profit with costs of a top website: servers, staff, studio expenses and programs. We believe everyone should have access to free knowledge, without restriction or limitation. If Cutting Edge is useful to you, please take one minute to keep us online and to keep us reaching out to over 75,000 people a year with the Plan of Salvation.
If the Lord has blessed you this year, and if you value the special prophetic viewpoint which Cutting Edge provides, please favor us now with a special gift. Just click on the green button and follow the prompts.
We have tried to make supporting Cutting Edge Ministry easy and convenient, with our green "Donation Button".

May Jesus Richly Bless You. David Bay, Director
---
---
Critical News Headlines -- End Times
1. A deranged shooter carried out a mass shooting from the Mandalay Hotel in Las Vegas Sunday night.
He killed 50 people, wounding over 400, before committing suicide.
UPDATE: 'Islamic State' -- ISIS -- claimed the Las Vegas shooting, saying murderer was a recent convert of Islam.
2. Getting Americans so sick and tired of mass shootings that we finally accept strict gun control/seizures legislation is the goal here.
How close is the Establishment to achieving this goal?
The New World Order dictatorship cannot be established until guns are seized.
3. A former Google employee is developing an Advanced Intelligence (A.I.) Robot 'Godhead' for Humans to 'Worship'
Could this be the super-advanced speaking image which the False Prophet sets up in the rebuilt Holy of Holies for peoples of the world to worship? (Revelation 13:14-15)
4. When the Mayor of San Juan, Puerto Rico, criticized President Trump for his performance in getting supplies to the hurricane-devastated island, the best response comes from the Governor of Puerto Rico?
Did you know that the Mayor of San Juan is a fervent supporter of Hillary Clinton?
5. Can you believe that Liberal Democrats in this country have fallen for the lies of the Mass Media concerning the President?
69% of Democrats Say Trump A Bigger Threat Than North Korea's 'Rocket Man'!
6. Cutting Edge believes the following wars are going to break out in the next few weeks / months, as explained by these three DVD's:
We Have Dramatically Upgraded Our Most Explosive DVD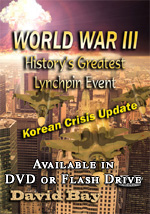 "DRAMATIC UPGRADE FINISHED AUGUST 23, 2017, REPORTING CHANGES IN THIS STAGED WAR IN NORTH KOREA SINCE PRESIDENT TRUMP'S INAUGURATION ON JANUARY 20, 2017!
In the minds of most people, two words carry so much emotional baggage that people cringe whenever they hear these Apocalyptic words. 1) 1) Armageddon; 2) World War III.
In the past 20 years, whenever a battle begins in the Middle East or whenever a verbal confrontation breaks out between major powers, 'gloom and doom' scare-mongers immediately begin to shout 'World War III',much like a person yells 'FIRE' in a crowded theater.
Bible prophecy reveals that Antichrist will be produced on the world scene by a number of signs, including 'wars and rumors of wars'. Demonic familiar spirits told the Elite in 1870 that three world wars will be needed to produce Antichrist. Make no mistake about it: Antichrist will be produced by World War III.
Therefore, the question of the hour is, 'when will this global war begin' and 'what are the signs it is about to commence'? Many major events are planned to occur just as World War III begins. Mankind will be systematically hit with unparalleled disasters of every kind as this planned global war unfolds. But, none of these events will occur until the lynchpin called 'World War III' is pulled.
When the Global Elite pulls this lynchpin event called World War III, events are going to be unleashed in such severity and in such great numbers the peoples of the world will not stand in awe, they will panic and run for the hills. Jesus said that 'men's hearts shall fail them for fear', and the Elite is creating just such climactic events which shall not occur until the lynchpin known as 'World War III' is pulled.
We will show you the 12 major disasters the Elite has created and is waiting only for the beginning of World War III to unleash them all, almost at once. No one need fear that any of these disasters will jump across the starting line ahead of time; each awaits the 'pulling of the lynchpin', World War III.
Run Time Is Now 77 Minutes -- This upgraded DVD is shipping NOW!
See the full text of these articles below our book store update
New Headline News Analysis Article
Are You Prepared For The Avalanche of 'Fake News' Which Will Overwhelm News Broadcasting During The North Korean Confrontation?
---
NEW BOOKLETS DESIGNED TO FIGHT OUR SOCIETY'S CURRENT BIBLICAL DECAY -- Only $1.95 Each
The Apostle Paul prophesied that Antichrist could not arise until and unless the Christian Church had undergone unprecedented spiritual apostasy (a great falling away from sound spiritual doctrine). Listen to Paul's exact words of warning:
"Let no man deceive you by any means: for that day (Jesus' Return) shall not come, except there come a falling away first (the great rebellion, the abandonment of the faith by professed Christians), and that man of sin be revealed, the son of perdition (lawlessness)." (2 Thessalonians 2:3. Parallel Bible, KJV/Amplified Bible Commentary)
These booklets are written so that the many false teachings of today, which are so pervasive and persuasive, shall be exposed! We must attempt to prevent our slide into the very kind of apostasy which the warnings of the Apostle Paul foretold.
False Christian leaders are spiritually opening the door to Antichrist!
Our newest addition of the booklets: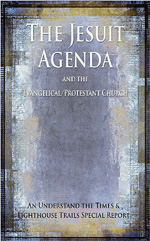 "The JESUIT Agenda"
Booklet: by Editors of Lighthouse Trails, only $1.95
The Jesuit Secret Society has been one of the most occult global forces for the appearance of Antichrist and the False Prophet. Only the Masters of the Illuminati, founded by former Jesuit priest, Adam Weishaupt, can claim to be as powerful in world events and in prophetic fulfillment as this 'Society of Jesus'.
In order for this one-world religion and government to happen, all religions must come together in an ecumenical plan. Today, as part of this Satanic scheme, the evangelical/Protestant church is being drawn seductively into the Roman Catholic church, largely through what we call 'The Jesuit Agenda.'
This booklet even proves that the "Jesuit Oath" is real and it reprints key portions!
You will not believe the power of this message!
Your understanding of history will also change instantly and dramatically.
---
Book of Genesis: Critical to Christian Faith
New DVD Series by Mac Dominick
"GENESIS: The Foundation of Our Faith "
Volume 1, In The Beginning, GOD Created
Regularly $24.99, Only $19.99
If you liked Mac Dominick's Revelation Series you will love his Genesis Teaching, because Mac also teaches a combination of Traditional Bible exegesis plus unique Cutting Edge understandings.
---
1. A deranged shooter carried out a mass shooting from the Mandalay Hotel in Las Vegas Sunday night.
NEWS BRIEF: "Las Vegas Strip shooting", USA Today, October 2, 2017
"A gunman opened fire from a hotel room above a packed, outdoor concert in Las Vegas, killing at least 50, wounding 400 more and prompting chaos as the panicked crowd scrambled for cover or simply ducked to avoid the onslaught from the deadliest mass shooting in modern U.S. history."
Was this a terror attack?
Did the shooter have an accomplice?
Did the shooter express allegiance to Allah?
"Clark County Sheriff Joe Lombardo said the shooter, identified as Stephen Paddock, 64, was found dead by officers who stormed his 32nd-floor room at the Mandalay Bay Resort and Casino. Lombardo did not directly address the issue of terrorism, but described Paddock as "a distraught person intent on causing mass casualties."
" 'We have no idea what his belief system was', Lombardo said. 'We believe he was the sole aggressor'."
UPDATE: 'Islamic State' -- ISIS -- claimed the Las Vegas shooting, saying murderer was a recent convert of Islam.
NEWS BRIEF: "Islamic state claims Las Vegas shooting, says attacker recent convert to Islam", Reuter's News, Oct 2, 2017
"CAIRO, Oct 2 (Reuters) - Islamic State has claimed responsibility for a shooting that killed at least 50 people and wounded over 400 in Las Vegas early on Monday, and said the attacker had converted to Islam a few months ago. 'The Las Vegas attack was carried out by a soldier of the Islamic State and he carried it out in response to calls to target states of the coalition', the group's news agency Amaq said in reference to the U.S.-led coalition fighting the group in the Middle East."
Long-time C/E subscribers will remember our warnings during the days of President George W. Bush, when we were pounding civilian areas with massive weapons and killing a lot of civilians. We also boldly coverered the sexual torture of Abu Ghraib.
We warned then that we were turning civilians into Islamic terrorists who one day could wind up in America, shooting innocent American civilians. Unfortunaely, our warnings were not heeded and now we are seeing the terrible fruits of wanton use of force against civilians.
Even under President Obama, America's killing of civilians continued. Obama's choice of weapons to kill innocent Arabs was the heavily armed drone. Obama killed far more people with the drone than did Bush.
Now, returning to our current story in Las Vegas:
He killed himself amidst a sachet of guns he had assembled.
NEWS BRIEF: "Las Vegas shooting: Gunman Stephen Paddock, 64, killed himself in Mandalay Bay", Las Vegas Review, October 2, 2017
"Stephen Craig Paddock was a resident of Mesquite, Nevada, with no known terror connections. Police have confirmed the identity of the killer, while US media is reporting he was a white male who had been living in a retirement community."
This man was NOT poor!
"The Nevada native is believed to be a grandfather who lived with Marilou Danley in Babbling Brook Court. Records show Paddock lived in a three-year-old, £297,554 ($396,000) two-bedroom home in the tiny desert community of Mesquite."
The shooter had assembled quite a number of rifles, which would explain how he could just continue firing for as long as he did.
"Authorities 'located numerous firearms' in Paddock's hotel room as investigations into the incident continue. Mr Lombardo continued: 'All's we know is that they were rifles. We are executing a search warrant on the room."
According to the usual pattern for Mind Control mass shooters, Paddock committed suicide before police could arrest him. We elaborate below: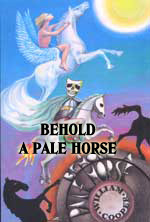 2. Getting Americans so sick and tired of mass shootings that we finally accept strict gun control/seizures legislation is the New Age goal here.
Our nation has been agonizing over the terrible spate of Mass shootings since 1988, who would have thought the Illuminati had instigated them in order to further destabilize our culture so as to bring on their New World Order? All these upsetting events have a cumulative effect far beyond their individual force. They make many people feel bad about their lives and about our civilization, as these people question, "what is wrong with our society that such murderous rampages are occurring"? When enough of these upsetting events occur, the Illuminati will have enough people questioning our current society that they will embrace the coming superman (Antichrist) as he proposes a brand new society, based upon brand new values.
These shootings, plus school shootings, greatly stirred the anti-gun lobby. One such lobby issued a report in which they examined the shootings from 1963-2001 and discovered that the firearms in a great majority of the cases were purchased legally. ["Where'd They Get Their Guns? An Analysis of the Firearms Used in High-Profile Shootings, 1963 to 2001", Violence Policy Center]
The unavoidable implication is that gun laws needed to be changed so that such mass murders could not be committed.
New Age author, Bill Cooper, had much to say about the thorough planning the Illuminati has undertaken concerning using mentally ill men on prozac / ritalin to program them to carry out public shootings. Thus, even before this tragedy in Maryland, gun control advocates were turning to more powerful images that provoke stronger emotional responses. Now, these groups will have even more ammunition than ever before. I will be very interested to see if these men kill themselves before they are captured, a common programmed tactic of mind control victims. Then, I will be interested to see if the shooters were inmates in any government mental institution. Have they taken Ritalin or any such drug in the recent past?
New Age author Bill Cooper mentions two drugs, Ritalin and Prosaic. Listen now to what he has to say specifically about Prosaic."Using drugs and hypnosis on mental patients in a process called Orion, the CIA inculcated the desire in these people to open fire on schoolyards and thus inflame the antigun lobby. This plan is well under way, and so far is working perfectly. The middle class is begging the government to do away with the 2nd amendment." [Cooper, "Behold A Pale Horse", p. 64]
But, then New Age author Cooper drops the bomb on this subject of school shootings:
"Author's note: I have found that these events [public shootings] have indeed happened all over the country. In every instance that I have investigated -- the incident at the women's school in Canada, the shopping center in Canada, the Stockton, California, massacre, and the murder of Rabbi Meir Kahane -- the shooters were all ex-mental patients or were current mental patients who were all on the drug PROZAC! This drug, when taken in certain doses, increases the serotonin level in the patient, causing extreme violence. Couple that with a posthypnotic suggestion or control through an electronic brain implant or microwave or E.L.F. Intrusion, and you get mass murder ..." [Cooper, p. 225]
This New Age author wrote his book, "Behold A Pale Horse", because he realized the terrible nature of the New World Order that he had been working so hard to bring about all the time he was in Naval Intelligence. His information is from the inside and checks out with other sources. When he says School Shootings are staged by the same government driving the world into the New World Order"
How close is the Establishment to achieving this goal?
Immediately after each mass shooting, Liberals appear on some Media to demand that "sensible gun controls" be established immediately. What they fail to mention is that, in every city and state in which their restrictive gun controls are in place, crime has simply skyrocketed!
In effect, these cities in which gun control has been tightly imposed have become "Gun Free Zones", enabling shooters to pick a soft target in which no guns will be firing back at them as they take the time to accurately aim their guns.
NEWS BRIEF: "Democrats Immediately Call For Gun Control After Las Vegas Shooting", The Daily Caller, October 2, 2017
"Congressional Democrats chose not to wait for all the facts to come in before immediately pushing for increased gun control measures following the Las Vegas shooting Sunday night ... leading Democrats are already demanding stricter gun control legislation..
* Connecticut Sen. Chris Murphy -- " 'the thoughts and prayers of politicians are cruelly hollow if they are paired with continued legislative indifference' ... Congress 'get off its ass and do something' following the shooting.
* Massachusetts Sen. Elizabeth Warren -- "Tragedies like Las Vegas have happened too many times ... 'We need to have the conversation about how to stop gun violence. We need it NOW'."
* Twice-failed presidential candidate Hillary Clinton -- 'Our grief isn't enough. We can and must put politics aside, stand up to the NRA, and work together to try to stop this from happening again'."
* Vermont Sen. Bernie Sanders - "It is long past time for Congress to take action on gun safety to save innocent lives,"
* Massachusetts Sen. Ed Markey -- demanded Congress "close the gun show loophole" in response to the shooting. (There's no evidence at this time that Paddock bought his weapons at a gun show.)"
* Massachusetts Rep. Seth Moulton -- "As after #Orlando, I will NOT be joining my colleagues in a moment of silence on the House Floor that just becomes an excuse for inaction ... Thinking of everyone in #LasVegas, and praying Congress will have the courage to do more than stand in silence to commemorate them.. '
* New York Rep. Carolyn Maloney -- demanded Congress 'show they care by taking action' on gun control."
The dirty little secret about Gun Control legislation is that not one mass shooting would have ever been stopped by any of the proposals of Gun Control -- Gun Seizure -- advocates"
Remember History:
The New World Order dictatorship cannot be established until guns are seized.
Listen to the dissent from Judge Kozinski of the 9th Circuit Court of Appeals:
"The majority falls prey to the delusion-popular in some circles-that ordinary people are too careless and stupid to own guns, and we would be far better off leaving all weapons in the hands of professionals on the government payroll. But the simple truth-born of experience-is that tyranny thrives best where government need not fear the wrath of an armed people … All too many of the other great tragedies of history-Stalin's atrocities, the killing fields of Cambodia, the Holocaust, to name but a few-were perpetrated by armed troops against unarmed populations. Many could well have been avoided or mitigated, had the perpetrators known their intended victims were equipped with a rifle and twenty bullets apiece, as the Militia Act required here ... If a few hundred Jewish fighters in the Warsaw Ghetto could hold off the Wehrmacht for almost a month with only a handful of weapons, six million Jews armed with rifles could not so easily have been herded into cattle cars."
Amen! Adolf Hitler did not impose his most repressive dictatorship until he had convinced German citizens, including Jews, to voluntarily surrender their private guns to the police!
Jude Kozinski continues: