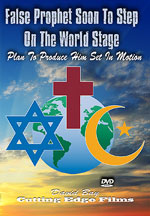 DVD
2. The Palestinian Authority is attempting to work through the United Nations Security Council to force Trump to reverse his recognition of Jerusalem as the Capital of Israel.
NEWS BRIEF: "Can the UN Security Council Reverse Trump's Jerusalem Recognition?", Breaking Israel News, December 11, 2017
"The Palestinians are pushing the United Nations Security Council (UNSC) to demand that the US reverse its recognition of Jerusalem as Israel's capital. At an emergency session of the UNSC on Friday convened by eight of the council's 15 members, 14 member states condemned the US move."
When 14 Security Council nations reject America's recognition of Jerusalem as Israel's capital, you can safely say that the entire world has turned against both Israel and America.
Truly, mankind is swirling toward that moment foretold in Revelation:
"For they are the spirits of devils, working miracles, which go forth unto the kings of the earth and of the whole world, to gather them to the battle of that great day of God Almighty" (Armageddon).
Returning to our featured article:
"Due to U.S. being one of five permanent members of the UNSC, the passage of a resolution on the matter is unlikely. U.S. Ambassador to the UN Nikki Haley defended the recognition of Jerusalem as Israel's capital, stating that America remains a credible peace partner in the Israeli-Palestinian conflict. She blamed the world body for being the real obstacle to peace.
" 'The United States has credibility with both sides. Israel will never be, and should never be, bullied into an agreement by the United Nations, or by any collection of countries that have proven their disregard for Israel's security', Haley said."
You see, this situation is precisely why it is so important for Sovereign Nations to exist so that the nation can collectively provide safety and security for its own people. Because America and Israel are Sovereign Nations, they can resist the pressure of the world body on this most important matter.
Without National Sovereignty, Israel would be forced by the United Nations to back down on this issue of Jerusalem being her historic capital.
Now, can you see why the Illuminati Plan places such a high premium on ALL nations surrendering their individual sovereignty to the world body?
Israeli leadership is preparing for war on her Northern Border is just a few weeks.
NEWS BRIEF: "Israel's Ambassador to the US Dermer: War on northern border could be just 'weeks' away", Israel National News, 12/5/2017
"The chances of war on Israel's northern border could be 'weeks' away, according to Israel's Ambassador to the US Ron Dermer ... the chances of a military conflict taking place in the near future between Israel and the Iran-backed Hezbollah terror group were 'higher than people think because of Iran's continued push through the region'."
" 'If Iran is not rolled back in Syria, then the chances of military confrontation are growing. I don't want to tell you by the year or by the month. I'd say even by the week', Dermer assessed.
Iran will not be rolled back in Syria, because both Iran and Russia will resist this rollback. Russia and Iran now have troops on the ground in Syria, at some points only 3 miles from Israel's border.
Over a period of time, Iran and Russia will infiltrate growing numbers of ground troops.
Russia is preparing to attack Israel in fulfillment of Ezekiel 38-39.
Democrat Party deputy Chairman puts his party on the wrong side of history, calling Trump's Jerusalem decision a "horrible tragedy"!
NEWS BRIEF: "Deputy DNC Chairman: 'Recognizing Jerusalem as Israel's capital a horrible tragedy', Israel National News, 12/5/2017
"A top Democrat warned President Donald Trump against recognizing Jerusalem as Israel's capital Monday night, calling the expected declaration 'a horrible tragedy' ... On Monday, Democratic National Committee deputy chief and Minnesota congressman Keith Ellison also expressed opposition to the possible announcement on Jerusalem, calling it a 'horrible tragedy'."
" 'I believe in a two-state solution – an Israeli state and a Palestinian state side by side in peace and security', Ellison told Democracy Now!. 'So issues of where the capitals will be has always been something that will be negotiated in the course of a peace agreement between Israelis and Palestinians'."
There is an old saying here that bears greatly on this subject: Insanity is trying the same failed action time after time and expecting a different result. The United States tried to negotiate peace between Israel and the Palestinians in 2000, when President Clinton and Israeli Prime Minister Rabin gave Palestinian Authority dictator, Yassir Arafat, over 90% of what he demanded -- and Arafat walked out and ordered a new Intifada (domestic war) against Israel.
For two decades now, every effort by every President since then has been met with the same inflexible demand from the Palestinians: dismantle Israel, expel the Jews and then the Palestinian Authority will agree to the negotiations.
Every Democrat who stands against the recognition of Jerusalem as the capital of Israel is identifying themselves as standing against Biblical authority on this matter.
In fact, every person who opposes Israel on this issue of forcing a "two-state" fantasy on Israel is opposing God because such a agenda requires "dividing" God's Land! Listen:
"For, behold, in those days, and in that time, when I shall bring again the captivity (restore the fortunes) of Judah and Jerusalem..." (Joel 3:1, KJV)
NOTE: God fulfilled this prophecy on May 15, 1948, when Israel declared herself a nation again. From this point onward, the rest of Joel 3 has gradually unfolded.
"I will also gather all nations, and will bring them down into the valley of Jehoshaphat (Middle East) , and will plead with them there for my people and for my heritage Israel, whom they have scattered among the nations, and parted (divided) my land." (Joel 3:2, KJV)
Anyone who advocates a "two-state" goal is advocating the dividing of God's land.
In fact, I would go so far as to say that this issue represents a "Litmus Test" for deciding the truthfulness and the trustworthiness of any politician or pastor or common person. No genuine Bible-believing Christian will ever advocate dividing God's land.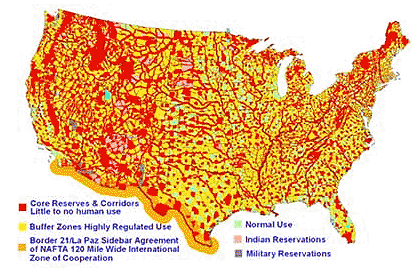 3. California wildfires are burning according to the United Nations' "Bio-Diversity Map"!
NEWS BRIEF: "Firefighters had to step aside as winds powered infernos in Southern California ", AP Top News, 12/10/2017
"FALLBROOK, Calif. (AP) — A week of destructive fires in Southern California is ending but danger still looms.
Well into what's considered the wet season, there's been nary a drop of rain. That's good for sun-seeking tourists, but could spell more disaster for a region that emerged this spring from a yearslong drought and now has firefighters on edge because of parched conditions and no end in sight to the typical fire season ... Overall, the fires have destroyed nearly 800 homes and other buildings, killed dozens of horses and forced more than 200,000 people to flee flames that have burned over 270 square miles (700 square kilometers) since Monday. "
What is this map, shown above?
America's Map is being quietly redrawn, to create vast areas where no human activity -- especially living -- will be tolerated. This plan is called the "Rewilding" Project. Once it is fully implemented, you will be told where you can live and what occupation you will be allowed to work, if you are allowed to live at all. Weather Modification and Control are the specific tools being used, because the storms look so "natural".
On the map, above, land shown in RED is land where no human activity will be allowed at all. Land shown in YELLOW is land where human activity is severely restricted, also known as "Buffer Land". Land that is colored LIGHT GREEN is area where humans can live and work.
As you can see, over 70% of the land is set aside, so that human activity is prohibited. Literally, this plan calls for the land to be returned to its former wilderness state. "Re-wilded" is a term New Age authors use a lot.
When you hear a person state that Climate Change is the result of "Human Activity", this map is foremost in their mind. Those words "Human Activity" are somber words that, when enacted, will devastate all mankind.
Former Defense Secretary William Cohen told us exactly how human scientists are able to control the weather.
"Others (foreign scientists) are engaging even in an eco- type of terrorism whereby they can alter the climate, set off earthquakes, volcanoes remotely through the use of electromagnetic waves." (DoD News Briefing, Monday, April 28, 1997)
Adherents of this United Nations' Biodiversity Map really covet California to Washington and Florida as areas they want to "re-wild". I do not believe that it is coincidence that these fires, and the areas in which horrendous storms have caused great damage are at areas which this map designates as RED -- no human activity allowed.
These horrific fires seem to be part of Earth's Final Birth Pangs as mankind moves into the late stage of giving birth to Antichrist.
4. From a legal standpoint, Robert Mueller's Special Investigation is "DEAD"!
NEWS BRIEF: "From A Legal Perspective, Mueller's Investigation is Dead. Here's Why", The Daily Caller, 12/7/17
"Like a headless turkey running around in circles, Special Counsel Robert Mueller's anti-Trump investigation is dead, even if he does not yet realize it. While his investigation stumbles onward, with life support provided by the biased media, from a legal perspective the viability of any criminal case that Mueller could possibly bring has been effectively gutted thanks to the news (suppressed for months by Mueller's team) that the FBI's 'key agent' in both the Russia investigation and the Clinton email probe was an ardent Hillary supporter with an anti-Trump bias."'
"Significantly, the fatal damage done to Mueller's anti-Trump investigation does not only rest in the fact that defense counsel will be able to conduct an unlubricated prostate examination on the FBI's key agent at trial. Instead, the real reason why Mueller will not risk a criminal trial is the lasting damage that would be done to the FBI's reputation by having Strzok's baggage brought into the daylight ..."
"In short, Mueller's anti-Trump investigation is effectively dead ... And, ironically, this is all the fault of Strzok and his mistress who wanted to help 'Crooked Hillary' and target Trump. How do you like 'dem apples?"
Now is the time to end yet another failed "Special Prosecutor", who has gone far afield chasing a story (Russian collusion with Trump) which never existed in the first place!
---
"Prophecy Fulfilling Now" -- DVD Combo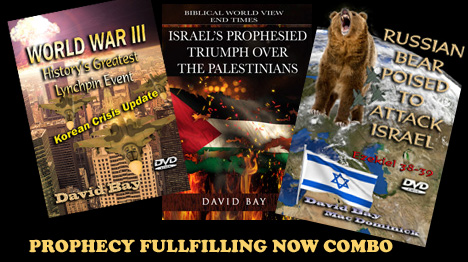 Regularly $44.97 if bought separately
Only $29.97, saving you $15.00!
The "nuclear confrontation in Korea" will first break out, followed by the Israeli attack against the Palestinians, which fulfills Obadiah and Isaiah 34. Other wars will soon break out, thus giving the Global Elite their World War III!
Then, once Israel is triumphant over her Arab foes once again, the Arabs will turn to Russia, asking for President Putin to invade Israel with his more powerful Russian military, since the Arabs can simply not defeat the Jewish State by themselves. Even though Putin was planning to use the Russian military in a different manner, the Holy Spirit forces the Russian overlord "Gog" to "put a hook in his jaws" to turn him around to lead an attack against Israel in fulfillment of Ezekiel 38-39.
Iran (Ancient Persia) will be destroyed by God as her forces assemble with Russian forces on the border of Israel, just as this Ezekiel prophecy foretold 2,600 years ago! (Amazing detail given in "Russian Bear Poised To Attack Israel")
The Rapture of the Church will occur somewhere along this time frame!
We tell this complete story in the three titles of this Combination Offer!
Christian, look up, for your Redemption draweth nigh
---
Popular New Titles - From Tom Horn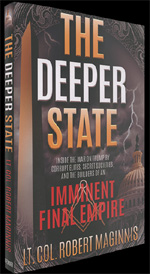 "The Deeper State Book: Inside the War on Trump"
By Secret Societies and World Power Centers
Written by Lt. Col Robert Maginnis
372 pages long, Only $19.95
The Deeper State is about the elites, their secret societies, world power centers and evil motivations behind the chaotic contemporary world pressing all life toward a final one world empire ...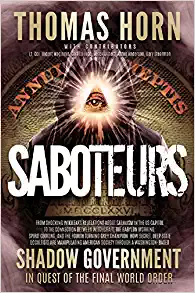 "SABOTEURS Book: Shadow Government In The Quest for the Final World Order"
Dr. Horn returns to Washington, DC to expose a harrowing plot by Deep State Aleister Crowley and Masonic devotees that hold an almost unbelievable secret they do not want you to understand: American society is being manipulated through a Washington-based Shadow Government in quest of that Final World Order prophesied in the books of Daniel, Revelation, and on the Great Seal of the United States!
SABOTEURS goes beyond the superficial chaos currently playing out in the public square and in media against the Trump administration to unveil a far more sinister resistance made up of sorcerous elites, their secret societies, and world power brokers who plot the insidious rise of a messianic strongman figure they call The Grey Champion. http://www.cuttingedge.org/detail.cfm?ID=2801 -- Only $14.95
---