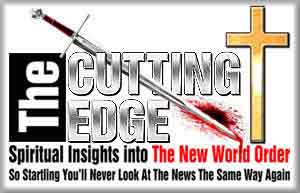 News Alert
Friday 12/8/2017

View the full News Alert online here
Get your daily news from our Daily News Updates -- 40-80 Articles Per Day Trustworthy Articles
---
SPECIAL APPEAL
To all our readers: We will get straight to the point: This Friday we ask you to ensure the financial success of Cutting Edge Ministries. It's nearly December 15, we haven't hit our goal, and time is running out in 2017 to help us. We depend on donations averaging about $20. Only a tiny portion of our readers ever give. If everyone reading this contributed only $3, we could keep Cutting Edge thriving for years to come. The price of your Friday coffee is all we need.

---
Critical News Headlines -- End Times
1. Much of Israel is in a state of "trembling for Messiah"!
Immediately after Trump's recognition of Jerusalem as Israel's capital, some Jewish leaders called for building the Third Temple!
2. Liberal Wall Street Journal publishes an editorial calling on Special Counsel to resign!
3. The Department of Justice is opening an investigation into Planned Parenthood for selling baby body parts!
Can Trump actually slay this monstrous "Swamp Creature"?
4. Climate Change alarmists have been caught "red-handed" faking the data on rising ocean levels!
---
NEW DVD IN OUR GENESIS SERIES - Volume 2
Shipping Now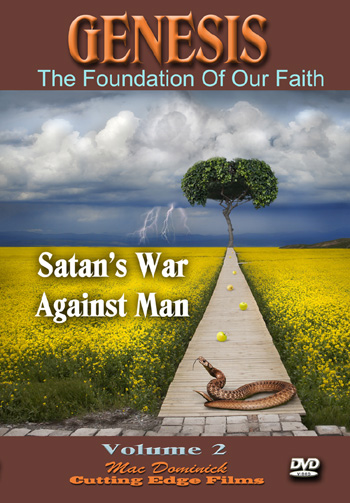 Amidst God's dazzling and resplendent new creation called the 'Heavens and the Earth', created specifically for the happiness and joy of His really special creation, Adam and Eve, Satan suddenly launched a vicious war against man.
And, Satan knew exactly where to strike. Taking the form of a Serpent, Satan spoke gracious words to an innocent, gullible Eve. He convinced her that God REALLY did not mean what He said when he told Adam that they could not eat of the fruit of the Tree of Knowledge and Evil, and then Satan painted such a wonderful word picture of the fruit that Eve simply had to try it.
Satan must have been howling with glee as he witnessed God changing the nature of Adam and Eve to where they would now be susceptible to physical death and they would have to earn their sustenance through hard work fighting weeds and brambles, wild animals, dinosaurs, demons who have taken the form of men (Nephilim, Genesis 6), paranormal activity, parallel dimensions, and a new nature of sin and of murder.
All mankind faced a world as frightening and dangerous as anyone could have possibly imagined. Little did they know Satans true plan, i.e., to so corrupt every human being that Jesus, the Redeemer of Mankind, would be thwarted in His plan to die on Calvary. Therefore, Genesis 6 reveals that Satan flooded the world with Nephilim who mated with human wives, producing a new creation that was no longer purely human, but mixed with demonic DNA.
Satan's strategy was to corrupt the human race and thus make mans redemption impossible. But, God retaliated with a worldwide flood that saved only one genetically pure family that will make the gift of redemption to mankind a reality.
It is an exciting journey that will give you basic theological truths and the answers to may of life's most difficult questions. Please join us as we will take one more step in our quest to reveal how God will ultimately triumph over Satan and empower mankind to share in the glorious victory.
Run Time 98 minutes, Only $19.99 Order your copy - Shipping Now
"GENESIS: The Foundation of Our Faith - Volume 1, The War Against God"
Regularly $24.99, Only $19.99
If you liked Mac Dominick's Revelation Series you will love his Genesis Teaching, because Mac also teaches a combination of Traditional Bible exegesis plus unique Cutting Edge understandings.
'The War Against God'
2 hours run time, Mac plans 3 DVD's in this series Watch the trailer

---
---
---
21 NEW BOOKLETS DESIGNED TO FIGHT OUR SOCIETY'S CURRENT BIBLICAL DECAY
Only $1.95 Each
10 NEW BOOKLETS Just Arrived
ROSE PUBLISHING LEAFLETS BACK IN STOCK Just $3.99 each
---
Critical News Analysis -- End Times
1. Much of Israel is in a state of "trembling for Messiah"!
Immediately after Trump's recognition of Jerusalem as Israel's capital, some Jewish leaders called for building the Third Temple!
NEWS BRIEF: "After Trump's Jerusalem Declaration, Next Step Is Third Temple': 'Trump Guided by God's Hand", Breaking Israel News, December 7, 2017
"President Donald Trump's epic proclamation on Wednesday acknowledging Jerusalem as the eternal capital of the Jewish people was a major step towards establishing the Third Temple and bringing the Messianic era, said a number of Jewish activists working to rebuild the Holy Temple."
Trump's recognition of Jerusalem as Israel's historic capital is, indeed, "EPIC"!
His bold proclamation sets in motion End Times prophecies both in Israel and in the hearts and minds of Israel's implacable enemies, the Muslims. Soon, we will be seeing battles to the death as Muslim hordes swarm against an Israel actively protected by the "God of Abraham, Isaac, and Jacob"!
Zechariah 12 will become front page news.
The complete destruction of the Palestinians (Obadiah) will become front page news.
And, the rebuilding of the Third Temple by the newly-risen Messiah will be front page news, indeed!
""What he did last night was an enormous step in bringing the Temple," Asaf Fried, official spokesman for the United Temple Movement, an association of organizations working towards making the Third Temple a reality ... He added, "This necessarily had to come from a non-Jew in order to bring them into the process, so they will be able to take their part in the Temple ... It was clear that Trump was part of that process, guided by Hashem (God)', Fried declared."
Another Rabbi views Trump's announcement as part of a continually unfolding historical path laid out by prophecy.
"Yakov Hayman, the United Temple Movement chairman, saw Trump's statement as part of a historical progression joining a number of major shifts in modern history for Israel and the Jewish people. '1917 was the Balfour Declaration establishing Israel for the nations'," Hayman told Breaking Israel News. '2017 was Trump's declaration'."
"The next step, the most important step, must be taken by the Jews. We need to begin going up to the Temple Mount is massive numbers. Once we do that, the Temple is the next inevitable step."
When Jews begin to go to the Temple Mount in "massive numbers", that will be the trigger for the Muslims to begin their march into God's prophesied wrath.
These Jews view President Trump with reverence, almost awe.
" 'There is something very special and holy in Trump', Hayman said. 'Sometimes, he appears coarse and not connected to religion, but every time he addresses the nation he speaks about God. Last night, he said his motivation for recognizing was Jerusalem was because it was the right thing to do. That is precisely how a leader guided by God should speak'."
President Trump needs the prayers of all genuine Christians, as he is daily beset by those globalists who are so angry that he is starting to unravel the constant march to the Kingdom of Antichrist, a.k.a., New World Order!

2. Liberal Wall Street Journal publishes an editorial calling on Special Counsel to resign!
NEWS BRIEF: "WSJ Editorial Board Calls for Robert Mueller to Step Down After FBI Agent's Anti-Trump Texts", Breitbart News, 7 december 2017
"The Wall Street Journal increased the pressure on embattled FBI Special Counsel Robert Mueller's Tuesday with a scathing op-ed from its editorial board, calling on Mueller to resign over the controversy surrounding a lead investigator's anti-Trump texts."
"... Mueller dismissed FBI agent Peter Strzok over anti-Trump texts he sent to an FBI lawyer with whom he was having an extramarital affair."
"Since then, outlets have reported that Strzok was involved in the interview of former national security Michael Flynn, who was charged last week for lying to the FBI. Strzok was also involved in the Hillary Clinton email probe, where he reportedly interviewed two top Clinton aides and was later behind the change of language Comey used to describe her behavior — changing the language from 'grossly negligent' to 'extremely careless'."
The Wall Street Journal editorial concluded:
"The Journal's editorial board argued Tuesday that the scandal is reason for Mueller to stand down, noting that Mueller and the Justice Department had kept the information from investigators in the House, and refused to allow Strzok to be interviewed.
"The board, which can not accurately be described as "pro-Trump," argues in addition to the FBI's questionable moves and stonewalling — including about possible connections to the Fusion GPS "Trump dossier" — it is far from clear if Mueller can be trusted to run the probe."
We have remembered "Special Prosecutors" from the recent past and have always been skeptical that Mueller would conduct his investigation impartially and truthfully. From the beginning, we have believed that Mueller's ultimate goal was to impeach President Trump.
This Special Counsel is another "Swamp Monster" that needs to be slain!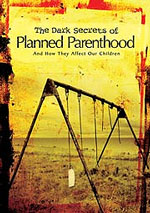 3. The Department of Justice is opening an investigation into Planned Parenthood for selling baby body parts!
NEWS BRIEF: "Department of Justice Launches Federal Investigation into Planned Parenthood", Breitbart News, 7 December 2017
"The Department of Justice is launching a federal investigation into Planned Parenthood's practices and its alleged involvement in the sale of body parts of aborted babies."
Notice that the author of this article knows enough to call an unborn child a "baby", and not a "fetus"! That fact alone is worth its weight in gold. The impersonal term "fetus" has allowed tens of millions of precious babies to die in their mother's womb, protected by corrupt government officials.
"Justice Department Assistant Attorney General for Legislative Affairs Stephen Boyd has formally requested unredacted documents from the Senate Judiciary Committee ... the letter requesting the documents – sent to committee chairman Sen. Chuck Grassley (R-IA) and ranking member Sen. Dianne Feinstein (D-CA) – 'is a rare confirmation of a federal investigation'."
"Both the Senate Judiciary Committee and the House Select Investigative Panel on Infant Lives conducted expansive investigations into Planned Parenthood and its partners in the biomedical procurement industry. The investigations concerned allegations of profiteering from the sale of fetal body parts that arose from an undercover video series exposé by the Center for Medical Progress (CMP). The sale or purchase of human fetal tissue is a felony punishable by up to ten years in prison or a fine of up to $500,000 (42 U.S.C. 289g-2)."
"Based on its findings, the Judiciary Committee's Majority Staff Report concluded that Planned Parenthood's partners in the biomedical procurement industry paid the abortion chain's affiliates for the body parts of aborted babies 'and then sold the fetal tissue to their respective customers at substantially higher prices than their documented costs'."
A leader in the anti-abortion protest movement pointed out that one of the results of shining the legal light on Planned Parenthood might be the revelation of the rank hypocrisy of her leaders.
"Planned Parenthood has actively participated in illegal activity, selling the body parts of aborted babies in exchange for profit', she said in a statement ... 'They've lied to the very women they purport to fight for. I saw it first-hand when I worked for the abortion giant and yet, they still manage to obtain over half a billion dollars a year in our tax dollars'."
At the same time that sexual assault allegations are becoming public knowledge on the part of Liberal Hollywood and Congressional "women's rights" stalwarts, the same type of hypocrisy is about to be revealed by Planned Parenthood.
And, Bill and Hillary Clinton have used their political power and influence to shield both Planned Parenthood and these Hollywood predators!
Can Trump actually slay this bloody monstrous "Swamp Creature"?
4. Climate Change alarmists have been caught "red-handed" faking the data on rising ocean levels!
NEWS BRIEF: "Tidalgate: Climate Alarmists Caught Faking Sea Level Rise", by JAMES DELINGPOLE, Brietbart News, 6 Dec 2017
"Alarmist scientists have been caught red-handed tampering with raw data in order to exaggerate sea level rise. The raw (unadjusted) data from three Indian Ocean gauges – Aden, Karachi and Mumbai – showed that local sea level trends in the last 140 years had been very gently rising, neutral or negative (ie sea levels had fallen)."
And now the conspiracy begins:
"But after the evidence had been adjusted by tidal records gatekeepers at the global databank Permanent Service for Mean Sea Level (PSMSL) it suddenly showed a sharp and dramatic rise."
Thank God for courageous whistle blowers!
"The whistle was blown by two Australian scientists Dr. Albert Parker and Dr. Clifford Ollier in a paper for Earth Systems and Environment. The paper – Is the Sea Level Stable at Aden, Yemen? – examines the discrepancies between raw and adjusted sea level data in Aden, Karachi and Mumbai."
"Kenneth Richard at No Tricks Zone reports:
" 'The authors expose how PSMSL data-adjusters make it appear that stable sea levels can be rendered to look like they are nonetheless rising at an accelerated pace. The data-adjusters take misaligned and incomplete sea level data from tide gauges that show no sea level rise (or even a falling trend). Then, they subjectively and arbitrarily cobble them together, or realign them. In each case assessed, PSMSL data-adjusters lower the earlier misaligned rates and raise the more recent measurements. By doing so, they concoct a new linearly-rising trend."
And, of course, a "new linearly-rising trend" provides the kind of foundational "scientific research" necessary to convince governments, New World Order advocates and the general public that the world is being destroyed by "human activity" which must be stopped immediately!
"A major part of the global warming scare narrative is that melting ice caps will cause sea levels to rise at a dangerous and unprecedented rate, enveloping low-lying Pacific islands, flooding vulnerable countries like Bangladesh and perhaps one day drowning even places like Manhattan. There is little if any scientific evidence that this is actually happening."
"When alarmists in charge of surface temperature data sets make dishonest adjustments to exaggerate the appearance of global warming, it looks like corruption. When alarmists in the entirely separate field of sea level measurement make precisely the same sort of dishonest adjustments in order to accord with the same global warming narrative, it starts to look like a conspiracy." (Emphasis added)
Ten ( 10) years ago, we posted an article listing five (5) global disasters which the Elite were propagating in order to panic the peoples of the world to accept a global dictatorship. This article is NEWS2193, entitled, "Five Major Created Global Disasters Are Being Constantly Preached To The World As Reasons To Form The Global New World Order!"
Global Disaster #1 was "Climate Change".
Further, we noted that the basis for this global propaganda campaign was the infamous "Protocols of he Learned Elders of Zion". Listen:
"When we come into our kingdom, our orators will expound great problems which have turned humanity upside down in order to bring it, at the end, under our beneficent rule."
Thank God for these whistle blowers! Will our governments listen to them?
---
"Prophecy Fulfilling Now" -- DVD Combo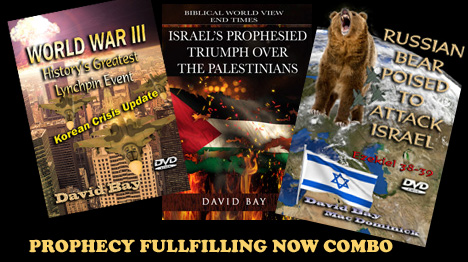 Regularly $44.97 if bought separately
Only $29.97, saving you $15.00!
The "nuclear confrontation in Korea" will first break out, followed by the Israeli attack against the Palestinians, which fulfills Obadiah and Isaiah 34. Other wars will soon break out, thus giving the Global Elite their World War III!
Then, once Israel is triumphant over her Arab foes once again, the Arabs will turn to Russia, asking for President Putin to invade Israel with his more powerful Russian military, since the Arabs can simply not defeat the Jewish State by themselves. Even though Putin was planning to use the Russian military in a different manner, the Holy Spirit forces the Russian overlord "Gog" to "put a hook in his jaws" to turn him around to lead an attack against Israel in fulfillment of Ezekiel 38-39.
Iran (Ancient Persia) will be destroyed by God as her forces assemble with Russian forces on the border of Israel, just as this Ezekiel prophecy foretold 2,600 years ago! (Amazing detail given in "Russian Bear Poised To Attack Israel")
The Rapture of the Church will occur somewhere along this time frame!
We tell this complete story in the three titles of this Combination Offer!
Christian, look up, for your Redemption draweth nigh
---
Popular New Titles - From Tom Horn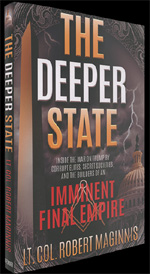 "The Deeper State Book: Inside the War on Trump"
By Secret Societies and World Power Centers
Written by Lt. Col Robert Maginnis
372 pages long, Only $19.95
The Deeper State is about the elites, their secret societies, world power centers and evil motivations behind the chaotic contemporary world pressing all life toward a final one world empire ...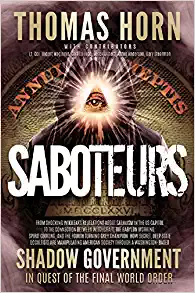 "SABOTEURS Book: Shadow Government In The Quest for the Final World Order"
Dr. Horn returns to Washington, DC to expose a harrowing plot by Deep State Aleister Crowley and Masonic devotees that hold an almost unbelievable secret they do not want you to understand: American society is being manipulated through a Washington-based Shadow Government in quest of that Final World Order prophesied in the books of Daniel, Revelation, and on the Great Seal of the United States!
SABOTEURS goes beyond the superficial chaos currently playing out in the public square and in media against the Trump administration to unveil a far more sinister resistance made up of sorcerous elites, their secret societies, and world power brokers who plot the insidious rise of a messianic strongman figure they call The Grey Champion. http://www.cuttingedge.org/detail.cfm?ID=2801 -- Only $14.95
---