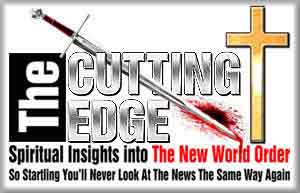 News Alert
Monday 4/10/2017
View the full News Alert online here
HOME - Book Store - News Alert Archives -Daily News Updates - Facebook
---
New Headline News Articles

MK Ultra Mind Control Manuals
by Former Satanist, Cisco Wheeler
'The Shack' Movie Presents A Spiritual Danger Which Shall Introduce You To Satanism While Taking Your Breath Away
The official trailer contains colors and filters which creates a look and feel of the 'Wizard of Oz', which introduced hundreds of millions to the Black Magick world of the House of Theosophy, and created a most important "Mind Trigger" for the Master MK-ULTRA Mind Controller.
The time has arrived for all genuine Christians to jump off that Broad Road leading to Hell and jump on that Narrow Road leading to Heaven! But, at this most deceitful era, how can you correctly discern the genuine Narrow Road?
---
Critical News Headlines
1. A United States Naval Carrier Strike Force Is Steaming Against North Korea.
War tensions erupt!
2. Trump U.N. Ambassador Issues The Same Demand For Assad's Syria on Which the Obama Administration Held Firm For Eight Years;
Assad must leave office, can have no part in Syria after the war ends -- this is the same goal of the "Pentagon's New Map Strategy" followed by President Bush since 2003!
3. Rev. Franklin Graham Cast Aside the Curtain Covering the Tired Liberal Tirade Alleging Russian Influence in the 2016 Election.
He correctly identified the real culprits behind the 2016 election influence fraud: CNN, CBS, ABC, NBC, MSNBC, Soros, Hollywood
4. Liberal "Progressives" Have Threatened Education Secretary DeVos with so many death threats that security has been increased so dramatically that the US Marshall's Service has assumed safety.
Once again, we see the true inner heart of Liberals in America today: full of hate, spite and murder.
---
Dr. E. Ray Moore Interviewed by Dr. James Dobson About Common Core!
"The Current State of Public and Christian Education" was aired on Monday, March 20th and Tuesday, March 21st. "The Current State of Public and Christian Education" radio interview with Dr. James Dobson (drjamesdobson.org) and E. Ray Moore (exodusmandate.org), was aired Mon, March 20 & Tue, March 21st across our nation to millions of listeners.

PLEASE listen and share with your network. Encourage them to write a positive response to Dr. Dobson. You may also go to their Facebook page, dr james dobsons family talk, scroll down to the interview and join in on the conversations!
Archives
Monday, March 20th: http://www.drjamesdobson.org/Broadcasts/Broadcast?i=d990a98f-39d1-4848-b678-6f5b1f838251
Tuesday, March 21st: http://www.drjamesdobson.org/Broadcasts/Broadcast?i=423675c3-a12c-4e53-953c-fcff70e40705
Anyone can listen to the program through multiple media outlets, including the Family Talk App, a podcast, or a local station. A list of local stations is on their website: drjamesdobson.org. We believe this will be a tremendous boost for our ministry, and we're praying that the Holy Spirit will convict the hearts of Christian parents who continue to send their precious children to the public schools.
PLEASE SHARE THIS WITH AS MANY FOLKS YOU KNOW – AND AT CHURCH! PASS OUT OUR EXCELLENT 'COMMON CORE' DVD's - PRICING BELOW
Since President Trump and Education Secretary Betsy DeVos have announced their plan to discontinue this despicable Common Core curricula, we have a special opportunity with this Dr. Dobson interview to fully register our complaints. Dobson has a special voice with Republican Conservative leaders in Washington.
You can purchase 'Common Core' DVD's as follows:
"Escaping Common Core: Setting Our Children Free" - Single DVD at $19.99
* 5 pack for 74.96 -- Regularly $99.95
* 10 Pack for 119.90 -- Regularly $199.90
* 20 DVD pack for 199.90 -- Regularly $399.80
How bad is "Common Core" Curricula? ("4+5=About 10)
"Common Core" is the planned substandard education for you, the "Common Herd" people, and your precious children!
---
SHIPPING NOW!

"A Tale of Two Babylons DVD: Trump's Prophetic Appointment With Destiny"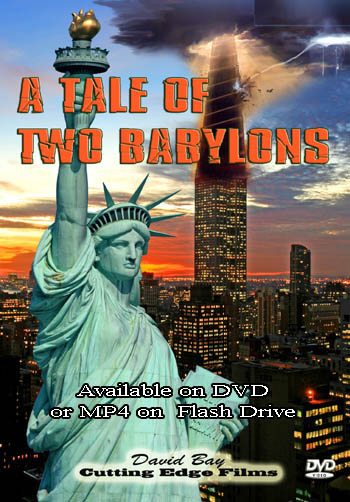 by Cutting Edge Director, David Bay -- Only $19.99
The Bible mentions the name 'Babylon' 264 times in the KJV. Today, many Christians are confused about references in prophetic passages which use Babylon in seemingly different ways. When a Christian tries to shoe-horn one definition into all references to Babylon he / she is unnecessarily confused.
In our study of 'A Tale of Two Babylons', we are going to demonstrate that prophetic literature speaks of God's judgment on one physical nation 'Babylon' (Judged in Isaiah 13) and one nation Symbolically called 'Babylon' ( Judged in Revelation 18).
If you understand this difference, you will properly understand End Times prophecy. But, if you do not understand the difference between these 2 Babylons, you will be unnecessarily confused, and will be open to being mislead on one of the most important End Times subjects.
Since the confusion begins with the definition of Babylon, let us begin at there! Bible scholars recognize that God uses the name Babylon in two distinct ways. (Quoting from The Free Dictionary Online).
1) "... the capital of the ancient kingdom Babylonia in Mesopotamia on the Euphrates. Established as capital c. 1750 bc, rebuilt in regal splendor by Nebuchadnezzar II after its destruction (c. 689 bc) by the Assyrians, Babylon was the site of the Hanging Gardens, one of the Seven Wonders of the World 2) A city or place of great luxury, sensuality, and often vice, corruption or a place of captivity or exile.
In this study of 'A Tale of Two Babylons', we are going to demonstrate that End Times' prophecy speaks of God's judgment on one physical nation 'Babylon' and one nation Symbolically called 'Babylon'.
We will also reveal two major contributions to End Times' prophecy which Donald J. Trump is poised to fulfill. In fact, Trump may be the only leader who can fulfill these prophecies in America today. President Trump does not realize it, but he has 'An Appointment With Destiny', a favorite term uttered many times by 33rd Degree Masonic President, Franklin Roosevelt, referring to the New Age / Masonic Messiah, whom the Bible calls Antichrist.
1 hour 40 minutes - Watch the trailer from the link below.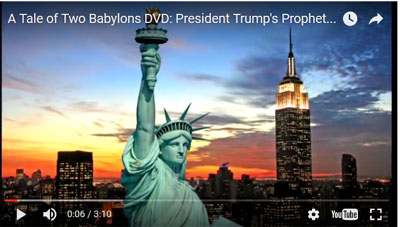 Order yours today - http://www.cuttingedge.org/detail.cfm?ID=27
---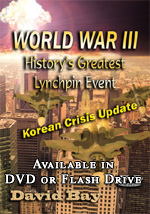 DVD
1. A United States Naval Carrier Strike Force Is Steaming Against North Korea.
War tensions erupt!
NEWS BRIEF: "U.S. Navy strike group to move toward Korean Peninsula: U.S. official", Reuter's News, April 9, 2017
"A U.S. Navy strike group will be moving toward the western Pacific Ocean near the Korean peninsula as a show of force, a U.S. official told Reuters on Saturday, as concerns grow about North Korea's advancing weapons program ... The strike group, called Carl Vinson, includes an aircraft carrier and will make its way from Singapore toward the Korean peninsula ... "
I found it very interesting that President Trump ordered the Syria strike and the deployment of this powerful Naval Carrier Strike Force at the same time the Chinese President Xi was meeting with him at Mar-a-Lago in Florida!
Such a timing would normally be considered taboo, since the Chinese leader would have "lost face". But, Trump did not seem to care, and President Xi said after the meetings were over that they were successful. Is Trump being bold here, or does he just not care?
Either way, leaders of the world, must now sit up and take notice: there really is a "New Sheriff in town", and he is "packing heat"!
Now, let us return to our featured news story.
"This year North Korean officials, including leader Kim Jong Un, have repeatedly indicated an intercontinental ballistic missile test or something similar could be coming, possibly as soon as April 15, the 105th birthday of North Korea's founding president and celebrated annually as 'the Day of the Sun'."
"Trump's national security aides have completed a review of U.S. options to try to curb North Korea's nuclear and missile programs. These include economic and military measures but lean more toward sanctions and increased pressure on Beijing to rein in its reclusive neighbor."
Sanctions?! In 1994, President Bill Clinton sent former President Jimmy Carter to "negotiate" with the North Korean leadership, to convince them to suspend their nuclear weapons program and their advanced rocket designs.
That was 22 years ago, and now the threats are coming more rapidly and are backed up by more military capability. Let us quickly review the part of the Illuminati Plan to produce a frightening nuclear confrontation in Korea as part of the global plan to produce Antichrist.
"A hair-raising nuclear confrontation in Korea may, towards the end of the period, threaten man's very survival." ("The Armageddon Script: Prophecy In Action", New World Order author Peter Lemesurier, p. 222-223, published 1981)
The sudden increase in frequency of provocations and threats from North Korea seem to signify that mankind is "towards the end of the period"!
The horrendous events we link together with World War III are coalescing quickly and uniquely -- just as we demonstrated would occur in our DVD, "World War III: History's Greatest Lynchpin Event"!
Jesus' somber prediction will come true with a speed unforeseen and with great power: