Critical News Analysis
1. American contract soldier -- Marine -- publishes a Facebook account as to how hated any American is in Iraq!
NEWS BRIEF: "Ex-marine sent home from Iraq after Facebook video goes viral", Breaking Israel News, 4/2/17
"US ex-marine Steven Gern was fired from his job in Iraq and sent home after he uploaded a Facebook video supporting US President Donald Trump's temporary ban on citizens of seven countries entering the US. The ban was instituted to prevent potentially dangerous people from entering the country before there was an efficient way to vet them properly."
Steven Gern then described how much hate local Iraqi citizens have in their heart toward Americans, any Americans.
"... when he asked if the locals would accept him - an American - with open arms if he left the confines of his work area and went into town, the Iraqi soldiers said he 'absolutely would not be welcome'."
Gern was not satisfied with this answer, so he asked a more specific question.
"When Gern asked, 'What would happen to me?' they said the locals would torture Gern and kill him within an hour, possibly by beheading, then upload the video to social media for everybody to see 'as an example'."
Now, this is real hatred! Local Iraqis would kill any American within the hour, torturing him, beheading him, and uploading the film on social media as an "example" of how much they hate us and want to see us dead.
Gern then moved to the point he was making.
"The point of it is, the point I'm trying to make is, this is the local populace who would do this. This isn't ISIS, this isn't Al-Qaeda, this isn't the PMU, this isn't a militia from the Iranians, or anything like that. This is the local populace that would do this. "So, my question to them was pretty simple after that: If you would do this to me, in your country, why would I let you into my country? Because all this means to me is that, if you have the opportunity to take the life of an American, you would do it."
Sometimes, we hate being proven right!
We warned, starting in 2005, that Western Coalition Forces were being so systematically torturous toward Iraqi men that we were breeding future terrorists.
Steven Gern, who has served extensively in Iraq, believes that upwards toward 100% of all Iraqi citizens which we allow into the United States have to be considered potential terrorists.
That moment has arrived. Thank you, Presidents Bush / Obama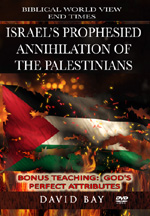 2. Wars have begun this way! Events continue to escalate on the Temple Mount in Jerusalem, following the murder of two Israeli guards last Friday
NEWS BRIEF: "Temple Mount killers aimed to set the Middle East ablaze", The Times of Israel, July 14, 2017
"The attackers capitalized on their great advantage: As Israelis, they carried blue identity cards, and were able to gain free access to the Temple Mount, undisturbed by roadblocks and checkpoints. Getting guns was no problem, either. In the Arab sector, emphatically including their local Wadi Ara region, weapons are readily available — either stolen from the IDF, or home produced."
Over the past several years, more and more Israeli-Arabs have been turning toward radical Islam and against Israel; and, that is a problem because Israeli-Arabs have been viewed by Israeli officials as loyal enough to have certain privileges, some of which are detailed above.
However, these three Israeli-Arab terrorists wanted to create such a stir that the entire Middle East would explode into war.
"The trio were inside the complex .... before they ventured out to open fire, fatally, on a group of police officers. They knew that a shooting attack at the most incendiary spot in the Middle East would be likely to prompt a major escalation."
"Friday's trio came to the Temple Mount ready to die. They were also apparently more religious than Milhem. And their intentions were wider: Not a self-contained shooting spree like Milhem's, but an attack, at the incendiary Temple Mount, intended to set the Middle East ablaze."
As we have stated, above, wars have started with an attack like this one.
NEWS BRIEF: "Fatah calls for violence and 'rage' following terror attack", Israel National News, July 16, 2017
"The ruling Fatah party of Palestinian Authority chairman Mahmoud Abbas rebroadcast Abbas' call for violence at the Al-Aqsa Mosque in 2014. The broadcast was in response to the closure of the Temple Mount following the terrorist attack in which two police officers were murdered Friday morning ... Abbas calls on Arabs to use violence to prevent Jews from ascending the Temple Mount."
Out of history's "thin air", Palestinian President Abbas creates "historical rights"!
" 'We must all carry out Ribat [religious conflict] in the Al-Aqsa Mosque... We have to prevent them, in any way whatsoever, from entering the Sanctuary... They have no right to enter it. They have no right to defile it. We must prevent them. Let us stand before them with chests bared to protect our holy places', Abbas says in the video."
NEWS BRIEF: ""Jews ascend Temple Mount - without Waqf escort", Israel National News, July 17, 2017
"For the first time in years, Jews went up onto the Temple Mount on Monday without the accompaniment of Muslim religious authority officials, as police allowed non-Muslim visitors back onto the powder-keg holy site for the first time since a Friday terror attack in the Old City of Jerusalem."
Jordan -- normally pro-Israel -- is refusing Israel's demands to change the security on the Temple Mount.
NEWS BRIEF: "Israel outraged by Jordan's reaction to deadly Temple Mount terror attack: "Jordan escalating the situation", Israel National News, 7/17/2017
"Jordan on Friday condemned the violence in Jerusalem but also demanded that Israel "immediately" reopen the Temple Mount compound for Muslim worshipers ... Jordan's Government Spokesman Mohammed Momani said in a statement quoted by the Jordanian news agency Petra that Jordan rejects any violation against the right of Muslims to perform their religious rituals in their holy shrines."
The "right" of Islamic worshippers to go to the Temple Mount ends at the jaw of the Israeli citizen and/or security officer!
"Israeli officials were angered by Jordan's statement, saying on Friday evening they rejected it. 'Instead of condemning the attack, Jordan chose to attack Israel, which protects the worshipers and preserves freedom of worship in the area', the statement said, according to Israeli media outlets."
3. Popular Rock Star, Justin Bieber, is declaring that Jesus is his Savior, and the Living God!
NEWS BRIEF: "Justin Bieber Not Ashamed of His Savior, Tells 89 Million Followers: 'His name is JESUS!!' , CBN News, July 12, 2017
"Pop star Justin Bieber is unashamed of Jesus. " 'Let the devil know NOT TODAY!' Bieber said, quoting Hillsong United's song 'Not Today' in an Instagram post to his 89.5 million followers on Monday. 'The devil has no power when you know the LIVING God! His name is JESUS!! Why worry when you can worship', he also wrote. "
Bieber continued his testimony.
" 'I look back at a lot of things in my life, mistakes, insecurities, and although I have felt I've wasted a lot of time it also makes me want to be better faster! For me personally I want to work every day to be BETTER AT 70', he said about a new tattoo in an Instagram post this past June."
If Justin Bieber has genuinely received Jesus Christ as his Savior and is now a fundamental, Bible-believing Christian, then I welcome this event with all my heart. But, if his actions and his speech from now on show that he has converted to a Liberal Christianity, then my heart will be broken for the loss of opportunity to reach 90 million adoring fans!
We shall just have to wait to see how his Christianity unfolds.