Critical News Analysis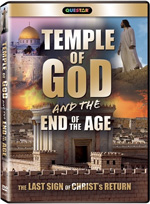 1. Jews observe "Tisha B'Av" starting Sundown July 31 through Sundown August 1.
"Tisha B'Av ... "the Ninth of Av,") is an annual fast day in Judaism, named for the ninth day (Tisha) of the month of Av in the Hebrew calendar. The fast commemorates the destruction of both the First Temple and Second Temple in Jerusalem, which occurred about 655 years apart, but on the same Hebrew calendar date." (Jewish Calendar)
Tisha B'Av is the most solemn event on Israel's calendar every year and it is remarkable how many disasters have befallen the Jews on that date throughout history.
"... 'the ninth of Av' is an annual fast day in Judaism which commemorates the anniversary of a number of disasters in Jewish history, primarily the destruction of both the First Temple by the Babylonians and the Second Temple by the Romans in Jerusalem. Tisha B'Av is regarded as the saddest day in the Jewish calendar and it is thus believed to be a day which is destined for tragedy."
"According to the Mishnah (Taanit 4:6), five specific events occurred on the ninth of Av that warrant fasting:
A. The Twelve Spies sent by Moses to observe the land of Canaan returned from their mission. Only two of the spies, Joshua and Caleb, brought a positive report, while the others spoke disparagingly about the land. The majority report caused the Children of Israel to cry, panic and despair of ever entering the "Promised Land". For this, they were punished by God that their generation would not enter the land. Because of the Israelites' lack of faith, God decreed that for all generations this date would become a day of crying and misfortune for their descendants. (See Numbers 13; Numbers 14).
B. The First Temple built by King Solomon and the Kingdom of Judah destroyed by the Babylonians led by Nebuchadnezzar in 587 BCE (Anno Mundi [AM] 3175) after a two-year siege...
C. The Second Temple built by Ezra and Nehemiah was destroyed by the Romans in August 70 CE (AM 3830), scattering the people of Judea and commencing the Jewish exile from the Holy Land
D. The Romans subsequently crushed Bar Kokhba's revolt and destroyed the city of Betar, killing over 500,000 Jewish civilians (approximately 580,000) on August 4, 135 CE (Av 9, AM 3895).[6]
E. Following the Bar Kokhba revolt, Roman commander Turnus Rufus plowed the site of the Temple in Jerusalem and the surrounding area, in 135 CE.
Even more startling is a long list of historical disasters which have befallen the Jews on "Tisha B'Av" :
A. The First Crusade officially commenced on August 15, 1096 (Av 24, AM 4856), killing 10,000 Jews in its first month and destroying Jewish communities in France and the Rhineland.[6][8]
B. The Jews were expelled from England on July 18, 1290 (Av 9, AM 5050).[6]
C. The Jews were expelled from France on July 22, 1306 (Av 10, AM 5066).
D. The Jews were expelled from Spain on July 31, 1492 (Av 7, AM 5252).[7]
E. Germany entered World War I on August 1–2, 1914 (Av 9–10, AM 5674), which caused massive upheaval in European Jewry and whose aftermath led to the Holocaust.[6]
F. On August 2, 1941 (Av 9, AM 5701), SS commander Heinrich Himmler formally received approval from the Nazi Party for "The Final Solution." As a result, the Holocaust began during which almost one third of the world's Jewish population perished.
G. On July 23, 1942 (Av 9, AM 5702), began the mass deportation of Jews from the Warsaw Ghetto, en route to Treblinka.
Most religious communities use Tisha B'Av to mourn the 6,000,000 Jews who perished in the Holocaust, including special kinnot composed for this purpose (Wikipedia)
As the Jews observe their annual day of tragedy, we can only look at the boiling cauldron over Israel right now, and contemplate the prophetic tragedies about to befall Israel. Christians should always "pray for the peace of Jerusalem" and to pray that prophecies of the End Times shall be fulfilled to the letter, for the glory of Jesus Christ!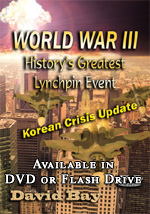 2. On Friday, July 28, North Korea launched a second ICBM test in a month.
NEWS BRIEF: "North Korea launches ICBM toward Japan for 2nd time this month", USA Today, July 28, 2017
"For the second time this month, North Korea launched an intercontinental ballistic missile Friday, sending the projectile 600 miles into the Sea of Japan. The Pentagon said in a statement that the missile, which was determined to be an ICBM, was launched from Mupyong-ni in North Korea's Chagang province and never posed a threat to North America."
"In a later statement, the Pentagon said Gen. Joseph Dunford, Jr., chairman of the Joint Chiefs of Staff, and Adm. Harry Harris, commander, U.S. Pacific Command, called Gen. Lee Sun Jin, chairman of the South Korean Joint Chiefs of Staff, and "expressed the ironclad commitment to the U.S.-Republic of Korea alliance."
"The statement said the three leaders "also discussed military response options."
One American general said that, America would 'respond with rapid, lethal, and overwhelming force at a time and place of our choosing', (General) O'Shaughnessy said."
Startling propaganda flooded the Internet and News Airwaves:
A. A North Korean nuclear strike on Los Angeles is discussed.
B. "Millions Could Die" read another headline.
And, then, the somber, forbidden, question is breached, "Is A North Korea War Coming?"
3. Reactions were startling:
A. President Trump issued a very strong condemnation, followed by a long twitter lapse, leading some to wonder if he was about to announce military operations against North Korea.
"North Korea's test launch today of another intercontinental ballistic missile — the second such test in less than a month — is only the latest reckless and dangerous action by the North Korean regime ... The United States condemns this test and rejects the regime's claim that these tests — and these weapons — ensure North Korea's security. In reality, they have the opposite effect..."
"The United States will take all necessary steps to ensure the security of the American homeland and protect our allies in the region."
B. U.S. Ambassador Nikki Haley issued a solemn statement that "time for patience" with North Korea had run out.
NEWS BRIEF: "US Ambassador to the UN Nikki Haley: No point in talking about North Korea any longer", Israel National News, 7/31/2017
"US Ambassador to the United Nations Nikki Haley is "done talking about North Korea" after the rogue nuclear state launched its second intercontinental ballistic missile on Friday. On Sunday, Haley tweeted that she is 'done talking about North Korea. China is aware they must act. Japan and South Korea must increase pressure. Not only a US problem. It will require an international solution'."
When a Trump Cabinet official says the "time for talking is over", that official is stating that the "time for action is here". And, that is a profoundly sober understanding!
C. American B-1 Nuclear-Capable Bombers, escorted by South Korean fighter planes, conducted a bombing fly-over across the Korean Peninsula.
NEWS BRIEF: "US Air Force unleashes supersonic bombers in 'North Korea nuke drill' as it's claimed Donald Trump is 'poised to launch military strike' against the rogue state", ABC10 TV News, July 30, 2017
"SEOUL, SOUTH KOREA (AP) - The United States flew two supersonic bombers over the Korean Peninsula on Sunday in a show of force against North Korea following the country's latest intercontinental ballistic missile test. The U.S. also said it conducted a successful test of a missile defense system located in Alaska."
"The B-1 bombers were escorted by South Korean fighter jets as they performed a low-pass over an air base near the South Korean capital of Seoul before returning to Andersen Air Force Base in Guam ... the mission was a response to North Korea's two ICBM tests this month. Analysts say flight data from the North's second test, conducted Friday night, showed that a broader part of the mainland United States, including Los Angeles and Chicago, is now in range of Pyongyang's weapons."
D. American Sec/State Rex Tillerson issued a statement blaming China AND Russia for this impasse with North Korea.
NEWS BRIEF: "China, Russia responsible for North Korea threat: Sec/State Rex Tillerson", The Times of Israel, July 29, 2017
" China and Russia bear 'unique and special responsibility' for the growing threat posed by North Korea, US Secretary of State Rex Tillerson said Saturday following Pyongyang's latest intercontinental ballistic missile test."
E. China staged high-profile naval exercises just off the Korean coast.
NEWS BRIEF: "China stages high-profile naval drill off Korean peninsula: "Just days ahead of the PLA's 90th anniversary", South China Morning Post, 27 July 2017
"China is flexing its military muscle in a high-profile naval exercise in the Yellow Sea, off the western coast of the Korean peninsula, days ahead of the PLA's 90th anniversary ... but analysts say it is also aimed at demonstrating China's resolve amid heightened tensions over North Korea's nuclear provocations."
China even joined the chorus of complaints about President Trump and his handling of this entire fiasco, after Trump criticized them.
NEWS BRIEF: "Trump rips China after North Korea missile test", CNN News, July 30, 2017
"A day after North Korea tested a ballistic missile that it claims can reach all of the United States, US President Donald Trump ripped China for not reining in Kim Jong Un and his missile program.
" 'I am very disappointed in China', Trump wrote in a pair of Twitter posts. '...they do NOTHING for us with North Korea, just talk. We will no longer allow this to continue. China could easily solve this problem!' "
China responded immediately and in at least as negative a tone as Trump showed.
NEWS BRIEF: "China to Trump: Don't blame us for North Korea, trade issues", USA Today, July 31, 2017
"China hit back Monday at a Twitter rant from President Trump over trade and the North Korea crisis, saying the two issues should not be linked and the U.S. is to blame for Pyongyang's military buildup.
"We think the North Korea nuclear issue and China-U.S. trade ... are in two completely different domains," Chinese Vice Commerce Minister Qian Keming said at a news conference in Beijing. "They aren't related. They should not be discussed together."
F. Finally, Russia got into the international diplomatic confrontation act with America.
President Putin ordered the withdrawal of 755 American diplomats.
NEWS BRIEF: "Russian President Putin Is Expelling 755 U.S. Diplomats ", Yahoo News, July 30, 2017
"Moscow (AFP) - President Vladimir Putin said 755 US diplomats must leave Russia and warned ties with Washington could be gridlocked for a long time, in a move Sunday that followed tough new American sanctions ... Putin added that an upturn in Russia's relations with Washington could not be expected 'any time soon'."
I know that Putin took this action in response to the U.S. Senate passing new sanctions over the supposed -- never proven -- Russian involvement in the 2016 Presidential Elections and Russia's annexation of Crimea in 2014.
But, I believe also that this action deliberately places Russia at loggerheads with America at the very moment the scripted Korean nuclear confrontation is unfolding in the news. We have always stated that, for the Korean nuclear confrontation to rise to such a level as to threaten all mankind, Russia and China have to slip in behind North Korea to set up a Superpower Showdown.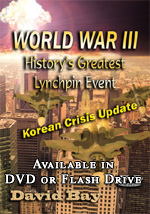 Russia is now engaged in a diplomatic row with the United States.
China is hinting ever so slightly that she might join North Korea in any military action.
If this line-up becomes a firm reality, the United States might find herself in another military confrontation with Russia and China that would make the 1962 Cuban Missile Crisis seem like a Sunday afternoon walk in Central Park.
To reiterate the wording of the Plan for Korea toward the end of the period prior to the staged appearance of the Masonic "New David" Messiah:
"The script is now written ... A hair-raising nuclear confrontation in Korea may ... threaten man's very survival." (Peter Lemesurier, 'The Armageddon Script", p. 223, 1981)
And, the entire World War III scenario will unfurl just as we predicted in the DVD shown above, "World War III: History's Greatest Lynchpin Event"!
4. Qatar proclaimed that control over Islam's Holy Sites should be yanked from Saudi Arabia's control!
NEWS BRIEF: "Saudi Arabia says that calls for internationalization of holy sites 'a declaration of war', " Yahoo News, July 30, 2017
"DUBAI (Reuters) - Saudi Arabia's foreign minister called what he said was Qatar's demand for an internationalization of the Muslim hajj pilgrimage a declaration of war against the kingdom ... 'Qatar's demands to internationalize the holy sites is aggressive and a declaration of war against the kingdom', Adel al-Jubeir was quoted saying on Al Arabiya's website."
This would be the most radical change in an entire region of the world in over 100 years! The picture of this new "Map of the Middle East" is pictured below, and was first published in the the 'American Armed Forces Journal' in their June, 2006, issue.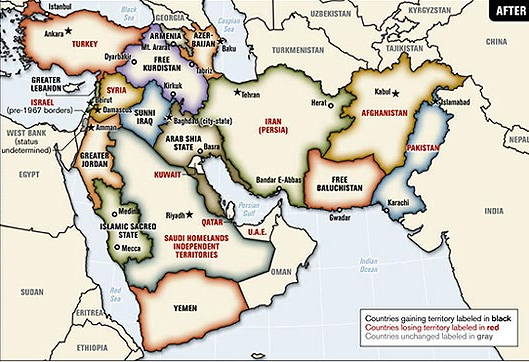 This supposed American ally suffers grievous loss of territory according to President Bush's new map. She gives up land on all parts of her current border.