Critical News Analysis
1. That Rhetorical "Red Line of No Return" may have just been crossed that makes a nuclear confrontation with North Korea inevitable!
"The script is now written ... A hair-raising nuclear confrontation in Korea may ... threaten man's very survival." (Peter Lemesurier, 'The Armageddon Script", p. 223, 1981)
The U.S. Department of Defense has just issued a report which declares that North Korea may be within 6 months of creating a Hydrogen Bomb -- not the smaller atomic bomb reported earlier.
NEWS BRIEF: "North Korea could soon develop a hydrogen bomb more powerful than the atomic bombs dropped on Japan", Fox News, August 4, 2017
"... within the next 18 months. We should not be surprised if the Communist dictatorship develops a hydrogen bomb – the ultimate atomic weapon – with the potential to kill millions of people."
"North Korean dictator Kim Jong Un claimed early last year to have tested an H-bomb ... reports at the time coming out of South Korea claimed that North Korea was likely 'one level away from a hydrogen bomb'."
The source for this Fox News article was listed as "A Defense Department official I spoke to recently on the condition of not revealing his name". I am troubled that such an important story would be from an anonymous source, a common characteristic of "Fake News". We shall return to this subject later.
From the time I read this scripted plan to produce a "hair-raising nuclear confrontation" emanating from North Korea, it just made sense that the nuclear bomb script could not scare so many people in so many parts of the world unless the North Korea bomb in their arsenal was Hydrogen, not just a primitive atomic weapon.
Further, once we saw Mass Media propaganda touting a hydrogen bomb capability from North Korea, that story alone would mean that a "Red Line of No Return" had just been crossed.
Making the war sooner rather than later.
No President could allow a hostile regime to scientifically march toward such a fearsome capability in full "propaganda view" and not move to protect his country and his people! If he did sit back and do nothing while North Korea made plans to annihilate America, Democrats like Maxine Waters would be well within their rights to impeach the President.
This "6 months" timetable given by this Defense official moves the start of the war up dramatically. How powerful can a hydrogen bomb be?
One hydrogen bomb dropped on a city like New York, could kill 1.7 million!
"If U.S. missile defenses failed to stop a North Korean H-bomb from landing in our nation's capital it could kill roughly 500,000 people and injure another 900,000. If an H-bomb hit New York City, the death toll could reach over 1.7 million."
I get the sense that this most frightening plan to dramatically convince the vast majority of people that the world may be about to commit ruin by unrestrained warfare may be about to begin?
Are you spiritually ready?
One Final Biblical Truth to Assure YOU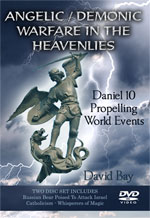 Mankind is about to enter into the End of the Age realm of which Jesus spoke: "Men's hearts failing them for fear, and for looking after those (dreadful) things which are coming on the earth: for the powers of heaven shall be shaken." (Luke 21:26, Parallel Bible, KJV/Amplified Bible Commentary)
But, the good news is that mankind has already entered into the End of the Age realm which Jesus spoke to the Apostle John:
"And the ten horns which thou sawest ... For God hath put in their hearts to fulfil his will, and to agree (to act in harmony), and give their kingdom unto the beast, until the words of God shall be fulfilled." (Revelation 18:16-17, Parallel Bible, KJV/Amplified Bible Commentary)
In other words, God's Holy Spirit has placed within the hearts of the rulers of the 10 Supernation fully in accord with the outworking of the incessant battle in the heavenlies as revealed in Daniel, Chapter 10, and demonstrated in the DVD set shown above, "Angelic/Demonic Warfare in the Heavenlies: Daniel 10 Propelling World Events".
'God's Holy Spirit is thus doing battle every second of the period which this scripted End of the Age agenda is working out. This wonderful reality is that the Spirit has both injected the plan as to how to fulfill all His prophecies so that Antichrist can arise, and He is working every second to ensure that not one detail goes awry, not one decision by any leader is made independently of what God wants to happen.
North Korean dictator, Kim Jong-un, cannot go crazy and make a decision contrary to the scripted plan. Our Bible states, "God hath put in their hearts to fulfil his will, and to agree (to act in harmony) ..."
This truth of the finite control of God over every single End of the Age detail should give us comfort as we pass through this most frightening period, the goal of which is to produce Antichrist on the world scene.
Daniel, Chapter 10, is probably the single-most important prophetic chapter with which virutally no one is familiar. Former Satanist, Doc Marquis, was totally unaware of Daniel 10 until I showed it to him in early, 1993. He exclaimed, "this teaching is precisely what occurs in the heavenlies every second of every day. No one can understand the End of the Age nor of the way in which the Illuminati operates, unless they are thoroughly familiar with Daniel 10".
From that moment, I began to plan to one day create this DVD.

2. Roman Catholic Pope, Francis I, has rocked his faithful by questioning God's very existence!
NEWS BRIEF: 'Empty Moments': Pope Francis has questioned God's existence, calls himself a 'sinner'," RT News, 10 Mar, 2017
"Pope Francis has spoken about his experience in matters of faith crises and opened up about 'empty moments', while also stressing that he is a 'sinner' and "fallible," in an interview with a German newspaper."
No Fundamental Bible-believing Christian would ever argue against the concept that people are fallible by nature and sinners for whom Jesus died on the cross.
But, I do find fault when the current leader of over 1 billion Catholic faithful declares that he questions the very existence of God!
Listen as the Pope admits he has doubted God's existence.
"When asked by German newspaper Die Zeit whether he had ever doubted God's existence, the pontiff said, 'I, too, know these empty moments'."
As the Pontiff attempts to broaden the reach of the Catholic Church to include all religions so he can become the False Prophet of Revelation 13:11-18, he is forced to make some declarations which are not logical or make sense.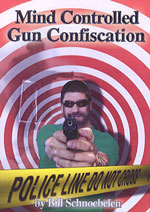 DVD
3. Gun violence is sweeping Baltimore, Maryland, so visciously that a private citizen stepped forward to urge criminals to observe a 'Nobody kill anybody' ceasefire!
NEWS BRIEF: " 'Nobody kill anybody' ceasefire underway in Baltimore", RT News, 6 August 2017
"A woman, who witnessed her first murder on the streets of Baltimore when she was 12, has started a 72-hour event aimed at creating conditions of non-violence in her Baltimore neighborhood. Erricka Bridgeford came up with the idea for a weekend ceasefire called 'Nobody Kill Anybody' when her 19-year-old son alerted her to the recent spike in violence in Baltimore."
"Bridgeford, joined by other activists, handed out flyers about peace to residents of the city. She asked them to commit to the 'Nobody Kill Anybody' truce and to pledge not to accelerate the violence that already exists in Baltimore ... the majority of people were interested, she said. Many people spread the word, and soon gang leaders and members started to call her to tell her they would participate."
How can Baltimore be rocked with such gun violence?
Maryland is another tightly controlled gun use and possession state, along with Chicago, proving again that the problem is wicked people wielding illegal guns, not the guns themselves.
Gun Control Laws simply disarm an innocent people!
Erricka Bridgeford even acknowledged that the way to curb this gun murder is to change the heart of people who own guns.
"We have created a system where you arrest and punish people, but you do not heal the traumas that you caused," Bridgeford said in an interview with RT. "America has a system that only believes that you can lock away problems and so that strategy does not really work. People need to be healed from inside out and locking them up does not do that."
People do, indeed, need to be "healed with inside out", but the only proven system to do that is genuine Christianity, where Jesus substitutionary death on the cross is preached and practiced. I never heard Jesus' name mentioned once in this effort to stop gun murder in Baltimore.
Lastly, Erricka is totally misinformed about the true obective of our prison system. Our current system of getting the criminal off the street so he cannot murder again, is taken from the Bible. Listen:
"And all the men of his city shall stone him with stones, that he die: so shalt thou put evil away from among you; and all Israel shall hear, and fear." (Deuteronomy 21:21)
"Then shall ye do unto him, as he had thought to have done unto his brother: so shalt thou put the evil away from among you." (Deuteronomy 19:19)
"... so shalt thou put away evil from Israel." (Deuteronomy 22:21)
When the death penalty was not called for in ancient Israel, incarceration was used, but only to keep the criminal from killing again. Never did the Old Testament teach that imprisoning a criminal was intended to change the heart from within.