Leftist Democrats have created the hostile environment, impeachment proceedings have caused rhetorical flames to jump to unprecedented levels, and the secret crypt is awaiting close at hand.
PLUS, End of the Age prophecies continue to be fulfilled.
It all makes you stop to ponder, does it not?
We truly need your support now to continue reaching the lost.
in recent months, donations and Bookstore purchases are way off. But our expenses do not lessen.
We are also introducing new DVD's and Books, whose purpose is to educate you and inform you of current news in light of End Times prophecy. We need your support in the Bookstore.
We're a small non-profit with costs of a top website: servers, staff, studio expenses and programs. We believe everyone should have access to free knowledge, without restriction or limitation. If Cutting Edge is useful to you, please take one minute to keep us online and to keep us reaching out to almost 50,000 people a year with the Plan of Salvation.
If the Lord has blessed you this year, and if you value the special prophetic viewpoint which Cutting Edge provides, please favor us now with a special gift. Just click on the green button and follow the prompts.
We have tried to make supporting Cutting Edge Ministry easy and convenient, with our green 'Donation Button'.

May Jesus Richly Bless You. David Bay, Director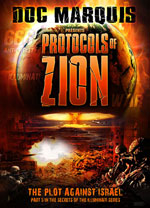 DVD
2. Observers correctly ask, "Is the Democrat's REAL aim the destruction of America", politically and militarily?
The answer is a resounding "YES"!
All who believe in the New World Order believe that America must be destroyed.
Over 100 years ago, plans were firmly set in place for history's most powerful, most repressive and most efficient Absolute Dictatorship in world history. This dictatorship was to be imposed after the planned Masonic Christ has appeared on the world scene. Listen to this planned Absolute Dictatorship and feel your hair stand straight up on end!
We shall be quoting from the Protocols of the Learned Elders of Zion:
"These laws will withdraw one by one all the indulgences and liberties which have been permitted ... and our kingdom will be distinguished by a despotism of such magnificent proportions as to be at any moment and in every place in a position to wipe out any ... who oppose us by deed or word." [PROTOCOL 5 -- DESPOTISM AND MODERN PROGRESS]
What kind of "laws" is this portion of The Protocols foreseeing that will "withdraw one by one all the indulgences and liberties which have been permitted"? The USA Patriot Act and its attendant pieces of attached legislation began the final undoing of our liberties and Constitutional Guarantees. Mark my word.
Did you catch the kind of dictatorship [despotism] that the Illuminati has planned for every nation once they are brought under the rule of Antichrist?
"... a despotism of such magnificent proportions as to be at any moment and in every place in a position to wipe out any ... who oppose us by deed or word."
Further, once they have full control, they plan on "wiping us out". You have been forewarned, and the handwriting is most definitely on the wall. The only question is, are you paying attention? Or, are you so engrossed in your investment strategies, football games, and other facets of your life right now, that you do not want to hear any truth, especially "bad news" truth?
"From this the conclusion is inevitable that a satisfactory form of government for any country is one that concentrates in the hands of one responsible person. Without an absolute despotism there can be no existence for civilisation ..." (Ibid)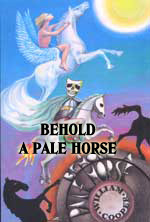 Can you believe this arrogance? The Illuminati is planning to save the civilizations of the world by imposing history's greatest Absolute Dictatorship! This arrogant attitude is mirrored by New Age author, Bill Cooper, as he quotes another planning document of the Global Elite.
"This publication marks the 25th anniversary of the Third World War, [1979] called the 'Quiet War', being conducted using subjective biological warfare, fought with 'silent weapons' ... It is patently impossible to discuss social engineering ... without implying extensive objectives of social control and destruction of human life, i.e., slavery and benevolent genocide." [William Cooper, "Behold A Pale Horse", p. 36-37, printed August, 1990; Cooper is a New Age author. The date of the beginning of this "Third World War" is reported to be 1954]
Have you ever heard of benevolent genocide? The Illuminati coined this term to describe the ultimate goal of their plan, to be carried out by their coming Masonic Messiah.
And, this reference to the Masonic Messiah brings us back to Nancy Pelosi and her current drive to impeach President Trump in a closed-door secret show trial so eerily similar to the show trials of Communist dictators, Joseph Stalin and Mao Tse-Tung.
Now, let us return one more time to the Protocols of the Learned Elders of Zion:
"It is from us that the all-engulfing terror proceeds. We have in our service persons of all opinions, or of all doctrines, restorating monarchists, demagogues, socialists, communists, and utopian dreamers of every kind. We have harnessed them all to the task: each one of them on his own account is boring away at the last remnants of authority, is striving to overthrow all established form of order." [Protocol #9]
The "last remnants of authority is striving to overthrow all established form of order".
3. A huge victory for the LGBT 'Q movement.
Austin School district approves sex ed curriculum that teaches 3rd-graders about anal sex.
NEWS BRIEF: "Win for LGBTQs: Austin School district approves sex ed curriculum that teaches 3rd-graders about anal sex", Liberty Unyielding, October 30, 2019
"We've seen this scenario play out countless times before. A 'forward-looking' school district announces plans to implement a radical sex ed curriculum, and concerned parents mount a protest. This time, however, there was a wrinkle. It wasn't only worried parents who showed up outside the headquarters of the Austin (Texas) Independent School District to make their feelings known. Members of an advocacy group called Informed Parents of Austin, which champions LGBTQ rights, and members of the LGBTQ community themselves were on hand to shout down the opposition."
What was so terrible about this new curriculum that provoked opposition from an advocacy group which normally champions all gay/lesbian/bs-sexual/Queer proposals?
"Under the new curriculum, for the first time, the district will teach students about gender identity and sexual orientation. The lessons will also help kids identify an adult they can trust; plus talk to them about options if they get pregnant, and seventh graders would learn how to use a condom."
But, most importantly, this new curricula will actually teach deviant sex acts!
"[The curriculum] encourages minor children to engage in vaginal, oral, and anal sexual activity through the comprehensive sex ed they're voting on." (Carol Ayala, director of the group Concerned Parents of Texas, which opposes the change)
So, after learning about the physical/mental/spiritual dangers posed by this new curricula, did the school board vote this study program down?
Nay, my friend, Americans are too far gone down the road of following God's Old Paths!
"In the end, the progressive voices won. Earlier Tuesday morning, the school board voted unanimously to approve the new curriculum. There is no word yet whether Austin will follow now California's lead. In 2018, the Golden State decreed that parents could not opt their children out of its equally explicit new LGBTQ sex ed classes." (Emphasis added)
Sodom and Gomorrah is now resurrected, just as Jesus foretold!
---




DVD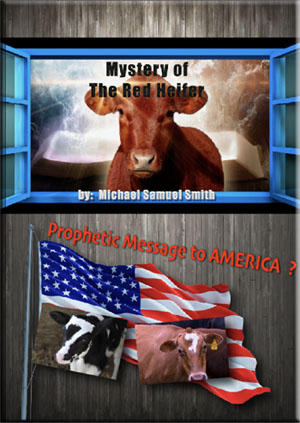 "The Mystery of the Red Heifer"
DVD by Michael Samuel Smith
A wonderful miracle has just occurred, one that carries with it exciting Messianic implications! Two (2) Red Heifers were born in 2014 with the number '7' etched in their foreheads. This miracle is a sign from Heaven to Earth, from God to America.
In Part 1, join Biblical investigative reporter, Michael S. Smith, as he and his research team travel to Gatseville, Texas, to interview the owner of a red heifer named Shemitah and make comparisons between her and the other red heifer born in Pennsylvania.
In Part 2, we will see what God told Israel to do with the perfect red heifer and then learn that Israeli religious authorities are carrying out Gods plan right now!
In Part 3, you will be excited to realize that Jesus fulfilled all of the red heifer requirements during His life and ministry.
Share this most important prophetic development with your friends, relatives and the unsaved as time is getting very short. Only $19.99
NOTE: Michael Smith is the author of the popular DVD titles, "The Cyrus Effect" and "Joseph In Egypt"
---
"UNHOLY COVENANTS: Challenges For The 'Christian' Mason"
New DVD - by Bill Schnoebelen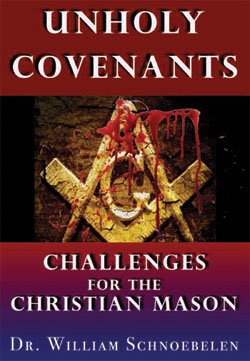 Regularly $24.95, Now Only $19.95 - You Save $5.00
Tragically, tens of thousands of Christian men are members of the Masonic Lodge. A surprising number are pastors, deacons and elders! Sadly, these men have their spiritual eyes blinded to Masonry's bloody roots, perverse hierarchy and despicable, secret rites. Exposing ALL THIS MASONIC EVIL in a passionate argument often creates volatile anger and deep resentment -- which feeds demonic entities and thwarts their liberation by Jesus the Messiah!
HOWEVER, with sincere prayer and the seasoned, Scriptural instruction provided in this DVD teaching, you can speak CONFIDENTLY to those deceived by Masonry's DARK COVENANTS and start ministering Jesus's Liberation and Deliverance with authority!
LEARN to compare Scripture against arcane, Masonic obligations and rites, and share Dr. Williams testimony of liberation from his nine years of intense involvement with the Lodge. Witness to others the ANTI-CHRIST dangers of Freemasonry -- all without the shock factor!
Teaches you how to renounce Lodge membership, spirituality, headship, and how to compose a demit letter to various Masonic bodies to sever demonic chains from the dark forces behind Masonry!
2 Hours Long --
Related DVD Titles