NEW CHRIS PINTO DVD!!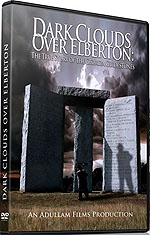 "Georgia Guidestones Mystery Revealed: Dark Clouds Over Elberton"
New DVD by Chris Pinto
At Long Last: The mysterious 'R.C. Christian' who funded the massive Georgia Guidestones is revealed by Chris Pinto. Masterful research project finally pays off.
The monument was named the Georgia Guidestones. Written on the great granite stones are ten commands or guides that were intended to provide New Age wisdom for mankind. But the first of them calls for a reduction of the world population to a mere 500 million.
Researchers have wondered for decades about the identity of R.C. Christian and the purpose of his mysterious structure. Was he part of a globalist group? Was he working with the United Nations? After a five year investigation, this powerful documentary presents groundbreaking information, and dares to solve the mystery of who R.C. Christian really was.
This film is a must see for those who wish to learn more about the globalist use of environmentalism in the cause of population control.
Role of both Rosicrucian and Freemason secret societies in the building of the Georgia Guidestones is revealed
Two (2) Hours Long

DVD Trailer