SPECIAL NEWS ALERT
April 18, 2008
2 New Bookstore Items - ON SALE!
"Companion Set" To "Final Countdown DVD Vol. 1"

80 DVD Video Clips Plus 2 Workbooks And More!

Introductory Offer!

Regularly $39.99

On Sale, $29.99
Save $10 on 80 hours of video clips plus 2 workbooks which thoroughly prove the teaching in "Final Countdown, Volume 1" which is extremely popular right now. This DVD Set contains 5 DVD's with approximately 80 video clips totally nearly 10 hours of extra information on the topics of, The Jewish People, Modern Technology, Worldwide Upheaval, The Rise of Falsehood, and The Rise of Wickedness, that was not included in the original sermon series.
Also included are 2 complete full-color leader and student guides custom tailored for personal Bible studies on 'The Final Countdown' series.
This set even includes a Data Disc with the study files so you can print even more copies of the workbooks if needed. If you want to teach this as a series in a setting like Sunday School, you most definitely can do so!
If you have already seen "Final Countdown, Volume 1" , you definitely don't want to miss this Companion Set. - http://cuttingedge.org/detail.cfm?ID=1822
See the special trailer page for these two "Final Countdown" items: http://www.cuttingedge.org/video/finalcountdown.htm

A Great Addictions Combination Offer, saving you $8.00 over buying them individually!
"Silent War Pornography" Book
PLUS
"Disturbing Behavior of Teens" Book
Regularly $27.98
On Sale $19.98
You Save $8.00!
'Silent War: Ministering To Those Trapped In The Deception of Pornography" Book -- In hotel rooms, trendy bookstores, TV screens, and internet websites, enough people view pornography to trap their lives completely! 239 pages
'Disturbing Behavior: 53 Alarming Trends For Teens, And How To Spot Them!' -- This book looks at 53 disturbing behaviors in which teens are involved. This book should act as an alarm, an educational tool. Most important is that you will be able to recognize the behavior described and be able to make corrective measures to help your teenager. 232 pages
Total number of pages for only $19.98 - 471 pages
http://cuttingedge.org/detail.cfm?ID=1821
Even these books individually are on SALE!
"The Silent War: Ministering To Those Trapped In The Deception of Pornography" - Regularly $12.99, Now Only $9.99
"Disturbing Behavior: 53 Alarming Trends For Teens, And How To Spot Them!" - Regularly $14.99, Now Only $12.99
Special News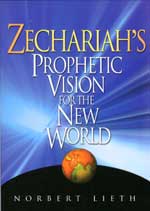 I. War tensions in the Middle East struck a new high this week, as Syria announces her belief that Israel plans to start a war!
NEWS BRIEF: "Syria Claims Israel Will Start War in Late May - Mid-June", News Blaze, April 14, 2008
"DAMASCUS - Syria is taking what appears to be pre-emptive measures to prepare for what it states is a planned offensive by Israel with active support from Washington. At least that is what Syrian officials are saying publicly and that they claim Israel will start the war in either late May or mid-June ... Debka is reporting Damascus has just deployed its 10th armored corps at the Massaneh crossing at Mount Hermon adjacent to and northwest of the 14th division which has been in position since last month on the Lebanon/Israel border. Syria now has troops stretching from its border with the central Lebanese mountains in a crescent running south to the Golan Heights. According to Israel's Northern Command the Syrian troops are prepared to quickly move into attack mode."
If Israel launches a war against Syria, she will immediately be fighting a three-pronged enemy: Syria, Hizbullah in Lebanon, and Hamas in the Gaza Strip.
After the July-August, 2006, 33-day war between Israel and Hizbullah, Palestinian leadership believed that they had fought the vaunted IDF to a standstill -- thus, they argued that they had "won" that war. Evidently, they truly believe it, for they have been rearming at a furious pace and have trained both her soldiers and Hamas fighters in the tactics which were effective against the Israeli Defense Force.
However, I believe that it might be the Arabs which are planning to start this new war. And, if that is true, the hand of Iran is clearly evident. Not only has she trained many of the Palestinian units, and not only has she shipped them sophisticated weaponry, but Iran has already clearly shouted to the world that a war with Israel is part of her strategy to defeat the Americans in Iraq and Afghanistan!
Do you remember? Let us look back to the original story, which broke at the same time American-led forces were streaming across the Iraqi border in March, 2003. Let us reprint portions of this most important story, as we reported in a most important Headline News Article at the time.
NEWS1910, "Has Iran Ignited Many Fires To Set Off A Regional War?"
Quoting the pertinent portion:
NEWS BRIEF: "Iran Preparing To 'Light Many Fires' To Defeat The Americans", The Jerusalem Post, March 21, 2003
" 'The American Great Satan will never accept an Islamic system. It is coming to Iraq to complete its encirclement of our Islamic Republic before it moves against us. To help the Americans conquer Iraq easily would be suicidal for our revolution.' [Khamenei"s chief foreign policy adviser, former Iranian foreign minister Ali-Akbar Velayati]. Velayati claims that the US has two aims in the Middle East: preventing the destruction of the 'Zionist entity' and control of Arab oil."
"UNLIKE THE accommodationists who foresee an easy American victory, the confrontationists believe that US involvement in Iraq could become 'the beginning of its end.' He explains:
" 'Iraq is a swamp', Khamenei said in his address to the guards. 'The Great Satan will get caught in that swamp; and that will speed up its inevitable collapse'. In a recent article Velayati spelled out a strategy aimed at 'confronting the Great Satan in a number of fronts.' "
He then spelled out those "number of fronts".
1. Iraq

2. Afghanistan

3. Azerbaijan

4. Israel
Are we now at the point of Iran's planned conflict #4? If so, the Middle East could blow up into a huge conflagration, which might just start the World War III which is designed to produce the Masonic Christ on the world scene. Christians who know their prophecy will be interested to see if this is the time for the final judgment prophesied for the Syrian capital, Damascus.
"The burden of Damascus. Behold, Damascus is taken away from being a city, and it shall be a ruinous heap." (Isaiah 17:1)
Since Damascus is known by archaeologists as the "long continuously occupied city in the world", this prophecy has never been fulfilled. When Israel and Syria go to all-out war, Damascus will be utterly destroyed, becoming just a "ruinous heap".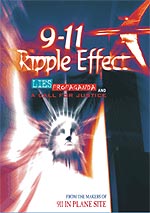 DVD
II Even as the Pentagon's "Think Tank" labels the Iraqi war a "debacle", President Bush promises that the war dead "will not have died in vain".
First, let us review this most incredible angry report on the Iraq War from a prestigious Pentagon panel.
NEWS BRIEF: "Report deems Iraq war 'debacle': The National Defense University's study blames the administration and says the war's outcome 'is in doubt' ", News & Observer, April 18, 2008
"WASHINGTON - The war in Iraq has become "a major debacle" and the outcome "is in doubt" despite improvements in security from the buildup in U.S. forces, according to a highly critical study published Thursday by the Pentagon's premier military educational institute. The report released by the National Defense University raises fresh doubts about President Bush's projections of a U.S. victory in Iraq just a week after Bush announced that he was suspending U.S. troop reductions."
The conclusions from this Pentagon report are incredible, because they virtually call President Bush a liar! But, the report gains even more credibility when you consider the author, and from the sources he quotes! Listen:
"The report carries considerable weight because it was written by Joseph Collins, a former senior Pentagon official, and was based in part on interviews with other former senior defense and intelligence officials who played roles in prewar preparations. It was published by the university's National Institute for Strategic Studies, a Defense Department research center."
Normally, active duty flag officers in the Pentagon are not allowed to write a report such as this which embarrasses their boss, the President of the United States. Thus, the very fact that this report was written as it was tells me that this embarrassment was planned, and it comes at a most damaging time, as Republican Presidential candidate John McCain is trying to defend Bush's war record. Of course, Cutting Edge has been pointing out since February, 2004, that the CFR was deliberately embarrassing President Bush (Read NEWS1929, "Campaign To Discredit President Bush Seems To Be Moving Into High Gear")
If you have not read this archived article, please take the time to do so now, for the implications of a thoroughly discredited President Bush can prove to be fatal to genuine Christians if the 44th President is a very Liberal Democrat!
Now, let us return to this most powerful Pentagon report for the specifics which will flesh out the accusations.
" 'Measured in blood and treasure, the war in Iraq has achieved the status of a major war and a major debacle', says the report's opening line."
The word "debacle" is a huge word, carrying extremely bad connotations for the White House; after all, this report is a Pentagon report, not a Liberal Democrat report. Many more Americans are going to pay attention now and the Democrats will be able to quote this report with authority in the November campaign against John McCain.
We encourage you to read this report further, as neither time nor space allows us to give the remaining portion a fair hearing. You will be shocked at the detail of damage this war has done to the United States in so many ways. This report could prove to be a milestone in the Iraq War and it will give the Democrat Presidential nominee a great deal of political ammunition.
About one month ago, President Bush promised that the brave soldiers who died in Iraq since March 20, 2003, will not have died "in vain". Doubtless the President was thinking of the 58,000+ brave soldiers who did die in vain during the Vietnam War!
NEWS BRIEF: "4,000 won't have died in vain, Bush says", The Denver Post, 3/25/2008
"WASHINGTON — Marking a grim milestone, a determined President Bush declared Monday the lives of 4,000 U.S. military men and women who have died in Iraq "were not lost in vain." The White House signaled anew that additional troops won't be pulled out soon. A roadside bomb in Baghdad killed four U.S. soldiers Sunday night, pushing the death toll to 4,000."
Cutting Edge has long maintained that retired Colonel Hackworth was absolutely correct when he maintained through the end of 2004 (when he passed away) that the true death toll was much, much higher than the official toll -- at least 50,000 killed, wounded and missing. Please read our Newsletter for December 18, 2004, Paragraph II for full details)
Nevertheless, President Bush has gone on record now as promising all Americans who lost a loved one, or who are struggling with a returned loved one who is crippled either physically or mentally, that their sacrifice will not be in vain. How the President intends to carry out that promise remains to be seen, especially since the war seems dangerously close to slipping totally out of control -- again!
If you have not read the current newsletter, click on this link to go there
CURRENT NEWSLETTER - April 16, 2008
Bookstore -- Most Popular DVD's
Watch The Exciting Trailer For Each DVD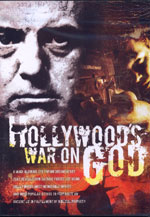 "Hollywood's War On God"
Fulfilling Bible Prophecy
DVD
'Hollywood's War on God' is a mind-blowing, eye-popping video documentary which reveals how Satanic forces are mightily using Hollywood's most memorable movies and its most popular actors to propagate an Ancient Lie in fulfillment of Biblical Prophecy.
Learn how movies are initiating the masses of people into a Gnostic Worldview which will culminate in the "Strong Delusion" when the peoples of the world enthusiastically join with Antichrist and the False Prophet for the climactic war on God
These are some of the movie titles addressed in this blockbuster DVD: 1) 'The DaVinci Code' by Ron Howard and Tom Hanks; 2) 'The Matrix and Constantine' by Kenu Reeves; 3) 'Fight Club', by Brad Pitt; 4) 'Truman Show', with Jim Carrey; 5) 'Pleasantville', by Toby McGuire; 6) 'Total Recall', by Arnold Swarzenegger; 7) 'From Hell', by Johnny Depp; 8) 'League of Extraordinary Gentleman' by Sean Connery; 9) 'Harry Potter' by J.K. Rowling; 10) 'Bladerunner', Harrison Ford; 11) Tom Cruises' 'Vanilla Sky', 'Eyes Wide Shut', and 'Minority Report'. 12) Many other movies
A must have video for people who want to know how they are being silently manipulated to be good New World Order citizens! Now you can see what Hollywood is doing to you! -- http://cuttingedge.org/detail.cfm?ID=1753
"The Final (Prophetic) Countdown"
Volume 1
Now you can convince even the die-hard skeptic that current events are moving as Bible prophecy had predicted. This DVD should be a great soul-winning tool.
This video presents 5 dramatic events and/or trends which prove beyond a shadow of a doubt that Jesus "is near, even at the very doors". Teaching is liberally sprinkled with video clips
The Five Prophecies Being Fulfilled which are covered on this DVD
* "The Jewish people returned to their land' - just as 2,600-year-ol Scripture foretold. No other people had ever returned to their land after being out of it for 1,900 years.
* "Modern Technology" is driving the ability of the forces of Antichrist to bring the world into a global economy and government and to control both the economy and every person just as tightly as the 'Mark of the Beast' prophecy stipulates
* "Worldwide Upheaval" is clearly one of the major signs of the impending "End of the Age". You will see, and hear, how truly convulsed the world is today
* "Rise of Falsehood" - When Jesus warned three times in Matthew 24 against unparalleled deception, He was saying that Unparalleled Deception in politics (False Christs) and in religion (False Prophet) would be a hallmark characteristic of the End of the Age. Yet, most Christians are supremely ignorant of this most important prophecy
* "Rise of Wickedness" - is rampant throughout the world, as Biblical standards are being rejected dramatically by most people. Sexual sin is the most obvious, from homosexuality coming out into the open just as Jesus foretold to heterosexuality rejecting the Biblical standard of sex only within marriage -- http://www.cuttingedge.org/detail.cfm?ID=1803
Notice that we now have the Companion Set of 80 Video Clips and workbooks, as we note above: http://cuttingedge.org/detail.cfm?ID=1822 -- and it is on sale for $10.00 off!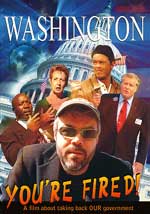 DVD
"Washington: You Are Fired! Taking Back Our Government"
Powerful documentary examines the dictatorial laws which Congress passed and President Bush signed, which, when enacted, will reduce every American to a state of slavery in the greatest dictatorship in history Do the American people even know the names of the Bills that were used to exterminate the U.S. Constitution? Chances are, the answer is no... "Washington, You're Fired" is a chance for every American to play a serious game of political "catch-up" minus the partisan punch lines. We'll examine both sides of the political aisle exposing some of the most damning laws ever enacted in any country.
Some of the laws examined are: 1) Patriot Act; 2) Military Commissions Act; 3) The John Warner Defense Act; 4) Loss of Habeas Corpus and Posse Comitatus; 5) New official definition of "Torture" in the hands of our government; 6) If enacted, HR 1955 will for the first time put "thought crime" laws on the books, robbing Americans of their right to freedom of conscience thought; 7) Will examine constitutional issues as they relate to the Katrina disaster; 8) The President's illegal spy program; 9) NSA data-mining; 10) FISA's secret court; 11)The illegal wiretapping of millions of Americans; 12) The re-defining of "privacy" rights; 13) Frightening Executive Orders; 14) "Terror-war" legislation
Then, this video tells you, the still-free citizen, what you can do now to prevent the complete slide into this planned New World Order dictatorship -- http://www.cuttingedge.org/detail.cfm?ID=1777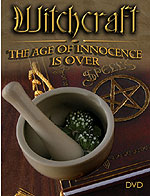 DVD
WITCHCRAFT - The Age of Innocence Is Over!!
Did you know that Daniel 8:23-25 (KJV) foretells that the religion of Antichrist will be Witchcraft, specifically, Black Magick witchcraft?
Therefore, Christians need to really and truly be aware of the "devices" of Witchcraft and how it is impacting the entire world today
This DVD will examine the origins of witchcraft and its evolution to the modern-day Wiccan Movement. It will explore the beliefs not only of those who practice a postmodern, sanitized "white magick," but also those who delve into the "black magick" of the avowed disciple of Lucifer. We will also see how the movement has progressed from primarily evil witchcraft to a sanitized witchcraft acceptable to the masses, even though it is still as evil and dangerous as it was in days of old
Does a witch conjure evil spells with the aid of such apothecaries as "eye of newt" and "dried wing of bat" mixed in a boiling cauldron under a full moon? Does a witch invoke Satan or other evil spirits to do their bidding for them? Are witches on a mission to replace Christianity with "Devil Worship?" Does the modern witch truly worship Lucifer, or is he or she simply a "tree-hugging" disciple of "Mother Nature?" Are those who practice Wicca and "white magick" true witches, or are the "true witches" the practitioners of "black magick" and Satan worshipers cast in the mold of Aleister Crowley or even Anton LaVey?
Are Christians to run from witches in fear, or should they make every effort to reach them for Jesus Christ? Indeed, we show how a Christian can use this information to reach a practicing witch with the saving Gospel!
Running time is 2 hours -- http://cuttingedge.org/detail.cfm?ID=1751
"Technology & The Bible"
DVD
Dr. Missler is a physicist on the one hand and a Bible expert on the other hand. He uses this unique combination of expertise to weave a most interesting, most fascinating DVD about how the advance of technology was foretold in Scripture many thousands of years ago
"Except those days should be shortened, there should no flesh be saved: but for the elect's sake those days shall be shortened:"
If we were reading this in 1860 - before the Civil War - we would have a difficult time anticipating that "all flesh" could wipe itself out with muskets and bayonets! But today a potential nuclear cloud hangs over every geopolitical decision on the Planet Earth.
We take passages in the Bible for granted, often failing to recognize the technological changes that are implied by them. In this briefing we've assembled a small sampling of technology statements, which we hope will reveal a perspective that may surprise many.
Antichrist and his False Prophet could not force the peoples of the world into the cashless economic system controlled by the Mark of the Beast with the world at the general technology level which existed in 1900. Antichrist needed high technology if he was to fulfill this Bible prophecy.
That high technology exists today! This high level technology is, itself, a strong sign of the approaching coming of Antichrist! - http://cuttingedge.org/detail.cfm?ID=1805

New In The Bookstore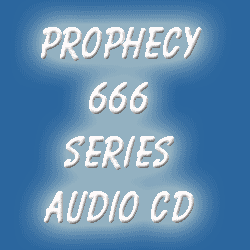 New Audio CD's In The $4.99 Prophecy 666 Series
All on Sale for Only $4.99 - Regularly $7.00
"Bethlehem: House of Bread"
Prophecy 666 Series - Audio CD
God prophesied that the Christ will come from the lineage of David -- the Messiah -- would come from Bethlehem (John 7:42) The little town of Bethlehem is unequalled in history, because it was the Divinely appointed town in which Messiah Jesus would be born in the flesh.
Today, Bethlehem is an Arab (Palestinian) town. Will this town become controlled by the Jews again? Yes, it will because it is part of Biblical Israel. We can say with certainty that this will occur because this little town is part of the original Biblical Deed which God bequeathed Israel
Great prophetic events are planned for this little town and for Israel
One hour Audio CD -- http://cuttingedge.org/detail.cfm?ID=1820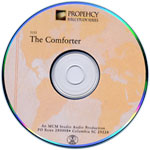 "The Comforter"
Prophecy 666 Series - Audio CD
The Holy Spirit is the Eternal 'Comforter' whom the Lord Jesus promised shortly before He went to the cross (John 14:16, 26; 15:26; 16:7)
Jesus Himself promises us this Comforter, but His promises carry great prophetic significance! Jesus' role as Comforter in His ministry was only temporary, because the Holy Spirit had not yet indwelt all true believers
During the Great Tribulation, believers will be empowered by the Holy Spirit Comforter, but they will look forward to the ultimate Comforter, Jesus Christ
One hour Audio CD -- http://cuttingedge.org/detail.cfm?ID=1819
"Peace Before Armageddon"
"Peace" is the word most on the lips of Jews in Israel, revealing the heart-felt desire of the Jewish people to simply live in peace. Yet, the very presence of the Jew in their Ancient Land stokes the fires of hatred of all anti-semitic peoples in the world.
Biblical Foundation: 1 Thess 5:2-3 - "For when they shall say, Peace and safety; then sudden destruction cometh upon them, as travail upon a woman with child; and they shall not escape." 1 Thess 5:3
This verse reveals that a short period of "peace and safety" will precede the Battle of Armageddon!
Understanding the events which are prophesied to occur BEFORE Armageddon is of paramount importance to Christians at this Age, especially since the Mass Media has so perverted the truth of Armageddon and the events which must take place beforehand
One hour CD -- http://cuttingedge.org/detail.cfm?ID=1812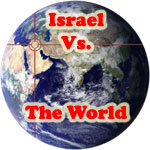 "Israel vs The World"
At the End of the Age, Israel will find herself facing the armies of the entire world!! Prophecy proclaims this sober reality
"Israel" literally means "Having power with God", or "God's fighter"
The Jews are returning to the Land, the nations of the world are verbally and diplomatically arranging themselves against Israel, and the entire Islamic world is daily becoming more and more enraged against Jerusalem. These are End Times' Signs!
This CD reviews the horrible betrayal of the Jew by America, Great Britain, and Russia into the hands of Adolf Hitler during the dark days of genocide of World War II. This action reveals the secret hatred of the Jew even amongst her so-called friends! Today, that hatred is gaining strength and is gaining control over governments again -- history is repeating itself
At the very End of the Age, Jews are going to face the entire world -- forcing God to reveal His terrible power and authority as He comes to the aid of His Chosen People
One hour CD -- http://cuttingedge.org/detail.cfm?ID=1811
Click Here To See All The "Prophecy 666" Audio CD's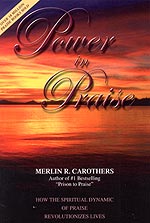 "Power In Praise - How The Spiritual Dynamic of Praise Revolutionizes Lives!"
Regularly $12.99
On Sale $9.99!! Introductory Offer
I highly recommend this fine book! God is said to "inhabit the praises of Israel" (Ps 22:3), so you know He inhabits the praises of His saints through Jesus Christ!
However, most Christians miss out on experiencing the real power of praise because they do not understand one tiny detail: if we praise God for what is occurring in our life right now, recognizing it as part of God's plan, the Holy Spirit will release a power in our lives to change bad situations and to bring even better ones to fruition.
Example: A family had prayed for an alcoholic husband/father for 30 years, with no answer from God; but once they praised God for his alcoholism because it was part of God's plan for their father, the Holy Spirit immediately brought conviction into his heart and he became gloriously saved!
Are you surrounded by difficult circumstances right now? Praise God with understanding that He loves you and has allowed these circumstances to occur so He can bring good out of them for you. "Praise is based on an acceptance of the PRESENT as part of God's loving, perfect will for us. Praise is not based on what we think or hope will happen in the future ... but we praise Him for Who He is and where and how we are right now ... when we honestly praise God ... His power obviously flows into the situation" to change the circumstances of our lives. Praise is not a bargaining position, but when we honestly praise God for the difficulty facing us now, He builds upon our heartfelt praise to change us to the person He wants us to be. "If we could only learn to be delighted with the Lord in everything first ... then he will give you all your heart's desire"
"The turning point cannot come until we begin to praise God FOR our situation, instead of crying for Him to take it all away"
I personally testify that this "slight change of understanding" has occurred in my life! Today, I am totally in praise to Jesus my Savior and my life is truly full and victorious!
NOTE: We are Baptist and so do not agree with the author on speaking in tongues. However, this issue is completely separate from the key focus of this wonderful book. We recommend you read it carefully during your daily devotions
http://cuttingedge.org/detail.cfm?ID=1813
New Pamphlets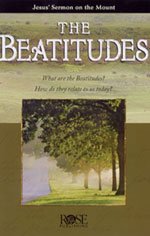 Pamphlet - Jesus' Beatitudes
Jesus' beloved teachings about finding hope and joy in the life of the believer offers a true picture of God's blessing for all His saints
Understanding the Beatitudes will help Christians learn how to live the 'Kingdom Life'. Those people who follow Jesus will be inspired and challenged to live out these attributes in contrast to worldly values
* Poor In Spirit' * Mourning; * Meekness; * Righteousness; * Mercy; * Purity in heart; * Peacemaking; * Persecution
For each lovely Beatitude, the explanation includes: 1) What does the Beatitude mean? 2) Related Scripture References are provided; 3) Application to Real Life
Pamphlet is fully laminated -- http://www.cuttingedge.org/detail.cfm?ID=1800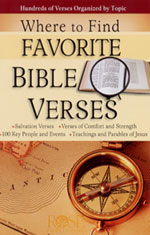 Pamphlet - Where To Find Your Favorite Bible Verse
You don't have a photographic memory? This pamphlet lists the most important verses in Scripture organized by topic --
* Forgiveness; * God's Love; * Acceptance by God; * Jesus' death; * Salvation; * Fruit of the Spirit; * Anger; * Beatitudes; * 10 Commandments; * Great Commandment; * Promises of Comfort and Strength; * Jesus the Only Way; * Faith, not Works; * God's Mercy; * What God requires and many more wonderful Scriptures.
Perfect for people who do not remember the exact Bible reference for their favorite Scripture
Pamphlet is fully laminated, folding out to 14 panels, 38" inches
http://www.cuttingedge.org/detail.cfm?ID=1798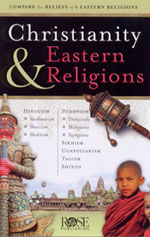 Pamphlet - Christianity & Eastern Religions
Pamphlet offers a detailed comparison of Christianity with the major types of Hinduism and Buddhism, including the following information: 1) Founder and Key Writings; 2) Who Is God? 3) How is a person to be saved? 4) What happens after death 5) Other interesting beliefs and practices
Profiles of current religions and cults, including Transcendental Meditation, Hare Krishna, Self-Realization Fellowship, Soka Gakki.
Focuses on the Dalai Lama and Tibetan Buddhism.
Profiles of other Eastern religions, including, Janism, Sikhism, Falun Gong, Confucianism, Taoism, Shinto, as well as beliefs and practices such as Reincarnation and Karma, Feng Shui, Yoga, Eastern meditation
Pamphlet fully laminated -- http://www.cuttingedge.org/detail.cfm?ID=1797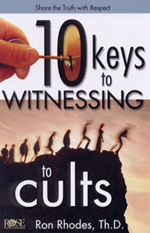 Pamphlet - 10 Keys To Witnessing To People Trapped In The Cults
Expert author Ron Rhodes helps dispel believer's feelings of insecurity when confronted with cults. Ten easy keys will prepare you to witness in a loving, respectful, and informed manner to the cult people at your door, at your work, or in your neighborhood
Tips include common objections cultists are trained to counter, strategic questions to ask them, and easy ways to demonstrate Jesus' Deity -- and much more
Pamphlet is fully laminated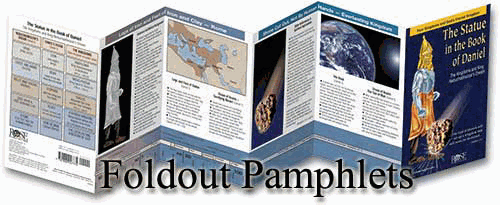 In the past year, these beautifully laminated, fold-out pamphlets has become our most popular category. We have created a "Pamphlets" section, which now has 58 different pamphlets! These pamphlets are so popular because they contain so much information and are so readable and easily understood, and all for only $3.99!
Great for Sunday School, Bible study and Home Schooling!
New Headline News Articles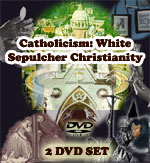 DVD [Jim, can you shrink down the image of Pope Benedict carrying the Bent Cross Crucifix and 'right justify' it here? It is on DNU]
"President Bush -- America's First Roman Catholic President!"
George W. Bush once again is NOT the man he appears to be! Not only is he NOT a Born Again Christian as he claims, he is also so pro-Catholic he can be rightly considered the "first Roman Catholic President"!
http://cuttingedge.org/news/n2284.cfm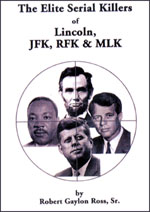 DVD
"If Obama Is Elected President -- Will He Be Assassinated?"
Scuttlebutt is streaking throughout the Internet that Obama will be assassinated soon after he ascends to the Oval Office. Remembering that the Illuminati loves to telegraph their punches ahead of time, we conclude that this scenario might actually occur! -- http://cuttingedge.org/news/n2283.cfm


"TIRED OF YOUR LIFE?"
"Warning To All Islamic Haters of Israel -- Unrelenting Fury of Hatred Is Setting Palestinians and Other Muslims Up For God's Prophesied Judgment"
"How Can You Know That President Bush Ordered The Iraqi War Invasion Based Upon Hitler's Concept of The 'Big Lie' - Repeated Often?"
"Oprah And Tolle Fuel New Age Revival" - Column by Berit Kjos
* Wow Item For the Day
SPECIAL ANNOUNCEMENT
When we started the "Wow - Today's Big Bargain", we had quite a number of overstocked items which we needed to sell at reduced prices. During the last seven months, we have not had those kinds of overstocks, so we allowed the "Wow!" program to almost fall into disuse. However, we are now again at the point where we have significant overstocks we need to clear out at reduced prices.
Therefore, we are going back to one item per day at reduced price with limited quantities. If we sell out of an item during a weekday, we shall change the "Wow"! item immediately. Thank you for your support in helping us reduce our inventory.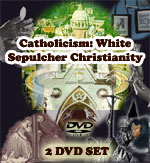 "Catholicism: White Sepulcher Christianity"
Over 3 Hour DVD
Regularly $29.99
On Sale $14.99
50% off
In honor of the visit of Pope Benedict XVI!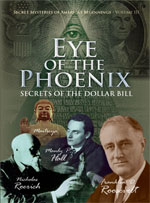 "Secret Mysteries of America's Beginnings"
Video 3 - "Eye of the Phoenix"
Pre-Order Sale
DVD
We really need to hear from you if we are going to finish work on Video 3. Too many people who thoroughly enjoyed Videos #1 and #2 have still not pre-ordered Video #3!!! Your order of only $20 can ensure that "Eye of the Phoenix" is finished.
Order now, save $5.00! and help us raise money to finish producing Video 3, "Eye of the Phoenix".
Regularly $24.99 - Now only $19.99
Secret Mysteries III will next focus on the development of the new world as "The United States of America". This video will demonstrate that the history of America's government and of its official symbols is a history of secret societies
We shall be examining America's much-talked-about dollar bill and the symbols it bears. Modern masonry claims that the all-seeing eye floating above the pyramid is not a Masonic symbol. But what did Freemasons President Franklin D. Roosevelt and his Masonic Vice President, Henry Wallace, believe when they attached this symbol to our currency in 1935?
How were these American leaders influenced by the Russian mystic, Nicholas Roerich? Does the all-seeing eye represent the Masonic Christ? Was the eagle originally a phoenix bird? And what do all these occult symbols mean?
Follow the journey of the Secret Mysteries series as we unveil their influence through the 20th century. Many believe that the real purpose of the many "Wars and Rumors of Wars" has been to establish a commonwealth of nations to rule the whole world. With the North American Union on the rise, is America the victim of deception? Or is she THE instrument of Global Government?
Notice that we are pre-selling this video by offering you $5.00 off if you pre-buy now. These monies will fund the rest of the project. We truly believe this video will be ready by Christmas, 2008. If you enjoyed "The New Atlantis" and "Riddles In Stone: The Secret Architecture of Washington, D.C.", you will enjoy this video even more. Occultists consider the One Dollar bill to be one of the "most magical" documents ever conceived!
Planned to be over 2 hours long -- http://www.antiquitiesresearch.com/detail.cfm?ID=9
NOTE: You are ordering in the AR Films Shopping Cart, so you cannot order any other items from the Bookstore, except for Videos 1 and 2

See our Huge Selection of DVD Videos
View Our Entire Video Viewing Room
News Alert Archives
As always we ask you to pray daily for this ministry.
Be sure to visit the Sale items and Special offers sections where you will find 28 Special offers and 121 items on Sale.
David Bay, Director, Cutting Edge Ministries
1792 South Lake Drive, Ste. 90 PMB 300, Lexington, SC 29073
800-451-8211