SPECIAL NEWS ALERT
February 15, 2008
Inspiration For This Day -- Understanding I Received During My Morning Devotions
Rarely does the Holy Spirit shake me awake like he did during my morning Bible study and prayer time! Please allow me to share this exciting understanding new to me! Perhaps you have never heard of it, either!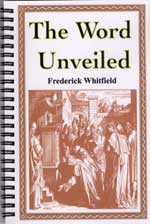 I have been systematically studying "The Word Unveiled", by Frederick Whitfield, when I came this morning to Chapter 8, "The Four Manifestations", a wonderfully complete treatise of John 21:15-17. You are probably familiar with this passage, as I certainly thought I was:
"So when they had dined, Jesus saith to Simon Peter, Simon, son of Jonas, lovest thou me more than these? He saith unto him, Yea, Lord; thou knowest that I love thee. He saith unto him, Feed my lambs. He saith to him again the second time, Simon, son of Jonas, lovest thou me? He saith unto him, Yea, Lord; thou knowest that I love thee. He saith unto him, Feed my sheep. He saith unto him the third time, Simon, son of Jonas, lovest thou me? Peter was grieved because he said unto him the third time, Lovest thou me? And he said unto him, Lord, thou knowest all things; thou knowest that I love thee. Jesus saith unto him, Feed my sheep." (John 21:15-17)
At this moment, I felt constrained to open my Greek/Hebrew Study Bible (KJV) to study the passage according to key words. As I read from this study Bible, I realized that, in the original Greek, Jesus was using a different word for "love" than was Peter! What a mighty difference this makes! This is the way this passage would read in Greek, zeroing in on the word "love".
* "Simon, son of Jonas, lovest (Agapao) thou me more than these?" -- 'Agapao' means a God-type love. Jesus was asking Peter if he loved Him with a God-type love!
Peter answered "Yea, Lord; thou knowest that I love (Phileo) thee." -- 'Phileo' means a human love as between friends!
Literally, Peter was replying to Jesus, "I love you as a friend", when Jesus was asking him if He loved Him as God!
This exchange occurred the second time, with Jesus using 'Agapao' and Peter replying 'Phileo'!
Finally, the third time, Jesus asked, "Simon, son of Jonas, lovest thou me?" (John 21:17) This time, Jesus used the word 'Phileo' and Peter answered the third time, using 'Phileo'. In the end, Jesus gave up and descended to Peter's level, asking him if he loved the Master as a 'friend'.
How could the Apostle Peter not be willing to love Jesus with an 'Agapao' love? He had seen the empty tomb, had seen and touched Jesus physically, and was looking into the eyes of His Creator God! Yet, his heart was hard enough that he would not admit to Jesus the he loved Him as God, but only as a friend! It was only after receiving the power of the Holy Spirit on the Day of Pentecost did his fruits show that he then loved the Savior with a God-centered love. He then loved God as God, and not just as a friend.
How about your heart? Do you love Jesus casually, as only a friend, or do is your love of Him elevated into the Heavens, a God-like love?
Startling News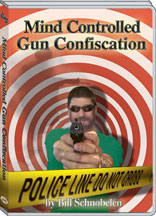 DVD
I. A shooter casually walked up to the stage where a university professor was delivering an address and opened fire, killing at least 6 people and wounding 15 others, before he committed suicide.
Remember this: all mind controlled shooters commit suicide before authorities can arrest them! That is one of the signatures of a mind-controlled shooter. We shall return to this subject after we view the somber facts.
NEWS BRIEF: "Gunman kills five, wounds 16 in rapid-fire campus attack", Kansas City.com, February 15, 2008
"DEKALB, Ill. | A man armed with a shotgun and two handguns opened fire Thursday afternoon in a lecture hall at Northern Illinois University, killing five people before shooting himself to death. The gunman fatally shot four women and a man in a 'brief, rapid-fire assault' that sent terrified students running for cover, university President John Peters said. At least 16 people were wounded. There were 162 students enrolled in the class."
"Witnesses in the geology class said 'someone dressed in black came out from behind a screen in front of the classroom and opened fire with a shotgun', Peters said"
Let us stop right here, for we have two major clues as to why this man opened fire against innocent students. The Shooter:
1) Committed sucided before authorities could arrest him;
2) Was dressed in black
I immediately thought of the shootings of Columbine High School in Colorado? Do you remember that awful shooting? In April, 1999, during the Satanic 13-day Bloody Sacrifice to the Beast (April 19-May 1 every year, NEWS1647), two high school students dressed in black trench coats turned the school into an unbelievable scene of carnage. We reported this horrific event in NEWS1272, and we urge you to read it. These students were proven to be worshippers of Lord Satan, and they wore black as that is one of Satan's favorite colors. We also posted an indepth report, NEWS1278)
We noted also that school shooters in Edinboro, Pennsylvania. German high school, and Bosnia school, Red Lake Minnesota, Springfield, Oregon, Pearl, Mississippi, all wore black. (Read NEWSNEWS2017 for full details).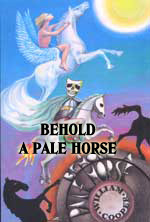 Behold A Pale Horse
Further, these earlier shooters were all on Prozac or some other anti-depressant drug!
And, they all killed themselves before authorities could arrest them. New Age author, Bill Cooper, addresses this issue:
""In every instance that I have investigated -- the incident at the women's school in Canada, the shopping in Canada, the Stockton, California, massacre, and the murder of Rabbi Meir Kahane -- the shooters were all ex-mental patients or were current mental patients who were all on the drug Prozac. This drug, taken in certain doses, increases the serotonin level in the patient, causing extreme violence. Couple that with a posthypnotic suggestion or control ... and you get mass murder." ["Behold A Pale Horse", Page 225]
Another secular author noted the same tie-in between school shootings and prozac.
In an article entitled, "Prozac Implicated In Oregon Shooting", written by Maureen Sileaf, of the Vigo Examiner, she makes this startling statement: "This particular drug has factored in almost all wild shooting sprees which have taken place in the last ten years." [Maureen@Vigo-Examiner.com, May, 1998]
We do not yet know if this shooter was taking an anti-depressant or if he had ever been a patient in a mental institution, but so far, he is exhibiting very strong indications that he is a mind-controlled shooter who was programmed to shoot quickly, kill, and then commit suicide before authorities could arrest him.
Interestingly, one of the cards of the Illuminati Card Game is entitled, "Enough Is Enough" and shows a sniper under mind control.
One last fact should be mentioned. This tie-in between mind control and school shootings is one of the worst-kept "secrets" in the world today. If you "Google" "School Shootings" and "Mind Control", you will bring up 169,000 entries! If you "Google" the words "School Shootings" and "Prozac", you will bring up over 50,000 entries. Expanding numbers of people today are becoming aware of this mind controlled effort to so turn people's attitudes against gun control that, one day, all guns can be seized.
In the video, above, "Mind Controlled Gun Confiscation", former Satanist, Bill Schnoebelen reveals that the final planned gun control will be brought about by mind control over entire populations! But, in the meantime, mind controlled shooters continue to plague our campuses.
Please also take a few moments to read our write-up on the Virginia Tech University shooting by the mind controlled student, Cho Seung-Hui. This write-up is in our Newsletter, April 19, 2007, Paragraph II). You will discover that this programmed shooter did fit this profile and most definitely was on Prozac.
II. Now that former governor Mitt Romney has dropped out of the race for the Republican presidential nomination, he wasted no time endorsing Senator John McCain, and urging his delegates to vote for the Arizona Senator!
NEWS BRIEF: "Romney endorses McCain", Newsday.com, February 15, 2008
"After Mitt Romney announced he would support John McCain, urging his 280 delegates to follow suit, McCain's campaign claimed it had won the necessary delegates to secure the GOP nomination yesterday ... The endorsement by Romney, who quit the race last week, however, could go a long way to help McCain win over distrustful conservatives, especially if Romney campaigns for him in the months to come. It also puts added pressure on holdout Mike Huckabee to quit a race he cannot possibly win, though Huckabee said again yesterday he will stay in until someone gets the 1,191 delegates needed to win."
Before Romney dropped out of the race, McCain held 843 delegates. If all of Romney's 280 delegates vote for McCain, the Arizona Senator will hold 1,123 delegate votes, putting him tantalizingly close to the total votes needed to claim the nomination. If fact, the Senator could wrap up the nomination by the March 4 primaries in Ohio, Rhode Island, Texas and Vermont.
However, one political analyst believes that Romney's endorsement of McCain is a case of 'too little, too late'.
NEWS BRIEF: "Mitt's olive branch might come too late", The Boston Herald, February 15, 2008
"To solidify himself as a team player within the GOP, Mitt Romney had to move swiftly to embrace his former foe John McCain or risk charges of being a sore loser ... 'If you want to have a future in national Republican politics - and I think Mitt Romney does - then you have to back the nominee presumptive', said Hub-based GOP strategist Rob Gray."
"But some say he didn't move quite fast enough ... Experts agreed Romney's endorsement will endear him with the party, but as for whether McCain will reciprocate with goodwill toward Romney, the jury is out."
This next segment tells us all we need to know about Mitt Romney and what his goals really are.
"Marty Linsky, public policy professor at Harvard's Kennedy School of Government, said Romney could land a spot on McCain's short list for vice president or a Cabinet post and potentially could be viewed as 'heir apparent to the nomination four years from now'."
For some time now, I had wondered if the Republican ticket for President this year might be John McCain for President and Mitt Romney. Such a national ticket would be seen as solidifying McCain's standing, for he would then appeal to the patriotic, right-wing Bush backers while Romney would appeal to the truly conservative voter. Romney could do a lot of "fence-mending" for McCain with the genuinely Conservative voter.
Mike Huckabee vowed to continue the race.
NEWS BRIEF: "Huckabee says he won't quit race despite Romney's endorsement of McCain", Arkansas News Bureau, February 15, 2008
"LITTLE ROCK - Republican presidential candidate Mike Huckabee said Thursday he remains committed to his presidential bid despite former rival Mitt Romney's endorsement of GOP front-runner John McCain ... In a statement issued Thursday by his campaign, Huckabee indicated he was not ready to join the McCain bandwagon. 'This goes to show there is a lot of 'me too' going on in the party. I just happen to be the leader of the 'not me' crowd', the former Arkansas governor said."
" 'There are those from the Beltway and those of the party establishment who believe it's time for the Republican Party to pull together, but there are still a lot of voices that have not been heard', Huckabee said. 'This election should be about choices and voices, and not a coronation. Until someone receives 1,191 delegates, the verdict is not in'."
Mr. Huckabee now has 242 delegates. I still wonder if a Third Party candidate might not emerge from the Republican convention? Just thinking out loud.
Hillary Clinton narrowly won New Mexico and is said to have double-digit leads over Obama in upcoming primaries.
NEWS BRIEF: "Clinton Wins New Mexico Caucus By A Hair", National Journal.com, February 14, 2008
"Hillary Rodham Clinton has edged out Barack Obama in the New Mexico Democratic caucus, winning 73,105 votes to Obama's 71,396. But in terms of delegates, the rivals come out about even."
In fact, another news story said that this election victory gave Hillary 13 delegates and Obama 12. This victory breaks an 8-election victory string for the Junior Illinois Senator. Now, Hillary looks toward some really big primaries.
NEWS BRIEF: "Clinton Wins Predicted: Has double-digit leads over Barack Obama in Ohio and Pennsylvania", Globe and Mail News, February 15, 2008
"Democratic presidential hopeful Hillary Clinton has double-digit leads over Barack Obama in Ohio and Pennsylvania, both crucial states in coming primaries, according to a Quinnipiac University poll released yesterday. Ms. Clinton, a New York senator, has lost eight straight nominating contests to Illinois Senator Obama, but leads him 55 per cent to 34 per cent among likely Democratic primary voters in Ohio, the poll found. Among Ohio Democrats, women back Ms. Clinton 56 per cent to 30 per cent for Mr. Obama, while men back Ms. Clinton 52 per cent to 42 per cent, the poll found ... among likely Democratic primary voters in Pennsylvania, Ms. Clinton leads Mr. Obama 52 per cent to 36 per cent."
As we have stated before, the final outcome in all of politics is predetermined. We envisioned that Clinton would win some states, Obama would win others, but neither candidate would go to the Democrat convention with a first-round victory guaranteed. This convention looks like a multiple-ballot event, with the backroom deals -- the superdelegates -- possibly holding the final say. Hillary most definitely looks like the winner amongst the superdelegates.
Please take a moment to read this most interesting articles:
NEWS BRIEF: "Clinton counts on superdelegates", By Susan Milligan, The Boston Globe, February 13, 2008
NEWS BRIEF: "My Brother the Superdelegate (and Why I Don't Trust Him to Pick the Next President) ", by Ari Emanuel, Huffington Post, reprinted in AlterNet News, February 12, 2008.
NEW HEADLINE NEWS ARTICLES!
What If Crude Oil Is Likely NOT Fossil Fuel! Not Created From Dead Dinosaurs and Plant Life? Likely Is Available Continuously And In Almost Limitless Supply?
What if crude oil is non-biological and the Earth creates new supplies constantly? What if scientific teaching for the past 120 years is dead wrong? The ramifications are HUGE!
N.A.S.A. (National Aeronautics and Space Administration made the initial discovery!
Senator Obama Has Strong Ties To Illuminati - Communist Illuminati At That!
One adviser is a member of Skull & Bones while the other is a one of the founders of the infamous Trilateral Commission! Proof positive that no candidate gets elevated to the high post of President unless they have sold out to the Illuminati!

The Rothschild Family -- Bilderberger Group -- Endorses Hillary Clinton As President!
Additionally, Wolf Blizter asked during the California debate if a Hillary/Obama or Obama/Hillary candidacy was in the immediate future. Neither candidate shot the idea down!
Would this pairing represent the Democratic Party's "Dream Ticket"?
NEW IN THE BOOKSTORE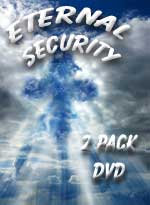 "Eternal Security of the Believer!" -- 2 DVD Set
Christians are facing hard times, i.e., World War III, prison time, torture and even execution. Scripture boldly assures believers that they have Eternal Security, so that we do not have to worry that our captors might break our will, sending our precious souls to Hell. One of the most comforting truths in the Bible is to know that God doesn't give His children a part-time or even a temporary kind of love. God's love for His own endures forever! However, some people would tell us we can somehow start out being a child of God but then end up being a child of the devil again!
Topics Include: 1) The Context, 2) The Counterfeits, 3) The Corruption of Man, 4) The Atonement of Christ, 5) The Use of Common Sense, and 6) The Clear Passages in Scripture that clearly state there's no way a true Christian can lose their salvation
NOTE: This video is NOT a treatise of Calvinism! John Calvin is not mentioned -- http://www.cuttingedge.org/detail.cfm?ID=1774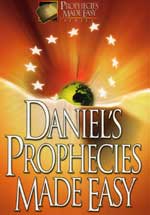 "Daniel's Prophecies Made Easy - How Daniel Prophetically Saw Today's World"
'I saw in my vision, and behold, the four winds of the heaven strove upon the great sea.' (Daniel 7:2)
Dear reader, have you given proper thought that this book is confronting us with a Heavenly vision? This most important fact enables us to properly distinguish between earthly and heavenly prophetic realities!
Key Topics:
1) Daniel's interpretation of King Nebuchadnezzar's dramatic dream;'
2) Daniel's translation of the Handwriting On The Wall;
3) Daniel's vision of dramatic future events;
4) Daniel's Foreshadowing of Jesus Christ
Written in an easy-to-understand style while retaining the proper Biblical perspective. The Book of Daniel is second in prophetic importance only to the Book of Revelation. When you read the future prophecies in this book, you can see clearly that they are being fulfilled literally right in front of our eyes, in our Daily News! What an exciting time to be alive!
235 pages -- http://www.cuttingedge.org/detail.cfm?ID=1771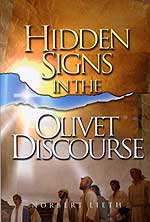 "Hidden Signs In The Olivet Discourse"
Fresh Examination of Matthew 24 and 25
Matthew 24 and 25 are two of the most exciting prophetic chapters in the Bible. Since they came directly from our Lord Jesus, their prophecies are most important to us at this momentous time known as the 'End of the Age'.
Key Chapters:
1) Three Questions About The End of the Age;

2) The Great Liberation;

3) The Fig Tree;

4) The Last Eight People of the Old World;

5) The Return of Jesus and the Time of Lot;

6) Watch Therefore!!

7) The Cry At Midnight;

8) Three Periods of Church History;

9) Settling the Account;

10) Israel From God's Perspective;

11) God's Criteria For Judgment Upon The Nations;

12) The World Situation Before The Return of Jesus
Easter/Resurrection Day Is Early This Year -- March 23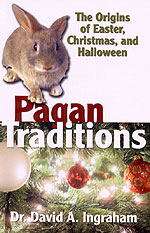 "Pagan Traditions: The REAL Origins of Easter, Christmas, and Halloween"
YOU wouldn't DREAM of dabbling in idolatry or Witchcraft -- would you? YOU have NEVER embraced Witchcraft and the occult -- have you?
Surely, the Easter Bunny, the Christmas Tree, and all of Halloween's symbols and legends, are innocent ways of enjoying the holidays -- aren't they?
Author David Ingraham has spent years researching the Biblical origins, practices and contemporary remnants of Paganism. His message is as important for God's people today as the words of the prophets in Biblical times, because God never changes, and what made Him mad 3,600 years ago makes Him mad today -- especially when people dabble in the "cursed objects" of the occult
You will discover that the practices of our holidays come straight out of ancient Witchcraft religions, such as the Babylonian Religion, the Egyptian Mysteries, the unbelievably cruel Druid religion, and many more
As you learn that these holidays are steeped in Satanism, your Holy Spirit filled heart will tell you what you need to do. -- Book http://www.cuttingedge.org/detail.cfm?ID=1757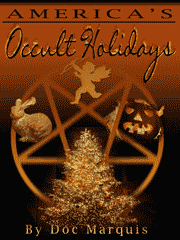 DVD
"America's Occult Holidays"
Startling Facts by Former Satanist Doc Marquis
Too many Christians are enthusiastically celebrating pagan holidays, thinking they are Christian. Once you understand how very pagan America and the rest of the Western world has become, you can see how God's judgment cannot be far behind. In this video, former Illuminist Satanist, Doc Marquis, demonstrates the truth -- our holidays have been copied from Satanism and just given Christian names. You will be shocked to realize how very pagan our annual celebrations are! You will be shocked to realize how most of the symbols used in our holidays originated within Satanism.
You will be shocked to realize how most of the symbols used in our holidays originated within Satanism. Doc covers the following pagan holidays most of which America fervently celebrates. 1) America's Occult Calendar -- Marquis reveals how our entire calendar is patterned after paganism, from January 1 through December 31! 2) Valentine's Day/Groundhog Day 3) Easter 4) Beltaine - May 1 5) Halloween (Samhain) 6) Christmas (Yule) With pagan holidays spread throughout the calendar year, you have time to warn your friends and relatives of the dangers of practicing these holidays. Nearly 3 hours long. -- http://www.cuttingedge.org/detail.cfm?ID=1460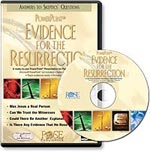 Evidence For Jesus' Resurrection - Power Point Presentation
Presents 12 powerful reasons skeptics should believe that Jesus Christ died and rose again. Examines the historical, archaeological and cultural proofs for Jesus' life, death, and resurrection
You will learn answers to questions from skeptics, including from atheists, and you will learn how critically important this subject is to Christians
Learn the evidence which has convinced critics over the past 2,000 years. For example, did you know that 39 ancient extra-Biblical sources, such as Pliny, Josephus, and the Talmud, refer to the life of Jesus, His teachings, crucifixion and/or resurrection?
Has more than 100 slides with illustrations. Mac/PC compatible http://www.cuttingedge.org/detail.cfm?ID=1621


HOT NEW DVD's IN THE BOOKSTORE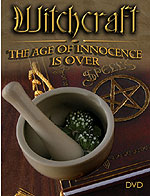 "WITCHCRAFT - The Age of Innocence Is Over!!
DVD - By Mac Dominick, Cutting Edge Ministries
Did you know that Daniel 8:23-25 (KJV)foretells that the religion of Antichrist will be Witchcraft, specifically, Black Magick witchcraft? Therefore, Christians need to really and truly be aware of the "devices" of Witchcraft and how it is impacting the entire world today
"Witchcraft: Age of Innocence Is Over" will examine the origins of witchcraft and its evolution to the modern-day Wiccan Movement. It will explore the beliefs not only of those who practice a postmodern, sanitized "white magick," but also those who delve into the "black magick" of the avowed disciple of Lucifer. We will also see how the movement has progressed from primarily evil witchcraft to a sanitized witchcraft acceptable to the masses, even though it is still as evil and dangerous as it was in days of old
Does a witch conjure evil spells with the aid of such apothecaries as "eye of newt" and "dried wing of bat" mixed in a boiling cauldron under a full moon? Does a witch invoke Satan or other evil spirits to do their bidding for them? Are witches on a mission to replace Christianity with "Devil Worship?" Does the modern witch truly worship Lucifer, or is he or she simply a "tree-hugging" disciple of "Mother Nature?" Are those who practice Wicca and "white magick" true witches, or are the "true witches" the practitioners of "black magick" and Satan worshipers cast in the mold of Aleister Crowley or even Anton LaVey?
Are Christians to run from witches in fear, or should they make every effort to reach them for Jesus Christ? Indeed, we show how a Christian can use this information to reach a practicing witch with the saving Gospel!
Running time is 2 hours -- http://www.cuttingedge.org/detail.cfm?ID=1751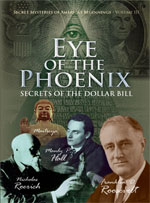 We wish to remind you that we are having a Pre-Sell of the third video in the 'Secret Mysteries of America's Beginnings', a video called "Eye of the Phoenix". We need 1,000 people to step forward with the $19.99 of the Pre-Sell, or we will not have enough cash to finish this project. This number is far fewer than the number of people who actually bought "Riddles In Stone" last year.
If you loved "The New Atlantis" and "Riddles In Stone", please pre-order now.
We really need your assistance.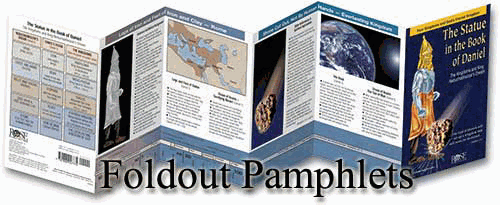 Great New Fold-Out Laminated Pamphlets In Stock! Each Only $3.99
Perfect to use in private devotions, training of children by parents, Sunday School and Homeschooling!
Some of Our Most Informative Pamphlets:
* Wow Item For the Day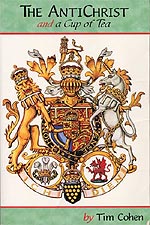 "Antichrist & A Cup of Tea DVD"
4/Pack DVD Set
Regularly $69.95
On Sale $49.95
You Save $20.00!
Click here to read full details

See our Huge Selection of DVD and VHS Videos
View Our Entire Video Viewing Room
As always we ask you to pray daily for this ministry.
Be sure to visit the Sale items and Special offers sections where you will find 28 Special offers and 121 items on Sale.
David Bay, Director, Cutting Edge Ministries
1792 South Lake Drive, Ste. 90 PMB 300, Lexington, SC 29073
800-451-8211