News Alert And Bookstore Bulletin

June 2, 2008

New Headline News Article!

(See "Articles" Section Below)

Father's Day Specials - Bookstore Main Page

Many specials to save you money

Buy now to guarantee shipment

DVD

I. Several significant events occurred in the Democrat Presidential Primary this weekend.

A) Hillary Clinton took Puerto Rico by storm, but Obama still inched closer to the nomination.

NEWS BRIEF: "Clinton wins big in Puerto Rico", Baltimore Sun, June 2, 2008

"SAN JUAN, Puerto Rico - Sen. Hillary Clinton won a lopsided, but largely symbolic victory yesterday in Puerto Rico's presidential primary, the final act in a weekend of tumult that pushed Sen. Barack Obama tantalizingly close to the Democratic presidential nomination. The former first lady was winning roughly two-thirds of the votes as she continued a strong run through the late primaries."

Winning the primary by capturing 66% of the votes is quite impressive. While some analysts were calling her victory "symbolic" and "meaningless", Hillary did not see it that way.

"Before cheering supporters, she predicted that she would have more combined votes than her rival when the primaries end tomorrow night, claimed victories in key swing states and said that no contender will command enough delegates to claim the Democratic presidential nomination."

It does appear that Obama will be only several dozen delegates shy of winning the Democrat nomination on the first ballot. This fact means that the margin of victory now moves to the Democrat superdelegates, before whom Hillary is now making this pitch as to why she deserves the nomination.

" 'In the final assessment, I ask you to consider these questions: Which candidate best represents the will of the people who voted in this historic election? Which candidate is best able to lead us to victory in November, and which candidate is best able to lead our nation as our president in the face of unprecedented challenges at home and abroad?"

That is the issue of the day: which candidate is best able to lead the Democrats to victory against the Republican archenemy, Senator John McCain?

As we have stated many times before, all major elections on both sides of the aisle are fixed, but the political pundits will have to be given reasons as to why the election turned out as it did, so they can then convince the people.

We shall just have to wait to see how this entire process shakes out. We shall have to wait a very long time, as a matter of fact. The Democrat Nominating Convention will be held at the Pepsi Convention Center in Denver, Colorado, from August 25-28.

B) The Democrat Rules Committee ruled that Florida and Michigan could seat one-half of their delegates.

NEWS BRIEF: "Florida, Michigan delegates will get half-votes", Excite News, June 1, 2008

"Democratic Party leaders agreed Saturday to seat Michigan and Florida delegates with half-votes at this summer's convention with a compromise that left Barack Obama on the verge of the nomination but riled Hillary Rodham Clinton backers who threatened to fight to the August convention ... The deal was reached after committee members deliberated for nine hours, including three where they met privately and argued fiercely over their eventual deal, according to several people inside. They voted in front of a raucous hotel ballroom that frequently interrupted proceedings and reflected deep divisions within the party."

"... as Clinton tried to catch up to Obama's delegate lead, she has argued that the votes of the 2.3 million people who participated in the elections must be recognized. Obama supporters argued that they did compromise by allowing her to take the majority of delegates in two contests where he didn't campaign ... The sticking point was Michigan, where Obama's name was not on the ballot. Clinton's camp insisted Obama shouldn't get any pledged delegates in Michigan since he chose not to put his name on the ballot, and she should get 73 pledged delegates with 55 uncommitted. Obama's team insisted the only fair solution was to split the pledged delegates in half between the two campaigns, with 64 each."

"The committee agreed on a compromise offered by the Michigan Democratic Party that would split the difference, allowing Clinton to take 69 delegates and Obama 59. Each delegate would get half a vote at the convention, according to the deal."

This Michigan ruling was huge for Obama. Hillary wanted everyone of the pledged delegates on the one hand while denying Obama any. Had Hillary won this victory, she would have denied Obama from advancing further toward the nomination while cutting significantly into his lead.

"There are three primaries left in the contest - Puerto Rico on Sunday and Montana and South Dakota on Tuesday. Obama should get at least 30 delegates in the remaining primaries, meaning he has to pick up no more than about 30 more superdelegates even if he loses Puerto Rico and South Dakota. He will not clinch the nomination this weekend, barring a barrage of superdelegates Sunday."

Now, the final outcome does depend upon the unelected Democrat superdelegates.

NEWS BRIEF: "Clinton seeks to go after Obama superdelegates", Excite News, June 2, 2008

"As Barack Obama turns to concentrate on his general election challenge, his rival Hillary Rodham Clinton is mounting a last ditch campaign ... The former first lady enters this week with an insurgent strategy not only to win over undecided superdelegates but to peel away Obama's support from those party leaders and elected officials who already have committed to back him for the nomination. 'One thing about superdelegates is that they can change their minds', she told reporters aboard her campaign plane Sunday night."

For this reason, the news now shifts to the superdelegates. If not enough of them announce in favor of Obama this month, then this issue will drag on until August 25.

DVD

II. In the immediate aftermath of the Katrina Hurricane at New Orleans, Cutting Edge reported that the city was not going to be rebuilt according to her former glory; in other words, New Orleans was to become the first American city to be partially "re-wilded"!

Unfortunately, this current news story reveals this sad prediction to be all too true.

NEWS BRIEF: "Abandoned in New Orleans", San Francisco Chronicle Online, June 2, 2008

"There were 17 levee breaches in New Orleans during or shortly after the city was hit by Hurricane Katrina on August 29, 2005; a fact that seems sorely at odds with the image of one neighborhood (the lower Ninth Ward) bearing all the damage and all the suffering for what has become a symbol of American government's complete and fundamental failure to function properly for its citizens during the first years of this century."

Note the last sentence of this all-important paragraph. The Bush Administration completely and utterly failed to deliver New Orleans from this great tragedy. We know that this failure was also planned and President Bush reacted exactly as the Illuminati wanted him to. Do you remember that FEMA publicly predicted the hurricane disaster in New Orleans on September 10, 2001, and that this prediction was fully borne out by reality when Katrina hit?

Quoting from our Headline News Archived Article, NEWS2104, entitled, "STARTLING REVELATION: NOW WE KNOW WHY THE ILLUMINATI 'TELEGRAPHS THEIR PUNCHES': FEMA's THREE PREDICTIONS, IN MOVIES AND TV SHOWS, DEPICTING THE VERY DISASTER WHICH THEY PLAN".

""In 2001, the Federal Emergency Management Agency ranked the most likely and deadly disasters that could befall the United States. The top three were a terrorist attack on New York, an earthquake in San Francisco and a hurricane in New Orleans. The list was announced at a conference on Sept. 10. The next day was 9/11."

This news is so incredible that we need to stop right here, so we can accurately understand what we have just been told. On September 10, 2001, FEMA accurately "predicted" three" most likely and deadly disasters that could befall the United States". These deadly disasters foretold were:

1) Terrorist attack on New York

2) An earthquake in San Francisco

3) A hurricane in New Orleans

On the very next day after this FEMA prediction, the attacks of 9/11 occurred -- the Twin Towers and The Pentagon were attacked, precisely as the Illuminati Card Game predicted in 1995! Obviously, disasters #1 and #3 from this list have already occurred. Therefore, one has to worry that an unprecedented earthquake on the West Coast -- either in Los Angeles or San Francisco -- might be next on the "hit list" of the Illuminati. Remember, Scalar Wave Technology can produce both hurricanes and earthquakes in whatever magnitude is desired, and precisely at the location desired.

With this background behind us, let us now go back to our featured article, above.

"But there were 17 breaches in the city, not one. I stress this point because my cousin Lucille's small brick home stood about 400 feet away from one of those breaches, in a district that no one has ever heard of (the Third) and in a neighborhood where there are fewer than 10 people living right now."

Can you imagine this kind of disaster? In the Third Ward, 'fewer than 10 people" are living there now. Truly, this is significant "rewilding".

"... once you leave the French Quarter and the Garden District in New Orleans now ... you enter a world wherein many if not most of the homes are husks of their former selves; where entrance into someone's former or current dwelling might require a tetanus shot ... I drove down endless streets - not just in the Ninth Ward but in the Eighth and the Third, and in the streets that skirt the edges of the French Quarter and Mid-City - where I could see sunlight shining through the shells of houses, and where the electricity had yet to return."

Sadly, New Orleans seems to be just a shell of her former glory. The "rewilding" of that city is well underway.

DVD

III. Governments on both sides of the Atlantic seem to be jumping on the bandwagon that new regulations need to be put in place to control the highly speculative derivatives market.

Is this one of the reasons for the high run-up in oil? To bring a huge unregulated market into tight government control?

NEWS BRIEF: "US Senators seek curbs on London trading in oil futures", By James Quinn in New York, Telegraph (London), June 1, 2008

"Two leading US politicians are pushing for tighter controls on London's oil community by handing the American Commodity Futures Trading Commission (CFTC) a remit to regulate trading on foreign energy exchanges. Senators Carl Levin and Dianne Feinstein intend to close the 'London loophole' by empowering the CFTC to impose speculative limits on US traders who use London exchanges. The move is aimed at helping to prevent price manipulation and excessive speculation in the oil market."

We have wondered for the past two years, as oil crude prices have absolutely skyrocketed, whether one of the main goals is to finally bring the highly speculative -- and totally wide-open derivatives and futures speculative markets -- under tighter government control. After all, the net result of the various banking and credit union scandals has been tighter government control.

After all, as the world spins toward the final agenda of the Absolute Dictatorship, tight government control over all aspects of the economy is absolutely required. What better way to gain such control than the current price crisis in the oil futures industry?
CURRENT NEWSLETTER - May 28, 2008
See our Huge Selection of DVD Videos
View Our Entire Video Viewing Room
Popular DVD's Now Back In-Stock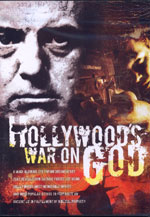 DVD
"Hollywood's War On God - Fulfilling Bible Prophecy"
'Hollywood's War on God' is a mind-blowing, eye-popping video documentary which reveals how Satanic forces are mightily using Hollywood's most memorable movies and its most popular actors to propagate an Ancient Lie in fulfillment of Biblical Prophecy.
Learn how movies are initiating the masses of people into a Gnostic Worldview which will culminate in the "Strong Delusion" when the peoples of the world enthusiastically join with Antichrist and the False Prophet for the climactic war on God
These are some of the movie titles addressed in this blockbuster DVD: 1) 'The DaVinci Code' by Ron Howard and Tom Hanks; 2) 'The Matrix and Constantine' by Kenu Reeves; 3) 'Fight Club', by Brad Pitt; 4) 'Truman Show', with Jim Carrey; 5) 'Pleasantville', by Toby McGuire; 6) 'Total Recall', by Arnold Swarzenegger; 7) 'From Hell', by Johnny Depp; 8) 'League of Extraordinary Gentleman' by Sean Connery; 9) 'Harry Potter' by J.K. Rowling; 10) 'Bladerunner', Harrison Ford; 11) Tom Cruises' 'Vanilla Sky', 'Eyes Wide Shut', and 'Minority Report'. 12) Many other movies
A must have video for people who want to know how they are being silently manipulated to be good New World Order citizens! Now you can see what Hollywood is doing to you! http://www.cuttingedge.org/detail.cfm?ID=1753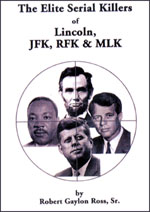 DVD
"Elite Serial Killers of Lincoln, John Kennedy, Robert Kennedy, Martin Luther King, Jr."
Learn how assassination is always an Illuminati tool.
With sudden Mass Media interest in the assassination of Senator Robert Kennedy and of the possible assassination of Senator Barack Obama, this video is suddenly more relevant than you might think!
You will be completely surprised by the revelations of this most interesting video!
Cutting Edge has posted a recent article on this subject: NEWS2283, "If Obama Is Elected President -- Will He Be Assassinated?"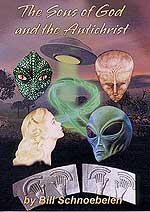 DVD
"The Sons of God & The Antichrist"
Insights into world events which only a former witch could provide!
Did you know that Fallen Angels have their own DNA? And, did you know that plans are in place to start mixing Fallen Angels DNA with human DNA? Nephilim are among us, just as in Genesis 6 and are marrying and cohabitating with human women. When that happens, Satan will be corrupting the human race just as it was corrupted in Genesis 6.
Research is also going forward to make human DNA into a viral substance so humans can be implanted through VACCINATIONS!!
Nearly 3 hours long -- http://www.cuttingedge.org/detail.cfm?ID=1289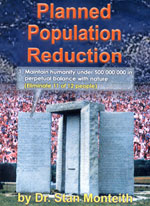 DVD
"Planned Population Reduction"
by Dr. Stan Monteith
In the Book of Revelation, the number of people killed by God's judgments equals 66%; the Illuminati has precisely this same figure in mind! God many times uses wicked man to deliver His judgment, and this End of the Age period is no exception. God has allowed scientists working for the Illuminati to unlock the secrets of death listed below, so His prophecies could be fulfilled.
Dynamic topics include: Vioxx, artificial fertilizers, pesices, injections, Immunizations, Vaccinations, genetically altered seeds, cell phones, diet drinks, Soy products, Mercury preservatives, MSG, Aspartame, Fluoridated water, suppressed cures, Chemtrails, aluminum cans & cookware, Anthrax, Cancer treatments, DDT, created diseases, milk additives and processes, MTBE, Splenda and that is just scratching the surface! Nearly 3 hours long. http://www.cuttingedge.org/detail.cfm?ID=1132
Popular Book Now Back In-Stock
"The Innermost Secrets of the Illuminati Beckon You!"
Thanks to the incredible revelations, you can discover the Illuminati's innermost secrets. You can identify the members of the Illuminati and unravel their astonishing plan to control and manipulate all mankind. You can crack the Illuminati code. To aid you, this book contains over 1,000 photographs.
You'll see with your own eyes the world's leading politicians and celebrities—including America's richest and most powerful—caught in the act as they perform public occult magic. Once you understand their covert signals and coded picture messages, your world will never be the same. Destiny will be made manifest. You will know the truth and everything will become clear.
This book connects the present with the past. Must reading for anyone seriously interested in understanding the Illuminati and their plan for world dictatorship.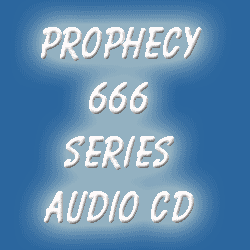 Brand- New $4.99 Audio CD's
Toward Our Final Destiny - Prophecy 666 Series Audio CD
Jeremiah 51:1-11 - Iraq and Mystery Babylon -- President Bush's outrageous invasion of Iraq (Mystery Babylon) is fulfilling prophetic events! This is the time of the "Lord's vengeance" because she has, from old, been a "cup of abomination" unto the Lord
Her judgment has lifted up to Heaven, and the time has come for God's destruction
This is one of the most exciting prophetic teachings of the entire series! In fact, it confirms Cutting Edge teaching on the reality that President Bush's outrageous invasion of Iraq is fulfilling critically important End Times prophecy. God is bringing all the nations of the world into the "Valley of Jehoshaphat" -- the Middle East -- so He can execute His judgments upon all nations opposing Israel by the use of all-out War!
One Hour Audio CD -- http://www.cuttingedge.org/detail.cfm?ID=1864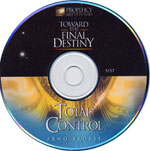 "Total Control"
Prophecy 666 Series Audio CD
Daniel 3:1-6 prophesies that Antichrist will bluntly exercise total control over all the Earth. King Nebuchadnezzar wielded total control over his nation, and especially over his lower ranking governors. Since the greatest control has always been exercised through Religion, King Nebuchadnezzar set up an image of himself, forcing all his deputies to bow down to worship him, or be cast alive into the fiery furnace
Nebuchadnezzar undoubtedly felt that he was simply fulfilling God's prophetic dream in Daniel 2, to set him as the "Golden Head" of the statue of the man in that prophecy. In other words, the King was attempting to fulfill God's prophecy by his own hand!
Antichrist will carry out the same plan, but this time, God will allow him to succeed for a very short time
But be not deceived: the 'Total Control' of Antichrist will be almost exactly the kind of tight control which King Nebuchadnezzar exercised in his kingdom
How many men and women will stand loyal to the True God of Heaven even to the point of personal death?
One Hour Audio CD -- http://www.cuttingedge.org/detail.cfm?ID=1863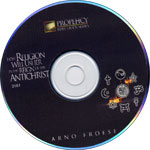 "Religion Will Usher In Reign of Antichrist!"
Prophecy 666 Series Audio CD
People are inherently religious! If a person rejects the Truth that is Jesus, he/she will slide toward the great deceptions which Satan will foist upon him
Rev 13:3-4 - "One of his heads was wounded with a deadly wound .. and they worshipped the Beast..."
"Leadership Worship" has been common throughout history; however, there are three very different types of hero worship evident in this Scripture: 1) Antichrist will stage a wound which seems deadly, thus deceiving the peoples of the world into believing he has resurrected - a counterfeit of our Lord's Resurrection; 2) Peoples all over the world will gladly bestow their entire affection and loyalty upon this "resurrected" antichrist, a global outpouring of feeling unprecedented in all of human history; 3) This global outpouring means that the planned global systems - Government, Economy, Religion - are already in place
This prophesied time will provide some of the most important, and exciting, events in all human history; whereas Jesus' life and ministry was carried out in relative obscurity, all of Antichrist's events will reverberate throughout the entire earth!
The planned Global Religion will fully support Antichrist, to ensure that all peoples of the world are thoroughly deceived, delivering their loyalty to Antichrist
The 'Mark of the Beast' will be greatly enhanced because of this popularity of Antichrist
One Hour Audio CD - http://www.cuttingedge.org/detail.cfm?ID=1862
All are on Sale for
Only $4.99 - Regularly $7.00
Special Short-cut Ordering Note: When ordering items like Audio CD's or Pamphlets, where you want order more than one title, do not click on the "Continue Ordering" button, but back-space once, or twice, and you shall be back in that category and can easily order another title.
Click Here To See All 26 29 Of The "Prophecy 666" Audio CD's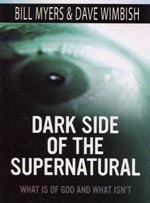 "Dark Side of the Supernatural: Discerning Between What Is From God and What Isn't"
"The Dark Side of the Supernatural" will uncover truth about many aspects of Satanism active in the world today and being popularized in TV and movies
Learn more about:
1) Wicca and witches;
2) Reincarnation;
3) UFO's;
4) Ouija Boards;
5) Angels and demons;
6) Ghosts;
7) Near-death experiences;
8) Satanism in its many forms today;
9) Vampires and Vampirism

Bill Myers has spent years researching supernatural phenomenon. He relates real stories about people who were demon-possessed, how they got possessed and how they were delivered
Excellent modern resource, 224 pages -- http://www.cuttingedge.org/detail.cfm?ID=1854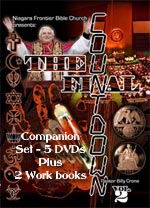 "Companion Set To Final Countdown DVD Vol. 2"
80 DVD Video Clips Plus 2 Workbooks And More!
Regularly $39.99
On Sale $29.99 - You Save $10.00 on this Introductory Offer!
This DVD Set contains 5 DVD's with approximately 80 video clips totally nearly 10 hours of extra information on the topics of: 1) "The Rise of Apostasy"; 2) "Rise of the One World Religion" -- Headed by the Roman Catholic Pope; 3) "One World Government"; 4) "One World Economy"; 5) "The Mark of the Beast" -- that was not included in the original sermon series.
Also included are 2 complete full-color leader and student guides custom tailored for personal Bible studies on 'The Final Countdown' series.
This set even includes a Data Disc with the study files so you can print even more copies of the workbooks if needed. If you want to teach this as a series in a setting like Sunday School, you most definitely can do so!
If you already saw 'The Final Countdown', Volume 2, you definitely don't want to miss this Companion Set. - http://www.cuttingedge.org/detail.cfm?ID=1851
"Terrorism: What The Government Isn't Telling You" - DVD
Once you view this video, your opinion about Terrorism will forever change!
Topics Include:
1) The real Islamic Threat;

2) Why the FBI cannot arrest Hamas leaders on U.S. soil;

3) Terrorist networks exist which are planning to destroy America;

4) State-sponsored terrorism;

5) Why FEMA cannot - will not -- protect your family;

6) National ID is here;

7) Weapons Confiscation;

8) Russian troops in USA now -- (This portion conforms with information Cutting Edge reported 8 years ago -- NEWS1270 - We reported then that Russian troops are scheduled to patrol in Canada and in America, from "Southern America all the way to California .. The line begins at Virginia and goes straight West to the border of California."
2 hours, 40 minutes - http://www.cuttingedge.org/detail.cfm?ID=1853
Check Our Great Selection of Bibles - Many of Which Are On Sale
Other Gift Ideas: Bookstore Main Page
"Close Calls"
YOU are in deadly danger of slipping into an affair -- Right Now! Don't believe it? Then your risk is even greater.
What ADULTERERS Want You To Know About Protecting Your MARRIAGE!
Dave Carder has spent more than 30 years counseling husbands and wives trapped by infidelity; shockingly, the vast majority of these couples never saw the Adultery coming. This book reveals what adulterers want you to know about protecting your marriage before trouble strikes.
With eye-opening stories and clinical insight, you will: 1) Identify the type of person to whom you might be dangerously attracted, many times without being aware of the attraction; 2) Evaluate your marriage style; 3) Assess how your past relationships can affect your future; 4) Understand when you're most vulnerable to infidelity.
'Close Calls' should be required reading for all men and women who want to protect their marriages and who want to tackle marital infidelity head-on. Your marriage is worth protecting! -- http://www.cuttingedge.org/detail.cfm?ID=1846
Two of the Most Spiritually Mature Books We Have Ever Offered!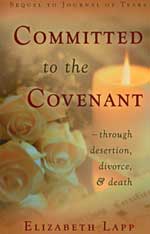 "Committed To The Covenant"
Through Desertion, Divorce, and Death - Gaining Spiritual Depth Never Before Known!
Jesus warned, "If you love anyone more than Me, you are not worthy of me".
Elizabeth Lapp lost her husband when he was unfaithful to her and divorced her. Though she was wounded deeply, rejected and brokenhearted , she learned to rely heavily upon her unfailing heavenly Bridegroom! She discovered that the God of all grace supplies Grace to His children during life's most trying circumstances
Lapp realized that, while she had no control over her husband's infidelity, she did have control over her response
Elizabeth chose to "cling to the Lord Jesus", living in the Psalms, and relying solely on God's Word
Elizabeth cried to the Lord, "I need my husband, his love, protection, and provision". The Holy Spirit replied, "For thy Maker is thine husband: the Lord of Hosts is his name; and thy Redeemer the Holy One of Israel" (Isaiah 54:5) As Elizabeth submitted, she discovered that "having God as my husband became a satisfying experience for me".
But, this was only Stage 1. Once Elizabeth submitted, the Holy Spirit took her into deeper realms of spiritual love, grace, joy and peace which she never even knew existed!
You, too, can know this kind of submission, this kind of deep spiritual joy - http://www.cuttingedge.org/detail.cfm?ID=1838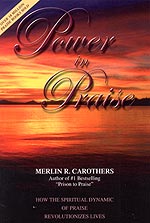 "Power In Praise - How The Spiritual Dynamic of Praise Revolutionizes Lives!"
We have had to repeatedly reorder!
Regularly $12.99
On Sale $9.99!! Introductory Offer
I highly recommend this fine book! God is said to "inhabit the praises of Israel" (Ps 22:3), so you know He inhabits the praises of His saints through Jesus Christ!
"Push the Praise Button, Not the Panic Button"! Watch God's power released after your praise.
However, most Christians miss out on experiencing the real power of praise because they do not understand one tiny detail: if we praise God for what is occurring in our life right now, recognizing it as part of God's plan, the Holy Spirit will release a power in our lives to change bad situations and to bring even better ones to fruition.
Example: A family had prayed for an alcoholic husband/father for 30 years, with no answer from God; but once they praised God for his alcoholism because it was part of God's plan for their father, the Holy Spirit immediately brought conviction into his heart and he became gloriously saved!
Are you surrounded by difficult circumstances right now? Praise God with understanding that He loves you and has allowed these circumstances to occur so He can bring good out of them for you. "Praise is based on an acceptance of the PRESENT as part of God's loving, perfect will for us. Praise is not based on what we think or hope will happen in the future ... but we praise Him for Who He is and where and how we are right now ... when we honestly praise God ... His power obviously flows into the situation" to change the circumstances of our lives. Praise is not a bargaining position, but when we honestly praise God for the difficulty facing us now, He builds upon our heartfelt praise to change us to the person He wants us to be. "If we could only learn to be delighted with the Lord in everything first ... then he will give you all your heart's desire"
"The turning point cannot come until we begin to praise God FOR our situation, instead of crying for Him to take it all away"
http://www.cuttingedge.org/detail.cfm?ID=1813
"Christian Combat Manual -- How To Overcome Objections To The Gospel And Win Souls"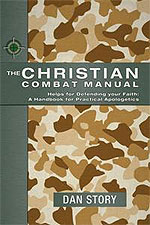 'The Christian Combat Manual' is written to help Christians engage our current pagan, anti-christian culture. The chapters are carefully constructed to train ordinary Christians in how to confront and respond to the major intellectual and cultural challenges that face Christians today.
One chapter or the book describes the Socratic method of encounter by asking "counter-questions" that puts the burden of proof on the non-Christian, forcing him to defend his beliefs.
1) Part one defends the historical accurate accounts of divine revelation.

2) Part two tackles the raging controversy of evolution.

3) Part three demonstrates the existence of God.

4) Part four centers on who is Jesus Christ.

5) Part five focuses specifically on modern issues and secular postmodern doctrines.
This unique soul-winning book is worth its weight in gold, as it "equips the saints" to witness and to win souls in this modern age in the Western World
Sample Chapters: 1) Eyewitness Testimony: Legal Evidence 2) Scientific Accuracy: No Myths or Inaccuracies 3) How Can Something Come from Nothing? 4) How Can Life Emerge from Non-Life? 5) Where are the Transitional Fossils? 6) Nature Demands a Creator 7) Why Do Bad Things Happen to Good People? 8) Did Jesus Claim to be God? 9) Resurrection: Fraud, Fantasy, or Fact? 10) Postmodernism: Moral Relativism, Religious 11) Pluralism, the "New Absolutes" 12) Postmodern Police: Multiculturalism and Political Correctness
Truly, this is a book for our time and place!
320 pages -- http://www.cuttingedge.org/detail.cfm?ID=1829

Rose Publishing Laminated Pamphlets -- All Only $3.99
Customers absolutely love these fact-filled, high quality foldout pamphlets. Each pamphlet is completely covered, front and back, with exciting, pertinent Biblical information. Customers regularly order 15-20+ titles at once and numerous Sunday School leaders and/or Pastors have ordered up to 50 of a particular title as a central part of an individual study.
Each pamphlet is only 6"x9", small enough to fit inside your Bible, but expands outward in 14 panels to 33".
Until we introduced our $4.99 "Prophecy 666" Audio CD's, this pamphlet category was our #1. Now, it is a close #2.
See Our Entire Selection of 60 Pamphlets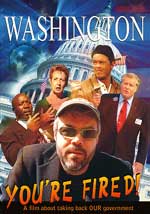 DVD
"Washington: You Are Fired! Taking Back Our Government"
Powerful documentary examines the dictatorial laws which Congress passed and President Bush signed, which, when enacted, will reduce every American to a state of slavery in the greatest dictatorship in history Do the American people even know the names of the Bills that were used to exterminate the U.S. Constitution? Chances are, the answer is no... "Washington, You're Fired" is a chance for every American to play a serious game of political "catch-up" minus the partisan punch lines. We'll examine both sides of the political aisle exposing some of the most damning laws ever enacted in any country.
Some of the laws examined are: 1) Patriot Act; 2) Military Commissions Act; 3) The John Warner Defense Act; 4) Loss of Habeas Corpus and Posse Comitatus; 5) New official definition of "Torture" in the hands of our government; 6) If enacted, HR 1955 will for the first time put "thought crime" laws on the books, robbing Americans of their right to freedom of conscience thought; 7) Will examine constitutional issues as they relate to the Katrina disaster; 8) The President's illegal spy program; 9) NSA data-mining; 10) FISA's secret court; 11)The illegal wiretapping of millions of Americans; 12) The re-defining of "privacy" rights; 13) Frightening Executive Orders; 14) "Terror-war" legislation
Then, this video tells you, the still-free citizen, what you can do now to prevent the complete slide into this planned New World Order dictatorship -- http://www.cuttingedge.org/detail.cfm?ID=1777
The answer lies within a knowledge of Black Magick Witchcraft. The sequence is: Satan - Witchcraft - Specific Rituals -- Monstrous Sexual Perversion -- Incredible Genocide

You will see Hitler as you have never seen him, and will understand the Jewish genocide as you have never understood it before!
* Wow Item For the Day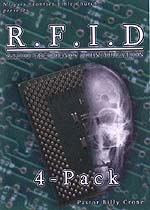 "R.F.I.D. Chip Revolution"
" Precursor To Mark of the Beast"
4-Disc Set -- View Video Clips
Regularly $39.99
Now On Sale $29.49
You Save $10.50!
Nearly 5 hours of material in 4 discs!
R.F.I.D. -- This leading edge technology has been heralded as a silent revolution, a state of the art global tracking device. RFID has also been touted as being as significant of an invention as the Internet, or even as important as the computer itself.
What is this device and how does it work? Is this RFID invention man's greatest invention or a precursor to the Mark of the Beast?
The supreme irony is that even though this technology is sweeping the planet, hardly any Christians realize the Biblical prophetic implication!
This 4-Disc series uses many Power Point colored slides and actual TV and movie film footage to show how corporations are revolutionizing their operations by using RFID, and how the government is planning to use this technology to track you and everything you buy and where you go!
RFID is seen as the precursor to the actual Mark of the Beast! Its implementation might be far sooner than you have ever believed!

We are going to continue our special $25 per year subscription fee promotion, for which you will get a FREE Cutting Edge Website on CD, a $25 value, plus a CD containing Seminars 1 and 2, another $14.99 value. Therefore, you are getting back $55 in value for only a $25 subscription -- a total value of $80.00!
This promotion is also available for those who wish to renew, and for people giving a subscription to someone else as a gift.
---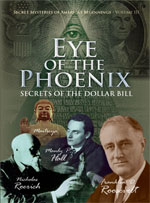 "Secret Mysteries of America's Beginnings"
Video 3 - "Eye of the Phoenix"
Pre-Order Sale
DVD
We really need to hear from you if we are going to finish work on Video 3.
Too many people who thoroughly enjoyed Videos #1 and #2 have still not pre-ordered Video #3!!! Your order of only $20 can ensure that "Eye of the Phoenix" is finished.
Order now, save $5.00! and help us raise money to finish producing Video 3, "Eye of the Phoenix".
Regularly $24.99 - Now only $19.99
Secret Mysteries III will next focus on the development of the new world as "The United States of America". This video will demonstrate that the history of America's government and of its official symbols is a history of secret societies
We shall be examining America's much-talked-about dollar bill and the symbols it bears. Modern masonry claims that the all-seeing eye floating above the pyramid is not a Masonic symbol. But what did Freemasons President Franklin D. Roosevelt and his Masonic Vice President, Henry Wallace, believe when they attached this symbol to our currency in 1935?
How were these American leaders influenced by the Russian mystic, Nicholas Roerich? Does the all-seeing eye represent the Masonic Christ? Was the eagle originally a phoenix bird? And what do all these occult symbols mean?
Follow the journey of the Secret Mysteries series as we unveil their influence through the 20th century. Many believe that the real purpose of the many "Wars and Rumors of Wars" has been to establish a commonwealth of nations to rule the whole world. With the North American Union on the rise, is America the victim of deception? Or is she THE instrument of Global Government?
Notice that we are pre-selling this video by offering you $5.00 off if you pre-buy now. These monies will fund the rest of the project. We truly believe this video will be ready by Christmas, 2008. If you enjoyed "The New Atlantis" and "Riddles In Stone: The Secret Architecture of Washington, D.C.", you will enjoy this video even more. Occultists consider the One Dollar bill to be one of the "most magical" documents ever conceived!
Planned to be over 2 hours long -- http://www.antiquitiesresearch.com/detail.cfm?ID=9
NOTE: You are ordering in the AR Films Shopping Cart, so you cannot order any other items from the Bookstore, except for Videos 1 and 2