Key News Events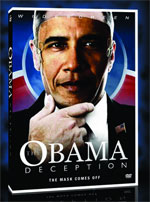 DVD
I. President Obama delivered a masterful speech to the Islamic world yesterday, outlining a new package of proposals to create a Palestinian State.
While the President covered other important issues in his presentation, nothing is as important as his renewed determination to force a "two-state solution" upon the Middle East. He will send his Middle East Envoy Mitchell to Israel next week!
Let us begin with a Conservative Jewish viewpoint.
NEWS BRIEF: "Obama's give-and-take deal", by Orly Azoulay, YNET News, June 5, 2009
"The proposal placed on the table by Barack Obama in Cairo is one that Israel would not be able to refuse, while the Palestinians and Arab states will justify their reputation for missing opportunities if they don't rush to grab it."
This proposal, then, is on the table for Israel to accept simply because they cannot now refuse it. But, why should we expect them to refuse an offer to grant the Palestinians their nation, when that was the stated goal of the Israeli leadership dating all the way back to 1917? This goal was then restated in the Oslo Accords of 1992-1993 (Read full details in NEWS2250). We encourage you to read this fascinating story, because you will be able to discern current events much more clearly.
Now, let us return to our featured news story, above:
"Barack Obama did not reinvent the wheel: His peace proposal included nothing that was not said before. Yet the innovation had to do with the dosage, the tone, and the show of determination. The American president personally pledged to end the Israeli occupation, facilitate the establishment of a Palestinian state, and support a Jerusalem that will be accessible to members of all faiths. "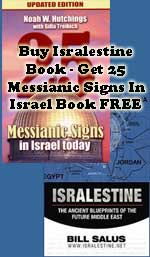 Cutting Edge takes great offense to Obama's use of the phrase, "end the Israeli occupation", for that is a term used by Israel's haters and has no business being a part of the public rhetoric of an American President. Israel is not now, nor has ever been, an "occupier" of the Palestinians. Rather, the Palestinians are hostile interlopers on ancient Biblical lands of Israel! Therefore, the President just offended true history as well as God's Chosen People. However, this false line of reasoning will set up the judgments of God as revealed in Scripture, like Joel 3 and Zechariah 12. We are seeing current events set the stage for prophecy to be completed, and it will be fulfilled as this Biblical study, "Isralestine", lays out.
Furthermore, I am intrigued by the last phrase of this paragraph, above. President Obama stated his determination to "support a Jerusalem that will be accessible to members of all faiths". I heard this goal enunciated personally in August, 1991, when I was sneaked into a House of Theosophy meeting by a member who had become Born Again only weeks earlier, but had not yet renounced his membership in that occult secret society. The New England Director wanted to share some important new decisions which the Illuminati had just made.
One of these decisions revolved around creating a special area in Jerusalem for members of all monotheistic faiths -- Islam, Judaism, and Christianity -- so they could worship at a combination worship center! Listen:
"Sometime between 1985-2010, the following scenario will unfold, depending only on the right set of circumstances: Moslem and Jewish areas in Jerusalem will be combined with Christian to create the New Jerusalem Covenant ... Then, and only then, will it be possible to build a combination Temple/Church/Mosque in Jerusalem ... At the proper moment in history, the Pope will visit the combined Jewish/Christian/Moslem sector of Jerusalem to announce that all religions should be combined into one. This action will then finally break the Middle East logjam." (Read full details in NEWS1052)
Therefore, President Obama is merely reiterating this part of the Illuminati Plan, which had been created in early, 1991! He fully intends to support a Jerusalem which is "accessible to members of all faiths". The combination Temple/Church/Mosque in Jerusalem will be built as the major symbol of this newly created section of Jerusalem. This statement proves that Obama is merely following the Illuminati Plan.
Now, let us return to our featured news article:
"After many years, an American president spoke in an inspiring manner that sparked, for a moment at least, a glimmer of hope. Using 6,000 words that were selected carefully and polished by the president himself the night before, Barack Obama turned the complex reality of the Middle East into a simple truth: A give-and-take deal that has no losers."
CFR's George Mitchell, Obama's special Middle East Envoy, will return to Israel next week and is said to be armed with an ultimatum for Prime Minister Netanyahu to accept Obama's proposal. Obama demanded that the Palestinians "improve security" and root out corruption as their part of the deal for a two-state solution. Remember, FM Lieberman, speaking on behalf of PM Netanyahu, did not reject the concept of a Palestinian State, but merely said it had to come from the "Roadmap" plan of the Quartet of Nations, a plan enunciated several years ago.
News from Jerusalem next week might prove very interesting.
However, even if a Palestinian State breakthrough is realized, implementing it will probably take at least several years.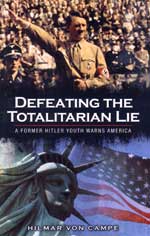 II. President Obama then traveled to Germany, where his comments created severe doubts in the minds of many as to how "balanced" he intends to be in his dealings with Israel and the Arab world.
How dare the President repeat the Islamic lie that European powers created Israel only because they felt deep guilt over the Nazi Holocaust?
NEWS BRIEF: "Analysis: What Obama failed to understand, or refused to publicly identify", The Jerusalem Post, June 4, 2009
"As could be expected, President Barack Obama on Thursday identified 'the situation between Israelis, Palestinians and the Arab world', as being 'a source of tension'. In this respect, he correctly delineated the issue as being much broader than a conflict solely between Palestinians and Jews, a distinction which is very important in terms of working towards a possible solution. Precisely for this reason, however, his comments regarding Israel and Jewish history were so problematic. First and foremost was his linkage of the establishment of the State of Israel and the Holocaust."
"Thus, according to Obama, Americans recognize that 'the aspiration for a Jewish homeland is rooted in a tragic history that cannot be denied', an obvious reference not to the destruction of the Second Temple and the exile of the Jewish people from its historic homeland, but rather to the Shoa (Holocaust). The continuation of the speech, in which he refers to his visit today to Buchenwald and attacks Holocaust denial, make this linkage absolutely clear."
"But besides being historically inaccurate, this false connection strengthens one of the strongest canards of anti-Israel propaganda in the Muslim world; that Europeans guilty of Holocaust crimes established a Jewish state in Palestine at the expense of the local Arab residents to atone for their World War II atrocities. By ignoring three thousand years of Jewish history, by neglecting to even mention the unbreakable link, started long before the advent of Islam, between the Jewish people and Eretz Yisrael, Obama totally failed to deliver what should have been one of his most important messages to the Arab world."
The American President -- whomever he is at any point in time -- certainly knows that the Western Powers began the inevitable move toward the resurrection of Israel through the Balfour Declaration of 1917, fully 22 years before Adolf Hitler began his systematic campaign to slaughter all Jews, a diabolical effort later labeled the "Holocaust".
Therefore, President Obama and his speech writers most definitely know that Obama's statement is completely false. But, most importantly, the President certainly knew that, by repeating one of Islam's greatest lies since the creation of Israel, he could be flashing a signal to the Islamic world that his secret inner heart will be with them during these negotiations. On the other hand, Obama's remarks here will certainly be seen as driving a wedge of suspicion between the White House and PM Netanyahu. If the Israeli PM goes along with the Palestinian State plan, it will be only because he is ordered to do so by his Illuminati masters.
These remarks by Obama certainly stirs the long-standing question as to whether his inner heart sentiments are American or Islamic.
The core issue standing between Israel and her Arab antagonists is the reality that modern Arabs continue the hatred which their predecessors all the way back to Esau have exhibited. This hatred is so pervasive that the Arabs simply want Israel annihilated; they have never wanted to live peacefully side-by-side with Israel, and they never will. The Bible study in the book, "Isralestine" thoroughly details this 2,700 years of Arab hatred for the Jew and makes today's news completely understandable!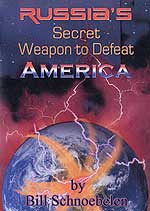 DVD
III. North Korea continues to escalate nuclear tensions with the Western World by planning to launch a long-range missile capable of nuclear loads and by putting two innocent American journalists on "show-trial".
Even in the face of incredible Western pressure, North Korea steadfastly stands true to her script. What script?
"A hair-raising nuclear confrontation in Korea may, towards the end of the period, threaten man's very survival." [Peter Lemesurier, "The Armageddon Script", p. 223, published 1981]
NEWS BRIEF: "North Korea 'ready to launch missile' ", Al Jazeera News, June 5, 2009
"There is growing speculation that North Korea may be preparing to launch another new medium or long-range missile. Satellite images from the
GlobalSecurity website show the new Tongchang-ni launch site in the North's west coast near China and is reportedly ready for use after nearly a decade of construction ... 'The launch pad appears to be operational' ..."
One would normally expect that the tiny nation of North Korea would back off immediately when faced with pressure from the United States and Europe, as well as criticisms from her allies, China and Russia. However, this is not the case. The poor, diminutive regime continues to deliberately stir up anger amidst calls for strong action from these superpowers.
Why is North Korean leadership doing this? Are they simply crazy, as Mass Media has been saying for years? I don't think so.
North Korea's leaders are taking these bold defiant steps because they understand their assigned role in the Illuminati Plan to produce Antichrist. That goal is to create a "hair-raising nuclear confrontation in Korea" which will 'threaten man's very survival'. "
We are witnessing the outworking of a portion of the Illuminati Plan which was created nearly three decades ago!
Now, let us examine the other deliberate confrontation with the West which North Korea is instigating; they have arrested and are putting on trial two Western journalists who are most probably innocent. Such a Communist show-trial would inevitably stoke the fires of confrontation.
NEWS BRIEF: "North Korea silent about US journalists' trial: Issue threatens to raise tensions with the U.S.", The Detroit News, June 5, 2009
"SEOUL, South Korea (AP) -- North Korea was silent Friday about the trial of two American journalists facing the secretive communist nation's highest court on allegations that they crossed into the country illegally and engaged in 'hostile acts'. The case of TV reporters Laura Ling and Euna Lee threatened to raise tensions with the U.S., which already have been running high since the North tested another nuclear device last week and fired a series of missiles. There were fears the women might become political pawns as the U.N. debates possible sanctions for Pyongyang in response to the test."
Tensions can be raised very high over such an issue as this, possibly leading to the planned nuclear confrontation. Taken in conjunction with the missile tests, the recent underground nuclear explosion, and the statements of war and threatened war, the verbal confrontation could actually shove the rhetorical battle over the edge into war.
Then, the West will learn, to its horror, that her intelligence services were telling lies for over 20 years, as North Korea demonstrates its ability to deliver nuclear warheads all the way to the American East Coast! At that point, someone's head will have to roll to account for one of the greatest "Intelligence Failures" in all of recorded history!
But, of course, this sudden shock that North Korea DOES possess warheads and a missile capability of 10,000 miles will only enhance the shock value of the crisis - exactly as the Plan envisioned. We are living in perilous times. In fact, if you do not know Jesus Christ as your personal Savior, you have every reason to be absolutely terrified. If you are not positive that you will be going to Heaven, please read our Salvation Page now so you can receive that wonderful assurance!
The Rapture of the Church has caused so much controversy because the Bible presents this once-in-history occurrence as an event which REQUIRES the separation of spiritual light from spiritual darkness!
Snatching the Church of Jesus Christ from the earth in a split second of time is understood from Scripture as being necessary for the development and implementation of the master plan of deception and the ultimate fulfillment of the prophetic Word of the Bible
The inescapable doctrine of the return of Jesus Christ commands us to investigate the Great Mystery of the Rapture
This video was presented to the 2009 Calvary Chapel Midwest Bible Conference in Lafayette, Indiana. Gary put more time and preparation into this video than he has on any project in the past. Gary gives a detailed account of where the United States stands economically, politically and spiritually. He examines the new Obama Administration and the multiple crises the new President will face.
Where is the U.S. headed? What are the goals of President Obama and the European Union leaders? Which key American industries are now owned by foreign powers?
These examples are but a few of the key, current subjects which Gary Kah addresses in this eye-opening message. Gary concludes with practical advice and spiritual application, providing Biblical hope and inspiration for these most difficult times
While Cutting Edge does not agree with everything Mr. Kah presents, we heartily recommend this video for the great statistics which he has uncovered - http://www.cuttingedge.org/detail.cfm?ID=2030