SPECIAL NEWS ALERT
March 14, 2008

God's Anchor In Times of Trouble
"The Lord also will be a refuge and a high tower for the oppressed, a refuge and a stronghold in times of trouble (high cost, destitution, and desperation)." (Psalm 9:9; Parallel Bible, KJV/Amplified Bible Commentary)
Can you believe that God's people were facing economic troubles like "high cost" and "desperation" 3,000 years ago? God delivered His saints than and He shall deliver them now.
"God Himself has said, I will not in any way fail you nor give you up nor leave you without support. I will not, I will not, I will not** in any degree leave you helpless nor forsake nor let you down or relax My hold on you! Assuredly not! So we take comfort and are encouraged and confidently and boldly say, The Lord is my Helper; I will not be seized with alarm. I will not fear or dread or be terrified."
** "Three negatives precede the verb" (Hebrews 13:5b-6; Parallel Bible, KJV/Amplified Bible Commentary)
"Fear not, nor be afraid in the coming violent upheavals..." (Isaiah 44a; Parallel Bible, KJV/Amplified Bible Commentary)
These last two verses speak for themselves. We need to meditate upon them until they become part of our inner heart.
Two New Headline News Articles
"Racial Slurs Are Threatening To Devastate The Democrat Presidential Primary!'
Could this revelation prove to be the undoing of the Obama campaign? Barack's pastor is shown repeatedly saying "God d**n America"! You can see that his ravings are driving his black audience into a frenzy! Does Obama secretly hate America? http://www.cuttingedge.org/news/n2276.cfm
"Cutting Edge Subscriber Notes That Perry Stone - "Voice of Evangelism" - Is Reporting News That Is Most Consistent With Controversial Cutting Edge Teachings About Israel and the Palestinians"
Current News "on the ground" confirms Cutting Edge teaching on the establishment of the Palestinian State and on the long-term conspiracy which is creating a Palestinian State out of tiny Israel. - http://www.cuttingedge.org/news/n2277.cfm

Breaking News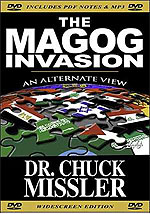 I. The ugly head of "Rumors of Wars" against Iran cast its shadow over the world again this week!
The resignation of Admiral Fallon as the top commander of American forces in the Middle East stirred war worries again, because the good Admiral was adamantly opposed to any attack on Iran.
NEWS BRIEF: "6 Signs the U.S. May Be Headed for War in Iran", U.S. News & World Report, March 11, 2008
"Is the United States moving toward military action with Iran?
"The resignation of the top U.S. military commander for the Middle East is setting off alarms that the Bush administration is intent on using military force to stop Iran's moves toward gaining nuclear weapons. In announcing his sudden resignation today following a report on his views in Esquire, Adm. William Fallon didn't directly deny that he differs with President Bush over at least some aspects of the president's policy on Iran. For his part, Defense Secretary Robert Gates said it is 'ridiculous' to think that the departure of Fallon—whose Central Command has been working on contingency plans for strikes on Iran as well as overseeing Iraq—signals that the United States is planning to go to war with Iran."
At this point, this article lists six reasons America may be planning a military strike against Iran. Some of them are ludicrous, in my opinion as a former Intelligence Analyst with the U.S. Army.
1) "Fallon's Resignation -- Contingency planning for possible military action has fallen to the Navy, which has looked at the use of carrier-based warplanes and sea-launched missiles as the weapons to destroy Iran's air defenses and nuclear infrastructure"
2) "Vice President Cheney's peace trip" - Since V.P. Cheney has scheduled stops in Oman and Saudi Arabia after leaving Israel, this author speculates that he is trying to shore up diplomatic support for an American strike on Iran.
3) "Israeli airstrike on Syria - "... the real purpose of the strike was to force Syria to switch on the targeting electronics for newly received Russian anti-aircraft defenses. The location of the strike is seen as on a likely flight path to Iran (also crossing the friendly Kurdish-controlled Northern Iraq), and knowing the electronic signatures of the defensive systems is necessary to reduce the risks for warplanes heading to targets in Iran."
4) "Warships off Lebanon - the United States also would want its warships in the eastern Mediterranean in the event of military action against Iran to keep Iranian ally Syria in check and to help provide air cover to Israel against Iranian missile reprisals."
5) "Israeli comments - Israeli President Shimon Peres said earlier this month that Israel will not consider unilateral action to stop Iran from getting a nuclear bomb ... Was Peres speaking for himself, or has President Bush given the Israelis an assurance that they won't have to act alone?"
6) "Israel's war with Hezbollah" - Israel's July 2006 war in Lebanon against Iranian-backed Hezbollah forces was seen at the time as a step that Israel would want to take if it anticipated a clash with Iran."
Points 1, 2, 4, 5, and 6 are ludicrous, in my opinion. Of greatest ridiculous notion is #6, for that Lebanon War of 2006 was a disaster for the IDF. As Hezbollah used tactics far different than the IDF had anticipated and displayed weaponry for which the IDF was unprepared, Israel failed utterly to destroy this Palestinian terrorist militia. Further, Hezbollah has now rearmed to where she is stronger than she was in 2006, and she has diplomatically neutralized the U.N. "peacekeeping" force along the border!
Only Point 3 makes any sense. If Israel really wanted to force Syria to switch on the targeting electronics for the Russian anti-aircraft defenses, then this attack on supposed Syrian nuclear facilities makes sense. However, Israel knows that, in the event of an attack on Iran from any direction, the Russians are going to switch on their Scalar Wave Weapons System in order to erect a Tesla Dome Shield over the Iranian targets. (Read "Oblivion: AMERICA At The Brink -- Scalar Weaponry Explained, Illustrated" for full details)
There are six (6) major reasons that America will most definitely NOT attack Iran:
1) Iran is Ancient Persia and is foretold in Ezekiel 38-39 that her forces will march with Russian-led forces against Israel. The Iran-Russian alliance is now fully established and Russia has assumed the role of protection of Iran. Ancient Persia is protected against attack by this prophecy.
2) Russian President Putin warned last Fall that any attack on Iran will be considered as an attack on Russia. Therefore, any Israeli or American attack on Iran will instantly bring them into all-out conflict with Russia. Since Russia is said to possess fight-generation Scalar Weapons, neither Israel or the United States would hold a distinctive advantage.
3) America is in the midst of a Presidential election year -- the Republican candidate, Senator John McCain, is running as a clone of President Bush. Were the President to order an attack on Iran that turns out disastrously, McCain and the entire Republican Party would be ruined. The major principle observed by a lame duck President during a Presidential election year is to not rock the boat so the standard-bearer for his party could be swamped and sunk.
4) Last Fall, President Bush admitted that recent American Intelligence had revealed that our earlier intelligence estimate was dead wrong. Iran was not only not pursuing a nuclear weapons program, but had discontinued that program toward the end of 2003. Therefore, President Bush cut the ground out from underneath his own Neo-Con contingent who are said to still be clamoring for an attack.
5) Even though Admiral Fallon resigned, Defense Secretary Gates is still very much on the job. Gates is strongly opposed to any attack on Iran, and since he is a member of the CFR, his opposition signals that the CFR is opposed as well.
6) An attack on Iran would instantly collapse all Western economies -- probably overnight. The Illuminati Plan for Americans to continue to feel prosperous right up to the time of the outbreak of war between Israel and her Arab neighbors would instantly evaporate. Also, the plans for regional currencies to develop in North America, Asia and the Gulf States would be ruined.
There is simply too much work to be done in this regard for Western economies to be deliberately ruined now.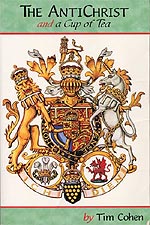 DVD
II. Mass Media promotion of the "success" of President Bush's "surge" program in Iraq is now producing the desired effect, at just the right time in the Presidential campaign!
NEWS BRIEF: "Support For Iraq War Highest Since 2006: Americans' Feelings On War In Iraq Likely To Shape Presidential Race", CBS News, March 13, 3008
"American public support for the military effort in Iraq has reached a high point unseen since the summer of 2006, a development that promises to reshape the political landscape. According to late February polling conducted by the Pew Research Center for the People and the Press, 53 percent of Americans - a slim majority - now believe 'the U.S. will ultimately succeed in achieving its goals' in Iraq. That figure is up from 42 percent in September 2007. The percentage of those who believe the war in Iraq is going "very well" or "fairly well" is also up, from 30 percent in February 2007 to 48 percent today."
This IS a remarkable turnaround in public opinion since this time last year, when President Bush's "surge" program was just beginning to get on track. However, please do remember that, as American forces began to "surge" their numbers upward, Shi'ite cleric al-Sadr unilaterally ordered his Mahdi Army to stand down, to quit shooting so much. When the enemy stops shooting full-time at you, your forces can look awfully good as they "restore stability" in the country!
However, the timing of this dramatic change in public perception has been timed to come to full fruition at that point in the year when Americans are going to be voting for President. I am sure the objective of this Mass Media campaign is to cast the most positive spin on the war effort in order to help the McCain candidacy as much as possible.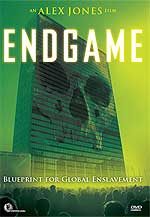 DVD
III. Now, the Iranians are shooting at the Kurds in northern Iraq!
NEWS BRIEF: "Iranian artillery strikes Kurdish villages in Iraq", The Daily Star (Lebanon), March 14, 2008
"SULEIMANIYYA, Iraq: The Iranian military on Thursday subjected three Iraqi border villages to an early-morning barrage of shelling ... The shells were apparently aimed at bases of militant Kurdish rebel group PEJAK, said the mayor of Zarawah, a frontier town in northeastern Iraq. PEJAK (Party of Free Life of Kurdistan) is accused by Tehran of launching deadly attacks on security forces in northwestern Iran. "At 6 a.m. today, Iranian troops fired artillery shells at border villages inside Iraq," the mayor, Azad Wassu, told AFP by telephone. "They used long-range artillery for 30 minutes. Shells fell on three border villages."
We have reported the historical truth that no one in the entire Middle East likes the Kurds. Their population is spread throughout the Middle East, in Iraq, Iran, Syria, and Turkey. All these countries hate the Kurds immensely and would like nothing better than to see them all go away. Neither Iran nor Turkey want the Kurds to get their own nation carved out of northern Iraq (that is the plan, NEWS2213).
Today, the Kurds are beginning the final process of establishing their new nation.
NEWS BRIEF: "Iraqi Kurds timidly tiptoe toward independence", The Daily Star (Lebanon), March 14, 2008
"In order for the vision of a blossoming and peaceful border to become a reality, Turkey and other regional states with sizeable Kurdish populations need to extend full recognition to Kurdish demands for greater cultural and political rights ... Recent times, however, have been kinder. Following the US-led invasion of Iraq in 2003, Kurds experienced the patronage and protection of a world power for the first time in modern history. Iraqi Kurds now have their own military force, exclusive control over their way of life, and the right to refuse to fly the Iraqi flag associated with the atrocities of the overthrown regime. Strategic calculations and fear of backlash from their powerful neighbors are the only reasons they don't unilaterally declare independence."
Turkey and Iran are both looking very suspiciously toward the creation of this new Kurdish state. I will tell you when this new Kurdish state should begin to worry: they should be concerned when both Turkish and Iranian forces begin a coordinated assault on the new Kurdish nation carved out of northern Iraq. At that point, the entire world would positively panic!
New In The Bookstore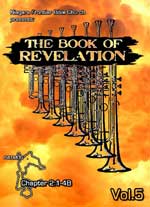 "Dynamic 'Book of Revelation' Study -- VOLUME 5"
Rev 2:1-4 - 6 Hours On 6 DVD's
Pastor Crone begins with about 15 minutes of current news articles from around the world showing how Bible prophecy in unfolding right before our very eyes and then he delves right into the text, including a study of key words and phrases in the original Greek
Key portions taught from this passage which relate to current events are:
1) Exposes Global Warming Scam along with Weather Control Technology being used to create a Global Crisis to launch the New World Order
2) Exposes Paganistic Environmental Earth Worship in the American Church that's aiding in the formation of a One World Religion
3) Exposes Fake Evangelists going into Churches to rip people off of their money and later these "evangelists" admitting they are atheists
4) Exposes Global Mind Control Technology and how it will be implemented to trick people into worshipping the antichrist
5) Exposes Verichip's plan to first track all animals then all people
This Volume 5 set consists of 6 DVD's - http://www.cuttingedge.org/detail.cfm?ID=1794
"COMBO OFFER: Dynamic 'Book of Revelation' Study
All FIVE Volumes -- all 30 DVD's - On Sale! You Save $50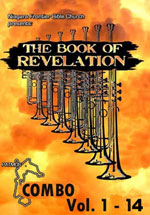 Regularly $149.95 if bought separately
On Sale $99.95
You Save $50.00!
At this special price, each of the 30 DVD's costs only $3.34 each!
Volume 1 teaches Rev 1:1 -4; Volume 2 teaches Rev 1:4-8; Volume 3 teaches Rev 1:9-13; Volume 4 teaches Rev 1:9-13; Volume 5 teaches Rev 2:1-4
"ONE WORLD - Global Economy, Government, & Religion In The Last Days"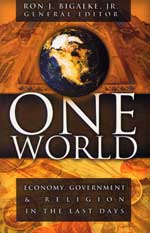 Regularly $15.99
On Sale $12.99
Current are setting the stage for a worldwide transformation. The Bible prophesies of a future political leader known as Antichrist, who will control the world's economy, government and religion. As speculation increases it is necessary for believers to understand Scripture clearly and the times in which they live.
Scripture is to believed and trusted!
This fascinating book you will learn: 1) Strategies Satan is setting as a deadly snare for the Endtimes; 2) Biblical prophecies concerning the global economy, government and religion; 3) Global, international perspective of Biblical prophecies; 4) Forewarning and plea for discernment amongst the Church; 5) Biblical prophecies of Jesus' Kingdom
517 pages - http://www.cuttingedge.org/detail.cfm?ID=1793
Controversial New Bookstore DVD
Our Most Popular DVD Right Now!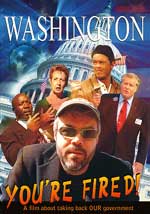 DVD
"Washington: You Are Fired! Taking Back Our Government"
Perhaps The Most Important Video Since 9/11!
Powerful documentary examines the dictatorial laws which Congress passed and President Bush signed in the aftermath of 9/11; these laws, when enacted, will reduce every American to a state of slavery in the greatest dictatorship in history
Do the American people even know the names of the Bills that were used to exterminate the U.S. Constitution? Chances are, the answer is no... "Washington, You're Fired" is a chance for every American to play a serious game of political "catch-up" minus the partisan punch lines. We'll examine both sides of the political aisle exposing some of the most damning laws ever enacted in any country.
Some of the laws examined are: 1) Patriot Act; 2) Military Commissions Act; 3) The John Warner Defense Act; 4) Loss of Habeas Corpus and Posse Comitatus; 5) New official definition of "Torture" in the hands of our government; 6) If enacted, HR 1955 will for the first time put "thought crime" laws on the books, robbing Americans of their right to freedom of conscience thought; 7) Will examine constitutional issues as they relate to the Katrina disaster; 8) The President's illegal spy program; 9) NSA data-mining; 10) FISA's secret court; 11)The illegal wiretapping of millions of Americans; 12) The re-defining of "privacy" rights; 13) Frightening Executive Orders; 14) "Terror-war" legislation
Then, this video tells you, the still-free citizen, what you can do now to prevent the complete slide into this planned New World Order dictatorship -- http://www.cuttingedge.org/detail.cfm?ID=1777
Watch This Dynamic 3-Minute Trailer
Watch The Trailer On The "Thought Crime" Police
New "Prophecy 666" Teachings On CD!
ONLY
$4.99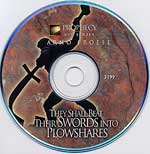 "They Shall Beat Their Swords Into Plowshares" - Prophecy 666 Series - Audio CD
Isaiah 55:8-9 reveals that God's ways and thoughts are clearly higher and greater than man's. In apparent great contradiction to the world of today, God foretells of a time when His plan will cause all weapons of war to be destroyed and turned into implements of peace and prosperity. How can this be, the natural mind of man asks in great disbelief? Why, the history of mankind for the past 6,000 years is simply a study of his wars with brief periods of peace in between. In 6,000 years of past, peace has been repeatedly sought by the sword. "We are fighting this war so that peace can be established" has been the mantra of many a war. We have to get ready for war and then we shall have peace. World War I was fought as "the war to end all wars"! False peace will at last be implemented on Planet Earth by Antichrist as he copies the Millennial Reign of Jesus Christ. But, this "peace" will be so short-lived that it will shock mankind and will result in the greatest bloodbath in world history. - One Hour long - http://www.cuttingedge.org/detail.cfm?ID=1779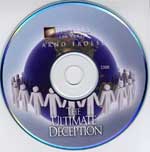 "The Ultimate Deception" - Prophetic Series 666 - Audio CD
John 5:43 – "I am come in My Father's Name and you receive me not; but another will come and him you will receive"
Prophecy is quite clear that Israel, the nation, will receive Antichrist. This prophecy was a devastating to the ruling class of that day, because they were rejecting Jesus as the foretold Messiah. Jesus seemed to be mocking them, saying that, since they are rejecting Him as Israel's Messiah, their descendents were doomed to be deceived by Antichrist. The Pharisees were extremely knowledgeable of the Old Testament, so they were without excuse when they rejected Jesus as Messiah. Jesus fulfilled every single one of the 300+ prophecies of Messiah.
Now, Israel awaits the final, and the ultimate, deception – their religious leaders will be thoroughly deceived into thinking that the coming Antichrist is the true Messiah for whom the Jews have been awaiting for 3,000 years! The "ultimate deception" is about to break with full force upon the Jewish nation of Israel!
One Hour long - http://www.cuttingedge.org/detail.cfm?ID=1781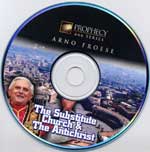 "The Substitute Church & The Antichrist" - Prophecy 666 Series Audio CD
From Rev 13:16-18, we see that a political/religious institution will be necessary for the Powers of Darkness to set up a Substitute Church and the Antichrist. Instead of the Church of Jesus, another church must be established and have many similarities so it can deceive people into thinking this is Jesus' church and that Antichrist is Jesus returned.
Today, the world and the leaders have committed fornication with the 'Whore of Babylon" and they are fully in his camp. No matter how great slick propaganda has painted these men as noble and honest patriots, they are following the plan of the Antichrist. Politics, economy and religious entities are being forced into a unity falsely called 'Democracy". All political roads lead to Rome and its false religious system. The global economic system is so far advanced that national and international borders no longer exist. Religious unity is the most problematic and is slowly being integrated today. Prophecies make it clear that all people of all religions will one day worship the Beast, Antichrist. Since the Roman Catholic Church is the most influential in the world today and since it has forged many links to Buddhism and Hinduism, the Pope today is the one leading the world's religions into the prophesied False Prophet religion of Rev 13:11-18.
Rome is, therefore, the most important religious city in the world today. This is a message all Christians need to hear today, for the Church of Rome is leading Protestantism into the Church of Antichrist - One Hour long - http://www.cuttingedge.org/detail.cfm?ID=1778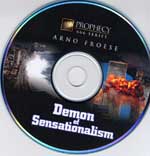 "The Demon of Sensationalism" - Prophetic 666 Series - Audio CD
Revelation 16:13-14, ""Three unclean spirits like frogs …spirits of devils – to gather them of that great day of God Almighty"
Important issue about Mark of the Beast is the battle in the unseen, spiritual world. This spiritual battle is THE decisive issue in the carrying out Biblical prophecies. Timing is also of God, not man. Invisible spiritual realm is all-important and control all temporal, worldly affairs. Human rulers are simply under the power structure of demons. The world is preparing for the arrival of Antichrist, as their armies are beginning to surround Israel. The Demonic forces are simply being forced by God to gather the rulers of the world for the Battle of Armageddon.
One hour long - http://www.cuttingedge.org/detail.cfm?ID=1780
Other New Bookstore Items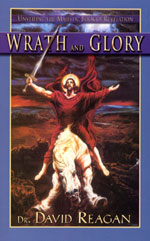 "Jesus Is Coming Soon - In Wrath and Glory - Unveiling The Majestic Book of Revelation"
Do not be deceived, brethren, Jesus is coming in Wrath this second time -- and that return is speeding toward an unsuspecting world like the proverbial speeding freight train! Most Christians today do not realize that Jesus' demeanor will be frightful and full of wrath when He returns with the 'Armies of Heaven' to finally subdue Antichrist, the False Prophet, and Satan!
Revelation: Even the name of this final book of the Bible is intimidating. Sadly, this fact has caused many Christians to ignore a study of the Book of Revelation. Thankfully, this book allows precious Scripture to speak for itself.
The Bible tells us that people who read and hear the Book of Revelation will be Divinely blessed. Thus, many Christians are missing a great blessing! This book is for all Christians of all ages, lifting up a Truth for the eons of time
239 pages - http://www.cuttingedge.org/detail.cfm?ID=1791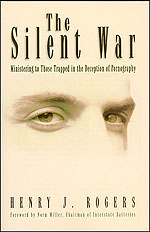 "The Silent War: Ministering To Those Trapped In The Deception of Pornography"
Amidst the smoky dance clubs and seedy sections of town, pornography industry thrives. But, this threat does not end there, so the danger to men is all the greater. In hotel rooms, trendy bookstores, TV screens, and internet websites, enough people view pornography to trap their lives completely!
It is into this world that author Henry Rogers reveals to us in this book facts which will enable the victims of pornography to come out into the glorious light of Jesus Christ to be freed; and to prevent men from being sucked into this trap in the first place
Through interviews, statistics, and other facts, this book traces the unraveling of American men by the claws of pornography.
Henry Rogers, a chaplain for Interstate Batteries, discusses his own battle with this terrible addiction, and then builds concrete steps to help others climb out of this pit. 'The Silent War' is truly a lifeline in a world filled with evil
239 pages - http://www.cuttingedge.org/detail.cfm?ID=1790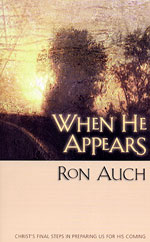 "When He Appears: Christ's Final Steps In Preparing Us For His Coming"
Did you know that the Bride of Jesus Christ -- the Christian Church -- is beautifully portrayed in the Song of Solomon? This book is one of the most lovely works in the Old Testament and is unquestionably the most intimate. It even ranks with secular literature's greatest and most enduring prose
This book brings an insightful approach to the Song of Solomon, first showing it as a historically accurate account of Solomon and his bride by carefully comparing it to other Scriptures which cover Solomon's life
Then, the Song of Solomon is shown as a spiritually accurate allegory of Christ (the King) and the Church (His bride).
The bride is faltering in her marital relationship because of a lack of obedience and intimacy, a self-imposed separation from the groom, from selfishness and the stains of worldly desire. Jesus Christ is returning for His bride, but will the bride be ready 'When He Appears'?
161 pages -- http://www.cuttingedge.org/detail.cfm?ID=1789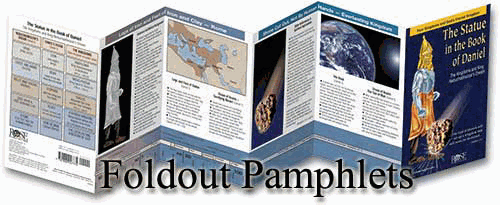 Great New Fold-Out Laminated Pamphlets In Stock! Each Only $3.99
Perfect to use in private devotions, training of children by parents, Sunday School and Homeschooling!
Some of Our Most Informative Pamphlets:
* Wow Item For the Day

"VATICAN ASSASSINS" - Edition 3
On CDROM
w/FREE Black Pope CDROM
On Sale 50% off!
Regularly $39.99
Now Only $19.99
You Save $20.00 or 50%
While the original Vatican Assassins book (2002) was only 700 pages long, this book is 1836 pages pages long, in 50 chapters, and contains 760 startling pictures. Rather than charge more than $150 retail, Eric Jon Phelps has decided to publish this book on CDROM, bringing the price down to $39.99
This book took decades of research and nearly a decade of cumulative writing to complete! Mr. Phelps believes this book is THE defining expose' of the 500-year Jesuit conspiracy to bring the entire world into a One-World Government, Economy, and Religion, all controlled by the Jesuit Pope!
These are the high points of this incredible book:
1534 - Beginning of the Jesuit Order and its original premise to return both Spiritual and Political Power back to the Pope
1773 - History of the Pope's Suppression of the Order in 1773
1796-1816 Wars of Napoleon Bonaparte I shown to be the arm of the Jesuits as Napoleon punished every European Monarch who had resisted the Jesuits. One of the targets was the Papacy who had actively suppressed the Jesuit Order
Shows how high-level Masonry, led by the House of Rothschild, became the financiers of the Jesuits in their conspiratorial scheme
1814 - Jesuits were revived by a Papal Bull
1820 - Russia Expelled Jesuits
1829 - England expelled Jesuits
1848 - Switzerland expelled Jesuits
1871-1872 - Italy expelled Jesuits
1872 - Germany expelled Jesuits
1880 - France expelled Jesuits
1914-1945, Jesuits initiated their second 30-year war, known popularly as World Wars I and II
During the Cold War, Jesuits worked through governments of the world to launch crusades against Asian targets, while simultaneously setting the stage for Neo-Nazi dictatorial system in America
1963, Assassination of JFK
Study the strong facts which indicate that the Jesuits might have had a hand in the 9/11 attacks in order to set off global war pitting Islam against the historic Protestant West
Our suggestion is to buy 3-inch 3-ring binder, printing off one chapter at a time so you will have your own book at the end
Second CDROM contains the 13 original books upon which Vatican Assassins is based.
This CD/PDF E-Book may be entirely reproduced ONE TIME in paperback or hardcover book form by the purchaser by any means available for his personal and private use.
Click here to read full details
DVD
This is our official front cover - left. Do you like it!
Order now, save $5.00! and help us raise money to finish producing Video 3, "Eye of the Phoenix".
Regularly $24.99 - Now only $19.99
Secret Mysteries III will next focus on the development of the new world as "The United States of America". This video will demonstrate that the history of America's government and of its official symbols is a history of secret societies
We shall be examining America's much-talked-about dollar bill and the symbols it bears. Modern masonry claims that the all-seeing eye floating above the pyramid is not a Masonic symbol. But what did Freemasons President Franklin D. Roosevelt and his Masonic Vice President, Henry Wallace, believe when they attached this symbol to our currency in 1935?
How were these American leaders influenced by the Russian mystic, Nicholas Roerich? Does the all-seeing eye represent the Masonic Christ? Was the eagle originally a phoenix bird? And what do all these occult symbols mean?
Follow the journey of the Secret Mysteries series as we unveil their influence through the 20th century. Many believe that the real purpose of the many "Wars and Rumors of Wars" has been to establish a commonwealth of nations to rule the whole world. With the North American Union on the rise, is America the victim of deception? Or is she THE instrument of Global Government?
Notice that we are pre-selling this video by offering you $5.00 off if you pre-buy now. These monies will fund the rest of the project. We truly believe this video will be ready by Christmas, 2008. If you enjoyed "The New Atlantis" and "Riddles In Stone: The Secret Architecture of Washington, D.C.", you will enjoy this video even more. Occultists consider the One Dollar bill to be one of the "most magical" documents ever conceived!
Planned to be over 2 hours long -- http://www.antiquitiesresearch.com/detail.cfm?ID=9
NOTE: You are ordering in the AR Films Shopping Cart, so you cannot order any other items from the Bookstore, except for Videos 1 and 2

See our Huge Selection of DVD Videos
View Our Entire Video Viewing Room
News Alert Archives
As always we ask you to pray daily for this ministry.
Be sure to visit the Sale items and Special offers sections where you will find 28 Special offers and 121 items on Sale.
David Bay, Director, Cutting Edge Ministries
1792 South Lake Drive, Ste. 90 PMB 300, Lexington, SC 29073
800-451-8211