News Alert And Bookstore Bulletin

October 13, 2008

UPDATED 10/13,08, at 4:30pm

NEWS!

I. The slip into the Fascist Economy is so far advanced that the word "Nationalization" is actually being heard - though not in America yet.

NEWS BRIEF: "British Banking giants to be nationalised", The Independent (London), October 13, 2008

"Two of Britain's biggest high street banks will in effect be nationalised today in a dramatic move by the Government that follows a day of international negotiations aimed at co-ordinating a pan-European approach to the global financial crisis. The development, where the state will take a majority shareholding in Royal Bank of Scotland (RBS) and a large share of Halifax Bank of Scotland (HBOS), emerged as European leaders appeared ready to follow the UK-led strategy of bailing out ailing banks by using public funds to take large stakes in them."

Notice the words carefully, "banks will in effect be nationalised".

In Socialism, the government takes total total control of a company, while in Fascism the government owns either a significant proportion of a company or over 50%. In one instance, above, the British government plans to own over 50% of RBS while owning a "large share" of Halifax Bank of Scotland. Therefore, a true nationalization is apparently not planned, at least not in the purest sense of Socialism.

The European Union (EU) is said to be planning much the same "rescue" plan, but a plan tailor-made to the individual countries comprising the Union.

"Mr Brown added that last night's meeting at the Élysée Palace was an 'important moment for the world economy'. He said: 'Decisions that we make in the next few days are decisions that will affect us for many years ahead'. Although Mr Brown declined to take the credit directly, French and European officials said that the European Union strategy was largely inspired by the 'radical' proposals adopted in London on Tuesday. There will be no single EU-funded rescue package but there would be what the German leader, Angela Merkel, described as a 'tool box' of measures which can be adopted at national level without shifting the financial pain from one EU country to another."

Therefore, can we expect the E.U. to own a significant and/or controlling interest in the banks of Europe? We will have to wait to see how these planned developments unfold, but we suspect that they will follow the Fascist ideal.

This next news article indicates that the Bush Administration may be planning to carry out a similar partial nationalization of banks.

NEWS BRIEF: "Bernanke running out of ammo", By Julian Delasantellis, Asia Times, October 10, 2008

"US Federal Reserve chairman Ben Bernanke's belated interest-rate cut uses up valuable ammunition in an attempt to keep the financial system afloat a little longer. The question now is whether the government can hold back from nationalizing a bank such as Citigroup before the presidential election."

I would think that the Republican White House would like to avoid carrying out a Socialist action like nationalizing private industry until after the November Presidential election! Why unnecessarily anger Conservative voters prior to the election? After all, Conservatives are traditionally very, very resistant to Communist/Socialist actions like Nationalization. Genuine Conservatives voted for George Bush rather than Al Gore because they felt that was the best way to avoid a "Liberal" like Gore from taking actions like the Bush Administration is taking now -- overthrowing Capitalism and instituting Fascism.

World stock markets on Monday opened up higher, as investors seem to like all this Fascist planning.

NEWS BRIEF: "Dow jumps 400 as government pledges bank aid", Yahoo Finance, October 13, 2008

"The Dow Jones industrial average surged more than 400 points in early trading today as investors rushed into stocks after eight sessions of devastating losses, hoping that the stock market is finding some footing following pledges by governments to further aid the banking sector, including plans by the Treasury to buy U.S. bank stocks."

In other words, investors who were panicking last week over the possibility that they might lose their financial shirts are now coming back into the market, reassured that this massive government aid stream might save them after all. These investors either do not care or do not know that they are cheering the fox who has recently been promoted to guarding the henhouse door! Today, investors may be saved by this government action; tomorrow, they will be eaten alive!

Some people are awakening to the reality that a master plan seems to be unfolding, rather than events occurring simply by accident. More people are seeing the Socialist/Fascist side to this charade. Jim Cramer, moderator of "Mad Money" on CNBC News, stated this morning (Monday, 10/13), "A year ago, we would have called this plan Socialism"!

Cramer is partly right, for Socialism features government control and regulation, as does Fascism.

We are encouraged that people are beginning to see through this horrific change, as Capitalism is being killed so Fascism can be erected in its place!

NEWS BRIEF: "World stocks rally strongly", Yahoo Finance, October 13, 2008

"LONDON (AP) -- European markets rallied strongly Monday following Asia's lead in response to the widespread government efforts over the weekend to shore up the world's battered financial system ... A rally late Friday on Wall Street, overnight gains in Asia and coordinated attempts by European and U.S. authorities to prop up the banking system brought a measure of relief after last week's stock market drubbing."

Coordinated efforts by Central Banks around the world seemed, temporarily at least, to reassure investors.

There will be more shocks and more panics, but the one thing that did not happen in September or on October 7 is an economic collapse. As we have stated earlier, the Illuminati plans to take the economies of the world right up to the brink of the abyss, but will not plunge it over that brink. They have calculated that they can get their economic changes without plunging the world into a severe recession or depression. But, you must expect some further panic news headlines before this planned crisis is past.

UPDATED: The American Dow Jones skyrocketed all day Monday, closing at +936 points!

NEWS BRIEF: "Dow jumps 936 as governments pledge bank aid", Yahoo Finance, October 13, 2008, 4:30pm

"NEW YORK (AP) -- Wall Street stormed back from last week's devastating losses Monday, sending the Dow Jones industrials soaring a nearly inconceivable 936 points after major governments' plans to support the global banking system reassured distraught investors. All the major indexes rose more than 11 percent. no one expected this kind of advance, which saw the Dow by far outstrip its previous record for a one-day point gain, 499.19, set during the waning days of the dot-com boom."

"Still, while the magnitude of Monday's gains stunned investors and analysts, no one was ready to say Wall Street had reached a bottom. The market is likely to have back-and-forth trading in the coming days and weeks -- and may well see a pullback when trading resumes Tuesday -- as investors work through their concerns about the banking sector, the stagnant credit markets and the overall economy."

At least one Central Banker has placed a time limit on how long this crisis might last.

NEWS BRIEF: "Global Financial crisis to last a year", YNET News, October 13, 2008

"Bank of Israel governor talks about global financial crisis, tells Yedioth Ahronoth Israeli public has no reason to panic. He anticipates world markets will take about a year to bounce back, says Israel's banking system solid."

I would anticipate that the Illuminati would need a year to get the economies of the entire developed world transitioned into the planned Fascist system.

Watch for increasingly active government intervention and partial ownership into the private industry, as the tentacles of severe regulation continue to grab firm hold of the entire marketplace. That is the plan and it will unfold over the next year, aided and guided each step of the way by the tremendous threat of economic collapse.

For more details, please take a moment to read one of our newest Headline News Analysis articles:

"American Economy Now A Tightly Controlled, Severely Regulated Economy"

Transition To Severely Regulated Fascist Economy Is Now Going Global -- Europe, Great Britain, Ireland, and Iceland Are Going Through Same Planned Disaster As American Companies! The Whole World Is Transitioning To The Planned Regulated Economy of The Coming Masonic Christ.

The "Bailout Plan" was never intended to solve the economic crisis, but only designed to establish a powerful Economic Czar!

Capitalism is DEAD in America - Fascist Economy is now a reality

http://www.cuttingedge.org/news/n2317.cfm

DVD

II. The war in Afgahnistan is slipping away from NATO's control!

NEWS BRIEF: "US report says Afghanistan conflict rapidly worsening", Yahoo News, October 13, 2008

"WASHINGTON (AFP) - The situation in Afghanistan is liable to get worse in 2009, the chairman of the US Joint Chiefs of Staff has warned, amid reports of a bleak draft US intelligence assessment that details a slide into corruption, drugs and insurgent violence ... 'The trends across the board are not going in the right direction', Admiral Michael Mullen told reporters at a breakfast in Washington."

"A US military official, speaking on condition of anonymity, told AFP that the downbeat 'tone and direction' was not unexpected. 'We heard about this for several weeks, and were not surprised by the tone it conveyed -- that the situation in Afghanistan was getting worse, certainly not better, and that a lot more attention was needed to try to remedy what is going on', said the official."

How many people remember that Afghanistan was the first foreign nation Bush ordered invaded after the attacks of 9/11?

How many people remember that the reason President Bush offered to invade this poor nation was because Osama bin Laden supposedly operated from there? Cutting Edge repeatedly stated that Osama was a "straw man" created by the Illuminati so that he could easily be knocked down, and we stated that this whole scenario would work best if he was never caught.

Of course, that is exactly what happened, and now we see reports that he may have died a long time ago!

When you contemplate the war in Iraq which was "won" only when Iran handcuffed the Mahdi Army, you have to realize that these two wars were planned to be wars not to be won. Both these wars were to advance the coming New World Order, and set the stage for the eruption of Islamic fury which will cause Islamic leaders to launch repeated wars against Jerusalem, just as Zechariah 12 foretells!

President Bush has accomplished a lot in his two terms of office:

1) His actions set the stage for the fulfillment of Zechariah 12 regarding Jerusalem being surrounded by armies

2) His actions carried out the global Illuminati plans faithfully. Not only did he lead America into these two disastrous wars, he took the actions in the banking industry and in the oil industry which the Illuminati expected him to take.

What a privilege to watch Bible prophecy fulfilled in our Daily News!

With Pakistan teetering on the brink of fiancial disaster and all-out war, the entire Middle East may blow up into greivous war for the upcoming 44th President.

III. Obama leads McCain now by 10 full percentage points!

NEWS BRIEF: "Obama leads McCain by 10 points", Reuter's News, October 13, 2008

"Democratic presidential candidate Barack Obama is leading his Republican rival John McCain 53 percent to 43 percent among likely voters ... Sixty-four percent of voters now view Obama favorably, up six percentage points from early September ... Nearly a third of voters have a better opinion of the Illinois senator because of his debate performance ... 52 percent of voters now strongly favor McCain, down seven percentage points from early September.

"More than half of respondents, 59 percent said the Arizona senator has been mainly attacking his opponent rather than addressing the issues, up from 48 percent who said the same thing in August ... Sixty-eight percent of respondents said Obama has been mainly addressing the issues."

The economy has been the main issue in this campaign. Since the Republicans control the White House, the Treasury and the Federal Reserve, the American people blame the Republicans for the mess, and McCain is bearing the brunt of this developing fiasco.

This planned economic transition from Capitalism to Fascism was planned to occur this year under the Republican President. Political pundits will not forget that the last time the Republicans held the White House during a severe economic crisis, political leaders delivered a Great Depression; therefore, the "Talking Heads" can intone that this seeming repeat of history has propelled Obama into the Oval Office.

It does look stronger every day that Obama may be the 44th President of the United States. As I have stated many times before, when the Illuminati plans a Domestic Affairs focus over the next 4 years, they cause a Democrat to ascend to the White House; but, when they plan a Foreign Affairs focus over the next 4 years, they cause a Republican to become President.

Obviously, a dramatically changed economy will likely force a Domestic Affairs focus.
Bookstore

Blow-Out Sale!

"VATICAN ASSASSINS"

Edition 3 - On CDROM w/FREE Black Pope CDROM

Regularly $39.99, Now Only $19.99, You Save $20.00, or 50%!

This book took decades of research and nearly a decade of cumulative writing to complete! Mr. Phelps believes this book is THE defining expose' of the 500-year Jesuit conspiracy to bring the entire world into a One-World Government, Economy, and Religion, all controlled by the Jesuit Pope!

This book is 1836 pages pages long, in 50 chapters, and contains 760 startling pictures. Rather than charge more than $150 retail, Eric Jon Phelps has decided to publish this book on CDROM, bringing the price down to $39.99 -- http://www.cuttingedge.org/detail.cfm?ID=1443

Best-Sellers Back In-Stock

DVD

"Biblical Secrets Revealed"

2-DVD Set - by Michael Hoggard

In these double DVD's Michael Hoggard provides undeniable evidence that the Bible is Divinely inspired, in all its minute details. Further, Hoggard also proves that you can safely depend upon all the doctrines and all the prophecies contained within this wonderful Book!

Join Baptist Pastor Hoggard as he teaches the numerical and textual patterns -- Two Witnesses; Three Days In The Tomb; Four Gospels; Five Smooth Stones; Six Days; Seven Seals; Eight People Saved In The Ark; Nine Fruits of the Spirit; Ten Commandments; The Beast's Number, 666; and much, more more

Two DVD's, each one 2 hours, 40 minutes long. Over five hours of instruction! - http://www.cuttingedge.org/detail.cfm?ID=1717

Halloween

DVD

"America's Occult Holidays - Startling Facts"

by Former Satanist Doc Marquis

Too many Christians are enthusiastically celebrating pagan holidays, thinking they are Christian. Once you understand how very pagan America and the rest of the Western world has become, you can see how God's judgment cannot be far behind. In this video, former Illuminist Satanist, Doc Marquis, demonstrates the truth -- our holidays have been copied from Satanism and just given Christian names.

You will be shocked to realize how very pagan our annual celebrations are!

You will be shocked to realize how most of the symbols used in our holidays originated within Satanism. You will be shocked to realize how most of the symbols used in our holidays originated within Satanism. Doc covers the following pagan holidays most of which America fervently celebrates. 1) America's Occult Calendar -- Marquis reveals how our entire calendar is patterned after paganism, from January 1 through December 31! 2) Valetine's Day/Groundhog Day 3) Easter 4) Beltaine - May 1 5) Halloween (Samhain) 6) Christmas (Yule) With pagan holidays spread throughout the calendar year, you have time to warn your friends and relatives of the dangers of practicing these holidays. Nearly 3 hours long. - http://www.cuttingedge.org/detail.cfm?ID=1460


NEW PRODUCTS

DVD

"Satan's Attacks On The Christian Faith"

ARE YOU SURE YOU ARE SAVED?

Discover how the devil's legions of liars are masquerading as messengers of Jesus in order to deceive the world and that includes you and your loved ones

The devil's insidious attacks against the faith are strategically aimed at six targets: 1) The Supremacy of God's Word, 2) The Sufficiency of God's Son, 3) The Singularity of God's Gospel, 4) The Sovereignty of God's Grace, 5) The Security of God's Children, and the 6) Sanctity of God's Church. The second message examines Paul's exhortation to all us - "Test yourselves to see if you are in the faith" Have you passed the objective and a subjective tests for genuine faith that are revealed in Scripture.

Great soul-winning DVD - http://www.cuttingedge.org/detail.cfm?ID=1929

DVD

"Roman Catholicism vs Evangelical Christianity"

With love, sensitivity and deep compassion, this video explains how Catholics submit to a spiritual authority which is far different than Biblical authority. Further, Catholics learn from a different Bible, believe another Gospel, trust another Christ, and are on a different path to eternity -- Hell!

Great witnessing tool for believers to approach loved ones still practicing Catholicism. Catholics who watched this video have left their religion to follow the true Jesus. - http://www.cuttingedge.org/detail.cfm?ID=1928

NEW PAMPHLETS! Now 63 From Which To Choose

"10 Questions & Answers On Angels" - Pamphlet

Angels are fascinating beings! Learn what the Bible says (and doesn't say) about these powerful servants of God.
Author sifts through myths and misinformation to answer these questions, and more:

1) Are angels for real?; 2) Do angels have bodies?; 3) Should we look to angels for spiritual guidance?; 4) Are we guaranteed angelic protection? 5) Will we become angels? 6) Plus more!

Pamphlet has 14 panels, fits inside most Bibles, unfolds to 38 inches long while retracting to 8.5x5.5 inches

Fully laminated

http://www.cuttingedge.org/detail.cfm?ID=1930


"Psalm 23" - Pamphlet

Psalm 23 has been a most cherished and loved chapter, read by countless generations. It is considered THE most popular Psalm

Get an insider's view as to what the Psalm is all about, the view from a shepherd!

Learn how: 1) The shepherd takes his sheep on a yearly rotation through their pastures. 2) A nomadic shepherd really cared for his flock, giving his life if he had to in order to defend them. 3) Danger, drama, and salvation from death was part of the job of the shepherd. 4) Sheep learned to trust and to recognize their shepherd, especially learning his voice. 5) Compare 'Rod and Staff" references throughout the Bible. Much More

Pamphlet is comprised of 14 panels which unfolds to 38 inches, but fits inside most Bibles as it unfolds to 8.5x5.5 inches - http://www.cuttingedge.org/detail.cfm?ID=1933

"The Gospels Side By Side" - Pamphlet

The Bible presents four biographers for Jesus' life: Matthew, Mark, Luke, and John. Each Gospel presents Jesus' life from a different perspective or points of view which presents a unified complete picture of our Savior.

Consult this concise chart to discover why the Holy Spirit gave us four books on Jesus' Ministry, not just one.

Discover also why three Gospels are similar, but the fourth one is very different. See how the Gospels compliment each other instead of contradicting each other

Find out why most of Jesus' story focuses on His last week!

Pamphlet has 14 panels but unfolds to 38 inches, fits inside most Bibles as it measures 8.5x5.5 inches folded - http://www.cuttingedge.org/detail.cfm?ID=1931

"Jesus Fact & Fiction" - Pamphlet

The 'New Critics' and popular culture have distorted the truths about Jesus, the greatest Man in world history.
Author busts current myths and answers popular questions about Jesus.

Examples: 1) Was Jesus a mythical figure? 2) Are the Gnostic Gospels a better source for Jesus than the New Testament Gospels? 3) Where was Jesus during His 'lost years'? And many more questions

Pamphlet is 14 panels that expands to 38 inches, but fits inside most Bibles as it folds up to 8.5x5.5 inches

http://www.cuttingedge.org/detail.cfm?ID=1932

NEW ROSE PUBLISHING REFERENCE WORKS

"Rose Guide To The Tabernacle: Clear Overlays and Reproducible Pages"

The Tabernacle (Tent of Meeting) was the place where the Israelites worshipped God after the Exodus. Learn how the sacrifices, utensils, and even the structure of the Tabernacle were designed to reveal God's Attributes and to testify of Jesus
Learn the parallels between Old Testament sacrifices and priest's duties and Jesus' service as the Perfect Sacrifice and Perfect High Priest

See how: 1) The Tabernacle was built and moved; 2) The sacrifices pointed toward Jesus Christ; 3) The design of the tent revealed God's holiness and humanity's need for a Savior; 4) The Ark of the Covenant was at the center of Worship; 5) Full color with 8 clear plastic overlays showing inside and outside the Tabernacle; PLUS dozens of reproducible charts. You can reproduce up to 300 copies of any chart free of charge for your classroom

128 pages, Hardcover with spine - http://www.cuttingedge.org/detail.cfm?ID=1935

"Rose Book of Bible Charts" - Volume #2

Dozens more popular Rose charts in one book! Topics include: 1) Bible Translations Comparison; 2) Why Trust The Bible? 3) Heroes of the Old Testament; 4) Women of the Bible; 5) Life of Paul; 6) Jesus Christ in the Passover; 7) Names of Jesus; 8) Beatitudes; 9) Lord's Prayer; 10) Where To Find Favorite Bible Verses; 11) Christianity and Eastern Religions; 12) World Views Comparison; 13) 10 Q&A On Mormonism / Jehovah's Witnesses / Magic / Atheism; 14) Pursuing Jesus; 15) 32 other pamphlets, would cost you $130 if you bought them all separately

You can reproduce up to 300 copies of any chart free for your own classroom

192 pages, full color, contains the most Rose material published since 2005. Hardcover with a spine - http://www.cuttingedge.org/detail.cfm?ID=1934


Focus On The RAPTURE!

Biblical Discernment In These Last Days - New DVD!

DVD

"Death of Discernment From Christian Pulpits"

The major cause of the malady known as "Death of Discernment" at the End of the Age is a steady but steep decline in Biblical preaching from the pulpits of Christian churches! Many pastors are now more interested in entertaining the goats rather than feeding the sheep.

Therefore, the critical issue in the church today is defending the purity of the Gospel against compromise and Ecumenism. The Bible is meant to be the rudder which guides the ship called the Church through stormy waters; these waters have been mightily stirred by the "Enemy of our souls" through casting "every wind of doctrine" at the believer.

If the Church does not start practicing Biblical discernment, tens of millions of genuine Christians are heading for serious trouble. Remember, the enemies of the Gospel are more outspoken and more cunning than are Christians, just as Jesus warned.

The second part of this video examines man's greatest need -- to be forgiven by a holy and righteous Judge. Too many Christians live in a shadow of fear and without inner peace because they have never heard nor understood genuine salvation -- "The Best Kept Secret In The Church"

http://www.cuttingedge.org/detail.cfm?ID=1918

Living "Rapture Ready"

DVD

"Last Days For Catholics: Will They Be Raptured Or Left Behind?"

When the Trumpet of God sounds and the saints on this earth are raptured into the heavenlies, will Jesus recognize the average Catholic as being saved, and therefore, raptured? This issue is critical, for apostate Evangelical leaders have long stated that Catholics do not need to be evangelized, as they are already saved!

Are they really saved? Does Jesus recognize them as saved, thus taking them in the Rapture? This DVD sets the record straight by objectively examining Catholicism through the lens of Scripture. Seven Biblical principles are presented as essential for effective witnessing in this huge and essentially neglected Mission Field.

Help Catholics learn to examine their salvation through the eyes of Jesus, not through their twisted and pagan religion. Their precious souls are at stake! http://www.cuttingedge.org/detail.cfm?ID=1917

DVD

"Biblical Teachings About The Rapture"

2 DVD Set - by Pastor Hoggard

At long last! Rapture teaching that is squarely based upon the Bible. Pastor Hoggard provides a fascinating study of the Rapture of the Church that is badly needed at a time when critics of this wonderful teaching are reaching ever-increasing numbers

Did you know that the Rapture is not just New Testament doctrine, but is visible in the Old Testament? This part of the study is very interesting

Some say the Rapture is the first event on God's prophetic calendar, but do the Scriptures foretell that an extremely significant event will occur BEFORE the Rapture? And, what might that event be?

Finally, discover why God used the symbolism of a whirlwind when He translated the Prophet Elijah!

This study of the Rapture is the most interesting and decidedly unique you have ever seen

Now you can Biblically answer critics of the glorious Rapture of the Christian Church - http://www.cuttingedge.org/detail.cfm?ID=1916

New Items

DVD

"Israel, the Vatican, and the United States"

This video presentation provides specific details regarding a secret agreement reached between the Vatican and Israel. It was negotiated during a several year period when the Oslo Accords were receiving all the public's attention.

This "treaty" gives the Pope control over the Old City of Jerusalem, with the UN taking on the role of enforcer. High level Freemasons, the Vatican, the UN, the King of Jordan, and the US government all played critical parts in facilitating this unprecedented pact between the Catholic Church and Israel's leaders.

Some of the intricate details are still being worked out, but the deal is mostly done. Gary warns, "All the Antichrist has to do is step on the scene at the right moment and claim that he put this plan together, and people would likely give him the credit and worship him as a hero - the one who has finally delivered world peace."

This DVD also examines how America is succumbing to the Vatican's influence as it pressures Israel to go along with Rome, Replacement theology, the goals of the Jesuits, and the increasing domination of America's political structure by Roman Catholic elements are all addressed in this lecture. http://www.cuttingedge.org/detail.cfm?ID=1925

DVD

"Toward a One World System"

This 60-minute DVD was taped before a live audience in the spring of '08. It features Gary Kah giving an overview of important developments concerning globalization that occurred during the first part of 2008, as well as a look ahead at events being planned for the rest of the year.

Global warming, the North American Union, and the status of Mideast talks are a few of the topics covered.

His presentation closes with a call to action and challenges Christians to be more discerning as we enter a tumultuous time.

http://www.cuttingedge.org/detail.cfm?ID=1923

DVD

"Toward A New Age/Interfaith Religion"

Unknown to many, the global interfaith movement is deeply rooted in New Age philosophies and occult practices. In this video, Gary carefully examines the relevant history of the New Age and interfaith movement, the impact Eastern religions have had on our western culture, and how many occult practices are becoming accepted even in Christian circles!

Timely and chock full of visuals, this presentation is essential to understanding the new world religion.

This video is a fantastic companion to Gary's book "The New World Religion".

Corrupted Christian Music In Our Churches

New 5-DVD Combination Offer Saves You Money!

"Occult Symbols In Christian Music" PLUS "They Sold Their Souls For Rock-n-Roll" 10-Hours

Regularly $54.98

On Sale $44.98, Saving You $10.00

Many youngsters today are jumping from Contemporary Christian Music into Hard Rock because they have been pre-conditioned by their "Christian" music

"Occult Symbols in Christian Music" video demonstrates that Luciferian symbols permeate Christian Contemporary Music! This video will literally blow your minds as he reveals how churches are regularly being inundated with occult values, doctrines, and symbols, without anyone ever understanding!

With this kind of conditioning, you can understand how easy it is for kids to later jump into hard rock

"They Sold Their Souls For Rock-n-Roll" video shows the true Luciferian nature of Rock Music because the author is a former rocker before he got saved and now pulls no punches in revealing how Satanic this industry is.

12 Hours of video on 5 DVD's, for only $44.98; you save $10 over buying these two videos separately, but normally, 12 hours of video would retail for $70.00!

http://www.cuttingedge.org/detail.cfm?ID=1922

"Can We ROCK The Gospel?"

Warning in a Christian music magazine to naive Christian lovers of "Christian Rock": "I'll bet you aren't aware of all the occultic propaganda in your record collections".
Does God endorse music of every kind? Can we 'cut and paste' secular rock music and 'Christianize' it in the process? Should the Christian Church unite in bringing Rock Music to the altar or should we unite in sending it to the bonfire?

Two respected Christian leaders and best-selling authors who together have many years of hands-on experience in worship, preaching, and evangelism and music, combine in this book to examine this controversial subject, using both recent evidence and time-tested truths.

John Blanchard - internationally known author, apologist, teacher with over 15 million copies of his books available in over 40 languages. http://www.cuttingedge.org/detail.cfm?ID=1365

"Why I Left The Contemporary Christian Music Movement"

Untold thousands of Christian churches across the world are abandoning Traditional Music in favor of Contemporary Christian Music. Writing from his own personal experience as a Christian music leader, Dan Lucarini severely criticizes using Contemporary Music in the worship of our Lord Jesus Christ. Dan illustrates how churches have been deceived into thinking they have to become like the world in order to reach the world.
This music is causing divisions within the church and gradually turns the worshippers from a focus on Jesus to a focus on themselves.

This warm and heartfelt account highlights these dangers and is intended to aid church leaders in reversing these modern trends, understanding the truth of the Scripture: "Stand ye in the ways, and see, and ask for the old paths, where is the good way, and walk therein, and ye shall find rest for your souls" - Jer 6:16

http://www.cuttingedge.org/detail.cfm?ID=1400

http://www.cuttingedge.org/detail.cfm?ID=1013

"Music and Morals: Dispelling The Myth That Music Is Neutral"

w/FREE CD Providing Examples of Moral and Immoral Music

"Music has power: It influences our thinking and not only conveys emotions, it produces genuine emotional states in the body. This power has been speculated about for centuries...and now, these speculations have been substantiated by scientific evidence." -Excerpt from chapter four.

Music and Morals examines the effects music has on the listener, putting to rest the myth that music is amoral. You will learn... 1) Scientific evidence proving that music has positive or negative effects on the listener. 2) Why immoral music is more powerful than Christian lyrics. 3) The difference between moral and immoral music techniques. 4) The underlying meaning of certain types of rhythms -- and much more!

A mini reference guide to different musical styles and their origins and a CD with example clips of moral and immoral music are included. http://www.cuttingedge.org/detail.cfm?ID=1590

"The TRUE Story of the Bilderberg Group"

Expose' of the World's Truly Secret Governing Body

Still On Sale!

Regularly $24.95

Now On Sale For Only $19.95

An expose' of the most secretive, most powerful, ruling group in the world! Exposes who really runs the world and the lengths to which they will go to establish their globalist hegemony

This investigative report provides a fascinating account of the annual meetings of the world's most powerful people

The Bilderberg Group has been comprised of European prime ministers, American presidents, and the wealthiest CEOs of the world, all coming together to discuss the economic and political future of humanity.

Using methods that resemble the spy tactics of the Cold War—and in several instances putting his own life on the line—the author did what no one else has managed to achieve: he learned what was being said behind the closed doors of the opulent hotels and has made it available to the public.

408 pages - http://www.cuttingedge.org/detail.cfm?ID=1891
See our Huge Selection of DVD Videos
View Our Entire Video Viewing Room
New Headline News Articles

DVD

"Obama's 'Universal' Service Plan - Part 2

Mind Change and Collective Service"

Jesus was a community organizer." (A visitor's response to "Training an army of world servers")

http://www.cuttingedge.org/articles/db111.html

"American Economy Now A Tightly Controlled, Severely Regulated Economy"

Transition To Severely Regulated Fascist Economy Is Now Going Global -- Europe, Great Britain, Ireland, and Iceland Are Going Through Same Planned Disaster As American Companies! The Whole World Is Transitioning To The Planned Regulated Economy of The Coming Masonic Christ.

The "Bailout Plan" was never intended to solve the economic crisis, but only designed to establish a powerful Economic Czar!

Capitalism is DEAD in America - Fascist Economy is now a reality

http://www.cuttingedge.org/news/n2317.cfm

Iranian President Ahmadinejad Revealed To Be A Freemason!

Another Reason That Iran Will NOT Be Invaded or Attacked!

Proof positive that Illuminized Freemasonry controls both sides of any conflict. President Ahmadinejad is one of the Global Elite and, as such, his country will not be prevented from playing the role which Biblical prophecy has assigned it.

Proof positive that the conflict between the West and Iran is staged according to the principles of the Hegelian Dialectic! http://www.cuttingedge.org/news/n2318.cfm

Did U.S. Military Set Off Micro-Nuke Which Destroyed the Pakistani Marriott On Sept 20?

The huge blast which destroyed the Islamabad Marriott created too large a crater to be a conventional bomb. Islamic radicals do not possess this sophisticated type of bomb.

The Pro-West Pakistani government was nearly caught by this blast; was this bomb a warning to Pakistani leaders to continue a pro-Western policy or face destruction?

http://www.cuttingedge.org/news/n2316.cfm

---

" 'Christian Theologians' Preparing People To Accept Aliens!"

The depth of the Apostasy of the Christian Church gets deeper as Christian leaders are now preparing people to accept Aliens, using Christian words and concepts. This current new story focuses on whether Jesus can redeem aliens!

Prophecy: "Let no one deceive or beguile you in any way, for that day will not come except the apostasy comes first , unless the predicted great falling away of those who have professed to be Christians has come, and the man of lawlessness (sin) is revealed, who is the son of doom (of perdition)." (2 Thessalonians 2:3)

http://www.cuttingedge.org/news/n2315.cfm

Obama's 'Universal' Service Plan - Part 1 - Training a Socialist Army of World Servers"

Obama: "I will ask for your service and your active citizenship when I am president of the United States ... this will be a central cause of my presidency."

"A really efficient totalitarian state would be one in which the all-powerful executive of political bosses and their army of managers control a population of slaves who do not have to be coerced because they love their servitude. To make them love it is the task assigned... to ministries of propaganda, newspaper editors and schoolteachers." (Aldous Huxley, 'Brave New World')

http://www.cuttingedge.org/articles/db110.html

"Todd Palin IS MOST DEFINITELY Flashing A Masonic Handsign During The August 29 Photo Shoot With Governor Sarah Palin and Their Children!"

As we demonstrate through pictures, Todd Palin is clearly inserting his hand into his coat in a typical Masonic handsign gesture. This gesture sent a message throughout the occult world that Illuminized Masonry is in control of the Republican Presidential Ticket, including the selection of Governor Palin as McCain's V.P. candidate!

http://www.cuttingedge.org/news/n2314.cfm

MAJOR UPDATE -- September 10, 2008 at 9:45 AM! Sarah Palin shown in a staged photo in an Illuminati pose

"Barack Hussein Obama - THE Most Liberal, Antichristian Presidential Candidate EVER!"

Are the American people so disgusted with "Conservative", "christian", Bush that they will gladly accept a President far more Liberal than Bill Clinton? http://www.cuttingedge.org/news/n2312.cfm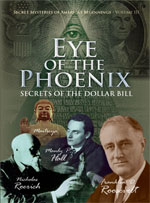 "Eye of the Phoenix" DVD Now Has A Revealing Trailer!
Video #3 In The "Secret Mysteries of America's Beginnings" Series
This video will prove that three occultists of international renown conspired to place the Illuminati "Symbol of Antichrist" on the left side of the back of the American One Dollar Bill! The All-Seeing Eye of Horus hovering over the unfinished pyramid is the Eye of Antichrist and American rulers of that time knew it!
Occultists consider the One Dollar Bill to be the highest "Magical Symbol" in world history! You will also be surprised to learn the reason Masons chose the Dollar Bill as the most important document on which they could place this startling symbolism.
We continue our Pre-Sale offer, allowing you to pre-purchase this video at $5.00 off. If we are to continue producing this video without interruption, we need your support NOW!
Related News Story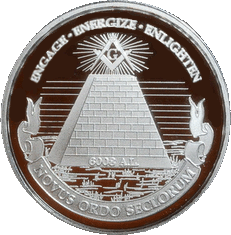 "Masonry Officially Admits That The Luciferian All-Seeing Eye Symbol On The Back of the One Dollar Bill Is Masonic!"
After years of denying that symbol of the All-Seeing Eye hovering over the pyramid on the One Dollar Bill is in any way, shape, or form Masonic, official Masonry is now bragging to their members that this is precisely the case!
Just another indication of the inherent Satanism within Masonry!

http://www.cuttingedge.org/news/n2293.cfm
* Wow Items For the Day
More New DVD's From Pastor Hoggard!
All these DVD's are on sale!
Regularly $29.99, On Sale For Only $14.99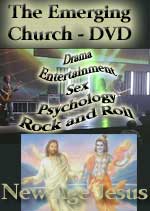 "The Emerging Church - Discover the Hidden Agenda behind the modern Church Growth Movement" - Part 3 of "Watchman on the Wall" series.
Part 3 of the "Watchman on the Wall Series"
Pastor Hoggard thoroughly explains the Illuminati HEGELIAN DIALECT and how it is being employed to destroy the Christian Church! Hoggard understands how the very use of this technique points to the End of the Age, giving us another strong reason to believe the prophecies of God's Holy Word
Hoggard also details how secular Marketing Strategies are being successfully used to market the Christian Church -- including SEX!
Other secular techniques which these modern apostate churches are using to increase their numbers include: 1) Drama; 2) Entertainment, 3) Social Events; 4) Psychology; 5) and numerous programs galore
Occult New Age Techniques have been renamed and introduced into the seeker sensitive churches. Youth Pastors are being especially targeted with this New Age programming, as they are aiming at contemporary teens already programmed heavily into the New Age Movement
Contemporary Music is strongly used, with the goal of ultimately moving church people into mainstream Rock
Hoggard lists the 4 areas which Satan is attacking through these apostate churches: 1) Attack against the Word; 2) Attack against Prayer; 3) Against traditional church music; 4) Attack against traditional preaching - Joel Osteen, Bill Hybels, Rick Warren, Benny Hinn are prime examples.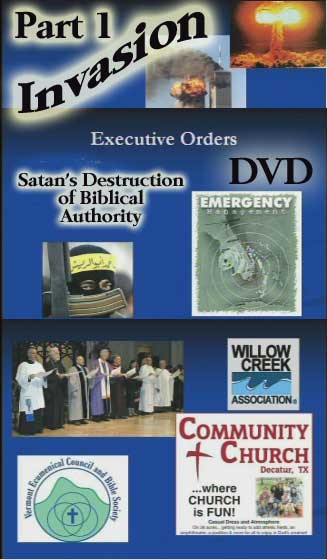 "Invasion - Satan's destruction of Biblical Authority"
Part 1 of the "Watchman on the Wall Series"
Global leaders are using tragic events to force people to give up freedoms for safety, a very persuasive tactic to bring about an Absolute Dictatorship! Events like: 1) Attacks of 9/11; 2) Threat of Nuclear War; 3) Threat of Economic Collapse; 4) Threat of more terrorist attacks 5) Scare tactics in quite a number of other areas
These scare tactics then allow our governments to take actions to destroy our freedoms. Executive Orders, Patriot Acts I and II and other anti-terrorist laws are then passed because the citizens are terrified by these scare tactics
But equally important is the Apostasy of the Christian Church, which has collapsed Biblical authority and the awareness by the people as to the accuracy of prophecy! In this era, "Seeker-sensitive " churches have virtually abolished Biblical authority and awareness on the one hand, while slowly moving her people into the arms of the Vatican on the other hand
This video is one of the VERY BEST from Pastor Michael Hoggard! We highly recommend it! Hoggard's specific examination of Executive Orders is alone worth the price of this DVD! http://www.cuttingedge.org/detail.cfm?ID=1912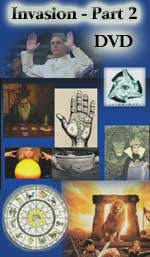 "Invasion Part 2 - Satan's War against or homes, our churches and our country - by Pastor Hoggard - Part 2 of the 'Watchman on the Wall Series' "
Pastor Hoggard teaches that much of the spiritual power seen in today's apostate churches comes directly out of Ephesians 6. Witchcraft, ESP, Telekinesis, Holy laughter, altered states of consciousness and Music
Then, Hoggard goes to Deuteronomy 18:10-12 - Palm reading, tarot cards, Ouija boards, guided imagery, hypnosis, channeling and necromancers. He covers more on heretics and false teachers
We recommend Invasion Parts 1 and 2 as some of the finest documentaries in the Christian market!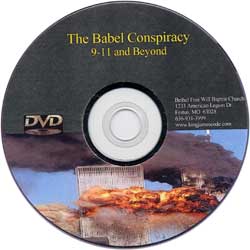 2) "The Babel Conspiracy: 9/11 & Beyond" - DVD - by Pastor Michael Hoggard
"The Babel Conspiracy" proves that the Illuminati conspiratorial plan to unite the world so their Antichrist can appear is controlled by the "Evil Master Spirits" in the supernatural dimension. BUT, these Evil Master Spirits are controlled by prophecy and doctrine in God's Bible!
What a faith-building experience, as Pastor Hoggard reveals the startling degree to which the events of 9/11 and since then were controlled by prophecy!
Your weak faith will be wonderfully strengthened as will your ability to convince people that the Bible is the only roadmap we need to understand the events of this Age
In speaking of the attacks on 9/11, Pastor Hoggard teaches the "pattern" of them all and then ties them in with the bombing at the Murrah Building in Oklahoma City, the assassination of President Kennedy and other key events of the last 20 years -- and demonstrates how these events fulfill Bible Prophecy!
Great soul winning tool - refreshing approach to this subject - http://www.cuttingedge.org/detail.cfm?ID=1904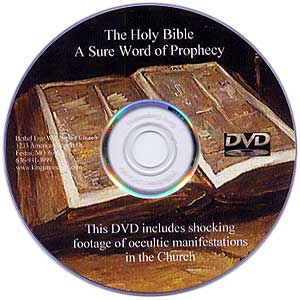 3) DVD - "Holy Bible: Sure Word of Prophecy" - by Pastor Michael Hoggard
Occultic manifestations are occurring in Christian Churches throughout the land - and the Bible foretold them all! Pastor Hoggard shows how prophecy foretold that these types of Satanic activities would infest the church at the End of the Age
Practices well known in occult circles are being practiced in churches with the people thinking the Holy Spirit is causing it, not ever realizing that a demonic spirit is deceiving them greatly!
Satan is sweeping churches throughout the world with his full infernal spirit, fulfilling Bible prophecy
This Bible study will surprise you as to its accuracy in foretelling the events of the End of the Age now unfolding uniquely right now, in front of our very eyes!
Pastor Hoggard has also produced: 1) Secret of Solomon's Key Revealed; 2) Biblical Secrets Revealed; 3) New Age - Rick Warren And The Great Prophesied Falling Away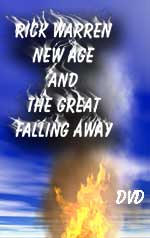 4) "New Age - Rick Warren And The Great Prophesied Falling Away" - DVD - By Pastor Michael Hoggard - Watch the Trailer
Pastor Hoggard reveals the shocking truth that the foundation for Rick Warren's Purpose Driven Church is New Age Doctrine! In fact, one of Warren's major church pillars is the infamous Marilyn Ferguson's book entitled, "Aquarian Conspiracy".
This reality places Rick Warren squarely in the camp of the 'Enemy of Our Souls' and labels him and his entire movement as being part of the fulfillment of 2 Thess 2, where the Apostle Paul foretold that Antichrist could not arise until the apostasy of the Christian Church comes first. Therefore, RICK WARREN IS OPENING THE DOOR TO ANTICHRIST! And Pastor Hoggard proves it!
Pastor Hoggard also authored: 1) "The Secret of Solomon's Key"; 2) Biblical Secrets Revealed
2 1/2 hours long

We are going to continue our special $25 per year subscription fee promotion, for which you will get a FREE Cutting Edge Website on CD, a $25 value, plus a CD containing Seminars 1 and 2, another $14.99 value. Therefore, you are getting back $55 in value for only a $25 subscription -- a total value of $80.00!
This promotion is also available for those who wish to renew, and for people giving a subscription to someone else as a gift.
News Alert Archives
As always we ask you to pray daily for this ministry.
Be sure to visit the Sale items and Special offers sections where you will find 28 Special offers and 121 items on Sale.
David Bay, Director, Cutting Edge Ministries
1792 South Lake Drive, Ste. 90 PMB 300, Lexington, SC 29073

800-451-8211