Hot News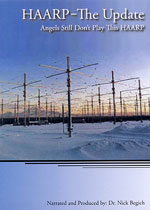 DVD
I. Over 22,000 Russians have signed a petition to return Alaska to Russia!
While no one actually believes that America would actually return Alaska, Russia may well be using this ploy to put counter pressure on America for her stance on Ukraine and Crimea.
NEWS BRIEF: "Tens of Thousands Sign Petition to Reunite Alaska With Russia", RIA Novesti News, 3/25/2014
"MOSCOW, March 25 (RIA Novosti) - Over 22,000 people have signed a petition calling for the secession of Alaska from the United States to seek reunification with Russia. The petition, available on the White House website, opened on March 21. If the motion attracts 100,000 signatures within a month, the Obama administration is obliged to respond according to its guidelines. The petition, entitled "Alaska Back to Russia," encourages a vote on secession, citing historic travels of Russian explorers to Alaska, as far back as the crossing of native Siberians across the Bering land bridge over 10 thousand years ago."
The United States would never allow Alaska to return to Russian control for several reasons:
1) No President and no Congress would ever dare vote to return Alaska to the Russians, because they would be dramatically thrown out of office during the next election. This issue would be the ultimate "third rail" of politics.
2) the United States needs the HAARP Electromagnetic System towers sitting at the top of the world, the most advantageous position on Earth for these towers.
3) No politician would ever vote to allow Russia to control Alaska's vast natural resources.
4) No American politician would ever support allowing arch enemy Russia to gain significant land on the North American Continent. Alaska is a massive "buffer zone" between America and Russia.
Therefore, while there is no chance whatsoever that America will allow Russia to control Alaska again, I do find it very interesting that Russia should initiate this move, undoubtedly as a response to American and E.U. pressure on her for Ukraine. No one can ever accuse the Russians of failing to be creative.
Russian President Putin seems to be seizing Ukrainian territory one gulp at a time.
NEWS BRIEF: "Ukraine crisis: Protesters declare Donetsk 'republic' ", BBC News, April 7, 2014
"Pro-Russian protesters who seized the regional government building in the Ukrainian city of Donetsk are reported to have declared a "people's republic". The rebels have called for a referendum on secession from Ukraine by 11 May. Ukrainian security officials are being sent to the eastern cities of Donetsk, Luhansk and Kharkiv after pro-Russia groups occupied government buildings. Interim President Oleksandr Turchynov called the unrest an attempt by Russia to 'dismember' Ukraine."
I would not be surprised at all if these "pro-Russian protesters" were simply highly trained Russian commandos who have shed their military clothes which could identify them as Russian soldiers.
Putin seems to be forcing one part of the Ukraine after another to fall into his orbit, even as he keeps his army across the border into Russia. Thus, he gains the territory he desires while escaping much of the Western wrath. This scenario was first implemented in Crimea successfully; therefore, we can expect to see this tactic used over and over again.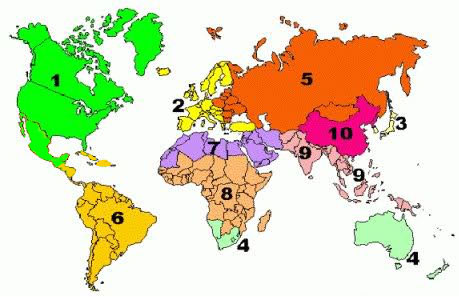 Remember this one prophetic fact about the Russian/Ukraine crisis. The Elite are reorganizing all world's religions into the exact 10 supernations foretold 2,500 years ago, in Daniel 7:7-8.
Today, the Illuminati is gathering together all nations of the world into precisely ten (Read full details in NEWS2363, an article entitled, "There Is Only ONE Sequential Prophecy Which Shall Provide Us A Clear Gauge By Which We Can Know The Approximate Time That Antichrist Will Arise!")
Russia is gathering together all the nations given her by the Club of Rome Plan, and Ukraine is one of them. We are seeing this terrible crisis between Ukraine and Russia because the Club of Rome decided that Ukraine was to be part of Supernation #5, and many6 Ukrainian citizens do not want to be subserviant to Russia again.
This crisis is NOT a revival of the Cold War struggle between America and Russia, as many would have you believe. Nor is all out conflict between Russia and America about to erupt.
No, the news is much more exciting for the Christian who takes their Bible literally. This Ukrainian crisis is part of a concerted effort to reorganize all the world into ten nations. Every single day in Daily News Updates, we tell this story and show you how each supernation is developing.
And, what happens as soon as the world's reorganization into 10 supernations is completed? Antichrist will arise and the Rapture of the Church will occur. Daniel 7:7-8 is the single most important prophetic Scripture being fulfilled in the world today. Watch its fulfillment, for Antichrist and the Rapture will occur once this prophecy is fulfilled.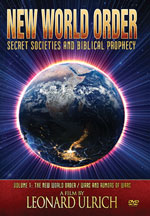 II. The Federal Government is marshalling agents and cowboys and helicopters to shut down a rancher's cattle operation because they want to protect the lowly, insignificant "desert tortoise"!
Using Federal fiat rather than popular elections has always been a favorite tool of the Elite.
NEWS BRIEF: "Feds start rounding up Bundy's cattle in southeastern Clark County", Review Journal, April 5, 2014
"Hundreds of federal officers, cowboys and helicopters descended on Cliven Bundy's backyard Saturday, launching a roundup targeting about 500 head of cattle grazing on government land. Bundy, the embattled Bunkerville rancher who owes the federal government tens of thousands of dollars in grazing fees over two decades, said from his ranch house about 80 miles northeast of Las Vegas that it only will hurt the "city folks" in Las Vegas who have come to depend on his cattle for their beef."
"Because of the government's actions, Bundy said there's going to be 500,000 fewer hamburgers per year from his cattle operation."
Somewhere, former Vice President Al Gore is smiling!
He and his colleagues in the Extreme Environmental Movement have long been preaching that no one had any rights to keep beef slaughter operations in business. Since no measure protecting the desert tortoise by shutting down an extensive beef growing business would ever pass an election, militants like Al Gore have resorted to shutting down operations offensive to them through government fiat rather than elections.
The ultimate Illuminati goal is to change eating habits from animal meats to vegetarianism. That is the planned eating habit of the New World Order. What better way to accomplish this goal than by skyrocketing the cost of all animal feed? When the cost of hamburger reaches the level of steak, tens of millions of Americans will adopt vegetarianism!
You can read in more depth about the Illuminati Plan to force Americans into vegetaniarian diets by reading the following:\
* CE1023 - "Hope/Abortion/Ecology In The New World Order" - Radio Program in April, 1992
* NEWS1479 -- "FOOT-AND-MOUTH DISEASE IN BRITAIN AND EUROPE -- ABSOLUTE UNREASONING PANIC HITS WITH FULL FORCE"
* NEWS1510 - "PLANNED DESTRUCTION OF OUR HIGH ENTROPY CIVILIZATION AND UNSUSTAINABLE ECONOMY"
Welcome to the New World Order!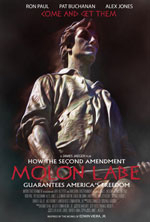 DVD
III. As people reeled from the senseless public shooting last week at Fort Hood, a strong clarion call came forth that really made a lot of sense!
Let us make Fort Hood a "Gun Free Zone" no longer!
NEWS BRIEF: "Calls rise after Fort Hood to allow carrying firearms on base", The Washington Post, April 5, 2014
"Fort Hood may seem worlds apart from Sandy Hook Elementary School, but they have at least two things in common: Both have been victimized recently by horrific mass shootings, and neither allows the carrying of firearms. Critics of gun-free zones say that's not a coincidence. In the aftermath of Wednesday's shooting at Fort Hood, the second in five years, calls are growing for the military to allow base personnel to arm themselves. Rep. Steve Stockman, Texas Republican, renewed his effort last week for House members to support his 'Safe Military Bases Act', which would repeal the ban on bringing weapons on base. Currently only base-security personnel are permitted to carry arms in most cases."
Security people are always stretched too thin to come to the aid of someone suddenly underfire from a maniac shooter. But, if individual military personnel were armed, they could be returning fire in a matter of seconds. And, believe me, the first few seconds and minutes of a shooter's rampage are exceedingly important.
I think we should allow the military people who have already been weapons-certified to carry weapons on base.
Let us now review a recent victory for gun-control advocates. Chicago, Illinois
NEWS BRIEF: "Gun advocates credit new concealed carry laws for sharp drop in Chicago murder rate", The Washington Times, April 5, 2014
"Chicago police are reporting that the murder rate for the first quarter of the year is the lowest it's been in more than 50 years, which gun advocates are attributing to a concealed carry law passed in Illinois last year. The first three months of 2014 have seen the fewest number of homicides since 1958 — six fewer than this time in 2013, and 55 fewer than this time in 2012, The Chicago Sun-Times reported."
The City of Chicago passed a concealed weapons permit program in January, and look how quickly the murder rate dropped. Truly, author John Lott is correct when he states that "More Guns = Less Crime"! Spread the word and demand action from your lawmakers if you live in a "Gun Free Zone"!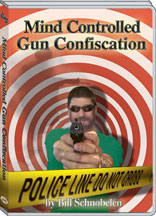 DVD
IV. Yes, this public shooter at Ft. Hood was a mental patient being given dangerous mind-altering drugs, just like almost every shooter since Stockton, California, in 1984!
NEWS BRIEF: "Ron Paul: What the Media Won't Say About the Latest Ft. Hood Tragedy", Ron Paul Institute, April 4, 2014
"What Ron Paul will tell us that the mainstream media will not, is that the shooter had been treated with enormously dangerous psychotropic drugs prior to the shooting. These drugs have been a factor in many of the school and military shootings, yet the media dares not mention this possible factor."
New Age author, Bill Cooper, first brought this linkage of mind-altering drugs and public shootings in his 1992 book entitled, "Behold A Pale Horse". Listen to Cooper.

"Using drugs and hypnosis on mental patients in a process called Orion, the CIA inculcated the desire in these people to open fire on schoolyards and thus inflame the antigun lobby. This plan is well under way, and so far is working perfectly. The middle class is begging the government to do away with the 2nd amendment." [Cooper, "Behold A Pale Horse", p. 225]
Too many people are listening to the militant anti-gun lobby, as they continually shout the lie that guns kill people, and if we just eliminated guns, crime and mass public murder would just simply go away. Of course, this thinking is fatally flawed, because if private citizens surrender their weapons, then only government would have weapons. You only have to look back in modern history, as the number of citizens murdered by their government once they gave up their weapons.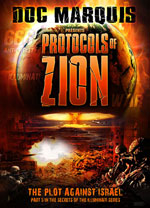 DVD
Most people do not know enough history to be frightened. History tells us an average of 10 million citizens die after their government confiscates the guns! Please take a few moments to read the full details in NEWS1877b. Then, you will be well informed and can fight this insidious government drive to seize privately owned guns.
Finally, the Illuminati has planned the most repressive, efficient Absolute Dictatorship in world history. Listen to their description of this powerful dictatorship.
""... The gentiles are a flock of sheep, and we are their wolves. And you know what happens when the wolves get hold of the flock?"
"..... There is another reason also why they will close their eyes: for we shall keep promising them to give back all the liberties we have taken away as soon as we have quelled the enemies of peace and tamed all parties ..... It is not worthwhile to say anything about how long a time they will be kept waiting for this return of their liberties ....." ["The Protocols of the Learned Elders of Zion", Protocol #11 -- The Totalitarian State]
we are ready and able to crush with irresistible power all expression or manifestation thereof at every moment and in every place, that we have seized at once everything we wanted... Then in fear and trembling they will close their eyes to everything, and be content to await what will be the end of it all." [Ibid.
Read full details in NEWS2381.
---
Noah's Ark Movie An Abomination
After seeing this movie, I have concluded that no Christian should see this movie, unless you want to inform yourself of its grievous errors so you can prevent your pastor from showing it to his undiscerning congregation. (Read more below)
Know The Biblical Account & Spot the movie's "artistic license"!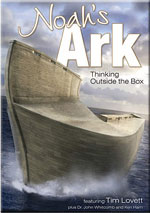 "Noah's Ark" DVD
"Thinking Outside the Box"
Get The Answers You Need so you can refute the errors in this Hollywood movie. Unsaved loved ones and friends will be more open to the Biblical truth
because they have watched this Hollywood version.
As we learn more about ancient shipbuilding we must ask the question, 'When Noah constructed the Ark, wouldn't he have used the technology of his day? Could he follow the Lord's directions and actually build a ship able to withstand the cataclysmic tempest?' Rest in the authority and inerrancy of God's Word as the Ark and its reality is affirmed from the pages of Scripture and the most recent of research. http://www.cuttingedge.org/detail.cfm?ID=2612
"Noah's Ark"
"Quest For Discovery"
In 1985, researchers found Titanic resting on the ocean floor. Does evidence exist that the other famous ship is perched on the snowy slopes of Mt. Ararat? Is Noah's Ark myth or reality?
Veteran explorer Richard Bright has spent two decades investigating the claims for the wooden vessel spoken of in the Biblical account.
Never-before-seen photographs, expedition accounts, and persuasive evidences point reveal a massive, man-made object hidden on remote Mt. Ararat.
Wouldn't it be just like God to delay man's discovery of Noah's Ark until the very End of the Age so that, just as mankind has become the most atheistic in history, a discovery of the Ark would validate God's Word in a most unbelievable way? 200 page book - http://www.cuttingedge.org/detail.cfm?ID=2613
---

Blood Moons Over Israel
Imminent Heavenly Signs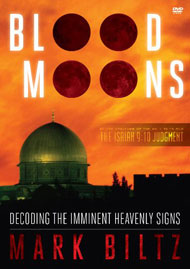 "Blood Moons"
Regularly $19.99, Now Only $17.99
Something remarkable is just on the horizon. God is about to move mightily in the world. Are you spiritually prepared? Are your loved ones prepared?
From the beginning, in Genesis, God declared He specifically created the sun and the moon as 'signs'. God would use these heavenly bodies a signals of coming climactic historical events when the Creator of the Universe was about to intersect human history. But, how do we unlock the code to interpret God's signals?
Mark Biltz very well might have discovered the key, as he documents in this new DVD, 'Blood Moons'. Throughout history, God -- the Master Timekeeper -- has used heavenly bodies to communicate to man when significant events will happen.
* What are the Feast Days?
* What is the difference between the Biblical calendar and the one we use today?
* Should you be concerned about eclipses in the heavenlies?
Mark Biltz explains the importance of these Biblical celebrations and milestones, showing how you also can be fully informed as to the 'Signs of Things To Come'.
Has Mark discovered one of the most important prophetic revelations of our day?
This message might be the most compelling prophetic revelation of our time.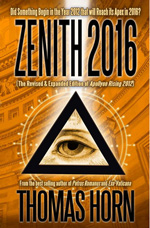 "Zenith 2016: Masonic Countdown Started in 2012 To Produce Global Leader! "
The Illuminati began a series of events in 2012 which they believe will culminate in the appearance of a world messianic leader in just a few short years. A New World Order birthed out of Chaos is coming and quickly.
Learn about Blood Moons, Feast Days and the Comet of the Century, the return of the Nephilim, the planned role of Pope Francis I, and what the Protestant Reformers believed about 2012-2016. President George W. Bush declared in his Second Inaugural Address of January 20, 2005, 'When our Founders declared a new order of the ages ... they were acting on an ancient hope that is meant to be fulfilled.' He was throwing down a gauntlet of challenge to all peoples throughout the world that the Illuminati was about to bring their coveted New World Order and its Masonic Christ to the world scene.
451 pages - http://www.cuttingedge.org/detail.cfm?ID=2554
---
Learn End of the Age - "A-Z"
Pastor Billy Crone's "Countdown To Eternity" - Vol 1-9 - $19.99 Each - OR
Regularly $179.91 if bought separately
Only $129.91 if purchased as a Combination Set, in a permanent protective Wallet
You save $50.00!
The 'Countdown' To Eternity series takes a look at 10 major prophetic signs God has given to lovingly wake us up so we'd repent and be saved before it's too late.
1) The Jewish People and Israel; 2) Modern Technology; 3) Explosion of Worldwide Unrest/ Upheaval; 4) Unprecedented Falsehood; 5) Rise of Wickedness and Perversion; 6) Rise of Religious Apostasy, One World Religion; 7) Big Brother; 8) Going Global - Economy, Religion, Government; 9) Mark of the Beast.
Each title may be ordered individually
"Countdown To Eternity" Individual Titles - Pastor Crone
Each DVD $39.99
Now Only $19.99
You Save $20.00!
---
Popularly Priced $4.99
and $9.99 DVD's
New Titles At $9.99
NEW TITLES BEING CLOSED OUT AT $4.99
We are overstocked on these best-selling items, so we have drastically reduced the prices you pay.
Now only $4.99 as long as quantities last
Regularly up to $24.99
---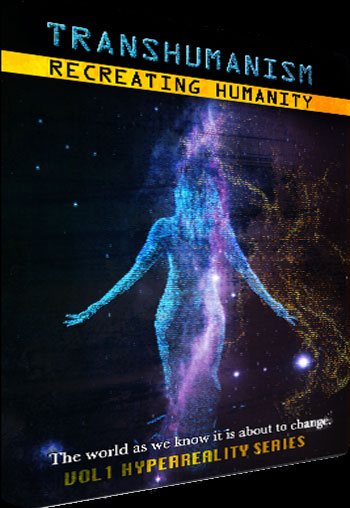 "Transhumanism: Recreating Humanity"
The World As We Know It Is About To Change!
DVD - Vol. 1, 'Hyper-Reality' Series
The immense leap in technological advancement is changing the way we live, learn, interact and believe. Since before the Pharaohs, man has tried to become like gods. Transhumanism has taken this desire to the next step, with the pursuit of immortality, omniscience, and ultimate power. Technology may be paving the way for humans to achieve this version of godhood.
At this point, Transhumanists will become immortal.
How should a believer react to these emerging technologies? We are entering into the Hybrid Age. This drive has become a Divinity Cult, using science to become gods.
Speakers include Dr. Chuck Missler, Dr. Thomas Horn, and Joe Farah.
http://www.cuttingedge.org/detail.cfm?ID=2604
Aliens Will Introduce Antichrist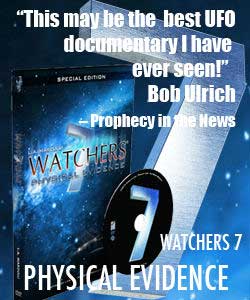 "Watchers 7: Alien Implants"
UFO's and Aliens are part of the New World Order. They are benevolent beings which will aid mankind in attaining the goal of becoming one humanity. They will appear at the proper time to enable mankind to make that Quantum Leap of Collective Consciousness -- when the Christ appears."
Pastor Billy Crone Proves Aliens Are Demons
Only $19.99 Each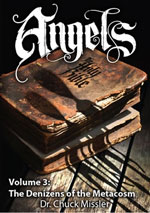 "Angels Volume III DVD: Aliens, UFO's, The Denizens of the Metacosm"
Volume 3 explores the contradictory behavior of UFOs and other demonic deceptions characteristic of
How do we prepare for the deception which, 'if it were possible, would deceive the very elect'? Order Angels Volume III
---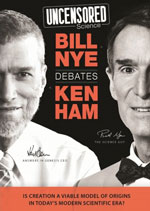 "Uncensored Science" DVD
God Won This Debate!
Bill Nye Debates Ken Ham
The topic: 'Is creation a viable model of origins in today's modern scientific era?'
Watch Biblical Creation scientist destroy the arguments of Evolution advocate in a televised debate!
Ham, a former science instructor who moved to the USA from Australia over 25-years ago, is joined by the popular children's program personality Bill Nye 'the science guy' for this first and only-scheduled debate. Each man delivers what he believes is the best information available, then has an opportunity for rebuttal, and then answers questions submitted by the audience. Presented in a packed 900 seat auditorium, this event sold out in the first 2-minutes of online ticketing, and includes an audience of Christians and non-Christians, creationists and atheists.
This historic event took place at the Creation Museum near Cincinnati February 4, 2014. Approximately 2.5 hours on three DVDs. http://www.cuttingedge.org/detail.cfm?ID=2611
Only $19.99!
---
Precious New Pastor Crone Family DVD's
Strengthening Families
"The Biblical Family" - Volume 1 - Biblical Roles of Man, Husband, and Father
"The Biblical Family" - Volume 2 - Biblical Roles of Woman, Wife, Mother and of Children
We simply must get back to Biblical values and God's definition of the family unit. We seek to equip you with the foundational truths needed to have a Family Built to Last that can only be found in God's Word, the Bible. Here you will discover such things as seeks to equip you with the foundational truths needed to have a Family Built to Last that can only be found in God's Word.
---
Strengthening Families - With The Word of God
"Bible Promise" Books for Moms, Dads, Grads
Where do you turn when you need God's thoughts on the issues and emotions of life? The Bible Promise Book, now in an attractive graduate's edition, featuring the beloved King James Version of the Bible.
Regularly $9.99, Now Only $7.49 Each
"Three-Minute" Devotional Books For Mom, Dad and Grad
Got 3 minutes?
Minute 1: Meditate on a scripture selection;
Minute 2: Read through a devotional created just for you;
Minute 3: Read a prayer designed to help jump-start your conversation with God.
In 3 short minutes, you'll be on your way to complete spiritual renewal!
Regularly $4.99, Only $3.74 Each
---
NEW Headline News Analysis
PROPHETIC ALERT! President Obama Is Quietly Forming The North American Union!
Progress toward forming Supernation #1 of the Club of Rome Plan is suddenly lurching forward. Daniel 7:7-8 is now rapidly moving toward completion.
This prophecy is the only one in the entire Bible which must be fulfilled before Antichrist can arise!
Is President Obama Going To Make An Announcement Confirming The Existence of Extra-Terrestrials?
He has just appointed a UFO adviser!
Was Ronald Reagan A Secret Member of the Luciferian Secret Society, The Rosicrucians?
While the information I am about to share with you seems to answer the question as to how Reagan could allow himself to be made an honorary 33rd Degree Scottish Rite Mason just before leaving the White House, we must be very careful in assessing a complex person's life well after that person has died.
Pope Francis I Preparing To Be The False Prophet Revelation 13:11-18
BREAKING NEWS JUST IN! Pope Francis has just announced he will visit Jerusalem in May! Will he make the planned special announcement then, that all religions are united under his leadership?

Abruptly, Significant Progress Occurs In Prophetically Reorganizing All Nations Into 10 Supernations
Prophetic Supernation #9 is forming, with a deadline of December, 2015
South and Southeast Asia (ASEAN) is now coalescing into a single giant nation. When this nation is formed, it will be part of the fulfillment of Daniel 7:7-8
Since Antichrist cannot arise until all nations of the world are reorganized into 10 Supernations (NEWS2363), we must watch the formation of these supernations to gain an understanding of the lateness of the prophetic hour.
In the past few months, impressive progress has been made. The prophetic hour draws near!! This article reports very "good news" to Christians everywhere!
Finally, after 2,000 years of history following Jesus' death, burial, and resurrection, wicked forces intent upon producing Antichrist are now taking concerted action to reorganize all the nations of the world into precisely the ten (10) supernations foretold 2,600 years ago in Daniel 7:7-8.
While it is not possible to know the precise date on which all these supernations will be completed, at the very least, when we hear some false prophet setting a date for the end of time, or the appearance of antichrist, or proclaiming imminent economic collapse, we will know enough to check the status of this Club of Rome Plan to reorganize all nations into 10.
Personally, I believe that the Rapture of the Church is going to occur before all ten supernations are formed. Once the Church is out of the world, and once the Holy Spirit no longer restrains the plans of evil rulers, the Club of Rome Plan can be finished within weeks at the most.
"Look up, for your Redeemer is drawing nigh". The End is finally seen on the horizon!
---
Angels Battling Aliens In The Heavenlies
Daniel 10 Battle Being Fought Daily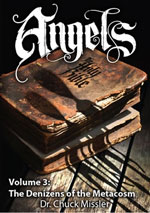 "Angels Volume III DVD: Aliens, UFO's, The Denizens of the Metacosm"
Volume 3 explores the contradictory behavior of UFOs and other demonic deceptions characteristic of
the End Times.
Subjects Are: 1) Are they real? 2) Why do UFOs enjoy a military classification higher than our most sensitive weapons systems? 3) Why are the events which occurred in Roswell New Mexico still classified after 66 years? 4) Why is the Vatican openly preparing to receive an Alien Visitor? 5) How should a Christian deal with the occurrences of Alien abductions? 6) Jesus admonished us to 'Be not deceived.'
How?
How do we prepare for the deception which, 'if it were possible, would deceive the very elect'? Order Angels Volume III
See also first two volumes
"Angels Volume I DVD: The Angelic Realm"
"Angels Volume II DVD: The Invisible War"
Demons Battling To Capture Mankind
---
End Times Prophecy Unfolding In Israel: God Preparing Jews To Accept Jesus
The Rabbi Who Found Messiah (DVD)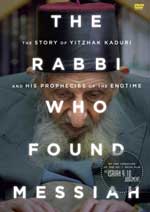 Mystical death curses. Visions of Messiah. A renowned world political leader under the threat of death. Religious leaders in absolute shock. A cryptic death note ...
The story is shocking. The story is true. The story is still unfolding today!
This sensational story of Rabbi Yitzhak Kaduri, the 108-year-old rabbi declared the name of the real Messiah was Jesus and further proclaimed that Messiah would not come until Ariel Sharon was dead; within days, Sharon suffered a stroke and has been in a vegetative coma for 7 years now.
Ezekiel 37, 'Dry Bones' prophecy, stated that Israel would return to her land in the End Times in a state of unbelief in Messiah, but would gradually come to believe in Him. When this most powerful Kabbalistic Rabbi stated that he had seen Messiah in a vision and that His name was 'Jesus', he set in motion powerful forces that are awakening many Jews in Israel to the reality of Jesus.
This event is a true 'Sign of the Times'! This documentary is based on the book "The Rabbi Who Found Messiah" by Carl Gallups. Renowned Messianic Rabbi Jonathan Cahn, New York Times bestselling author of "The Harbinger," appears with Gallups. They give insight into the messianic Jewish perspective, Hebrew messianic expectations and the profound nature of Rabbi Kaduri's amazing pronouncement.
Did the elderly, revered Rabbi actually have a vision from God similar to the Apostle Paul's vision on the Damascus Road? Did he really see Jesus as the Messiah who is soon to come?
Rabbi Cahn's DVD's
Preparing Israel To Accept Jesus
Individual DVD's From Rabbi Cahn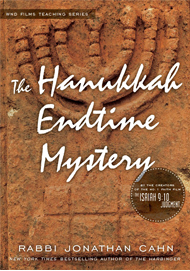 Or Buy All Three And Save Money
Regularly $38.85
Now Only $25.85!
---
May Jesus Richly Bless You,
David Bay, Director
Cutting Edge Ministries
800-451-8211