Hot News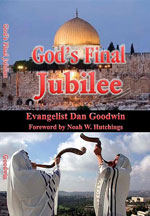 I. Israeli soldiers are turning to the God of Abraham, Jacob and Isaac during this Gaza conflict!
The final step will be to recognize Jesus as their Messiah! Prophecy is steadily being fulfilled!
NEWS BRIEF: "The God of the Armies of Israel", by Tsvi Sadan, Israel Today, August 1, 2014
"Operation Protective Edge is exposing a new phenomenon that may prove to be a source of strength for the IDF and for Israel. Col. Ofer Winter, commander of the Givati Infantry Brigade, recently wrote unprecedented words of encouragement to his soldiers: 'History chose us to be the spearhead in the fight against the 'Gazan' terrorist enemy that defies, blasphemes, and curses the God of the armies of Israel'."
If this sounds familiar to you, it is because these are the words of confident defiance against Goliath. Listen to the Word of God:
"And there went out a champion out of the camp of the Philistines, named Goliath, of Gath, whose height was six cubits and a span.... And he stood and cried unto the armies of Israel, and said unto them, Why are ye come out to set your battle in array? am not I a Philistine, and ye servants to Saul? choose you a man for you, and let him come down to me. If he be able to fight with me, and to kill me, then will we be your servants: but if I prevail against him, and kill him, then shall ye be our servants, and serve us. And the Philistine said, I defy the armies of Israel this day; give me a man, that we may fight together ... who is this uncircumcised Philistine, that he should defy the armies of the living God?" (1 Samuel 17:8-10, 26b)
Later, as David spoke to Saul, he predicted that Goliath would be no match for him, as he had already killed a bear and a lion.
"Thy servant slew both the lion and the bear: and this uncircumcised Philistine shall be as one of them, seeing he hath defied the armies of the living God." (1 Samuel 17:36)
David was angry at Goliath for "defying the armies of the living God" of Israel! Young David had learned quickly as a sheepherder guarding against powerful predators in the wild, to depend upon the strength of Almighty God. Therefore, when Goliath came out to defy the armies of the Living God, David was quite sure that God would give him the victory.
In like manner, today's Israeli soldiers are being urged to depend upon the God of Israel in their fight against the pagan armies of Hamas who "defy the armies of the living God"!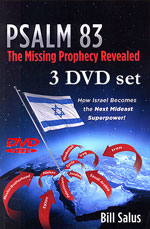 Do you remember the promise of God that He will turn again the hearts of the Jews toward Him at the End of the Age, and that He would make them fight like the mighty men of old?
"And I will strengthen the house of Judah, and I will save the house of Joseph, and I will bring them again to place them; for I have mercy upon them: and they shall be as though I had not cast them off: for I am the Lord their God, and will hear them ... And they of Ephraim shall be like a mighty man ... I have redeemed them ... And I will strengthen them in the Lord; and they shall walk up and down in his name, saith the Lord." (Zechariah 10: 6-7, 12)
God is starting to fulfill this promise. He is starting to fill the hearts of Israeli soldiers and their commanding officers with the understanding that He is very real and is very important to the success of Israel as it fights for its life against the Arabs surrounding them at this time at the End of the Age.
Let us return now to our featured article:
"... over the past 10 years, a growing number of Israelis have begun coming to the conclusion that Israel and God are in fact inseparable, and that the existence of the former depends upon that of the latter ... No doubt, many Israelis are still baffled by this new invitation for God to take the front seat. Many of us still believe that fighting in the name of an old book is the spark that will set fire to the region. These fears are fed by a failure to see that the Israeli-Arab conflict is a reenactment of ancient wars ... Why it is so difficult for us to understand that the Philistines hated Joshua just as the Palestinians hated Ben Gurion? "
Let me repeat the most pertinent part:
"the Israeli-Arab conflict is a reenactment of ancient wars"
" the Philistines hated Joshua just as the Palestinians hated Ben Gurion"
Thus, Israel is fighting the same wars it fought 3,000 years ago! Bill Salus, in his DVD Set "Psalm 83", does an excellent job in reporting this little-known fact, that God's anger against the "Ancient Hatred" of Esau against his brother Jacob has continued down the halls of time unabated, just as God foretold.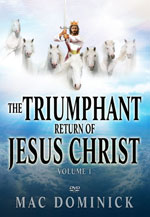 Therefore, God's angry judgment against these Ancient Hatreds is about to erupt at this End of the Age, fulfilling many prophecies.
Look up, Christian, for fulfilled prophecy is the reason to expect our Redeemer in the clouds. Jesus Christ IS returning to Earth, this time as an Omnipotent Warrior King, anxious to totally defeat Antichrist and his armies awaiting Him on the Plain of Armageddon!
We are living in a world with an apocalyptic mindset. How many times have you heard references to drastic earth changes, the end of the world, or Armageddon bantered around by network news anchors or in motion pictures? The world?s population is teetering on the precipice of global panic with anticipated calamities.
But, for the Christian, we are comforted with the understanding that Jesus Himself told us: "And when these things begin to come to pass, then look up, and lift up your heads; for your redemption draweth nigh." (Luke 21:28)
Praise the Lord!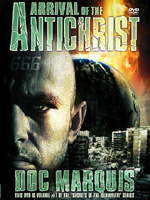 DVD
II. As powerful Media "talking heads" are successfully scaring people that the struggle with Russia over Ukraine might result in World War III breaking out, British Prime Minister Cameron sets the record straight.
The West has no interest in starting a global war with Russia!
NEWS BRIEF: "Cameron: We won't start World War Three over Ukraine", Russia Today, July 30, 2914
"The British Prime Minister, David Cameron, has said Britain was not going to 'launch a European war or send the fleet to the Black Sea' over the Ukraine crisis ... The Prime Minister alluded to the lessons the UK learnt dealing with Germany's aggression in Europe before the first and second world wars ... Cameron said that Ukraine's territorial integrity is recognized by the United Nations and that it has a right for its integrity not to be compromised by Russia. "
"Cameron said that the shooting down of Malaysian flight MH17 was a wakeup call and although there was no absolute proof, the circumstantial evidence suggests local militias fired the missile ... 'we are not looking for a military confrontation, but what we should do is use the economic power that we have', Cameron said. "
Of course, there will be no military confrontation between the West and Russia, because leaders of these nations are secretly cooperating with each other, in full accord with Revelation 17:12, 17:
"And the ten horns which thou sawest are ten kings ... For God hath put in their hearts to fulfil his will, and to agree (to act in harmony), and give their kingdom unto the beast, until the words of God shall be fulfilled."
Once you realize that these leaders are agreeing, not fighting, because their passionate goal is to create a Global Government, Global Economy and Global Religion, after which they will stage the appearance on Earth of their "beast", whom the Bible calls Antichrist, then you can relax, knowing that "words of God shall be fulfilled"!
For full details as to how the leaders of today are really cooperating rather than fighting, please take a few moments to read NEWS1548, posted late in 2001, entitled, "MAJOR NATIONS ARE COOPERATING WITH PRESIDENT BUSH ON HIS WAR ON TERRORISM -- INCLUDING OLD ENEMY RUSSIA! Revelation 17:17 is being stunningly fulfilled in your Daily News!"
Now you know the Truth about world events!
---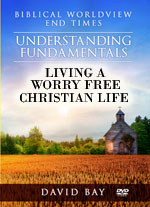 New "Biblical Worldview" Teaching DVD Series
by Cutting Edge Director David Bay
Regularly $14.99, Only $9.99
"Living A Worry-Free Christian Life"
How is a Christian to live during these evil End Times? Most Christians are in some degree of depression because our values are constantly under cultural and moral attack, and because times are hard economically, with wars raging on all continents save one, with hatred and anger raging on the Daily News. How does one live a 'Worry Free Life'?
We must live our lives in strict adherence to Biblical teachings. For Example: 1) How can we begin practicing this kind of joyful day-by-day living? We start to 'cast and release'. Psalm 55:22 "Cast thy burden upon the LORD, and he shall sustain thee: he shall never suffer the righteous to be moved."
'Cast and release' * Examples in daily living
* Notice from the IRS
* Mechanical difficulty with the car
* Distressing call from a loved one
* Distressing news from your job
* Unexpected bill & you don't have the money
The Psalmist understood this 'cast and release' principle as a means to lift his spirits during hard times. "Why art thou cast down, O my soul? and why art thou disquieted within me? hope thou in God: for I shall yet praise him, who is the health of my countenance, and my God." (Ps 43:11)
Peter understood this principle of releasing the weight of our troubles. 1 Peter 5:7, "Casting the whole of your care, all your anxieties, all your worries, all your concerns, once and for all on Him, for He cares for you affectionately, and cares about you watchfully."
This "worry-free life" brings us that most important state in which we can rest:
Heart Peace
Run Time is 1 hour Order now
---
Incredible New DVD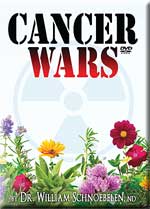 "Cancer Wars"
New 2-Disk DVD by Bill Schnoebelen, N.D.
Regularly $29.99, Only $24.99 Introductory Price
The odds of getting cancer for a man are 1 in 2, for women, 1 in 3. Chances are, everyone knows someone who has either died of cancer or is dying of cancer.
Schnoebelen presents this wonderful video into 4 parts: 1) Discussing people with cancer. Bill outlines the traditional methods of treatment using drugs, cutting or burning; 2) Demonstrating how a healthy diet can cure cancer; 3) Showing how a healthy diet can prevent cancers from ever beginning; 4) Illustrating how our spiritual condition before God can prevent sickness, including cancer. People refusing to forgive, who are very angry or have issues with hatred and resentment, can and do bring on all kinds of sickness, including cancer.
You must understand that cancer and all manner of sickness are rooted in the spiritual world. There is a cancer war going on, and the personal Armageddon many are facing after diagnosis is fueled by relentless spiritual, political and economic warfare.
The treatment of cancer is a multi-billion dollar industry, one which makes a lot more money treating cancer than curing it. Did you know that there are more people engaged in fighting cancer than there are people who have cancer?
Your mind is going to be blown away by astounding revelations from Bill Schnoebelen in Cancer Wars.
Run time 3 hours 30 minutes -- http://www.cuttingedge.org/detail.cfm?ID=2629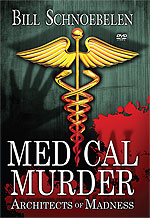 Planned as Companion Message to Cancer Wars"
Regularly $19.99, but $15.99 through Saturday Midnight
The third highest cause of death in America is "iatrogenic" -- induced in a patient by a physician!
the Government is killing you as it subsidizes the top killers of our population.
'Healthcare' today is not healthcare; it is disease care'. No action begins until a disease is diagnosed.
---
Most Important DVD Ever!
"Hell Is For REAL: Cancel Your Reservation"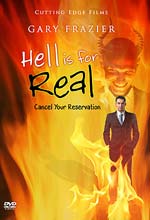 By Renowned Bible/Prophecy Teacher
Gary Frazier
Pre-Ship Sale
Reg $24.99, Only $19.99
When I walked out of the theater after watching 'Heaven Is For Real', I felt uncomfortable, for the almost subliminal message was that, eventually, all people go to Heaven. Since the movie did not show the Biblical road to Heaven, it leaves a message that all people will go there.
To counter this eternally dangerous misunderstanding, we are creating a new DVD, entitled, 'Hell Is For Real: Cancel Your Reservations', and we have asked renowned Bible and Prophecy Teacher, Dr. Gary Frazier to be our Keynote Speaker.
Since the danger to people's souls is so great and is ETERNAL, Dr. Frazier speaks boldly and compassionately as he reveals the full Biblical teaching about what Hell is and why it is so terrible. Most of Frazier's warnings come directly from the lips of Jesus, since He taught more about Hell than about any other subject, and more than any other inspired Bible teacher.
Dr. Frazier also weaves into this subject the most common misconceptions people have about Hell: For example:
1) I will party with my friends in Hell for eternity.
2) Eventually all people go to Heaven.
3) A loving God will never send anyone to Hell.
4) I am a good person and all good persons go to Heaven.
5) Frazier carefully explains the ETERNITY of Hell, a concept most unsaved just do not seem to comprehend.
6) Hell is so real and so terrible, Frazier urges people to make the decision NOW to repent and ask forgiveness of sin through the blood sacrifice of Jesus, before God closes the Age of Grace.
Dr. Frazier ends with the Plan of Salvation, so this video becomes a valuable Soul-Winning Tool.
Planned run time is 2 hours
Buy now, save money and enable us to rapidly bring this most important message to peoples hearts and minds.
Planned ship date is mid-September
Call us for special ministry discounts and volume purchases discounts
Speakers other than Gary Frazier are David Reagan, Ed Hindson and Kerby Anderson - http://www.cuttingedge.org/detail.cfm?ID=2632
---
"Against All Odds - Israel Survives"
DVD 6-Pack - Dramatic Trailer
Regularly $49.99, Only $44.99
"Israel Is Burning"
How does tiny Israel survive against all odds? Modern-day Israel is truly a divine wonder of the current age. How has it triumphed through four major wars and survived relentless terrorist attacks? Meet the actual people who lived through what can only be described as miracles of Biblical proportions, and share their remarkable stories.
Last DVD is the "Against All Odds Feature" Film - This feature film version captures all the powerful drama and uplifting spirit of the stirring thirteen-part series. Gripping dramatizations, eyewitness accounts, and interviews with historians and religious leaders etch a fascinating portrait of a nation's soul.
(Shopping Cart contains an expanded write-up)
Extra Feature: Photo gallery. 6 DVD set - Run Time: 9 hours http://www.cuttingedge.org/detail.cfm?ID=2621
"God's Final Jubilee"
New Book by Dan Goodwin, Intro by Dr. Noah Hutchings, SW Radio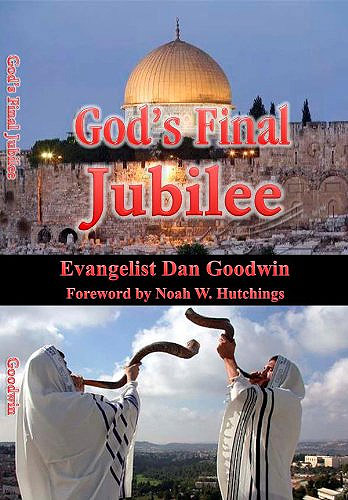 This book is being proclaimed by some as, 'The most up to date study of prophetical events of our day!' Others have called it 'a stunning and even chilling revelation of how close we are to the end of the world!'
The purpose of this book is to sound the horn to the people of God. Jesus is coming, and He is coming soon! Global events are happening so fast it is hard to keep up. Everything is in place for the rise of Antichrist.
It is time for the saints to awaken; it is time for the church of God to arise from its slumber. The clock is getting ready to strike midnight. Everything on earth is about to change. Woe unto those who are not ready to meet the Lord.
This book reveals: * The 70th and final Jubilee is on the horizon. * The Bible's built-in Prophetic calendar. * The customs of a Jewish wedding and the Bride of Christ. * The purpose of the Tribulation from the book of Daniel. * Ten solid proofs of a Pre-Tribulation rapture. * The reason the Tribulation is measured in days not years. * The Kinsman Redeemer and the title deed to planet earth. * Why we may be the last generation. * A seven thousand year history of the world. * The identity of the two witnesses. * When the New Testament really began. * What in the world is going on. * The coming blood red moons.
"God's Final Jubilee" demonstrates the shocking reality that so many pertinent prophecies are now being fulfilled according to a set timetable that Israel is now entering her "Final Jubilee"!
Regularly $18.95, On Sale $14.95 http://www.cuttingedge.org/detail.cfm?ID=2622
---
"Watchers 8" DVD: Dramatic Hybrid Updates, by L.A. Marzulli
"Satan's Watchers" Are Back =====Aliens Are Part of the Plan To Produce Antichrist
NEWS: "Online video claims UFO attacked Taliban camp in Afghanistan", New York Daily News, May 8, 2014
"An online video claims the U.S. has a new ally in its fight against terrorism - one from another planet. The video from the group Section 51 - titled 'UFO ATTACKS TALIBAN CAMP!!! March 2014' - allegedly shows a UFO firing multiple times at a compound that then goes up in smoke. The organization, which seeks to show the reality of UFOs, claims the footage was shot by the U.S. Marines."
NEWS BRIEF: "That Viral Video Of A 'UFO' Attack In Afghanistan Is An Obvious Hoax", Business Insider, May 9, 2014
"A YouTube video currently making the rounds across the internet showing a "UFO" destroying a Taliban camp is an obvious hoax."
Aliens/UFO's Are Real - They Part of the Plan to Produce the New World Order 'Christ'
---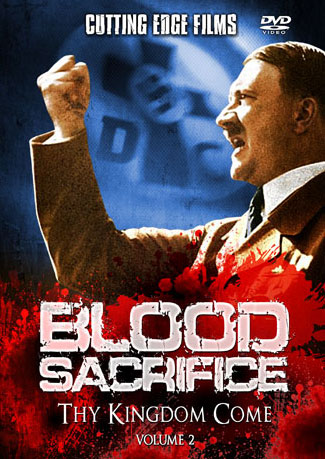 "Blood Sacrifice"
DVD, Volume 2
"Thy Kingdom Come"
Hitler's Complete Conquest of German Christian Churches
Shipping NOW
This video continues our study of the Biblical Antichrist by studying the life, the values, the attitudes and the Black Magick Satanism of Adolf Hitler. We will examine how thoroughly, easily, and quickly Hitler intimidated, and then completely controlled, most of German christian churches.
Hitler envisioned that he would usher in a thousand year reich for the nation of Germany and believed that he was 'Selected by God to be Germany's Messiah'. Hitler was determined to eliminate any who resisted the evolution of the supermen, a purification that would be accomplished through fire.
The christian church proved to be a soft target for Hitler. As one pastor later lamented, 'The Church made peace with an enemy with which it should have been at war. Called to warn and protect, it tolerated, then saluted, then submitted...' and stood by while perhaps the greatest sacrifice to appease the gods of darkness occurred in modern history.
http://www.cuttingedge.org/detail.cfm?ID=2617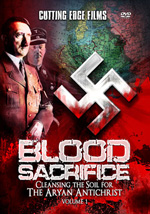 "Blood Sacrifice: Cleansing The Soil For The Aryan Antichrist"
DVD Volume 1
This video is a unique look at the coming Biblical Antichrist through the eyes of Adolf Hitler. Embark on a journey that will likely challenge the highest scholar to the one beginning his quest for truth. This documentary will go where many scholars and historians are not willing to go... To the heart of Adolf Hitler.
---
Regularly $179.91 if bought separately
Only $129.91 if purchased as a Combination Set, in a permanent protective Wallet
You save $50.00!
The 'Countdown' To Eternity series takes a look at 10 major prophetic signs God has given to lovingly wake us up so we'd repent and be saved before it's too late.
1) The Jewish People and Israel; 2) Modern Technology; 3) Explosion of Worldwide Unrest/ Upheaval; 4) Unprecedented Falsehood; 5) Rise of Wickedness and Perversion; 6) Rise of Religious Apostasy, One World Religion; 7) Big Brother; 8) Going Global - Economy, Religion, Government; 9) Mark of the Beast.
Each title may be ordered individually
"Countdown To Eternity" Individual Titles - Pastor Crone
Each DVD $39.99
Now Only $19.99
You Save $20.00!
---
---
May Jesus Richly Bless You,
David Bay, Director
Cutting Edge Ministries
800-451-8211