Hot News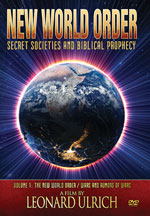 I. ISIS militants seize control of the huge earthen Mosul Dam in northern Iraq!
If the floodgates are opened wide -- as ISIS has threatened to do -- Mosul will be covered in 65 feet of water; Baghdad under 15 feet!
God's End Times judgment of Isaiah 13 will be further fulfilled!
NEWS BRIEF: "Iraq conflict: ISIS fighters seize Mosul Dam, oilfield and 3 towns", CBC News, August 3, 2014
"Islamic State fighters seized control of Iraq's biggest dam, an oilfield and three more towns on Sunday after inflicting their first major defeat on Kurdish forces since sweeping across much of northern Iraq in June. Capture of the electricity-generating Mosul Dam, after an offensive of barely 24 hours, could give the Sunni militants the ability to flood major Iraqi cities or withhold water from farms, raising the stakes in their bid to topple Prime Minister Nuri al-Maliki's Shia-led government.
" 'The terrorist gangs of the Islamic State have taken control of Mosul Dam after the withdrawal of Kurdish forces without a fight', said Iraqi state television."
Immediately after capturing the dam, ISIS threatened to open its floodgates as an act of war.
NEWS BRIEF: "ISIS Magazine Threatens: 'It's either the Islamic State or the flood' ", Brietbart News, 3 August 2014
"The Islamic State (ISIS), an organization of terrorists, took control of Iraq's largest dam ... on Sunday after crushing Kurdish forces, Reuters reported ... seizing control of "the electricity-generating Mosul Dam, after an offensive of barely 24 hours, could give the Sunni militants the ability to flood major Iraqi cities or withhold water from farms, raising the stakes in their bid to topple Prime Minister Nuri al-Maliki's Shi'ite-led government."
A Sunni magazine quickly threatened a massive flood against Baghdad and its central government.
"ISIS's seizure of the dam happened on the heels of releasing the 2nd issue of its online magazine known as Dabique. Dabique's issue is called 'The Flood' with the threat on the cover, 'It's either the Islamic State or the flood'. The 'flood' issue of ISIS's Dabique talks about punishing sinners by drowning them through a massive flood. "
What would happen to Shi'ite Iraq should ISIS open the floodgates wide? The best description of the potential threat of a massive flood from the earthen Mosul Dam was written in 2007, an experts warned the Mosul Dam could collapse at any time!
NEWS BRIEF: "Iraqi Dam Seen In Danger of Deadly Collapse", by Amit R. Paley, Washington Post Foreign Service, Tuesday, October 30, 2007
"AT THE MOSUL DAM, Iraq -- The largest dam in Iraq is in serious danger of an imminent collapse that could unleash a trillion-gallon wave of water, possibly killing thousands of people and flooding two of the largest cities in the country, according to new assessments by the U.S. Army Corps of Engineers and other U.S. officials ... Even in a country gripped by daily bloodshed, the possibility of a catastrophic failure of the Mosul Dam has alarmed American officials, who have concluded that it could lead to as many as 500,000 civilian deaths by drowning Mosul under 65 feet of water and parts of Baghdad under 15 feet..."
Therefore, seven years ago, long before ISIS was even formed, experts knew that the Mosul Dam was built so badly it might fail!
" 'The Mosul dam is judged to have an unacceptable annual failure probability," in the dry wording of an Army Corps of Engineers draft report ... In terms of internal erosion potential of the foundation, Mosul Dam is the most dangerous dam in the world," the Army Corps concluded in September 2006, according to the report to be released Tuesday. 'If a small problem [at] Mosul Dam occurs, failure is likely'."
Why is this dam so structurally dangerous? You might be shocked. Engineers knew from the beginning that they should not build a dam on that location.
"Sitting in a picturesque valley 45 miles along the Tigris River north of Mosul, the earthen dam has one fundamental problem: It was built on top of gypsum, which dissolves when it comes into contact with water."
Now THAT is a problem. Iraqi officials have pumped 50,000 tons of grout at the base of the dam, a liquefied mixture of cement and other additives. But, that action seems to have only delayed what some believe is an inevitable collapse.
I cannot imagine the devastation which would be caused by 500,000 civilian deaths, many of them occurring in Mosul, a Kurdish controlled city.
God's End Times judgment against Ancient Babylon -- modern Iraq -- seems in danger of being further fulfilled. We posted an update to this devastating judgment in NEWS2499, entitled, "Iraq -- Ancient Babylon -- is nearing the End Times' final annihilating judgment just as God foretold 2,700 years ago in Isaiah 13. "Mighty Babylon" is falling and her days shall not be prolonged!"
Quoting pertinent sections of Isaiah 13 will prove most enlightening.
"The noise of a multitude in the mountains, like as of a great people; a tumultuous noise of the kingdoms of nations gathered together: the Lord of hosts mustereth the host of the battle. They come from a far country, from the end of heaven, even the Lord, and the weapons of his indignation, to destroy the whole land. Howl ye; for the day of the Lord is at hand; it shall come as a destruction from the Almighty."
A flood of this magnitude would most certainly destroy much of Iraq, and would wipe out huge numbers of civilians, as this map demonstrates.
Since Mosul is so close to the dam, she would be buried under 65 feet of water, an enormous wall of water. God's judgment of destruction of Iraq would come upon the destruction of much of the land by Depleted Uranium munitions. Iraq's life as a nation seems to be quickly disappearing!
What does Isaiah 13 say?
"Mighty Babylon" is falling and her days shall not be prolonged!"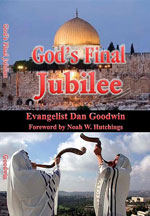 II. Is Israel planning to leave Gaza without destroying Hamas completely and removing her from power?
The answer is "maybe" and the reasoning may leave you cold.
NEWS BRIEF: "Israel Tells Hamas: You Can Keep Your Rockets", The Daily Beast, 7.31.2014
"Israel's prime minister accuses them of being as bad as al Qaeda, but he isn't trying to run the group out of Gaza. There's a good reason why ... You have to think through what comes next," a senior Israeli official said this month when asked why Israel was not pursuing regime change against Hamas. 'You don't want to actually administer Gaza and you don't want someone worse taking over'."
What could be worse than Hamas? They insist that their ultimate goal is the complete annihilation of Israel and every one of her citizens and she has kept that goal in her foundational charter. What could be a worse enemy than one who wants you really dead?
" The problem for Israel is that it's stuck. Many top U.S. officials now concede that as bad as Hamas is for both Palestinians and Israelis, it's the least bad alternative ... if Hamas were destroyed and gone, we would probably end up with something much worse. The region would end up with something much worse A worse threat that would come into the sort of ecosystem there…something like ISI' ... an unanchored, unmoored, lawless Gaza in the hands of something like ISIS or Islamic Jihad, this proposition would be fundamentally worse than the one we inhabit and inherit now'."
This fuzzy-headed thinking is the kind that will get Israel into so much trouble that, one day, Michael, Israel's archangel, will have to spring into action to deliver Israel from annihilation.
"And at that time shall Michael stand up, the great prince which standeth for the children of thy people: and there shall be a time of trouble, such as never was since there was a nation even to that same time: and at that time thy people shall be delivered..." (Daniel 12:1)
---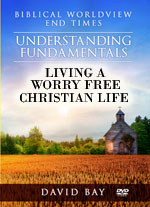 New "Biblical Worldview" Teaching DVD Series
by Cutting Edge Director David Bay
Regularly $14.99, Only $9.99
"Living A Worry-Free Christian Life"
How is a Christian to live during these evil End Times? Most Christians are in some degree of depression because our values are constantly under cultural and moral attack, and because times are hard economically, with wars raging on all continents save one, with hatred and anger raging on the Daily News. How does one live a 'Worry Free Life'?
We must live our lives in strict adherence to Biblical teachings. For Example: 1) How can we begin practicing this kind of joyful day-by-day living? We start to 'cast and release'. Psalm 55:22 "Cast thy burden upon the LORD, and he shall sustain thee: he shall never suffer the righteous to be moved."
'Cast and release' * Examples in daily living
* Notice from the IRS
* Mechanical difficulty with the car
* Distressing call from a loved one
* Distressing news from your job
* Unexpected bill & you don't have the money
The Psalmist understood this 'cast and release' principle as a means to lift his spirits during hard times. "Why art thou cast down, O my soul? and why art thou disquieted within me? hope thou in God: for I shall yet praise him, who is the health of my countenance, and my God." (Ps 43:11)
Peter understood this principle of releasing the weight of our troubles. 1 Peter 5:7, "Casting the whole of your care, all your anxieties, all your worries, all your concerns, once and for all on Him, for He cares for you affectionately, and cares about you watchfully."
This "worry-free life" brings us that most important state in which we can rest:
Heart Peace
Run Time is 1 hour Order now
---
Incredible New DVD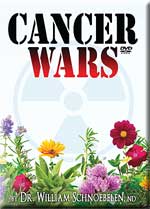 "Cancer Wars"
New 2-Disk DVD by Bill Schnoebelen, N.D.
Regularly $29.99, Only $24.99 Introductory Price
The odds of getting cancer for a man are 1 in 2, for women, 1 in 3. Chances are, everyone knows someone who has either died of cancer or is dying of cancer.
Schnoebelen presents this wonderful video into 4 parts: 1) Discussing people with cancer. Bill outlines the traditional methods of treatment using drugs, cutting or burning; 2) Demonstrating how a healthy diet can cure cancer; 3) Showing how a healthy diet can prevent cancers from ever beginning; 4) Illustrating how our spiritual condition before God can prevent sickness, including cancer. People refusing to forgive, who are very angry or have issues with hatred and resentment, can and do bring on all kinds of sickness, including cancer.
You must understand that cancer and all manner of sickness are rooted in the spiritual world. There is a cancer war going on, and the personal Armageddon many are facing after diagnosis is fueled by relentless spiritual, political and economic warfare.
The treatment of cancer is a multi-billion dollar industry, one which makes a lot more money treating cancer than curing it. Did you know that there are more people engaged in fighting cancer than there are people who have cancer?
Your mind is going to be blown away by astounding revelations from Bill Schnoebelen in Cancer Wars.
Run time 3 hours 30 minutes -- http://www.cuttingedge.org/detail.cfm?ID=2629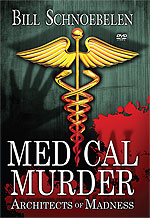 Planned as Companion Message to Cancer Wars"
Regularly $19.99, but $15.99 through Saturday Midnight
The third highest cause of death in America is "iatrogenic" -- induced in a patient by a physician!
the Government is killing you as it subsidizes the top killers of our population.
'Healthcare' today is not healthcare; it is disease care'. No action begins until a disease is diagnosed.
---
"God's Final Jubilee"
New Book by Dan Goodwin, Intro by Dr. Noah Hutchings, SW Radio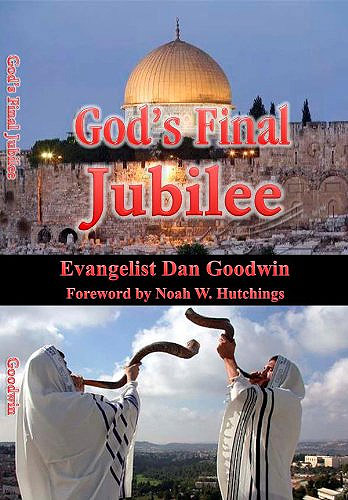 This book is being proclaimed by some as, 'The most up to date study of prophetical events of our day!' Others have called it 'a stunning and even chilling revelation of how close we are to the end of the world!'
The purpose of this book is to sound the horn to the people of God. Jesus is coming, and He is coming soon! Global events are happening so fast it is hard to keep up. Everything is in place for the rise of Antichrist.
It is time for the saints to awaken; it is time for the church of God to arise from its slumber. The clock is getting ready to strike midnight. Everything on earth is about to change. Woe unto those who are not ready to meet the Lord.
This book reveals: * The 70th and final Jubilee is on the horizon. * The Bible's built-in Prophetic calendar. * The customs of a Jewish wedding and the Bride of Christ. * The purpose of the Tribulation from the book of Daniel. * Ten solid proofs of a Pre-Tribulation rapture. * The reason the Tribulation is measured in days not years. * The Kinsman Redeemer and the title deed to planet earth. * Why we may be the last generation. * A seven thousand year history of the world. * The identity of the two witnesses. * When the New Testament really began. * What in the world is going on. * The coming blood red moons.
"God's Final Jubilee" demonstrates the shocking reality that so many pertinent prophecies are now being fulfilled according to a set timetable that Israel is now entering her "Final Jubilee"!
Regularly $18.95, On Sale $14.95 http://www.cuttingedge.org/detail.cfm?ID=2622
---
"Watchers 8" DVD: Dramatic Hybrid Updates, by L.A. Marzulli
"Satan's Watchers" Are Back =====Aliens Are Part of the Plan To Produce Antichrist
NEWS: "Online video claims UFO attacked Taliban camp in Afghanistan", New York Daily News, May 8, 2014
"An online video claims the U.S. has a new ally in its fight against terrorism - one from another planet. The video from the group Section 51 - titled 'UFO ATTACKS TALIBAN CAMP!!! March 2014' - allegedly shows a UFO firing multiple times at a compound that then goes up in smoke. The organization, which seeks to show the reality of UFOs, claims the footage was shot by the U.S. Marines."
NEWS BRIEF: "That Viral Video Of A 'UFO' Attack In Afghanistan Is An Obvious Hoax", Business Insider, May 9, 2014
"A YouTube video currently making the rounds across the internet showing a "UFO" destroying a Taliban camp is an obvious hoax."
Aliens/UFO's Are Real - They Part of the Plan to Produce the New World Order 'Christ'
---
---
May Jesus Richly Bless You,
David Bay, Director
Cutting Edge Ministries
800-451-8211