HOT NEWS
I. The planned race war seems to be building to higher, more dangerous levels.
Even the President weighed in on this fiery issue.
NEWS BRIEF: "NYPD cops warned militant group Black Guerilla Family 'preparing to shoot on-duty police officers', New York Daily News, December 6, 2014
"An NYPD confidential informant learned of the threat on Friday evening — three days after a Staten Island grand jury decided not to indict Officer Daniel Pantaleo for the chokehold death of Eric Garner. Cop union confirmed the threat late Saturday and were ordering all police officers, on duty and off, to take extra precautions."
As we have stated before, the Illuminati plans a race war as one of the final blows against this existing "Old World Order". This race war is intended to occur at the very end of the period leading up to the World War III that produces Antichrist on the world scene. Since that global war is governed by the prophecy of Daniel 7:7-8, this final race war is probably several years away, at least.
But, seeds are being sown.
NEWS BRIEF: "Tear Gas, Windows Broken, Clashes With Police: Anarchists Hijack Peaceful Protest March Through Berkeley", CBS/SF Gate Bay Area, December 6, 2014
"BERKELEY (CBS SF ) — Tear gas and smoke bombs scattered protesters during a march that started peacefully in Berkeley, Saturday night. The skirmish with police began near Addison and Shattuck at about 6:30 p.m. as police and masked protesters faced off. The protesters broke windows along University Ave. near Martin Luther King Blvd., smashed bottles and spray painted graffiti. Others took hammers and smashed ATM machines, and overturned garbage dumpsters. "
"KCBS reporter Mark Seelig described it as a "mob scene." He said employees at Trader Joes shut themselves inside the store in an effort to escape the violence ... This was the fourth night of protests this week."
Then, just before commuter rush hour traffic began in Los Angeles, an upscale shopping and apartment complex under construction suddenly burst into flames, causing two major freeways to close.
NEWS BRIEF: "Huge fire in downtown Los Angeles shuts down two freeways ",
"More than 250 firefighters are battling a massive blaze in downtown Los Angeles that has shut down sections of two main highways right before the beginning of Monday's morning commute. The conflagration is at 909 W. Temple St., a partially constructed 7-story upscale apartment and retail complex, says Los Angeles Fire Department spokesman David Ortiz, and 'it's huge'."
"When the fire broke out at about 1:20 a.m. in Los Angeles, it could be seen for miles around ... No injuries have been reported so far. "
While this article does not specify that protestors caused this fire, it seems suspicious that such an inferno would explode at this time and in the same vicinity as other protests over alleged police brutality have occurred.
Attorney General Holder has just revealed his new guidelines to law enforcement as to their limits on "profiling".
NEWS BRIEF: "Holder Unveils Revisions to Limits on Profiling by Federal Law Enforcement", December 8, 2014
Profiling on the basis of religion, gender, national origin, sexual orientation, and gender identity by federal law enforcement agencies will be banned, the Justice Department announced Monday ... The new policy means that federal law enforcement officers cannot use these characteristics as the basis for making routine or spontaneous law enforcement decisions like traffic stops. The older rules, in effect since 2003, barred making those stops on the basis of race or ethnicity. "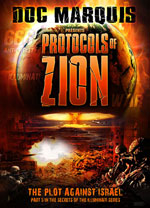 DVD
I have never liked "profiling" as it stereotypes all members of a certain minority group with a "guilty stamp" automatically. Profiling takes away a citizen's Constitutional right to be considered innocent until proven guilty. Further, I wonder how effective these new rules will be in light of the reality that too many police have been ignoring the 2003 ban on the basis of "race or ethnicity". These two groups are far more important than "religion, gender, national origin, sexual orientation, and gender identity".
The fact is, police have been engaging the public far more aggressively than they ever have before, and that is a troubling sign that America is heading for the planned Absolute Dictatorship as called for in the Protocols of the Learned Elders of Zion. When police in Ferguson wore tags which said, "I am Darren Wilson", that kind of deliberate provocation is simply uncalled for by responsible law enforcement agencies. That kind of bullying can one day spark a race war.
President Obama threw the weight of the White House behind the idea that serious race differences need to be addressed now.
NEWS BRIEF: "Obama says racism is 'deeply rooted in America' as he addresses wave of protests", Fox News, December 8, 2014
"WASHINGTON – President Barack Obama is prescribing time and vigilance to tackle problems as entrenched in American society as racism and bias. He also is urging patience, saying progress usually comes in small steps ... Obama said he told them that 'this is something that is deeply rooted in our society, it's deeply rooted in our hi story'. America has made gains, and that 'gives us hope' of making more progress, he said."
" 'We can't equate what is happening now to what was happening 50 years ago', Obama said, 'and if you talk to your parents, grandparents, uncles, they'll tell you that things are better, not good in some places, but better'."
Race relations seem to be much better than in the 1960's, when President Kennedy was working in tandem with Martin Luther King to bring peace to white/black communities. The assassination of both Kennedy and King seemed to almost miraculously change that attitudes of untold millions of Americans on both sides of this issue.
All America was introduced to the deep suspicions that the black community harbors toward the police department during the trial of O,J, Simpson. The defense team had no trouble whatsoever persuading a predominately black jury that the police department had planted evidence against Simpson. For the first time ever, I was confronted by the reality that police do, indeed, plant evidence in certain cases.
Both sides need to step back -- now.
NOTE: In the Pastor Crone "Countdown To Eternity Combination Offer" -- shown above -- two titles specifically address this issue of planned violence at the End of the Age.
* Volume 2 - "Worldwide Upheaval / Rise of Unprecedented Falsehood"
* Volume 4 - "Unprecedented / Exponential Increase In Wickedness"
Save $80 now by buying this Combination Offer
Perhaps we need to learn from prominent Black educator, Booker T. Washington. Listen to what he had to say, over 100 years ago.
In 1911, Booker T. Washington, the American political leader, educator and former president of Tuskegee University, wrote in "My Larger Education": 'There is [a] class of colored people who make a business of keeping the troubles, the wrongs and the hardships of the Negro race before the public. Having learned that they are able to make a living out of their troubles, they have grown into the settled habit of advertising their wrongs -- partly because they want sympathy, and partly because it pays. Some of these people do not want the Negro to lose his grievances, because they do not want to lose their jobs. ... There is a certain class of race-problem solvers who don't want the patient to get well, because as long as the disease holds out they have not only an easy means of making a living, but also an easy medium through which to make themselves prominent before the public'."
Can anyone think Al Sharpton and Jesse Jackson? They have made a very nice living who fit this profile exactly!
Popular New COMBO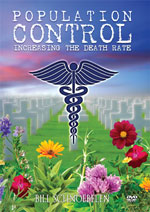 Population Control: Increase The Death Rate, 3-DVD Set
by Bill Schnoebelen
Regularly $54.98, Special Combo Price, $34.98, Saving You $20!
Did you know that the Plan of the Elite is to 'increase the death rate' to control population growth in the period leading up to the appearance of the New Age Christ?
In the past 100 years, this type of population control has proven most effective. Today, The third highest cause of death in America is "iatrogenic" -- induced in a patient by a physician! But that is not all the horror! A new study proves that aggressive radiation cancer treatments create a far more dangerous cancer cell than the one from which the patient is suffering. 'The new study is yet another blow to the failed and favored mainstream treatment paradigm of trying to cut out, poison out or burn out cancer symptoms (tumors) instead of actually curing cancer.'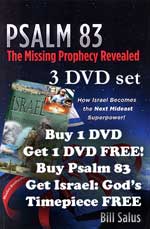 II. Israel launched an air attack on advanced S-300 anti-aircraft missile sites near the Damascus airport, as she is afraid such advanced systems could very well fall into the hands of Hezbollah.
Christians instantly wonder if the prophecy of Damascus' annihilation might be drawing really close - Isaiah 17:1.
NEWS BRIEF: "Syrian TV: Israeli Air Force Struck Syrian Targets Near Damascus", Breaking Israel News, December 8, 2014
"Syrian television and Hezbollah's al-Manar TV claimed Sunday that Israeli Air Force planes had struck targets in and around Damascus. 'The Israeli enemy committed aggression against Syria by targeting two safe areas in Damascus province, in all of Dimas and near the Damascus International Airport'," Ynetnews reported Syrian state television channel SANA as saying."
"The Syrian army later confirmed damage to its facilities, accusing Israel of supporting regional terror. "In a flagrant attack the Israeli enemy executed strikes on two security installations this afternoon on the outskirts of Damascus, near the international airport."
Several years ago, President Assad of Syria warned that, if he was about to be overthrown, he would order a missile barrage against Tel Aviv. Israel responded with a threat to retaliate by an annihilating attack against Damascus. This kind of retaliation would fulfill Isaiah 17:1. Listen:
"The burden of Damascus. Behold, Damascus is taken away from being a city, and it shall be a ruinous heap."
Watch events in Israel, as she is "God's Timepiece" for all events unfolding in the Middle East.
NEW BOOK - Grappling with the Chronology of the Genesis Flood - Huge New Book, 828 Pages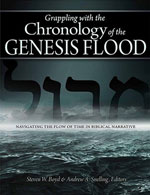 The Flood as described in the Book of Genesis not only shaped the global landscape, it is an event that literally forms our understanding of early biblical history. Now an experienced team of scientists and theologians has written a definitive account of the Genesis Flood with detailed research into the original biblical text and evidences unlocked by modern science and study.
Delve into the technical aspects of the chronology, historicity, and significance of understanding this landmark event, including what we can learn from the Hebrew words used to describe it.
Examine the numerous geological, geophysical, and paleontological indications pointing to the reality and global scope of the Flood.
Learn how and why the authors' exhaustive research began, putting forth objectives, criticisms they would address, and identifying obstacles to be resolved.
Often recounted and discounted as just a myth or children's story, what we find with deeper study is instead a cataclysmic event, the flood truly wiped out life on our planet with the exception of those preserved through God's plan. The devastation the Genesis Flood wreaked upon a rebellious world remains an important part of the biblical narrative we should understand for what it was - a divine act of judgment on a sin-immersed world. ORDER YOURS TODAY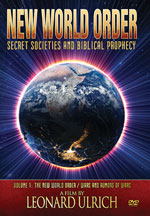 III. Western countries continue to bolster their support for Shi'ite Iraq.
Shia Iraq is being built-up just as the 2007 Pentagon's New Map reveals!
NEWS BRIEF: "New US Command Signals Escalation in Iraq, Syria", Anti War News, December 5, 2014
"The Pentagon has announced today the creation of a new military command, dubbed Combined Joint Task Force – Operation Inherent Resolve, which will oversee the war against ISIS in both Iraq and Syria ... The Pentagon seemed to be trying to downplay the significance of establishing a formal command specifically for the war ... But the US doesn't establish new conflict-centric military commands, particularly for ones spanning multiple countries, just every day, and the move reflects the continued escalation of the war in both size and length."
Indeed, when Naval Commander Barnett published his book "The Pentagon's New Map", he boldly stated that this new strategy by which America was to overthrow obstacles to bringing the Middle East and Africa into the global economic and political system would take 20-30 years.
But, when you look at this new map of the Middle East, you will realize that Shi'ite Iraq is scheduled to be built back up to major power status.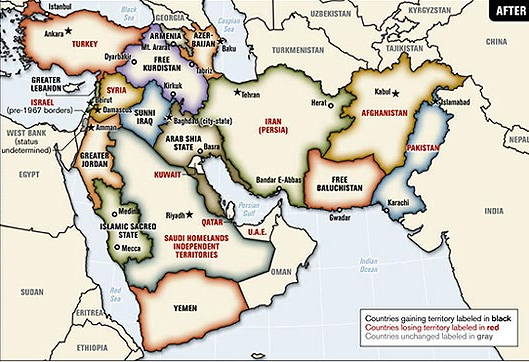 Iraq is slated to become a dominant power in the Region! the new country of Arab Shia in south-eastern Iraq goes down along the Persian Gulf to Qatar, taking land away from American ally, Saudi Arabia. This new Shia nation is greatly expanded over what now constitutes southern Iraq.
Now, let us look at Saudi Arabia. She is slated to become much weaker, split up into political entities, and to surrender some of her oil facilities- to Shia Iraq!
The incredible fact is that, if this map is implemented, Saudi Arabia will be stripped of almost all her access to the ocean -- both on the Red Sea and the Persian Gulf! This reality must mean that some other nation is going to control Saudi Arabia's oil export terminals!
Saudi Arabia is likely to soon be experiencing "internal revolt" by Islamic militants. If she cannot continue paying high subsidy payments to the average citizen, this revolt might take hold and threaten the ruling 'House of Saud'.
Meanwhile, Iraq is beginning to seriously pump oil again, along with her newly discovered ally, the Kurds. When this change is finally realized, it will be one of the most important, and momentous, change to ever occur in the Middle East. Imagine the significance of Saudi Arabia no longer being important to the power equations of the Middle East (Read full details in NEWS2540, "Bringing Saudi Arabia Down!"
Finally, the answer for which you have been awaiting about Roman Catholicism! "Ye shall know the truth, and the truth shall set you free"!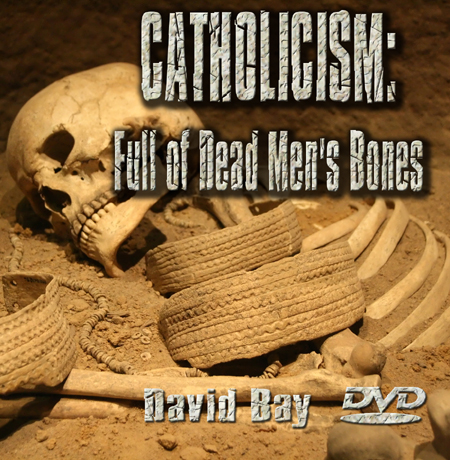 NEW DVD
Jesus warned that a particular type of church was especially deadly. 'Woe unto you ... hypocrites! for ye are like unto whited sepulchres, which indeed appear beautiful outward, but are within full of dead men's bones and of all uncleanness." (Mt 23:27)
Over the past 1,500 years, the Roman Catholic Church has perfectly fit Jesus' description. Claiming to be the One True Church of Jesus Christ, they have been full of dead men's bones and of all uncleanness.
We prove that the only way to understand why Rome brought in truckloads of pagan doctrine, practices and dress is to realize that the Vatican is practicing Witchcraft!
We also examine the many symbols of Catholicism, demonstrating that they are symbols used in the Witchcraft Mystery Religions of Babylon, Egypt and Chaldea
This DVD will open the hearts and minds of loved ones caught up in Roman Catholicism like no other you have ever seen
One hour, 36 minutes long - Watch the trailer
Current News Stories
"Catholic sexual abuse case is Spain's biggest of its kind, has Pope's attention"
"Catholic school official charged with child sex abuse"
"Gay Sex Lives Of Irish Catholic Priests Are Exposed, Including Visits To Gay Bars"
"Chicago archdiocese releases 15,000 pages on priest sex abuse"
---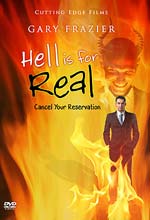 "Proof of Hell"
"Hell Is For REAL: Cancel Your Reservation"
DVD By Renowned Bible/Prophecy Teacher, Gary Frazier
When I walked out of the theater after watching 'Heaven Is For Real', I felt uncomfortable, for the almost subliminal message was that, eventually, all people go to Heaven. Since the movie did not show the Biblical road to Heaven, it leaves a message that all people will go there.
Dr. Frazier is compassionate as well as frank, as he boldly tells the Biblical truth as to what Hell is and what it is not.
Great Soul-winning tool, as Dr. Frazier presents the Plan of Salvation at the end.
---
---
Unique Biblical Worldview DVD's
"America: End Times Destruction Foretold"
New DVD by David Bay, Director, Cutting Edge Ministries
Only $14.99 -- Watch Dynamic Trailer
One prophecy dramatically informs us that America, specifically, will be in some degree of financial prosperity until God annihilates her in judgment, with fire, in one hour. That inspired prognostication from God is found in Revelation 18, so let us turn our attention to this most important prophecy, maybe one of the most important predictions of our End of the Age time period.
America may be the Economic Babylon of Revelation 18, as she is certainly symbolic of the widespread system of Anti-God evil that the Bible says is inherent in any Babylonian system.
Revelation 18 describes destruction by fire--God's fire--of "Babylon the Great"
You will never look at news the same way again!
One Hour -- http://www.cuttingedge.org/detail.cfm?ID=2653
Buy All Titles 'Biblical Worldview" DVD's
See All Our $9.99 Books / DVD's
72 Titles From Which To Choose!

See All Our $4.99 Books DVD's
30 Titles From Which To Choose!
Headline News Articles
How Can The Illuminati Destabilize Saudi Arabia In Accordance With The 'Pentagon's New Map' Strategy (2001) ?
How can Saudi Arabia be overthrown without the landing 'boots on the ground' and planes screaming through the air, for such overt military action would cause ripples which can destroy the world economy?
Sick and Tired of All This 'Sky Is Falling' News?!
Chicken Little News Media always takes a news story to the absolute maximum, even though the news hardly ever warrants such an evil report. News is designed to be bad and to discourage as many people every single day as possible! You can avoid being such a casualty of the news.
Global Genocidal War Against Muslims Continues!
The Illuminati 'Blood In The Streets' Strategy Against Muslims Is Bearing The Evil Fruit The Elite Planned In The First Place
Enraged enemies are easily neutralized and manipulated by superior power and strategy. From October, 2001, when America led forces into Afghanistan, to March, 2003, when America led forces into Iraq, to ISIS of today, the Global Elite carry out their 'Silent War' designed to annihilate all Muslims.
But, now the time has arrived for the Elite to provoke exceedingly hot hatred amongst Western citizens against Islam, a hatred which will allow them to annihilate all Muslims.
---
May Jesus Richly Bless You,
David Bay, Director
Cutting Edge Ministries
800-451-8211