Hot News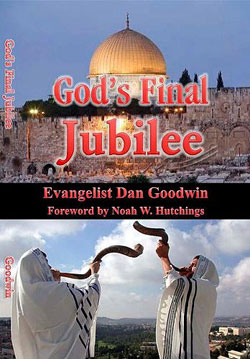 I. The Middle East trembles on the brink of all-out war.
Israeli tanks and infantry are even poised at the Gaza border!
Problems began with the murder of three Jewish teens, blamed on Hamas.
NEWS BRIEF: "Murdered teens to be buried side-by-side, as search continues for killers", JTA News, July 1, 2015
"JERUSALEM (JTA) — The three kidnapped teens who were found murdered near Hebron will be buried side by side ... Israeli Defense Minister Moshe Yaalon on Tuesday morning vowed to capture the kidnappers. 'We see Hamas as responsible for the kidnapping and the murder, and we will know how to settle the score with it', Yaalon said in a statement. 'We will continue to pursue the murderers of the teens and we shall not rest or be still until we lay hands on them. And so it will be'."
World leaders reacted with dismay and disbelief that three Jewish teens could be abducted in broad daylight and murdered almost immediately.
NEWS BRIEF: "Obama condemns 'senseless act of terror against' after 3 teenagers found dead in Mideast", The Vancouver Sun, June 30, 2014
"WASHINGTON - President Barack Obama is condemning what he calls a 'senseless act of terror against innocent youth' in the Mideast and offering U.S. help to find those who killed three teenagers. Obama is extending condolences to the families of the teens found by the Israeli military on Monday, two weeks after they were allegedly abducted by Hamas militants."
But, then, the volatile situation became even more serious. A Palestinian teen was discovered brutally murdered
Palestinians immediately blamed the Jews, and reacted violently.
NEWS BRIEF: "Clashes spread after Palestinian boy's funeral", Yahoo News, July 5, 2014
"Clashes between Israeli police and Palestinian protesters spread from Jerusalem to Arab towns in northern Israel Saturday following the funeral of an Arab teenager who Palestinians say was killed by Israeli extremists in a revenge attack."
Even while the world could scarcely absorb this latest bad news, Israeli police arrested Israeli suspects, accusing them of committing this murder.
NEWS BRIEF: "Three Israeli suspects confess to murdering Palestinian teen", Haaretz News, July 7, 2014
"Israeli suspects reenact kidnapping, murder of 16-year-old Mohammed Abu Khdeir; police believe murder was revenge for kidnapping and murder of three Israeli teens in the West Bank. Three out of the six Israeli suspects in the murder of 16-year-old Palestinian Mohammed Abu Khdeir have confessed to the crime, police said Monday."
I was immediately impressed by the speed at which Israeli police investigated this murder and arrested six suspects. We have no evidence that the Palestinian Authority is even conducting an investigation of the three murdered Jewish teens, and we have no realistic expectation that any perpetrators are even close to being arrested. Most Palestinians do not consider the murder of these three teens to even be a crime!
At the same time, Hamas terrorists are firing missiles into southern Israel, prompting Israeli airstrikes.
NEWS BRIEF: "Third Airstrike of the Night Hits 5 Gaza Targets", Israel National News, 7/7/2014
"For the third time in one night, Israeli aircraft struck terror targets in Gaza shortly after 4:00 a.m. Monday morning. The IDF Spokesperson confirmed the airstrikes, saying they targeted five concealed rocket launchers in northern Gaza ... The airstrikes are Israel's response to the incessant rocket fire from Gaza. A total of 110 rockets have hit Israel over the past five days, with another 40 rockets having been fired from Gaza on Sunday. At least two more rockets exploded in Sderot on Sunday night."
Hamas is adamantly bold as they react to Israeli counterstrikes, prompting an unusually strong Israeli action. The IDF abruptly began amassing tanks and troops on the Gaza border.
NEWS BRIEF: "Escalation? IDF Armor, Infantry Gather Near Gaza", Israel National News, 7/7/2014
"Photos by Flash 90, approved for publication by the IDF, show a gathering of tanks, APCs and ground forces, identified as a Bedouin unit, on the outskirts of Gaza. This could be a last-minute warning to Hamas that if it does not immediately desist from firing on Israel, the IDF intends to mass larger forces and use them against Gaza in a ground offensive."
Several Israeli leaders have recently threatened to destroy Hamas in Gaza once and for all. We might be seeing that action in its initial stages. A ground invasion would ratchet tensions upward unbelievably. But, Israel may believe that her enemies are presently unable to mount an effective military response.
Still, in the continuously volatile Middle East, it is never wise to deliberately start a firefight!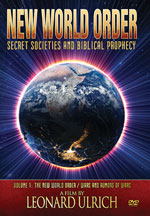 II. The Federal Government is planning to take action that will likely escalate tensions even higher in the developing "humanitarian crisis" at the border with Mexico.
More evidence sufaces that the Obama Administration is orchestrating this entire illegal border crisis.
NEWS BRIEF: "Feds to Bring in Riot Squad Against Illegal Immigration Protesters", Brietbart News, 6 July 2014
"HOUSTON, Texas--As illegal immigrants continue to spill across the U.S.-Mexico border, federal authorities are attempting to relocate the migrants from South Texas to housing facilities in states across the nation ... But soon the concerned citizens may be forced to step down--Breitbart Texas has learned that federal agents plan to arrive in Murrieta on Monday with riot gear to ensure that another busload makes it to the housing facility. "
"Jeremy Oliver, a resident of Temecula, California--a town that neighbors Murrieta--told Breitbart Texas that local police officers warned the protesters that 'it's going to get ugly' ... We're being told that federal Marshals or ICE will be here in the next few days and that they are bringing riot gear," Henry said. 'They're apparently going to be blocking off the street with concrete blockades so that no vehicles can get through."
Texas Governor Perry has no doubts but that the Federal Government is the force behind this sudden influx of 50,000 children at the Mexican/American border.
NEWS BRIEF: "Perry Has A 'Conspiracy' Theory About Obama And The Border Crisis", Business Insider, July 7, 2014
"Texas Republican Gov. Rick Perry on Sunday again floated a theory that President Barack Obama and the federal government might be "in on" coordinating a surge of immigrants illegally crossing the U.S.-Mexico border ... Perry first put out his suggestion last week during an appearance on Fox News, when he said the Obama administration "might be in on this somehow." On ABC's 'This Week', Raddatz asked Perry if he 'really believes' there is 'some sort of conspiracy to get people in the United States'."
On the surface, such a suggestion would be almost automatically disbelieved by the undiscerning citizen. But, evidence surfaced last week that just such a concerted effort to get unaccompanied minors flooding the borders is underway.
NEWS BRIEF: "Help Wanted: Feds advertise for 'Escort Services for Unaccompanied Alien Children' ", Biz Pak Review News, June 19, 2014
"The Department of Homeland Security is seeking 'Escort Services for Unaccompanied Alien Children', or UAC, as juveniles entering the United States are called ... There will be approximately 65,000 UAC in total: 25% local ground transport, 25% via ICE charter and 50% via commercial air."
"Wait – 65,000 children? The post offers no explanation as to how the department arrived at that number."
Lest you think these unaccompanied children are just arriving at the border by accident, please consider this news article.
NEWS BRIEF: "Central America Newspapers Tout Open US Door for Illegal Minors", Conservative Hideout News, June 11, 2014
"... Barack Obama's policies on the border are wreaking havoc for the border states in our country, with more and more children pouring into this country than they can even process ... Central American newspapers are openly advertising Obama's 'open-door policy' as it pertains to illegal children immigrants ... Newspapers in El Salvador and Honduras are promoting policies by the Obama administration that defer deportation to minors brought to the United States as children by their parents — known as "Dreamers" — and those that are housing illegal children at military bases in the South and West."
" 'Almost all agree that a child who crossed the border illegally with their parents, or in search of a father or a better life, was not making an adult choice to break our laws, and should be treated differently than adult violators of the law', Homeland Security Secretary Jeh Johnson is quoted in a story about a new two-year extension of the Deferred Action for Childhood Arrivals Act published by Diario El Mundo in El Salvador."
After Jeh Johnson made this remark, children began crossing the border in record numbers. So far, about 60,000 children not "making an adult choice to break our laws" are, indeed, being "treated differently than adult violators of the law"! Now you can understand why children are suddenly showing up at our border crossings!
There is no doubt but that the Federal Government has started and encouraged this sudden influx of tens of thousands of illegal immigrants who have suddenly shown up at our southern border. Through the developing "humanitarian crisis" with these vulnerable children, Congress will be galvanized to take remedial action, and out of that new legislation the North American Union will emerge.
Doubt it not!
---
"Devil Worship"
" Rise of Satanism In America Today"
"Pope Francis says sex abuse is like 'a satanic Mass' ", Christian Today News, 27 May 2014
"Married couple used Devil Worship to terrify girl to take part in sex sessions", Standard Digital News, May 15, 2014
New DVD by Jeremiah Films
Reg $21.95, Sale $16.95
The startling expose' of the frightening growth of Satanism in America. Features testimonies from law enforcement officials, practicing Satanists, and others. Understand why Halloween is so dangerous. Especially informative for parents, teens, and those who work with youth.
Since Antichrist will practice Black Magick Satanism, we should expect to see a resurgence of this pagan system of religion. Antichrist will receive his unbelievable power through precisely this kind of Satanism.
For mature audiences.
Related Bookstore DVD Titles
---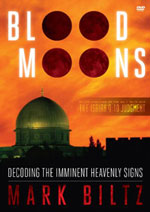 "Blood Moons DVD: Decoding Imminent Heavenly Signs"
DVD by by Mark Biltz
Something remarkable is just on the horizon. God is about to move mightily in the world. Are you spiritually prepared? Are your loved ones prepared?
From the beginning, in Genesis, God declared He specifically created the sun and the moon as 'signs'. God would use these heavenly bodies a signals of coming climactic historical events when the Creator of the Universe was about to intersect human history. But, how do we unlock the code to interpret God's signals?
Mark Biltz very well might have discovered the key, as he documents in this DVD, 'Blood Moons'. http://www.cuttingedge.org/detail.cfm?ID=2614
---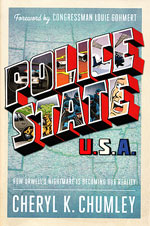 "Police State: How Orwell's Nightmare Is Becoming Our Reality"
New Hardcover Book by Cheryl K. Chumley
Regularly $26.00, On Sale For Only $22.99
'Police State USA' chronicles how America has arrived at the point of being a de-facto police state, and explains what led to an out-of-control government that increasingly ignores the Constitution and exploits 9/11 security fears to justify spying on its citizens. Stunning new surveillance technology now makes it easier to keep tabs on people. The acquisition by police departments of major battlefield equipment emboldens officials to strong-arm those they should be protecting. The failure of the news media to report government violations of citizen's rights sets the stage for this slippery slope. Hardcover, 263 pages.
---
"Satan's Watchers" Are Back =====Aliens Are Part of the Plan To Produce Antichrist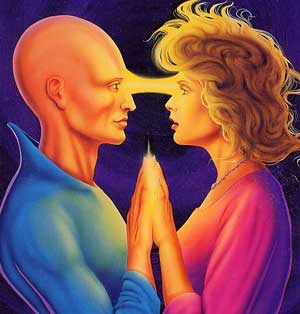 NEWS: "Online video claims UFO attacked Taliban camp in Afghanistan", New York Daily News, May 8, 2014
"An online video claims the U.S. has a new ally in its fight against terrorism - one from another planet. The video from the group Section 51 - titled 'UFO ATTACKS TALIBAN CAMP!!! March 2014' - allegedly shows a UFO firing multiple times at a compound that then goes up in smoke. The organization, which seeks to show the reality of UFOs, claims the footage was shot by the U.S. Marines."
NEWS BRIEF: "That Viral Video Of A 'UFO' Attack In Afghanistan Is An Obvious Hoax", Business Insider, May 9, 2014
"A YouTube video currently making the rounds across the internet showing a "UFO" destroying a Taliban camp is an obvious hoax."
Aliens/UFO's Are Real - They Part of the Plan to Produce the New World Order 'Christ'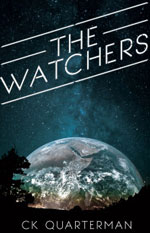 "The Watchers"
New Book by CK Quarterman
Genesis is shrouded in mystery and belongs to the age of pyramids and other great wonders of the world. It is the epoch of a world once destroyed by Gods' judgment, later recreated, and then again destroyed by a worldwide flood.
Genesis tells us of a race of Nephilim (giants that were fathered by the Watchers). Strangely and interestingly for our generations, the Lord declares that this conspiracy of evil is to be repeated before His return.
Therefore, it is highly important for believers at this End of the Age to understand the Watchers, aliens and UFO's so we can properly understand today's society.
A storm is gathering which will lead to the end of the world as we know it. This culmination will be so terrifying that fear alone will one day cause men's hearts to fail them. We must not approach this coming apocalypse unaware or unarmed. Surprisingly the secrets and clues for our survival are found in Genesis!
160 pages -
http://www.cuttingedge.org/detail.cfm?ID=2626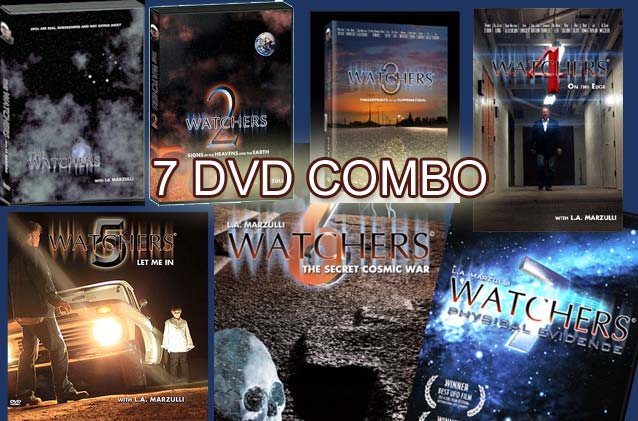 Aliens Will Introduce Antichrist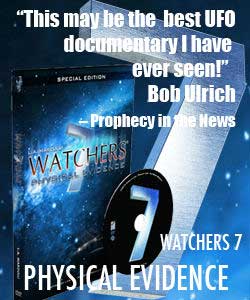 "Watchers 7: Alien Implants"
UFO's and Aliens are part of the New World Order. They are benevolent beings which will aid mankind in attaining the goal of becoming one humanity. They will appear at the proper time to enable mankind to make that Quantum Leap of Collective Consciousness -- when the Christ appears."
---
Watch New Trailer --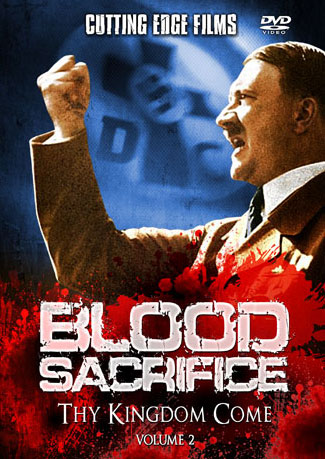 "Blood Sacrifice"
DVD, Volume 2
"Thy Kingdom Come"
Hitler's Complete Conquest of German Christian Churches
Shipping NOW
This video continues our study of the Biblical Antichrist by studying the life, the values, the attitudes and the Black Magick Satanism of Adolf Hitler. We will examine how thoroughly, easily, and quickly Hitler intimidated, and then completely controlled, most of German christian churches.
Hitler envisioned that he would usher in a thousand year reich for the nation of Germany and believed that he was 'Selected by God to be Germany's Messiah'. Hitler was determined to eliminate any who resisted the evolution of the supermen, a purification that would be accomplished through fire.
The christian church proved to be a soft target for Hitler. As one pastor later lamented, 'The Church made peace with an enemy with which it should have been at war. Called to warn and protect, it tolerated, then saluted, then submitted...' and stood by while perhaps the greatest sacrifice to appease the gods of darkness occurred in modern history.
http://www.cuttingedge.org/detail.cfm?ID=2617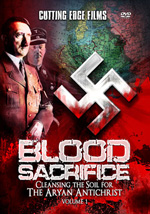 "Blood Sacrifice: Cleansing The Soil For The Aryan Antichrist"
DVD Volume 1
This video is a unique look at the coming Biblical Antichrist through the eyes of Adolf Hitler. Embark on a journey that will likely challenge the highest scholar to the one beginning his quest for truth. This documentary will go where many scholars and historians are not willing to go... To the heart of Adolf Hitler.
---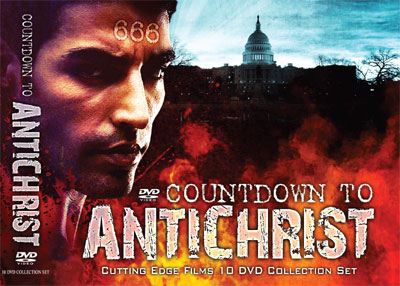 "Countdown To Antichrist" Collection Set
Six Great Prophetic Speakers - "Wallet" Protective Case For Permanent Safekeeping
Six Titles, 10 DVD's, 16 Hours of Teaching!
Regularly $169.95, Only $99.95, Save $70
World events are picking up speed so greatly that discerning Christians everywhere are asking 'Is the appearance of Antichrist close at hand'? They are also asking what human forces are acting to produce this prophesied 'Man of Sin'?
Answers to these questions are taught by Chris Pinto, Doc Marquis, Dr. Stan Monteith, William Schnoebelen, and J.D. Grush. But be careful, your understanding of current world events may never be the same again!
Click Here For Complete Details
Doc Marquis teaches in 'Arrival of Antichrist' the plan of the global Illuminati to produce their 'Masonic Christ', the Biblical Antichrist. Marquis shows in 'Illuminati Is Fulfilling Bible Prophecy' how many current events occurring right now to bring Antichrist to the world are specifically fulfilling numerous prophecies, especially the furious pace at which all nations of the world are forming into 10 Supernations!
Chris Pinto reveals in 'The New Atlantis' that planning for America began in 1590 between Queen Elizabeth I and Sir Francis Bacon to use the power and wealth of the British Throne to establish history's most powerful nation out of the North American Colonies. America's Masonic Founding Fathers precisely carried out this plan, a scheme designed to bring the New World Messiah into the world.
In 'Riddles In Stone: Secret Architecture of Washington, D.C.', Pinto proves that the full blueprint to produce the Masonic Christ can be seen in the street layouts, the pictures, the monuments, the frescoes and building adornments. Pinto proves that the god of Washington, D.C., is Baal, a bloody pagan god who is a forerunner of Antichrist. Once you know the secrets of the Illuminati, Government Center reads like a book!
In 'Eye of the Phoenix', Pinto demonstrates that the incredibly complex One Dollar Bill also tells the story of the Masonic plan to produce Antichrist on the world scene.
In Armageddon: Return of the Warrior King, Grush reveals Biblical details about the furious battle between Jesus Christ and the armies of Antichrist that you have never understood before!
Six DVD Titles, Ten DVD Discs, almost 16 hours of teaching. You will never look at the news the same way again! And, you will be looking up, knowing that your Redeemer is drawing nigh.
---
Regularly $179.91 if bought separately
Only $129.91 if purchased as a Combination Set, in a permanent protective Wallet
You save $50.00!
The 'Countdown' To Eternity series takes a look at 10 major prophetic signs God has given to lovingly wake us up so we'd repent and be saved before it's too late.
1) The Jewish People and Israel; 2) Modern Technology; 3) Explosion of Worldwide Unrest/ Upheaval; 4) Unprecedented Falsehood; 5) Rise of Wickedness and Perversion; 6) Rise of Religious Apostasy, One World Religion; 7) Big Brother; 8) Going Global - Economy, Religion, Government; 9) Mark of the Beast.
Each title may be ordered individually
"Countdown To Eternity" Individual Titles - Pastor Crone
Each DVD $39.99
Now Only $19.99
You Save $20.00!
---
---
May Jesus Richly Bless You,
David Bay, Director
Cutting Edge Ministries
800-451-8211